Roast Pumpkin Hummus combines sweet roasted pumpkin with chickpeas and tahini to make a delicious dip or spread. It is ideal for parties or family snacks served with pitta bread or carrot sticks. It is also a great way to use the abundance of pumpkins and squashes that come into the shops in October.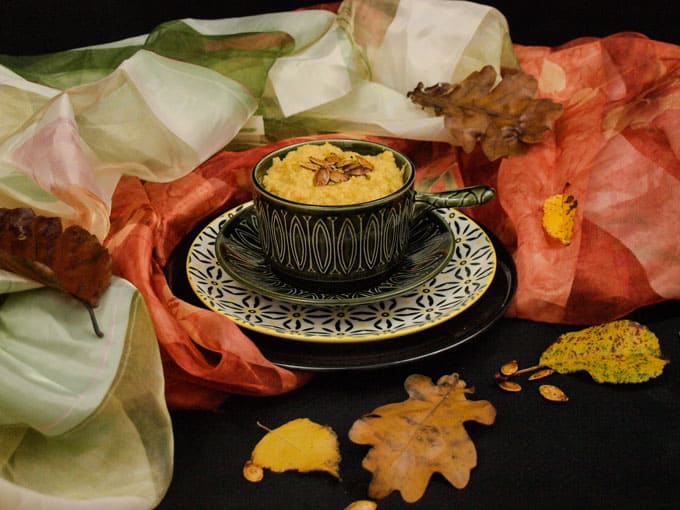 Pumpkin Traditions
In the UK we don't really have much of a tradition of cooking or baking with pumpkin. It is, after all, native to the Americas. Pumpkins have become the favoured Halloween lantern because they are so easy to carve, compared to the turnips (swedes) we used to use. However, the pumpkin' has not really gained much popularity as a foodstuff.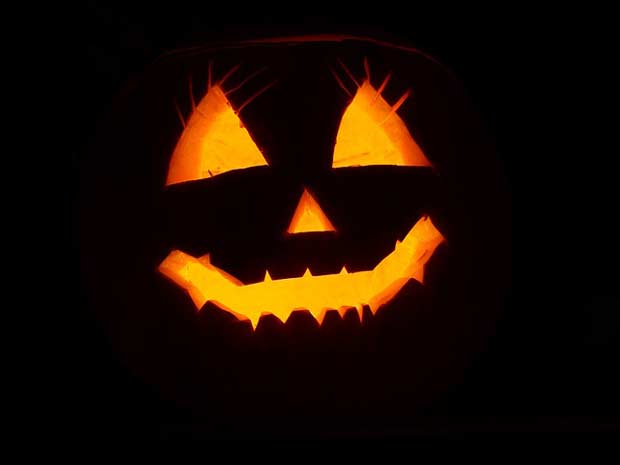 Thrifty Pumpkin Recipes
Pumpkins are incredibly inexpensive, this one cost me only £1.00 and I have made Roast Pumpkin Seeds, Roast Pumpkin Hummus and a Spicy Roast Pumpkin and Coconut Soup (links to recipes below). The only thing I didn't use was the skin and that went onto my compost heap.
How to make Roasted Pumpkin Hummus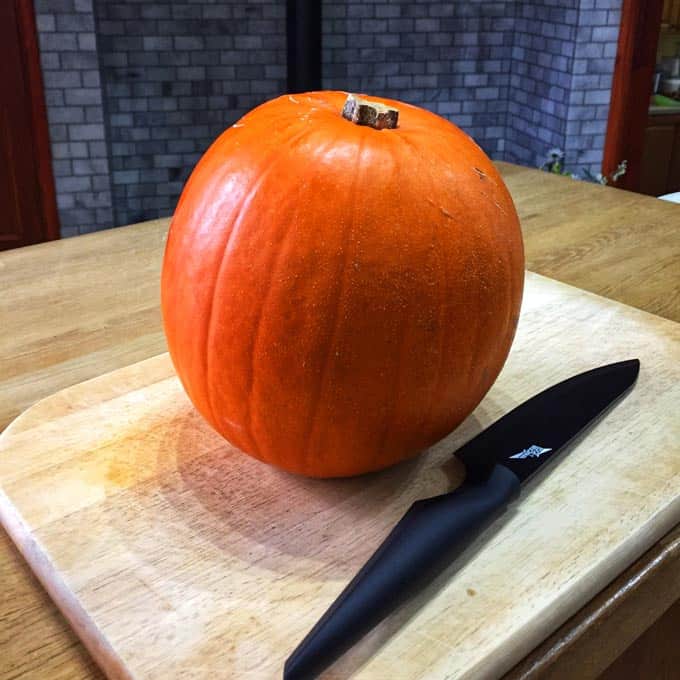 Roast your pumpkin
I used a very simple method of roasting or 'baking' the pumpkin which come from the website of my friend Christina at Christina's Cucina. The link to the recipe is at the bottom of this page.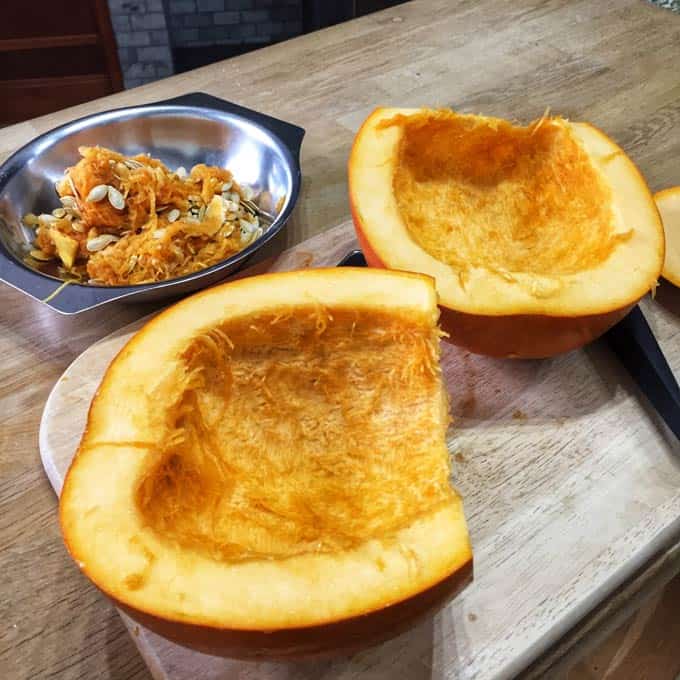 Split the pumpkin in half with a sharp knife. Remove the seeds and all the fibrous strings. Use a strong spoon or scoop to do this as they are well attached.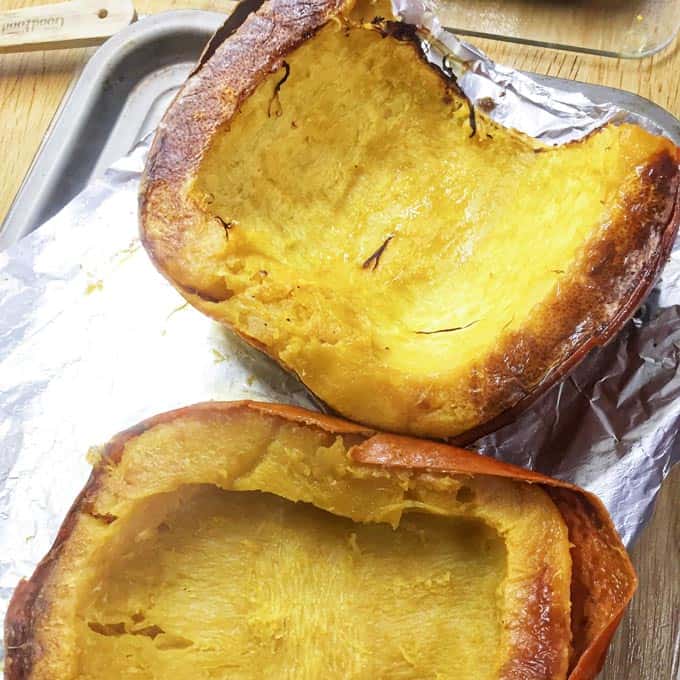 Place the pumpkin halves face down on a baking tray lined with aluminum foil. Bake in the oven at 190C for 15 – 20 minutes, depending on the size of your pumpkin. When the pumpkin is ready, turn the halves over and leave to cool.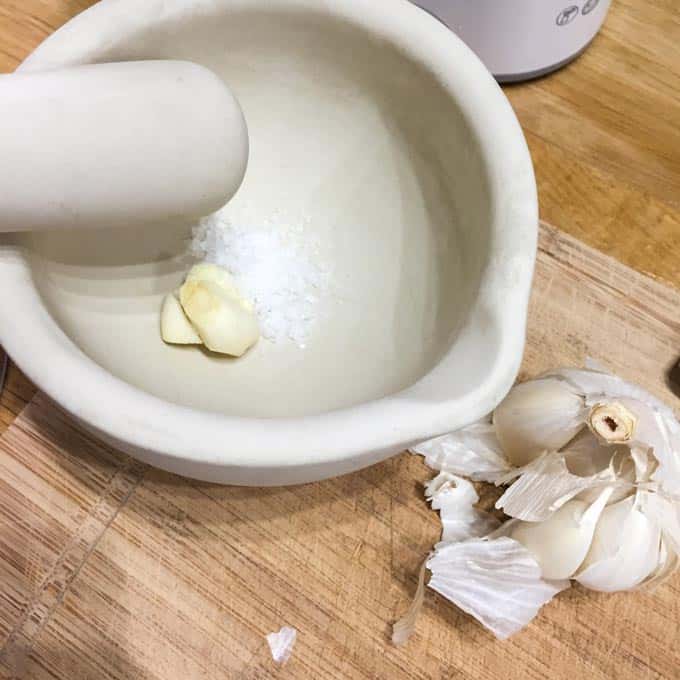 Add the pumpkin, chickpeas, and garlic
Place the roasted pumpkin flesh and the drained and rinsed can of chickpeas to your food processor.
Garlic is pretty essential in any hummus recipe and this one is no exception. I crush the garlic with the salt in a mortar and pestle before adding to the food processor as I think it blends better. Alternatively, you can grate it or use a garlic crusher.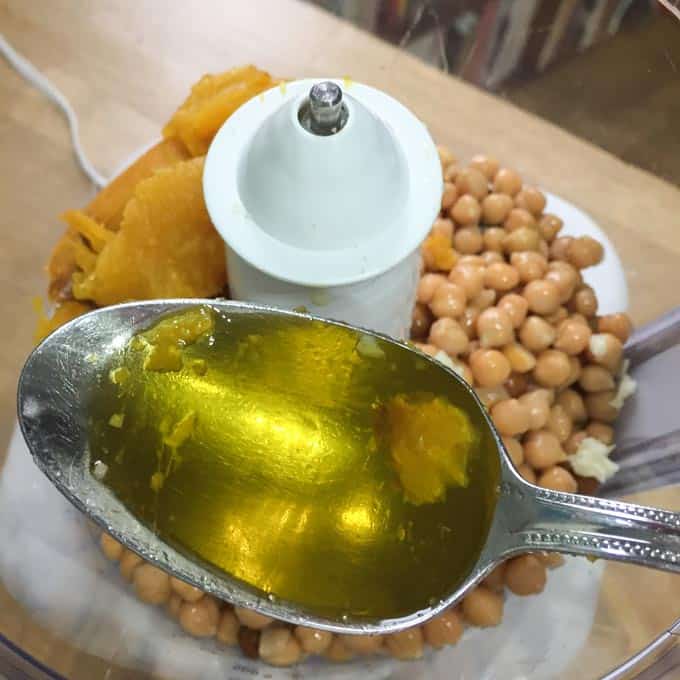 A tablespoon of oil
I used the same spoon to measure the oil, to scoop out the roasted pumpkin and add to the chickpeas in the food processor. You can use a measuring tablespoon but this way saves on washing up!.
This recipe is very forgiving. As I make hummus all the so I'm quite relaxed about the measurements, you can always taste the Hummus and add more once blended.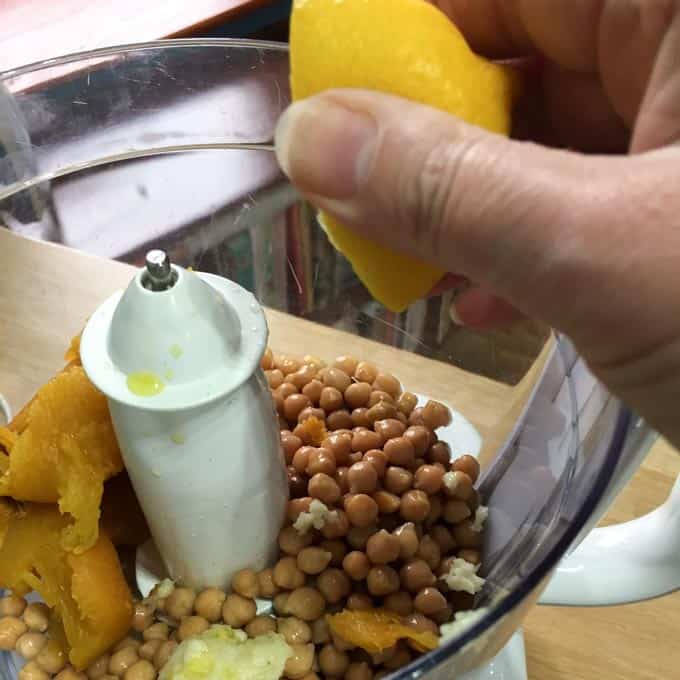 Add the lemon juice
Squeeze the juice of half a lemon into the food processor. You can use a lemon squeezer or simply squeeze it in your hand and drain it through your other hand to catch the pips.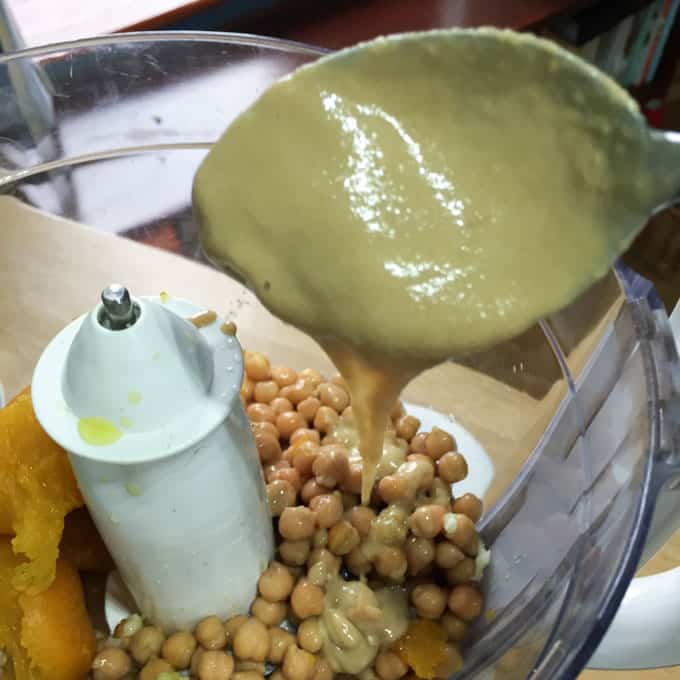 Tahini
Tahini is a sesame seed paste which is just gorgeous and gives the hummus an authentic taste. I have made hummus with smooth peanut butter before, so if you don't have any tahini you could try that.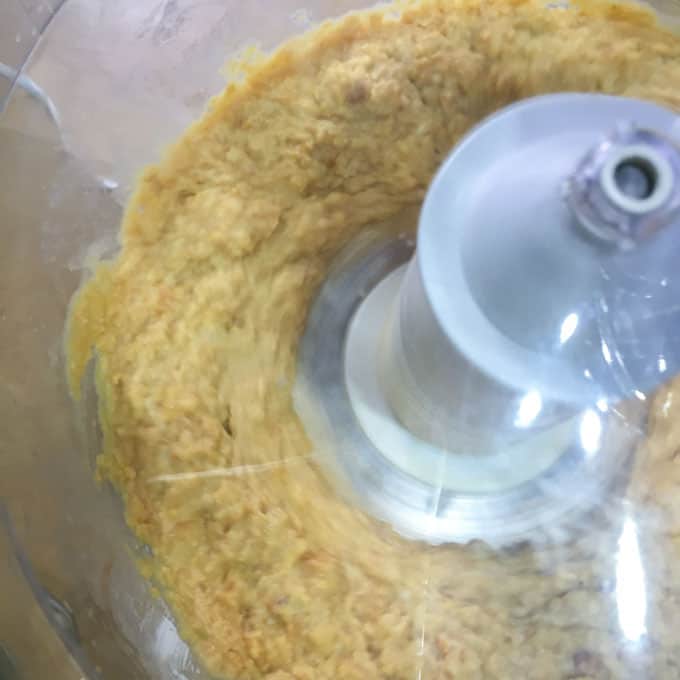 Blend the Hummus
Blend or process the ingredients, adding a little of the chickpea water until you get the Roast Pumpkin Hummus to the smoothness you want.
The roast pumpkin adds moisture to the hummus so you need less water than if you were making ordinary hummus. We like our hummus quite thick with a bit of texture, for spreading rather than dipping, but you make it the way you like it.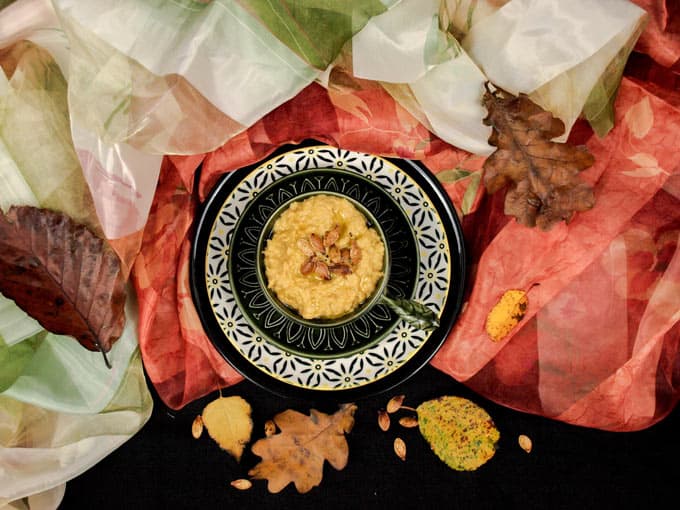 Serve your Roast Pumpkin Hummus topped with crunchy Roast Pumpkin Seeds and a selection of dippers. PItta bread is traditional, but tortilla chips, crisps, and raw vegetables like carrots, cucumber and cauliflower are all great for dipping.
Roast Pumpkin Hummus can also be used as a spread on sandwiches as an alternative to butter.
More Pumpkin Recipes from Farmersgirl Kitchen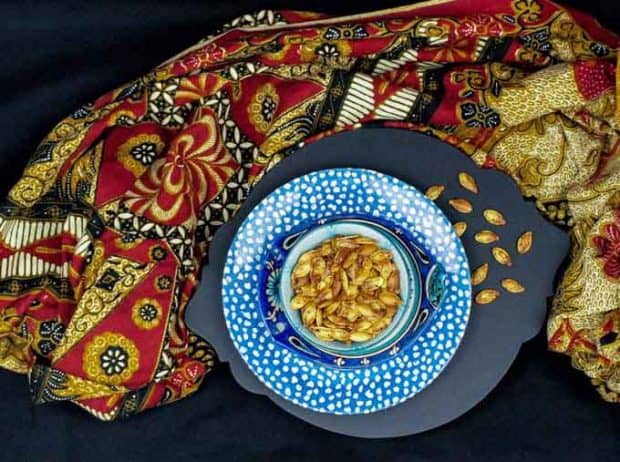 Save the seeds from your pumpkin and you can make your own delicious crunchy Roast Pumpkin Seeds They are ideal to sprinkle on top of the hummus or add them to salads or savoury crumble toppings/ They make good 'croutons' for soup too.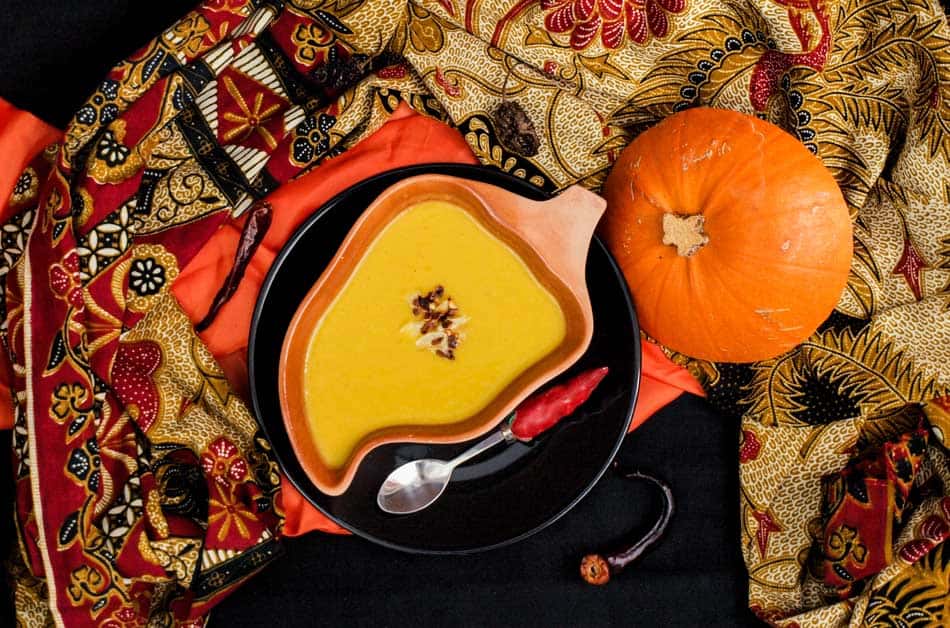 Nothing goes to waste as you can make this smooth creamy Roast Pumpkin & Coconut Soup with the other half of the roasted pumpkin – no waste and all the glorious autumn (fall) flavour.
More Pumpkin Recipes from Top Food Bloggers
How to prepare Pumpkin in 3 Easy Steps – Christina's Cucina
How to make Roast Pumpkin Seeds – Farmersgirl Kitchen
Baked Pumpkin Doughnuts with Chocolate Glaze – Veggie Desserts
Pumpkin Fruit Cake – Fab Food 4 All
Pumpkin Gnocchi with Sage Butter Sauce – Christina's Cucina
Pumpkin Chili – Hungry, Healthy, Happy
Pumpkin Cheesecake with Chocolate Mousse topped with Dark Chocolate Ganache – Christina's Cucina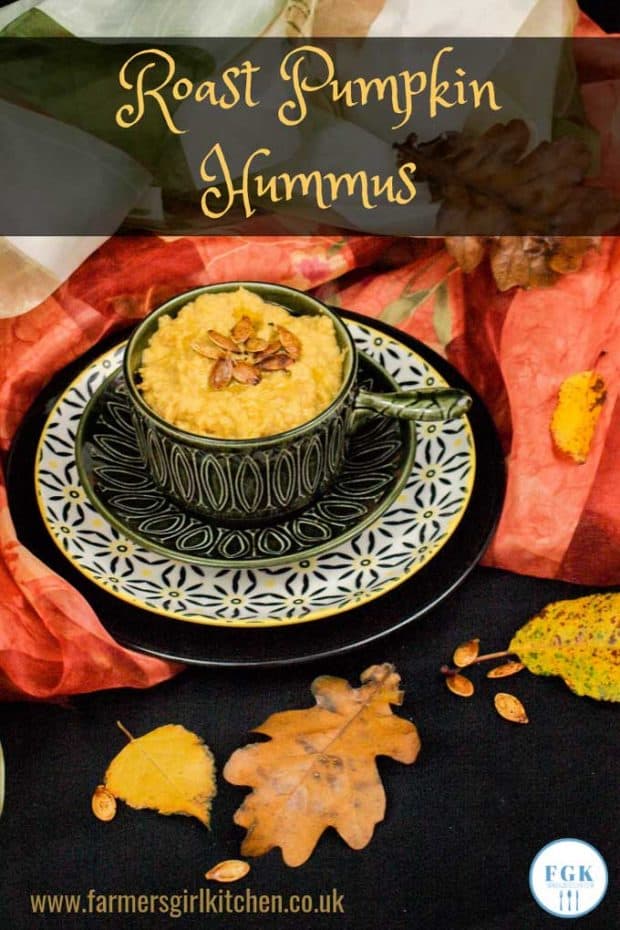 PIN FOR LATER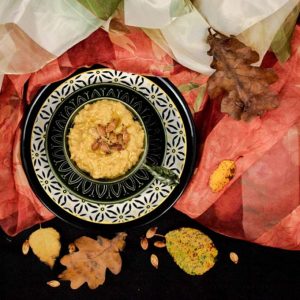 Roasted Pumpkin Hummus
Roast Pumpkin Hummus combines sweet roasted pumpkin with chickpeas and tahini to make a delicious dip or spread, ideal for parties or family snacks served with pitta bread and carrot sticks
Ingredients
400

grams

canned chickpeas

1 x 400 g can

200

grams

roasted pumpkin

1

tbsp

olive oil

1

clove

garlic

1

tsp

salt

1

tbsp

tahini

1/2

lemon (juice only)
Instructions
Roast the pumpkin
Cut the pumpkin in half and scoop out the seeds and the fibres.

Place face down on a baking sheet lined with aluminium foil

Bake for 15 - 20 minutes until the flesh is soft
Make the Roast Pumpkin Hummus
Drain the can of chickpeas, retaining the liquid. Place the chickpeas and the roasted pumpkin in your food processor or blender.

Crush a clove of garlic with salt in a mortar & pestle or on a chopping board, add to the food processor

Add 1 tbsp olive oil, 1 tablespoon of tahini and the juice of 1/2 a lemon,

Blend the ingredients together with a little of the chickpea water until it reaches the texture and consistency that you want.

Serve topped with Roast Pumpkin Seeds.
Notes
The roasted pumpkin puree, adds quite a lot of moisture to the hummus so you need less chickpea water than in a chickpea only hummus. Add more chickpea water and blend longer for a smooth dip, add less water and blend for a shorter time to make a thick, textured spread. We like to spread our hummus so go for the thicker blend.
The quantities of olive oil, lemon juice and tahini can be varied. I make hummus most weeks so don't usually measure accurately. Taste the Pumpkin Hummus and adjust the salt, oil, lemon juice and tahini to your own taste. You can always add a bit more and give it another whizz!
With thanks to Christina's Cucina for permission to use her Roast Pumpkin recipe.
Don't Miss My Latest Recipes
CLICK TO SUBSCRIBE NOW to join my newsletter list & receive a FREE 'How To Adapt Recipes For Your Slow Cooker' printable!
Share by Email