Foraged or cultivated blackberries are ideal for making this fruity Blackberry and Vanilla Cordial. You can use fresh or frozen blackberries and a whole vanilla pod, It has a rich blackberry flavour is easy to make and much less expensive than the high-end fruit cordials and you know exactly what went into it.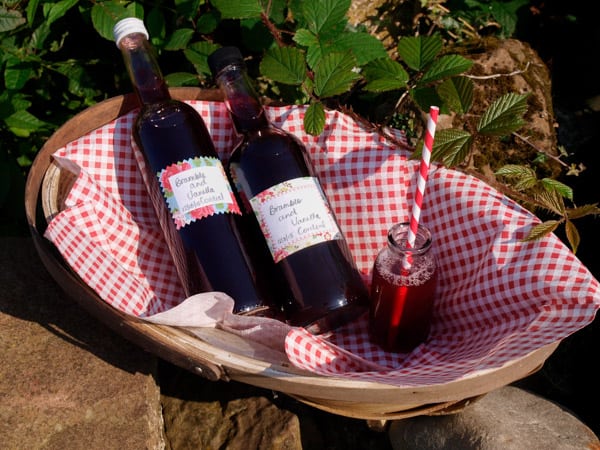 I love to forage for blackberries or brambles as we like to call them. I'm fortunate that our farm has plenty of hedgerows close to the farmhouse, so I don't have any difficulty gathering enough blackberries for crumbles, jams, trifles, and pies.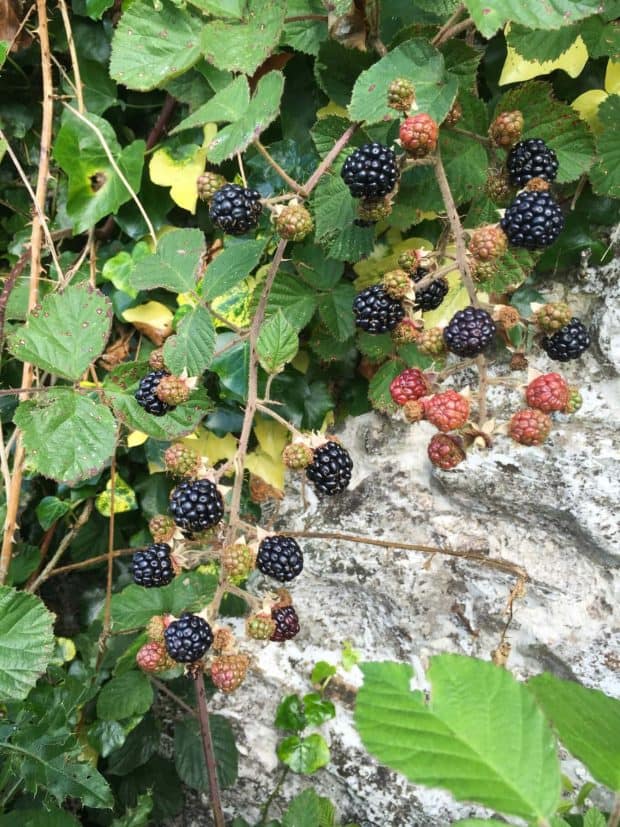 However, most years I gather so many blackberries that I don't know what to do with them all. Somehow, I can't leave free food and feel I have to gather them up and make something. I often buy premium cordials and they are really quite expensive, so I thought I'd try to make my own cordial. Blackberry and Vanilla Cordial can be diluted with still or sparkling cold water, it also makes a sweet and warming hot drink, similar to a blackcurrant cordial. The cordial is also a lovely addition to cocktails, add it to sparkling wine to create a cocktail a bit like a Kir Royale.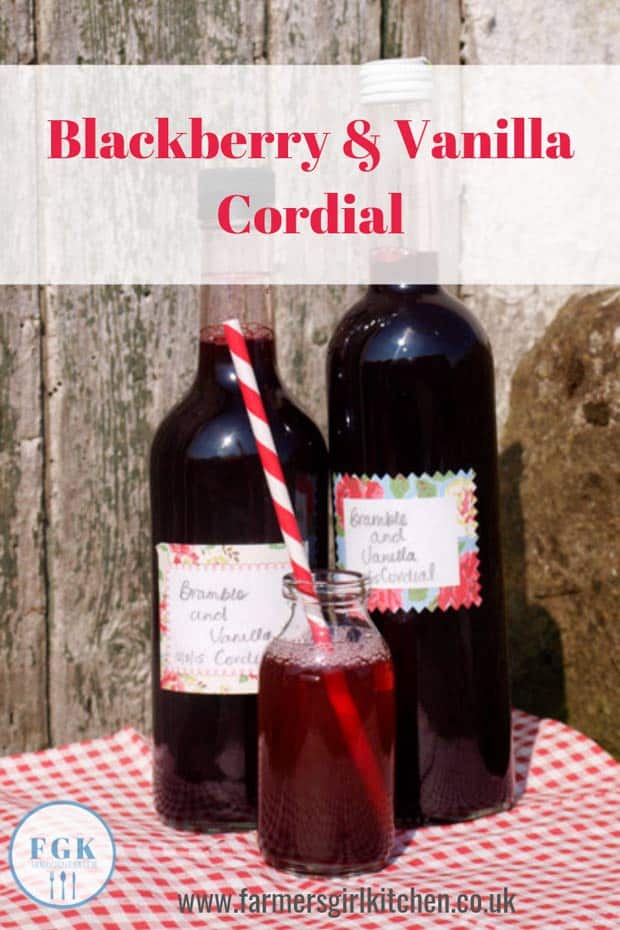 PIN THIS RECIPE TO MAKE LATER
More Blackberry Recipes from Farmersgirl Kitchen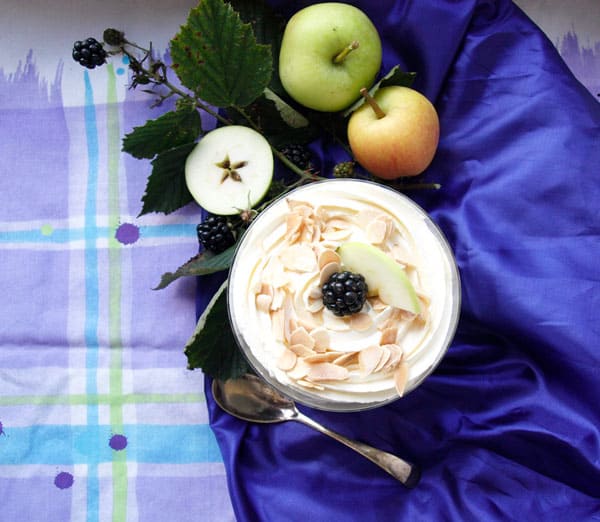 Easy Blackberry and Apple Trifle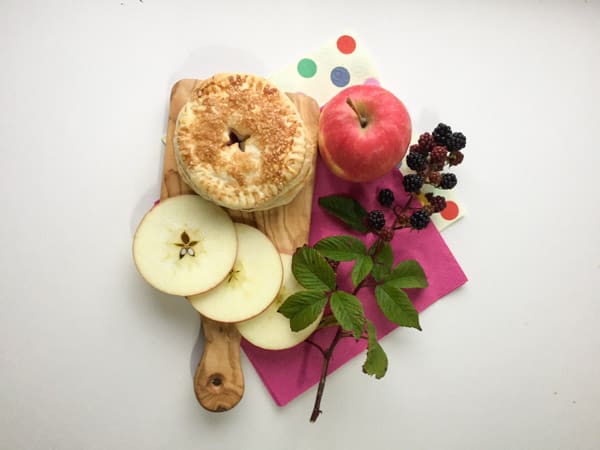 Blackberry and Apple Hand Pies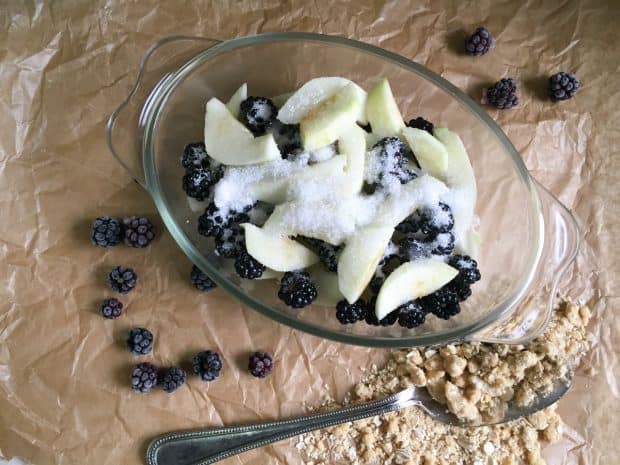 Sloe Cordial is a non-alcoholic cordial that is easy to make with foraged sloe berries. It is not too sweet and makes a great gift for Christmas or at any time of year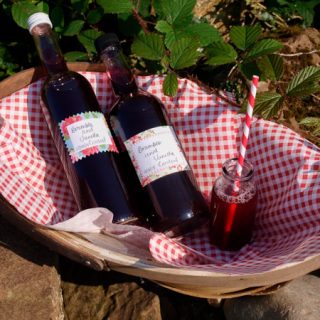 Blackberry and Vanilla Cordial
A rich and delicious cordial made from blackberries and vanilla, a great combination of sweet and sharp flavours, very refreshing.
Ingredients
1

kg

blackberries

1.5

l

cold water

500

g

sugar

1

vanilla pod
Instructions
Rinse the blackberries in a colander, then place in a large pan (I use my pressure cooker, without the lid) with the water.

Bring to the boil and boil for 10 minutes.

Use a jelly bag, muslin or a clean tea towel and strain the fruit over a clean bowl.  Do not squeeze the bag as it will make the cordial cloudy.

While the juice is straining, sterilise your bottles.  Either rinse thoroughly in cold water then place in a low oven for 30 minutes, or use a proprietary sterilising solution and follow the instructions.

Return the juice to the cleaned pan and add the sugar and the vanilla pod, unopened as you don't want the seeds in the cordial, heat gently stirring until the sugar has dissolved, then bring to the boil. Skim off any froth on the top and simmer vigorously for 10 minutes.

Remove the vanilla pod, rinse and dry for future use, and pour the cordial into sterilised bottles.
Notes
The cordial will keep for up to three months.
Don't Miss My Latest Recipes
CLICK TO SUBSCRIBE NOW to join my newsletter list & receive a FREE 'How To Adapt Recipes For Your Slow Cooker' printable!
Share by Email
What I really like about this Blackberry and Vanilla Cordial, is that there is still a little sharpness from the blackberries and the vanilla just tempers it, without the cordial needing to be further sweetened.
More recipes using blackberries