Honeysuckle and Meadowsweet Spritzer is a fresh and floral summer drink. Make this sweet cordial and top with sparkling water, soda or sparkling wine for a delicious and refreshing drink with a flavour similar to elderflower.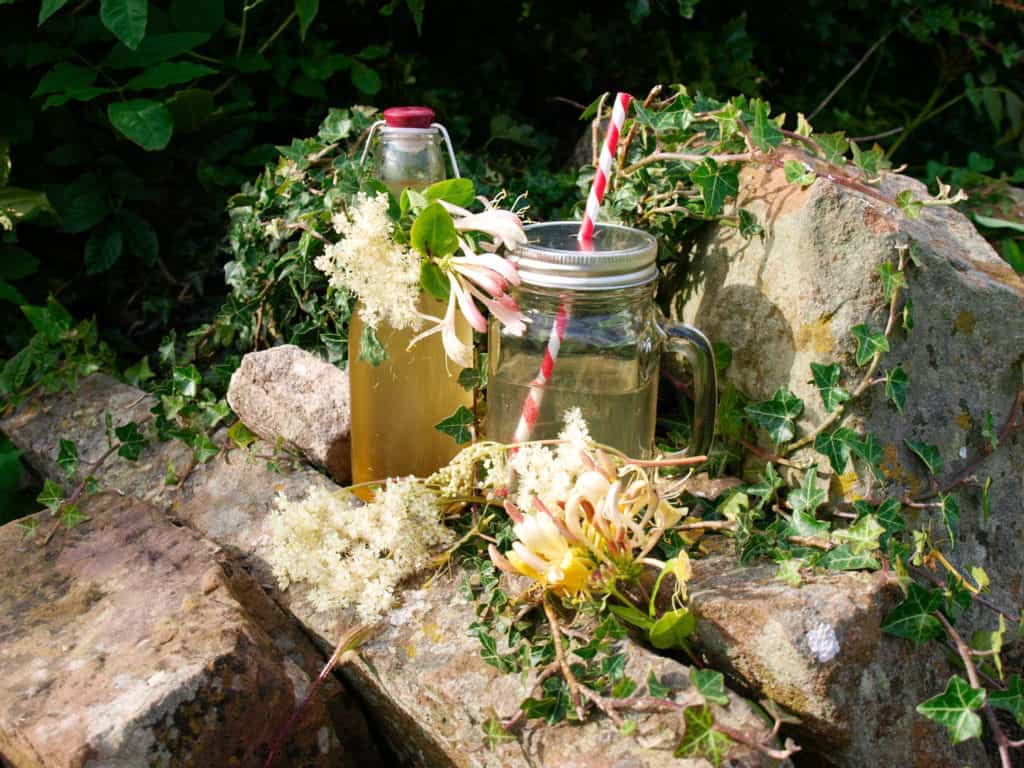 I love summer, don't you? I love the warm days and lighter evenings, but I also love the fresh and delicious food and drinks that go along with those lazy summer days.
Hedgerow Wildflowers
Living on a farm means that I have access to many wildflowers in our hedgerows. And I'm always looking for ways to include this free foraged produce into my recipes.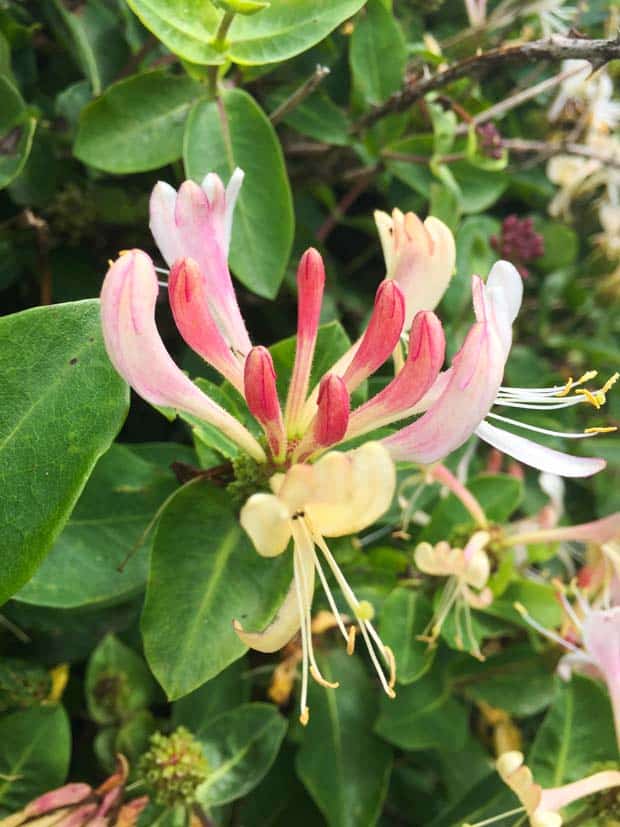 What is Honeysuckle?
Honeysuckle (Lonicera periclymenum) or Woodbine is a twining scented woodland plant, and insects and bees love its trumpet-like flowers. It has a sweet, heady scent particularly on warm summer evenings.
Can you eat Honeysuckle?
Honeysuckle flowers are edible but DO NOT eat the berries because they are poisonous.
How do you harvest Honeysuckle flowers?
The honeysuckle flowers are quite delicate. The best way to harvest them is with a small pair of scissors, cut off the flowers and put them in a plastic bag which contains a piece of damp kitchen paper.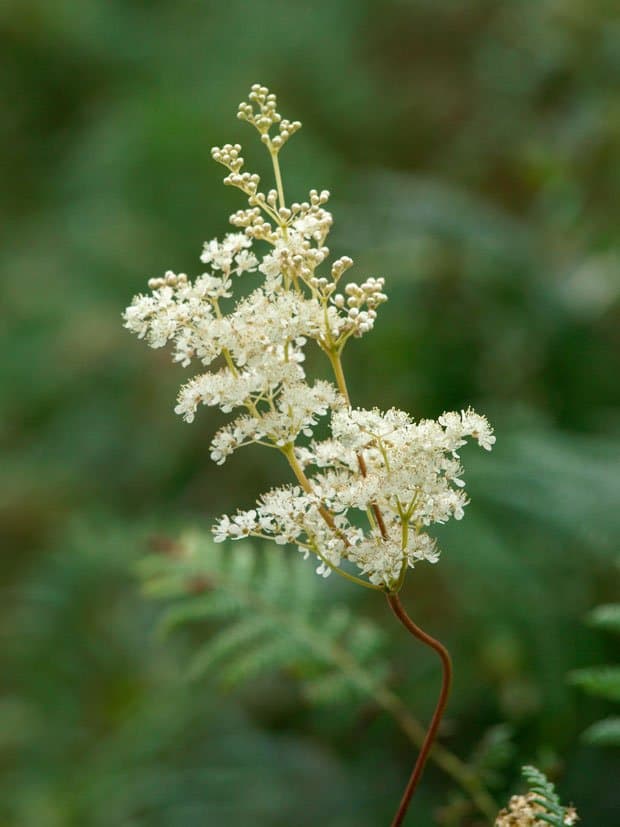 What is Meadowsweet?
Meadowsweet (Filipendula ulmaria) is a perennial herb that grows in wet habitats like damp meadows and river banks. Meadowsweet is part of the rose family, it's blooms are fragrant sprays of tiny creamy-white flowers on long stems.
Can you eat Meadowsweet?
The flowers and leaves of meadowsweet are both edible. However the leaves can be bitter.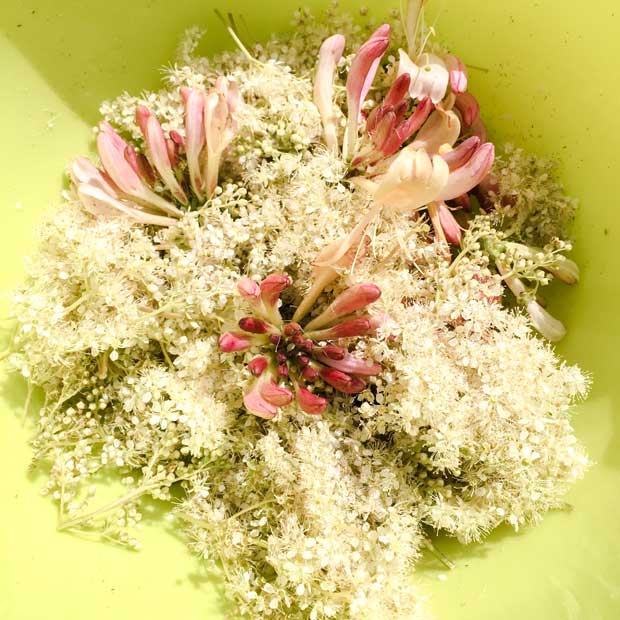 How do you harvest Meadowsweet flowers?
Gather the meadowsweet blossoms on a dry and sunny day. I use scissors and a large bowl or bag, try not to crush the flowers.
Don't use damp kitchen paper in your container when collecting meadowsweet, you want the blossoms to remain dry.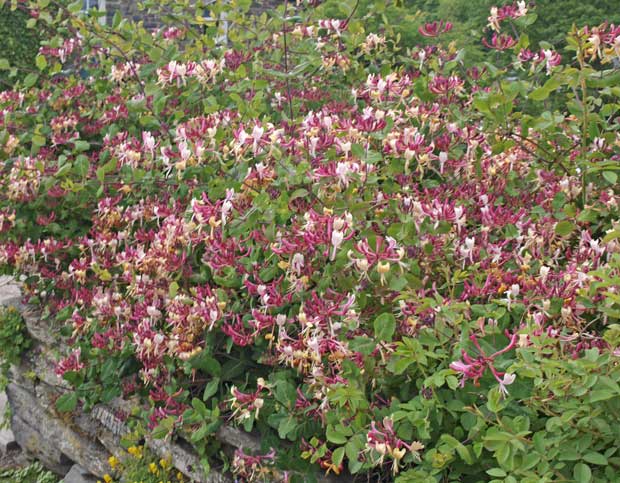 When can you harvest Honeysuckle & Meadowsweet?
Meadowsweet and Honeysuckle are two of my favourite wildflowers. They are both at their peak between June and September. And both have a beautiful scent as well as pretty flowers.
I make a Honeysuckle Simple Syrup however this is the first time I am making a recipe using Meadowsweet.
Where can you forage for Honeysuckle & Meadowsweet?
Honeysuckle
Woodlands
Hedgerows
Parks
Gardens
Meadowsweet
Meadows
Ditches
River Banks
Hedgerows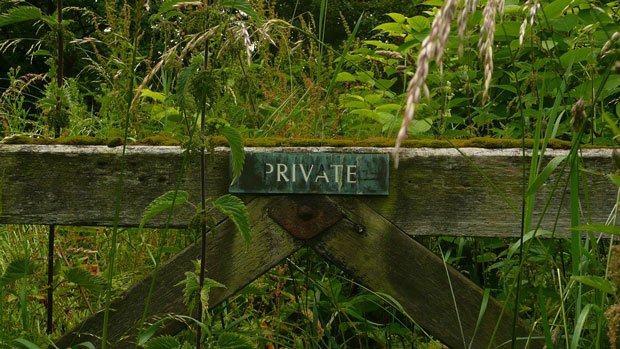 Where NOT to forage
Private land without permission
Near a road, because of the toxic fumes which absorbed by the plants.
What does Honeysuckle and Meadowsweet Spritzer taste like?
The flavour is similar, light and floral but it definitely has a recognisable flavour all of its own.
There are lots of recipes for elderflower drinks, but not so many for other foraged wildflowers. Use the basic recipe with many other flowers, like dandelion, rose or lavender.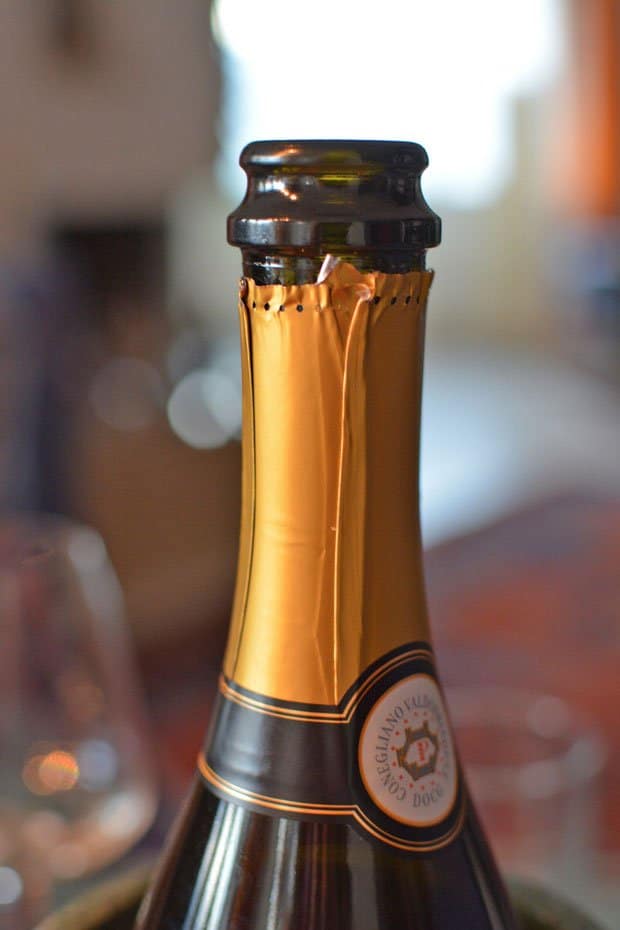 Add a bit of fizz!
All of these syrups make a great spritzer, and you can choose whether you add sparkling water, soda or a sparkling wine like prosecco or cava.
I really recommend you try this Honeysuckle and Meadowsweet Spritzer, so get out into the countryside and see what you can forage.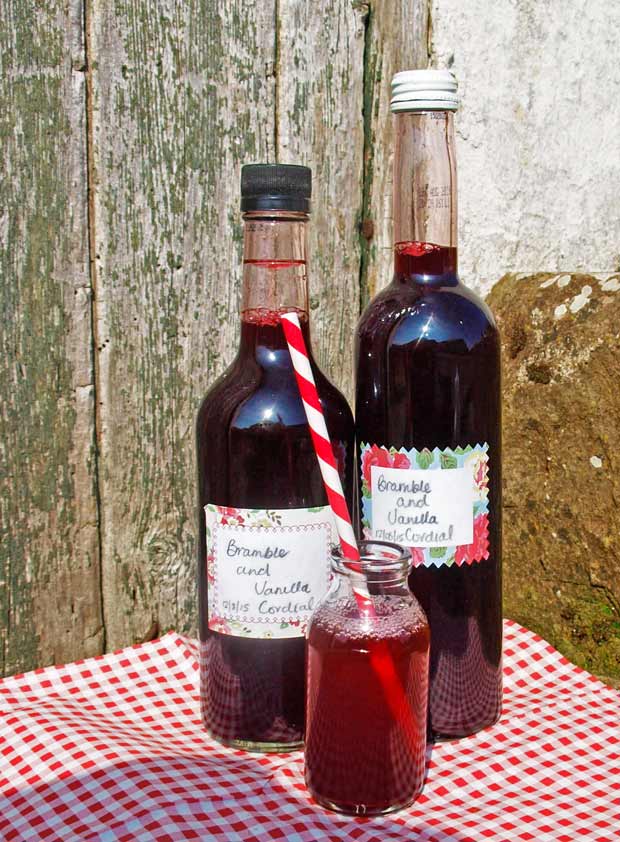 Foraged or cultivated blackberries are ideal for making this fruity Blackberry and Vanilla Cordial. It has a rich blackberry flavour is easy to make and much less expensive than the high-end fruit cordials.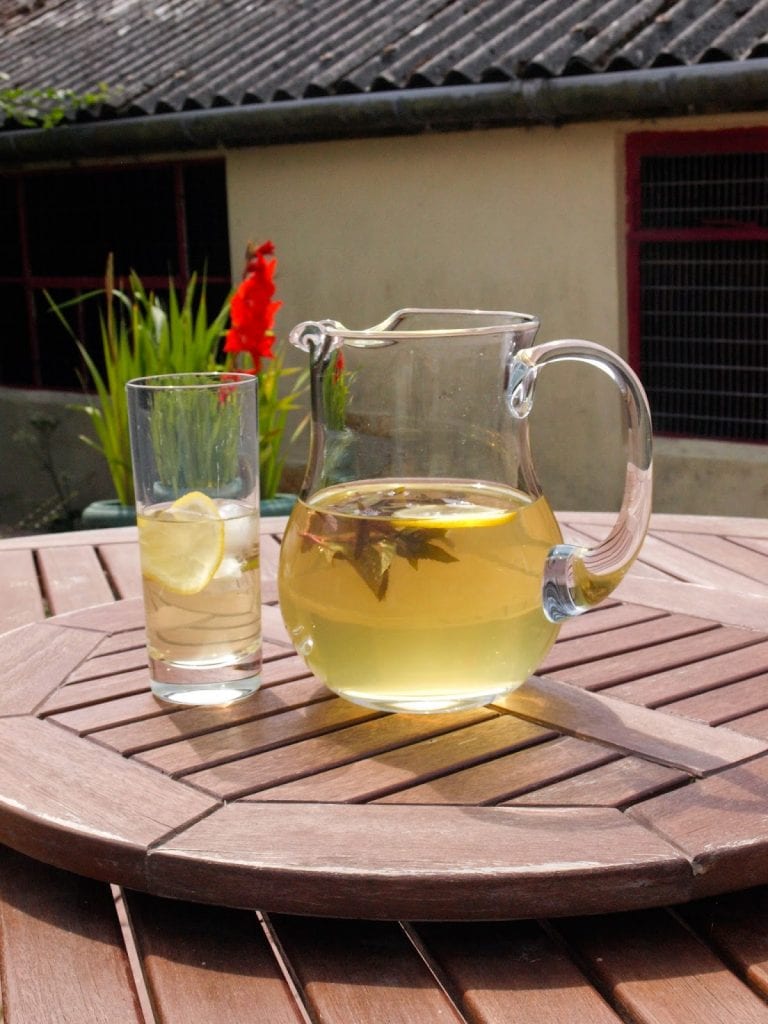 Fruity Iced Green Tea make this cold-brewed iced green tea overnight in your fridge, it's delicious.

Cranberry Fizz this recipe for a gorgeously festive non-alcoholic drink comes from the book Artisan Drinks by Lindy Wildsmith
More Summer Drinks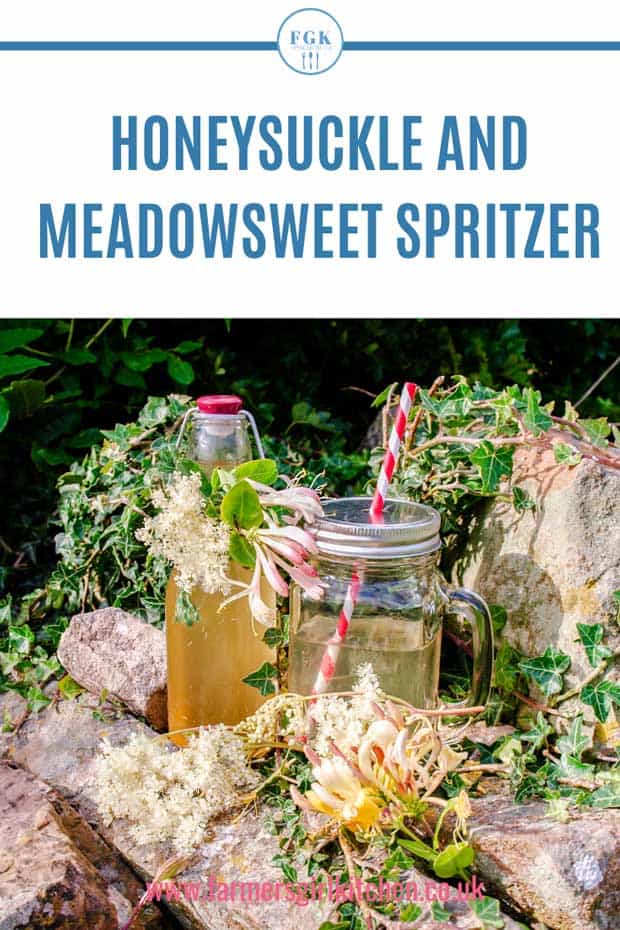 Honeysuckle and Meadowsweet Spritzer
A delicious floral simple syrup made with summer hedgerow foraged honeysuckle and meadowsweet flowers.
Ingredients
300

g

of sugar

200

ml

of water

200

g

of mixed Honeysuckle and Meadowsweet flowers

Juice of 1 lemon

Sparkling water or sparkling wine
Instructions
Dissolve sugar in water over medium heat, stirring occasionally, until it reaches a simmer.

Remove as much of the stems as possible and place the flowers in a glass or ceramic bowl.

Pour hot syrup over top and let stand for at least 30 minutes.

Add the juice of a lemon.

Strain the mixture and discard the flowers.

Pour into bottles and chill in the fridge, keep in the fridge for up to one month.
To make the spritzer
Pour about 2 tbsp into a glass and top up with sparkling water or sparkling wine to taste.
Notes
Nutrition Information based on mixing the syrup with sparking water.
Honeysuckle and Meadowsweet syrup can also be used to macerate soft fruits such as strawberries and peaches and adds a lovely flavour or it can be poured over ice cream.
Adapted from Cooking with Flowers by Miche Bacher
Nutrition
Calories:
116
kcal
Carbohydrates:
30
g
Sodium:
1
mg
Sugar:
30
g
Don't Miss My Latest Recipes
CLICK TO SUBSCRIBE NOW to join my newsletter list & receive a FREE 'How To Adapt Recipes For Your Slow Cooker' printable!
Share by Email