Honeysuckle and Meadowsweet Spritzer and other Summer Drinks: I love summer, don't you? It's not just the warm days and lighter evenings, it has to be all about the fresh and delicious food and drinks that go along with those lazy summer days.
Living on a farm means that I have access to many wildflowers in our hedgerows and I'm always looking for ways to include this free foraged produce into my recipes. Meadowsweet and Honeysuckle are at their peak at around the same time, in high summer, they both have a beautiful scent as well as lovely flowers. I've made a Honeysuckle simple syrup before, but have never managed to gather up some Meadowsweet, which is shocking really as it is my favourite hedgerow flower of all!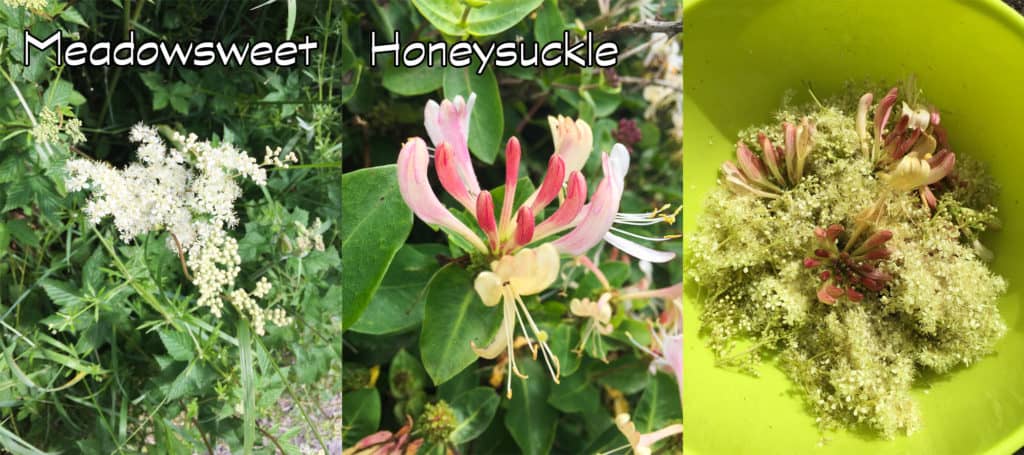 We have reduced the amount of alcohol we drink and enjoy trying different types of soft drink. There are lots of recipes for elderflower drinks, but not so many for other foraged wildflowers, the flavour is similar, light and floral but it definitely has a recognisable flavour all of its own. I'd really recommend you try it, and the basic recipe can be used with many other flowers, try dandelion, rose or lavender. All of these syrups would make a great spritzer and you can choose whether you fizz it up with sparkling water or a sparkling wine like prosecco or cava. I'd really recommend you try this Honeysuckle and Meadowsweet Spritzer, so get out into the countryside and see what you can forage.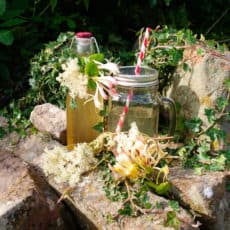 Honeysuckle and Meadowsweet Spritzer
A delicious floral simple syrup made with summer hedgerow foraged honeysuckle and meadowsweet flowers.
Print
Pin
Rate
Ingredients
300

g

of sugar

200

ml

of water

200

g

of mixed Honeysuckle and Meadowsweet flowers

Juice of 1 lemon

Sparkling water or sparkling wine
Instructions
Dissolve sugar in water over medium heat, stirring occasionally, until it reaches a simmer.

Remove as much of the stems as possible and place the flowers in a glass or ceramic bowl.

Pour hot syrup over top and let stand for at least 30 minutes.

Add the juice of a lemon.

Strain the mixture and discard the flowers.

Pour into bottles and chill in the fridge, keep in the fridge for up to one month.
To make the spritzer
Pour about 2 tbsp into a glass and top up with sparkling water or sparkling wine to taste.
Notes
The Honeysuckle and Meadowsweet syrup can also be used to macerate soft fruits such as strawberries and peaches and adds a lovely flavour or it can be poured over ice cream.
Adapted from Cooking with Flowers by Miche Bacher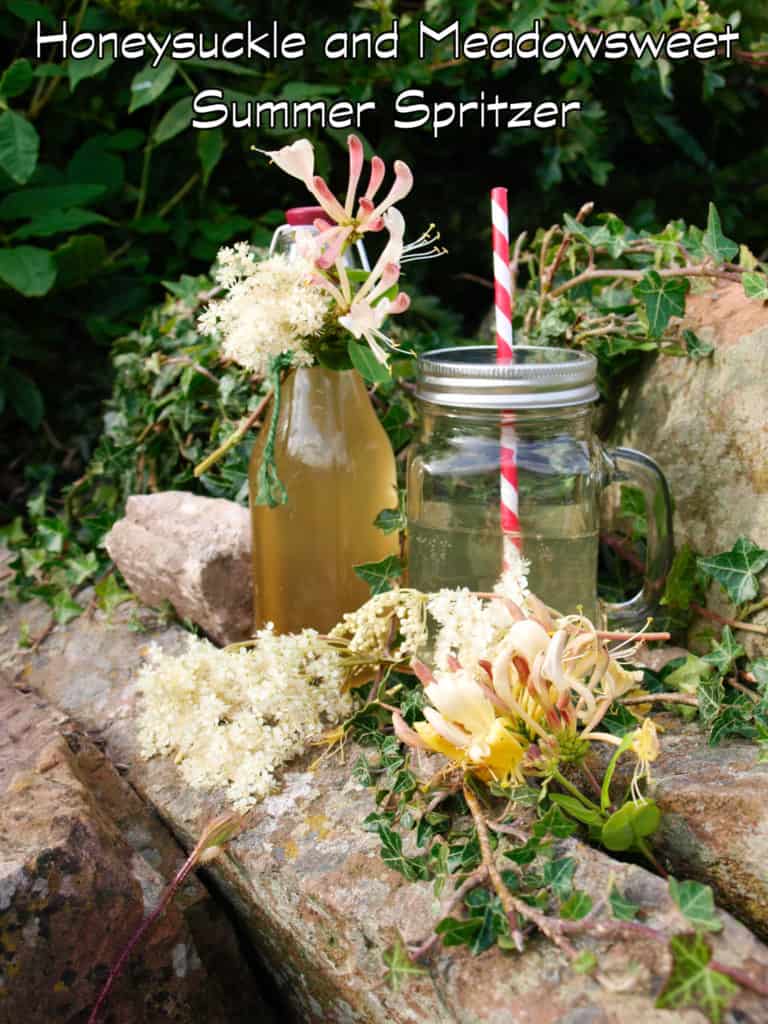 PIN FOR LATER
Iced Tea
Another favourite summer drink is Iced Tea. I really love tea and enjoy it both hot and chilled, but in the summer Iced Tea is just so refreshing and the great bonus is that it is so low in calories, as long as you don't add sugar of course! I'd like to tell you about the Adagio Iced Tea blends they are made with fresh leaves, not powders or poor-quality tea bags. All you need to do is place the premeasured pouch (similar to a teabag, just bigger) in a jug of water and refrigerate overnight. For quicker preparation, you can steep in hot water for five minutes and add ice. Adagio has a range of black, green, oolong, white and herbal tea flavours. Each pouch makes about 1 litre of iced tea. Enjoy the superior taste of freshly brewed tea.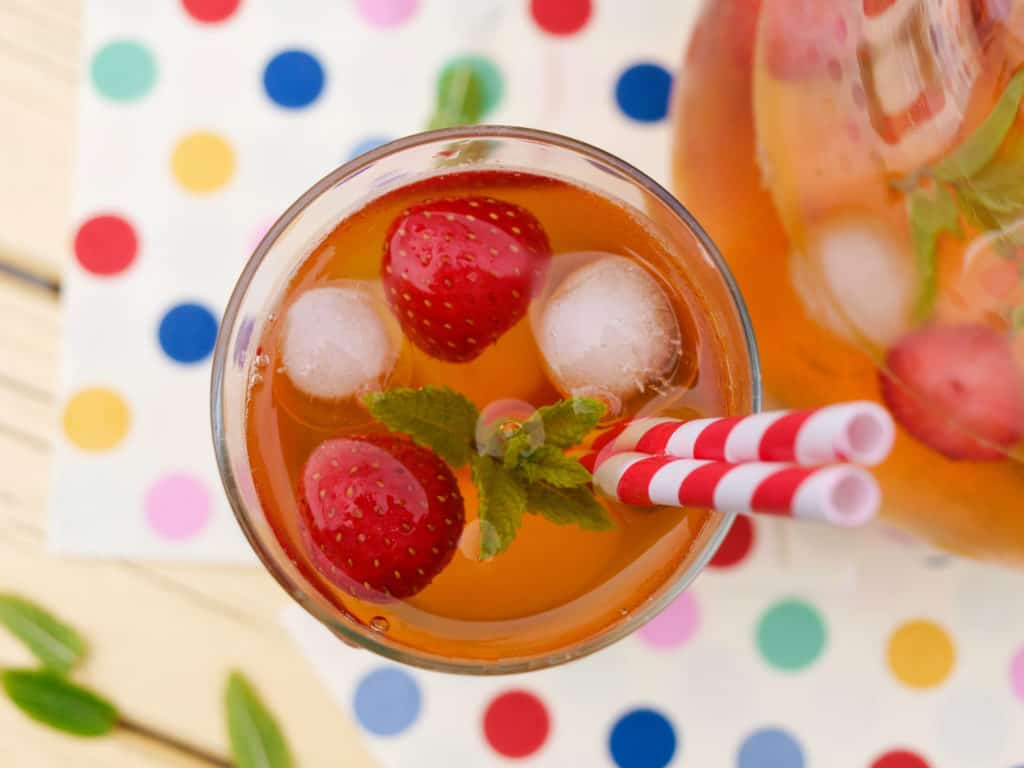 The tea in the photograph is Peach Oolong Iced Tea from Adagio, it has a light fruit flavour that doesn't overwhelm the delicate tea flavour. I added some strawberries, peach slices and fresh mint to the chilled tea to make a pretty and festive looking summer drink.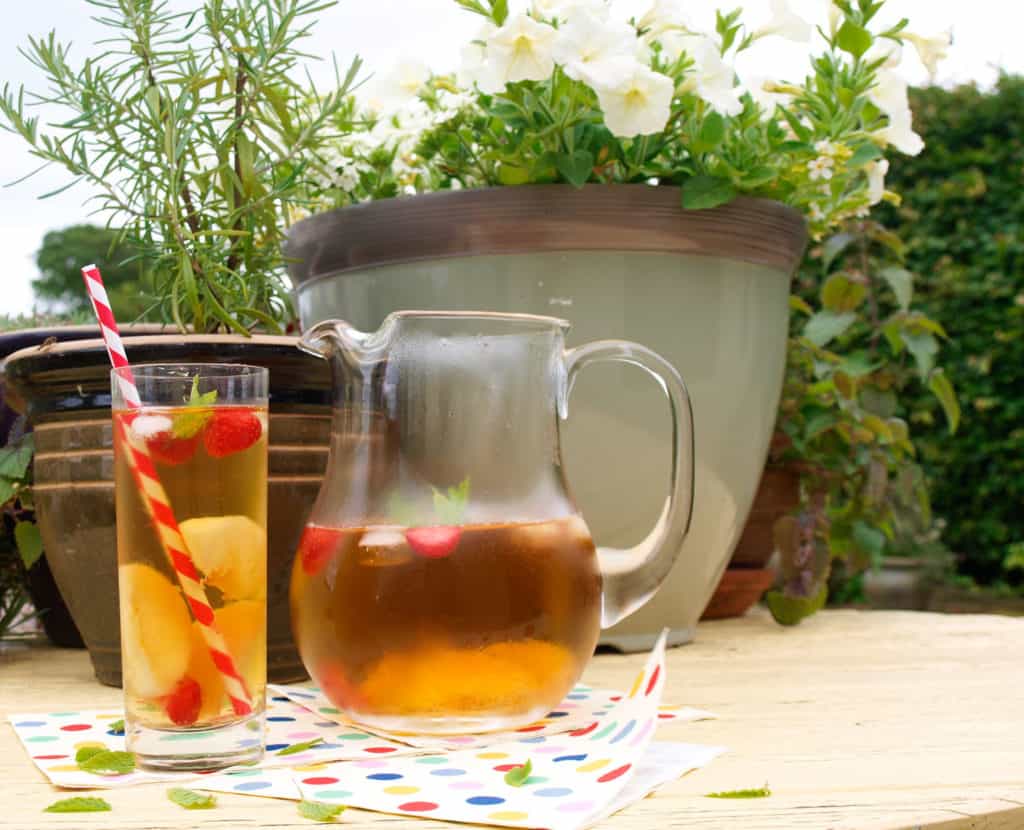 Check out the full range of teas from Adagio, black tea, green tea, chai, oolong, flavoured teas, decaf, herbal and rooibos. There's something for everyone and they are all available to order online.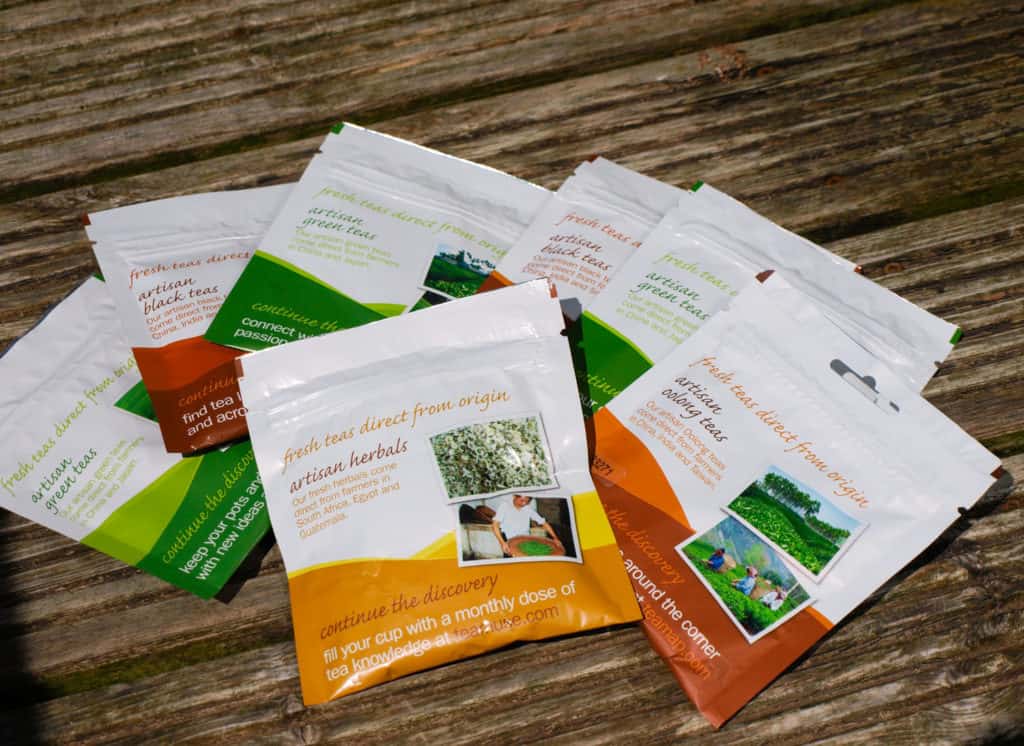 Cold Press Fruit Juice and Coconut Water
I'm not a huge fan of coconut water straight up, but these fruit juice blends are really very delicious, they taste lighter than a straight fruit juice and the coconut water makes them really refreshing.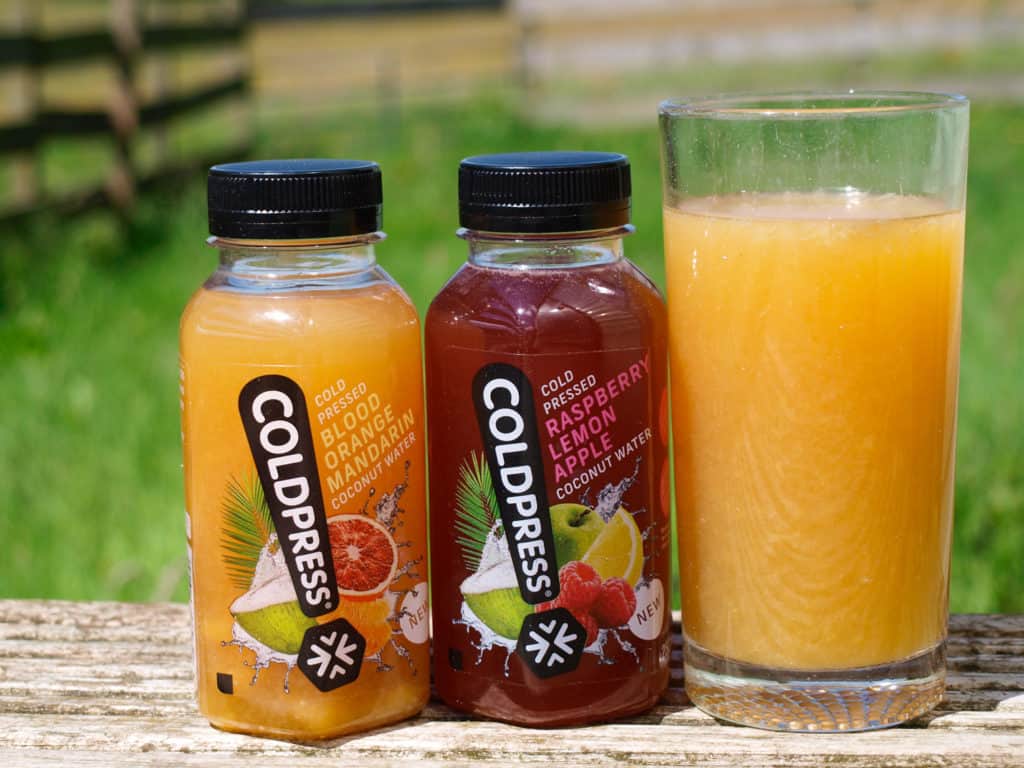 Created by the pioneering juice brand Coldpress, the two flavours, Blood Orange Mandarin and Raspberry Lemon Apple, are free from any added sugar and also have 35% less natural sugar than regular fruit juice. That also means they're low in calories – 76/250ml bottle and 88/250ml respectively.
And, thanks to them being cold pressed, as opposed to being subjected to the brutal heat of pasteurisation, they're 'nutritionally dense' – retaining far more of the nutrients and electrolytes found in both the fruit juice and coconut water, especially potassium, calcium and magnesium.
Coldpress say these drinks are perfect for those who find 'pure' coconut water overpowering – and who are looking for less natural sugar from a fruit juice (they actually have 21% less calories than the same size serving of orange juice).
Raspberry Lemon Apple is a fruity blend of coconut water, raspberry, lemon, apple and – unusually – elderberry. This flavoursome drink has 88 calories per bottle, which is 21% less calories that the same size serving of orange juice and no added sugar. It also has an impressive 89% of your RDA of Vitamin C.
Blood Orange Mandarin is a naturally refreshing combination of coconut water, blood orange, mandarin, apple and lemon. With only 76 calories per bottle, it has 32% less calories than the same size serving of orange juice and no added sugar. One bottle contains 80% of your RDA of Vitamin C.
RRP: £1.99 available at Boots. cold-press.com / @ColdpressJuices
Disclosure: I received a selection of teas from Adagio Teas, and the Coldpress Coconut Water/Fruit blend drinks to review.
Here are some other summer drinks from top UK bloggers:
Old Fashioned Lemonade– Fab Food 4 All
Fruity Iced Green Tea – Farmersgirl Kitchen
Easy Tropical Sangria – Recipes from a Pantry
Summer Blush, a Gin and Prosecco Cocktail – Supper in the Suburbs
Cranberry Fizz – Lindy Wildsmith via Farmersgirl Kitchen
Strawberry Rose Mint Fizz – Tin & Thyme
What's your favourite summer drink?