Fried Chicken with Cashew Nuts is one of the best Chinese 'fakeaway' dishes I've ever made. It's got all the glorious umami flavours you expect from a takeaway and it's just so simple to make., it comes from a great cookbook called China Towns, Asian Cooking from Around the World in 100 recipes.
In Western countries, the Chinese food eaten in restaurants is often a far cry from the dishes prepared and served by the Chinese themselves. This is because the Asian communities that have settled in so-called 'China Towns' around the world, in cities such as New York, San Francisco, London and Paris, have mastered the art of adapting their cuisine to suit local tastes. Added to which, this cuisine is often influenced by other Asian dishes, so much so that food served in one city's China Town may be heavily influenced by other Asian dishes, so much so that food served in one city's China Town may be heavily influenced by Vietnamese dishes whereas in another it may resemble closely Thai cuisine.
In this visually stunning cookbook, author Jean-François Mallet goes behind the scenes in Chinese communities around the world in order to understand how and why the food changes so much depending on location. As well as intimate portraits of these fascinating communities, this stunning book contains, 100 delicious recipes capturing the essence of China Towns from across the world and their various geographical influences.
About the Chef: A trained professional chef as well as a talented photographer, JEAN-FRANÇOIS MALLET naturally transitioned from cooking to pursue his passion for images. He has worked for some of the biggest names in French Cuisine, such as Jöel Robuchon.
Yam with Beef
The Introduction
This is a fascinating read, where you learn about the different culinary families of China and the influence of Asian immigration on what we know as 'Chinese' cuisine.
The Contents
This is a very large book containing information, photographs and recipes for Starters; Chinese Dumplings; Soups and Broths; Chicken and Quail; Beef; Pork; Duck; Fish and Seafood; Weird and Wonderful; Vegetable, Rice and Side Dishes; Noodles; Tea, Drinks and Desserts.
The recipes read like the menu of a very eclectic Chinese restaurant, here is what I would choose… well I might not manage all of these dishes, but they were too good to leave off the menu!
Vietnamese Prawn Salad
Juicy Pork Dumplings
Broth with won-ton dumplings
Fried Chicken with Cashew Nuts
Fried Beef with Basil
Cantonese Pork Spare rib
Glazed Peking Duck to make at home
Chinese Steamed Fish
Salt and Pepper Prawns
Tofu with 100 year old eggs
Fragrant Rice with Pork
Kimchi Fermented Cabbage
Pad Thai
Egg Noodles with spring onions
Chilled Jasmine Tea with Lemongrass
Toffee Apples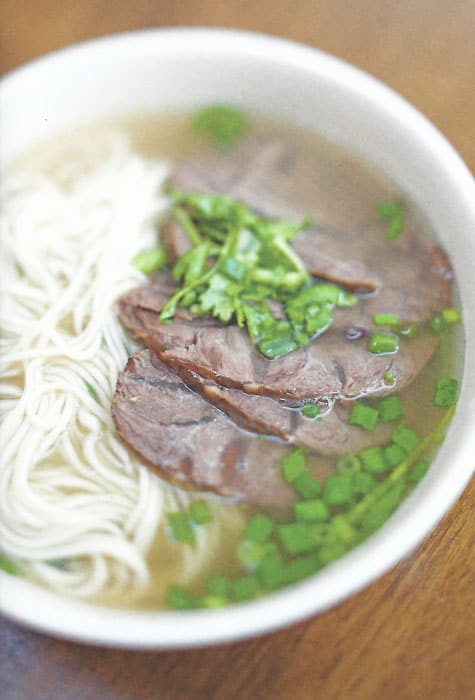 Fresh Noodles with Beef & Coriander
Who is it for?
It is certainly not for the faint-hearted as it contains recipes for chicken feet and there are not very many vegetarian recipes. It's also not for purists who are looking for original recipes from the country, these are unashamedly adaptations of the originals to suit the ingredients and tastes of the people around the world. So if you would like to cook a dish that would be served in China Towns across the world, then it's for you.

Pros
The stories and information preceding the recipes are as interesting as the recipes themselves. There are lots of interesting photographs of the China Towns as well as of the recipes. I found the recipes well written, many are quite short and don't require unusual ingredients. I loved 'How to eat with chopsticks and what you should never do with chopsticks'.

Cons
This is one big book, it doesn't sit open very well for cooking, I had to weigh it down to keep it open. Although there are lots of photographs, the photos of the finished dish are not always beside the recipe, which I prefer.
The Verdict
I was certainly impressed with the recipe I cooked, but I felt you could have condensed the content into a slimmer volume which was less expensive and easier to use in the kitchen. I am quite keen to try some of the other recipes after the success of the Fried Chicken with Cashew Nuts, so overall a bit of a mixed verdict.

How to make the Fried Chicken with Cashew Nuts
Marinading the chicken for 2 hours means that all the flavour is absorbed into the chicken and the cornflour helps to tenderise the chicken, something called velveting.
Toasting the cashew nuts in the pan intensifies the flavour and makes them super crispy. I made the Fried Chicken with Cashew Nuts while I was having my kitchen floor replaced, the final part of the work we have had to do as a result of dry rot at the front of our home. So there I was cooking on a single electric ring in my back kitchen (utility room), with the joiner working away in the kitchen sawing and hammering. It's perfectly possible to cook good food in this limited space but not all that great for food styling and photography!
This was a perfect dish to make in a single pan. I used a sachet of microwave rice to serve the Fried Chicken with Cashew Nuts. Just a little preparation ahead of time for the marinade, the actual cooking took next to no time.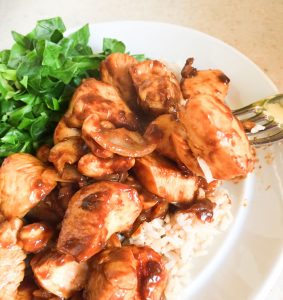 Fried Chicken with Cashew Nuts
Fried Chicken with Cashew Nuts is one of the best Chinese 'fakeaway' dishes I've ever made and it's so simple!
Ingredients
2

garlic cloves

1

onion

4

chicken breasts

2

tsp

cornflour

cornstarch

6

tbsp

soy sauce

1

bunch Thai basil

2

tbsp

groundnut

peanut oil

150

g

cashew nuts
Instructions
Peel and chop the garlic and onion, then cut the chicken into small pieces.

In a bowl, mix the chicken, garlic, onion, cornflour (cornstarch) and soy sauce together, then leave to marinate at room temperature for 2 hours.

Strip, rinse and dry the basil.

About 20 minutes before serving, heat the oil in a large wok over a high heat.

Add the cashews and stir-fry for a few minutes then add the chicken and marinade and cook for 10 minutes.

Once the chicken is cooked, add the basil leaves, stir and turn off the heat.

Serve immediately with fragrant rice.
Nutrition
Calories:
526
kcal
Carbohydrates:
17
g
Protein:
59
g
Fat:
24
g
Saturated Fat:
4
g
Cholesterol:
144
mg
Sodium:
1777
mg
Potassium:
1218
mg
Fiber:
2
g
Sugar:
3
g
Vitamin A:
70
IU
Vitamin C:
5.2
mg
Calcium:
45
mg
Iron:
4.2
mg
Don't Miss My Latest Recipes
CLICK TO SUBSCRIBE NOW to join my newsletter list & receive a FREE 'How To Adapt Recipes For Your Slow Cooker' printable!
Such a simple recipe, but the flavour was really close to what you would eat at in a Chinese restaurant and the chicken is super tender and tasty.
China Towns Asian Cooking from Around the World in 100 Recipes by Jean-François Mallet Hardback RRP £30.00
Published by Jacqui Small Publishing
To order
China Towns
at the discounted price of £24 including p&p* (RRP: £30), telephone 01903 828503 or email
[email protected]
and quote the offer code
APG358.
*UK ONLY – Please add £2.50 if ordering from overseas.