Fried Chicken with Cashew Nuts is one of the best Chinese 'fakeaway' dishes I've ever made. It's got all the glorious umami flavours you expect from a takeaway and it's just so simple to make.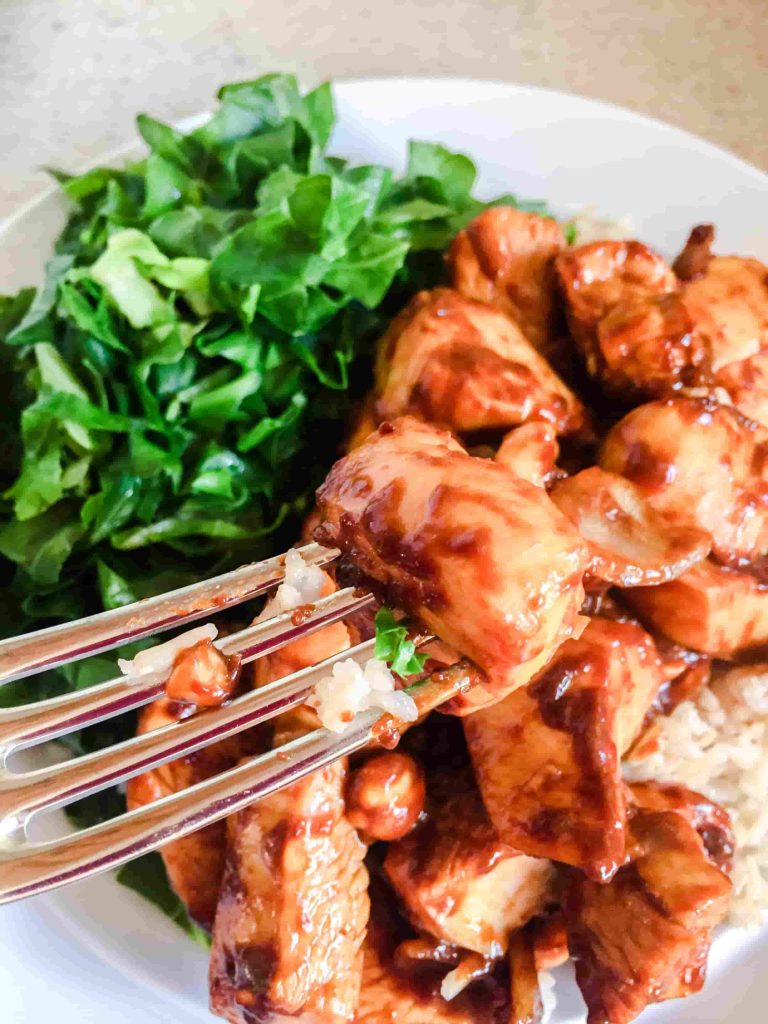 This simple recipe for Fried Chicken with Cashew Nuts is one that is easy to recognise from Chinese restaurants and takeaway menus, and it's popular with all the family.

Chinese food eaten in restaurants is often very different from the dishes prepared and served by the Chinese themselves. This is because the Asian communities that have settled in so-called 'China Towns' around the world,
These communities have mastered the art of adapting their cuisine to suit local tastes. Other Asian dishes from Vietnam or Thailand may influence the Chinese cuisine in a community.
What ingredients do I need to make Fried Chicken with Cashew Nuts?
Chicken
Garlic
Onion
Cornflour (corn starch)
Cashew Nuts
Soy Sauce
Thai Basil (optional)
groundnut oil (or other vegetable oil)
Cashew Nuts

What kind of chicken should I use?
Use chicken breast for this recipe, it works best because it cooks quickly and stays tender.

What is cornflour?
Cornflour is a fine powder made by grinding dried corn kernels (maize). I use it to thicken sauces and in baking. Cornflour is known in the US as Corn starch.

What are Cashew Nuts?
Cashews are native to Brazil and grow on trees but they are not true nuts. Cashews are seeds and they grow on the bottom of cashew fruit, which are known as Cashew apples.

What is soy sauce?
Naturally brewed soy sauce is made using only four basic ingredients: fermented soybeans and wheat with salt and water. Soy sauce is a complex combination of flavours with salt, sweet, bitter and the savoury umami all coming together to create this classic Asian ingredient.
Choose the best quality soy sauce you can afford, it is often cheaper to buy it at a Chinese supermarket.

What is Thai Basil?
Thai basil is a tender plant with small, narrow leaves, purple stems. It is slightly spicy with a flavour of liquorice or aniseed.
There isn't a true substitute for Thai Basil but some people suggest you use Sweet Basil leaves combined with a few leaves of mint. You can buy a Thai Basil paste or dried Thai Basil.
What is velveting and why should I do it?
Velveting is a Chinese method of marinating which keeps delicate meat and seafood moist and tender during cooking. The velveting technique is very easy and gives amazing results.
Simply coat strips of chicken, turkey, pork, beef, (or scallops, prawns etc) in a mixture of egg white, cornflour, sesame oil and salt before deep-frying in hot oil or poaching in simmering water.
The coating creates a protective barrier which seals in the moisture and also helps prevent the food from overcooking and becoming tough

How to make the Fried Chicken with Cashew Nuts
Follow the step by step instructions to make this simple and delicious reicpe.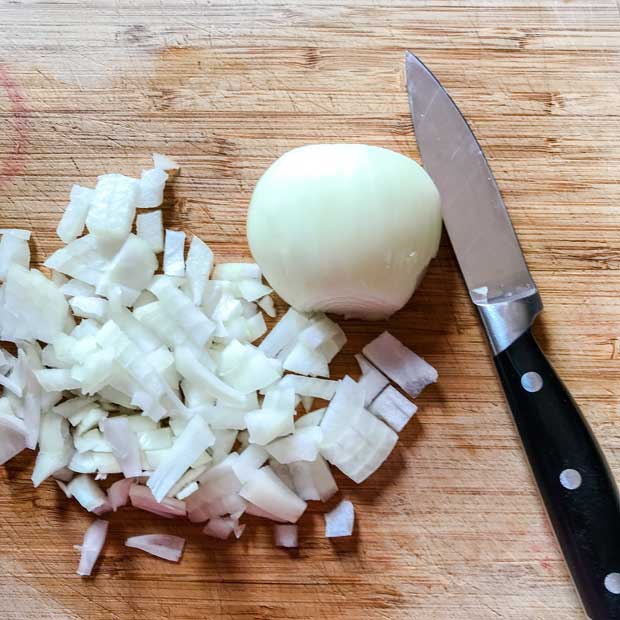 Prepare the onion, garlic, and chicken
Peel and chop the onion and garlic.
Cut the chicken into small pieces.

Marinate the chicken
Mix the chicken, garlic, onion, cornflour (cornstarch), and soy sauce together, then leave to marinate at room temperature for 2 hours. This is the velveting process.
Rinse the Thai Basil and strip the leaves from the stems.

Toast the cashew nuts
Heat the oil in the pan and toast the cashew nuts for a few minutes to intensify the flavour and make them nice and crisp.

Add the chicken mixture to the pan
Add the chicken with the onions, garlic and marinade to the pan.
Stir fry for about 10 minutes.
Add the Thai Basil when the chicken is cooked, then turn off the heat.

How do I serve Fried Chicken with Cashew nuts?
Serve with plain boiled rice or with Plain Egg Fried Rice. You can serve some stir-fry vegetables such as stir-fried Spring Greens or Easy Stir Fry Broccoli on the side.
This is such a simple recipe, but the flavour was really close to what you would eat at in a Chinese restaurant and the chicken is super tender and tasty.
A simple One-Pan Meal
Fried Chicken and Cashew Nuts is also the perfect one-pan meal. I first made this recipe when I was having my kitchen floor replaced. I cooked the chicken on a single electric ring in the back kitchen (utility room) to the sound of sawing and hammering. It is ideal served with microwavable rice for a speedy supper.
More Asian Recipes from Farmersgirl Kitchen
Slow Cooker Honey and Garlic Chicken
Chicken slowly cooked in a rich, sticky sauce, ideal to serve with rice or noodles.
Check out this recipe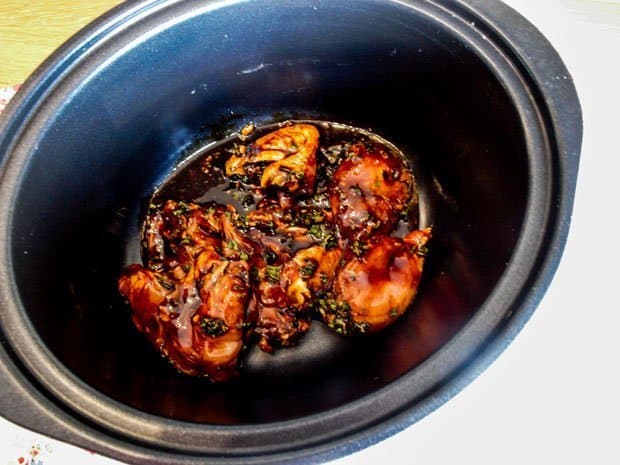 Sweet and Sour Turkey Meatballs
This low calorie Sweet and Sour Turkey Meatballs recipe allows you to enjoy all the sweet and sour flavour with the minimum calories.
Check out this recipe

Vietnamese Chicken Curry – ca ri ga
Chicken curry based on the flavours of Vietnam, similar flavours to a Thai Green curry
Check out this recipe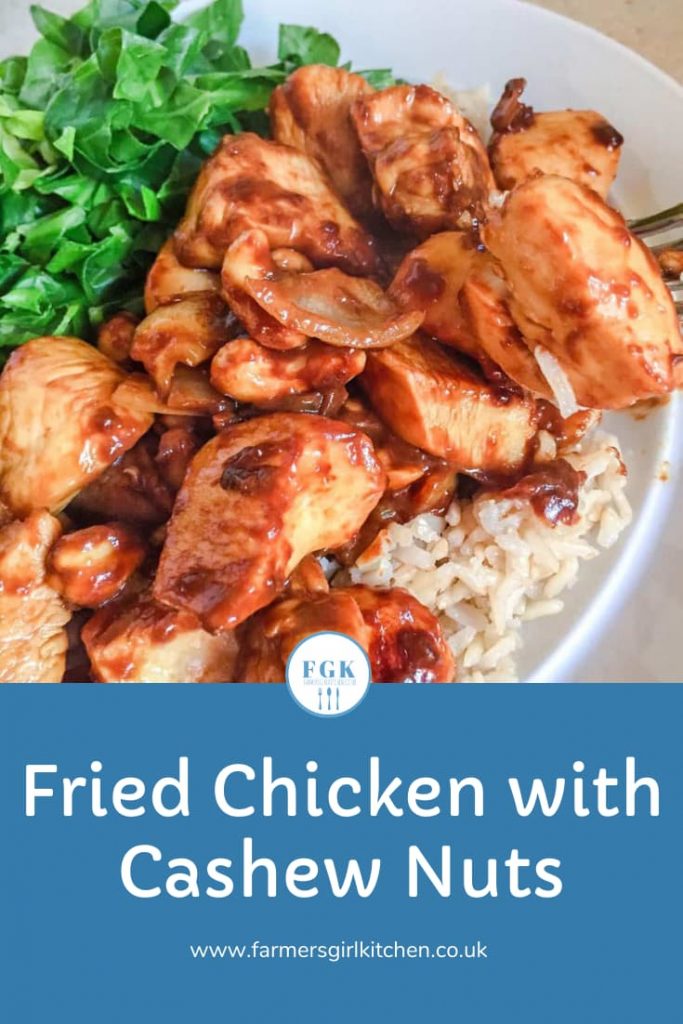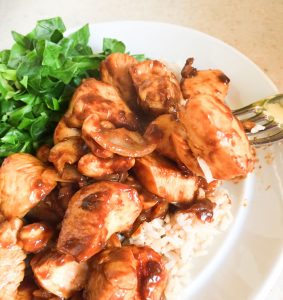 Fried Chicken with Cashew Nuts
Fried Chicken with Cashew Nuts is one of the best Chinese 'fakeaway' dishes I've ever made and it's so simple!
Ingredients
2

garlic cloves

1

onion

4

chicken breasts

2

tsp

cornflour

cornstarch

6

tbsp

soy sauce

1

bunch Thai basil

2

tbsp

groundnut

peanut oil

150

g

cashew nuts
Instructions
Peel and chop the garlic and onion, then cut the chicken into small pieces.

In a bowl, mix the chicken, garlic, onion, cornflour (cornstarch) and soy sauce together, then leave to marinate at room temperature for 2 hours.

Strip, rinse and dry the basil.

About 20 minutes before serving, heat the oil in a large wok over a high heat.

Add the cashews and stir-fry for a few minutes then add the chicken and marinade and cook for 10 minutes.

Once the chicken is cooked, add the basil leaves, stir and turn off the heat.

Serve immediately with fragrant rice.
Notes
Adapted from a recipe in China Towns
Nutrition
Calories:
526
kcal
Carbohydrates:
17
g
Protein:
59
g
Fat:
24
g
Saturated Fat:
4
g
Cholesterol:
144
mg
Sodium:
1777
mg
Potassium:
1218
mg
Fiber:
2
g
Sugar:
3
g
Vitamin A:
70
IU
Vitamin C:
5.2
mg
Calcium:
45
mg
Iron:
4.2
mg
Don't Miss My Latest Recipes
CLICK TO SUBSCRIBE NOW to join my newsletter list & receive a FREE 'How To Adapt Recipes For Your Slow Cooker' printable!
Share by Email