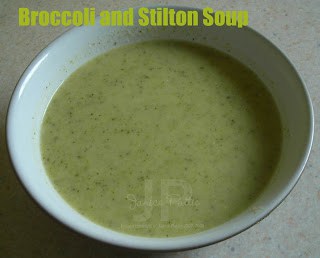 It doesn't look very exciting in this picture, probably could have done with a garnish! Anyway,I thought it could have done to have been a bit thicker, so either slightly less stock or more potato – how large is a large potato?
Ingredients
1 large onion , roughly chopped
olive oil
1 large potato , peeled and cubed
1l vegetable stock
1 head broccoli , about 300g, roughly chopped
blue cheese, such as Stilton or roquefort, about 100g, crumbled
Method
1. Cook the onion in 1 tbsp olive oil in a large pan until soft (about 5 minutes). Add the potato and stock and simmer until the potato is tender (about 10 minutes).
2. Add the broccoli and cook for 3-4 minutes until just tender but still bright green. Add half the cheese and whizz to a smooth soup in a blender. Season then serve with the rest of the cheese crumbled over.