Wild Garlic Pesto is a quick and easy sauce to make with seasonal wild garlic. It is even easier to make in your blender and is ideal to serve with pasta, rice, or grilled meats. 

What is Pesto?
Pesto is traditionally made with crushed garlic, pine nuts, salt, basil leaves, and a hard cheese such as Parmigiano-Reggiano (Parmesan cheese), pounded together with olive oil in a mortar and pestle.
However, other nuts and herbs can also be used to make variations on the classic basil and pine nut pesto.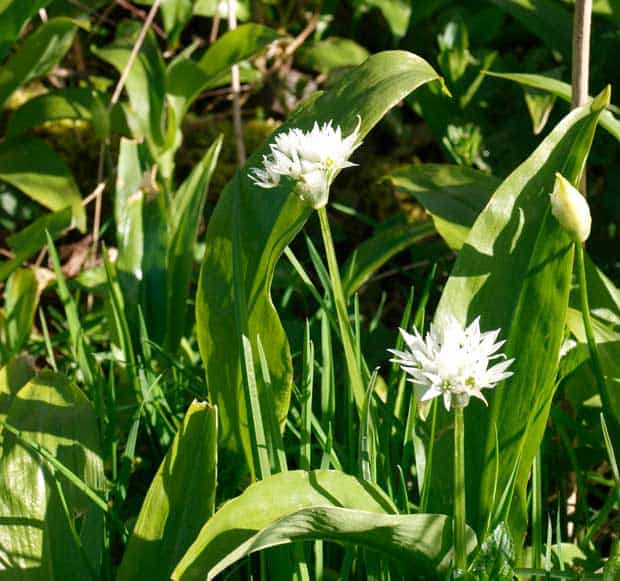 What is Wild Garlic?
Wild Garlic is also known as Ransoms and is a leafy plant that appears in spring. You can eat the young leaves and the flowers which both have a pungent smell of garlic but are mild in flavour.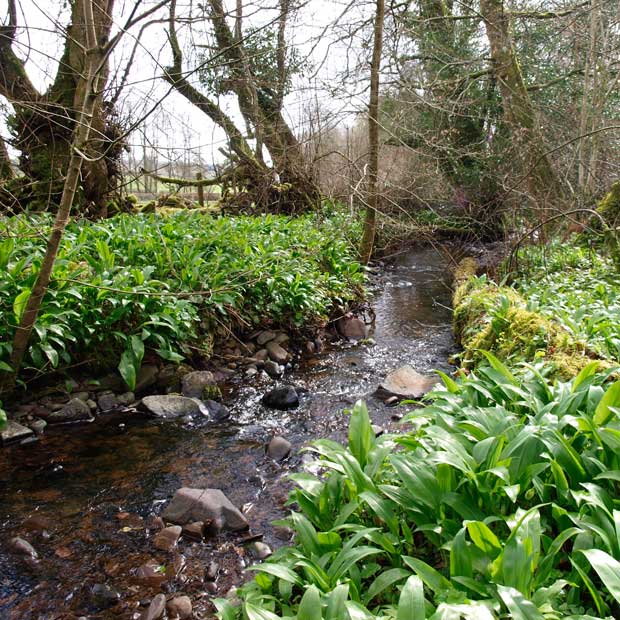 Where does Wild Garlic Grow?
Close to where I live there are some woods with a burn (stream) running through them and this is my favourite place to walk. The Wild Garlic (Ransoms) grows all along the banks of the burn and into the woodland. It even spills out onto the roadsides.
I always pick wild garlic far from the roadside and traffic pollution. There is lots more information about foraging for wild garlic on the Countryfile website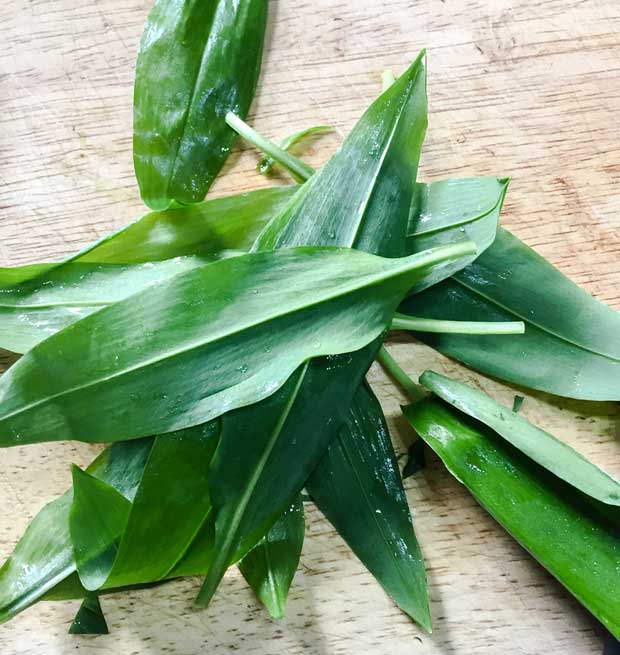 How do I prepare Wild Garlic?
Wash the Wild Garlic carefully then you can use it just as you would other herbs. You can store it wrapped in damp kitchen paper and a plastic bag in the salad drawer of the fridge. It will keep for 2 or 3 days stored like this without any ill effect.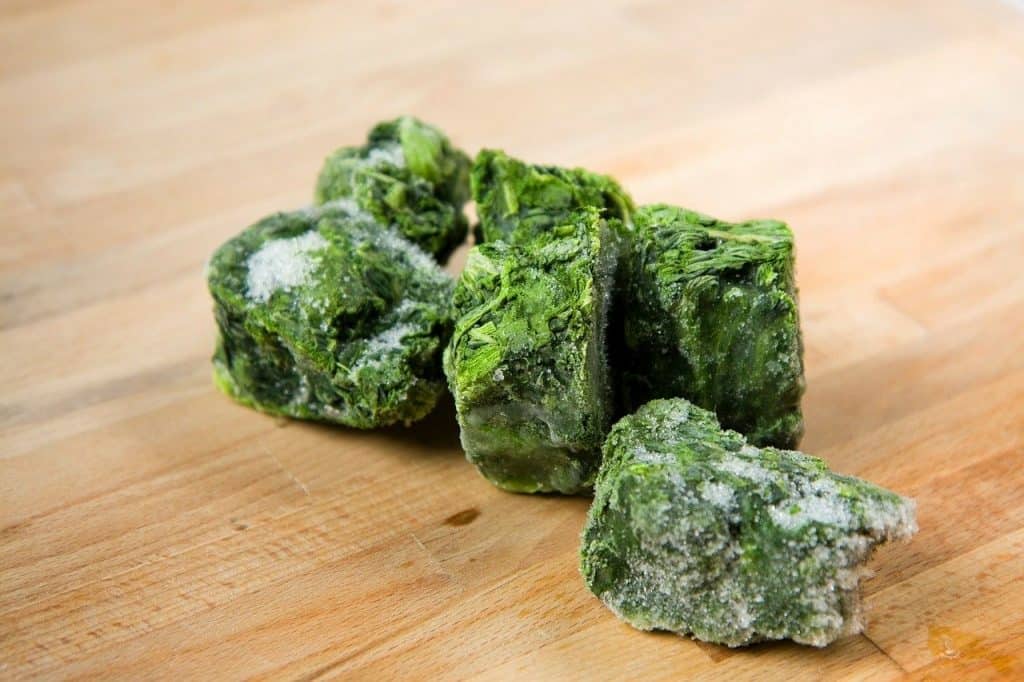 Can I freeze Wild Garlic?
You can chop it finely and put in ice cube trays then cover with olive oil. Drop these cubes into soups and stews to add a little wild garlic flavour.

Can I freeze Wild Garlic Pesto?
Yes! Wild Garlic Pesto freezes really well and is a great way to preserve wild garlic as it has a very short season.

How to make Wild Garlic Pesto (Blender)
Follow these simple steps to make this delicious foraged sauce in your blender

What Ingredients do I need?
Wild Garlic Leaves
Parmesan Cheese
Blanched almonds
Olive Oil
Salt
Process the almonds and cheese
Put the almonds and roughly chopped parmesan cheese into the blender cup.
Process until it is ground to the texture of very fine breadcrumbs.
Add the rest of the ingredients
Add the Wild Garlic Pesto to the blender cup. If there are too many leaves to go in all at once, then process as much as you can and then add the rest of the leaves and process again.
Add the olive oil and the salt and process until you have a smooth paste.

Store in a jar
Remove the pesto from the blender cup into a glass jar. Then cover and store in the fridge or freezer until you are ready to use the pesto.

Can I increase the quantities?
Yes, if you have more wild garlic then you can double or treble the ingredietns to make more pesto.

Can I make Wild Garlic Pesto without a blender or food processor?
Yes, you can use a mortar and pestle to pound the ingredients together in the traditional way.
Chop the almonds
Grate the parmesan
Finely chop the wild garlic leaves
Pound the ingredients together adding the oil gradually until you have a paste.
If you don't have a mortar and pestle use a strong bowl and the end of a rolling pin.

How do I serve Wild Garlic Pesto?
Serve Wild Garlic Pesto in the same way you would serve any other type of pesto. Here are few ideas:
Spread the pesto on top of a salmon fillet before frying or roasting in the oven.
Sear chicken fillets in a frying pan, then top with wild garlic pesto, tomatoes and grated cheese and cook in the oven.
Cook spaghetti, add pesto and stir to coat, serve with extra parmesan cheese.
Mix wild garlic pesto with sour cream for a delicous dip.
More Wild Garlic Recipes from Farmersgirl Kitchen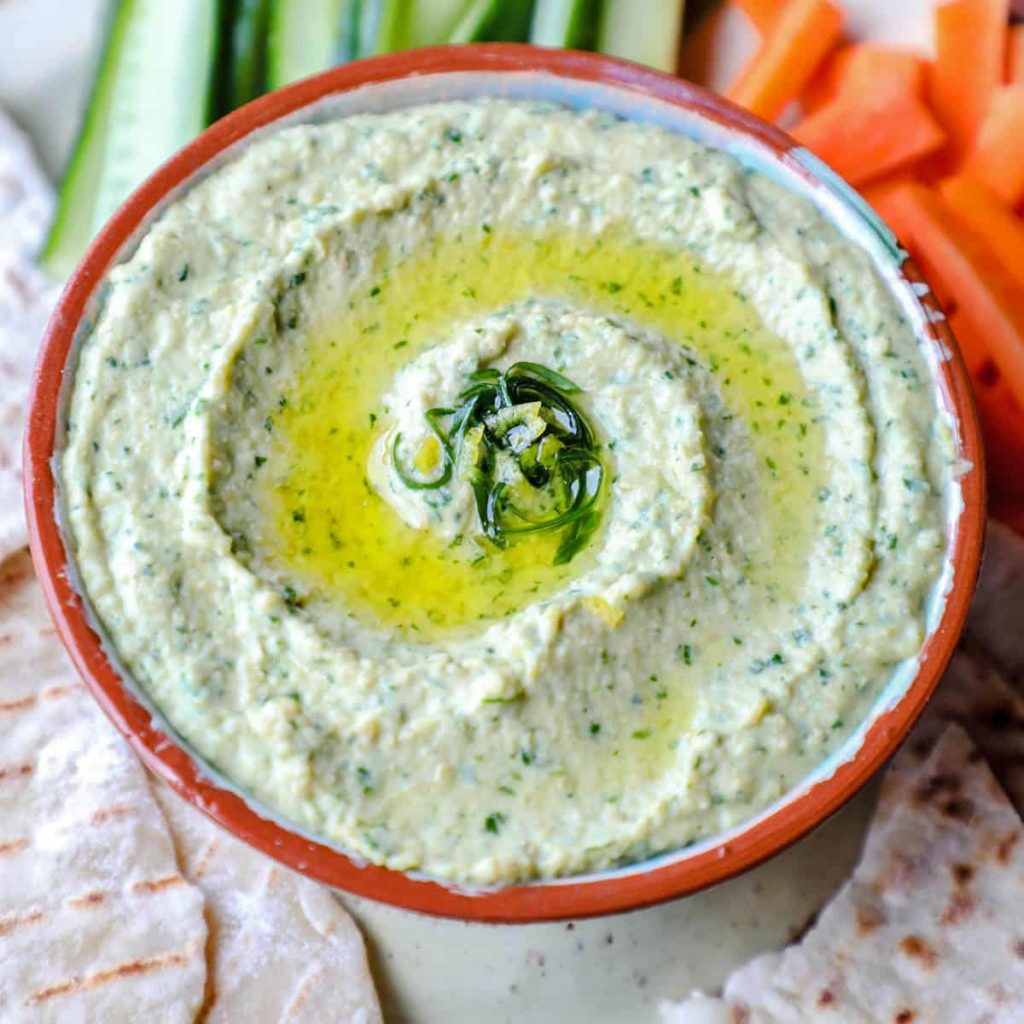 Easy Wild Garlic Hummus is a really versatile recipe using chickpeas and wild garlic to make a flavour-packed dip or spread in your food processor. Hummus always contains garlic so wild garlic is an easy substitution.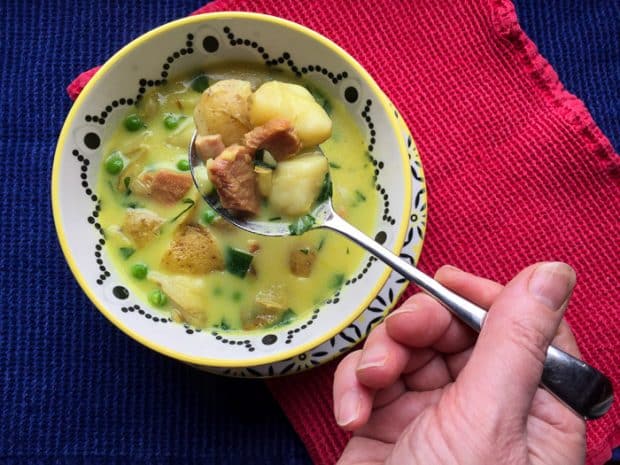 Wild Garlic, Ham and Pea Chowder is a chunky soup using potatoes, peas, ham, and wild garlic leaves. The soup has a mild garlic flavour and is creamy and totally delicious.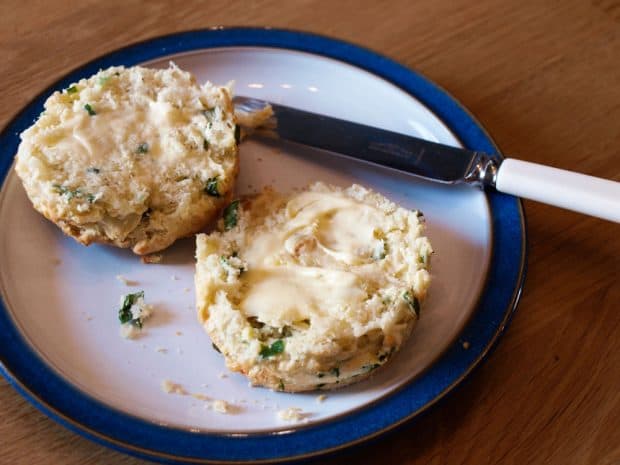 Cheese and Wild Garlic Scones are full of flavour and perfect to serve with soup as an alternative to bread. They are also very good just to eat on their own with butter.
More Wild Garlic Recipes

PIN FOR LATER
Let's connect!
Stay in touch with everything that's going on at Farmersgirl Kitchen.

Wild Garlic Pesto
Wild Garlic Pesto is so easy to make and the perfect way to preserve the short season for wild garlic leaves.
Ingredients
50

g

wild garlic leaves

roughly torn

25

g

nuts

I used almonds

100

ml

oil

I used olive oil

40

g

cheese

I used a combination of grated cheddar and parmesan

1/4

tsp

of sea salt
Instructions
Break up the parmesan into large chunks and put in the blender cup with the blanched almonds.

Add the remaining ingredients into a blender and blend until smooth.

Serve with pasta, risotto or however you would usually serve pesto.
Nutrition
Calories:
548
kcal
Carbohydrates:
8
g
Protein:
3
g
Fat:
57
g
Saturated Fat:
5
g
Trans Fat:
1
g
Cholesterol:
1
mg
Sodium:
402
mg
Potassium:
210
mg
Fiber:
2
g
Sugar:
1
g
Vitamin A:
499
IU
Vitamin C:
3
mg
Calcium:
30
mg
Iron:
1
mg
Don't Miss My Latest Recipes
CLICK TO SUBSCRIBE NOW to join my newsletter list & receive a FREE 'How To Adapt Recipes For Your Slow Cooker' printable!
Share by Email