Low Calorie Fish Pie has everything you expect of a fish pie with tasty chunks of fish, in a creamy sauce topped with mashed potatoes. It is really easy to make and has less than 300 kcal per portion.
I remember my Mum making fish pie quite often. We had a fish van that visited the village, in fact, my Mum still buys fish from a van, albeit a different van! Mum would usually buy whiting and smoked haddock to make her fish pie. Fish Pie is a good way to make a little fish go a long way for a growing family.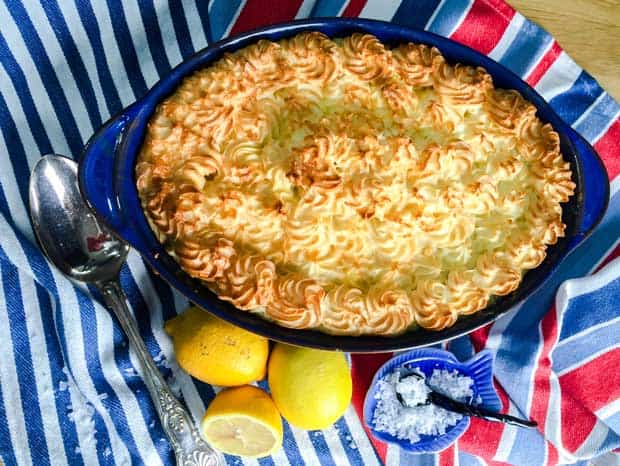 How to make Low Calorie Fish Pie
For this recipe I use ordinary ingredients that you can buy at the supermarket Fish is naturally low in calories but a great source of protein. Spinach is also a naturally low calorie vegetable.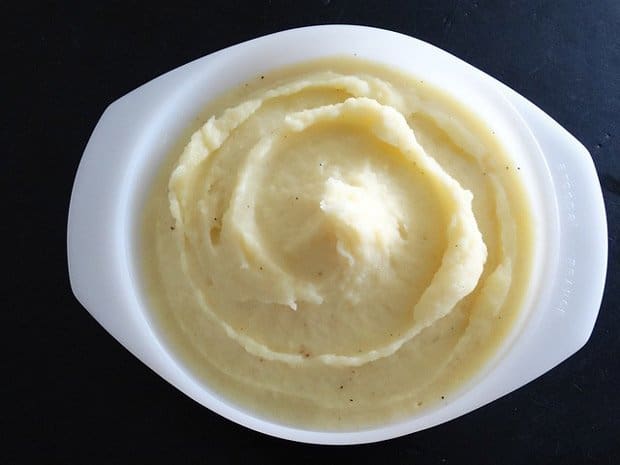 The Potatoes
First peel, boil and mash the potatoes. I like to use Maris Piper potatoes as they are a good all-round potato and make a good mash. I put my potatoes through a potato ricer because I wanted to pipe the mash.
When I am short of time I don't pipe the mash, I just dollop it on. The crustier it looks, the more nice crisp bits will form in the oven – delicious!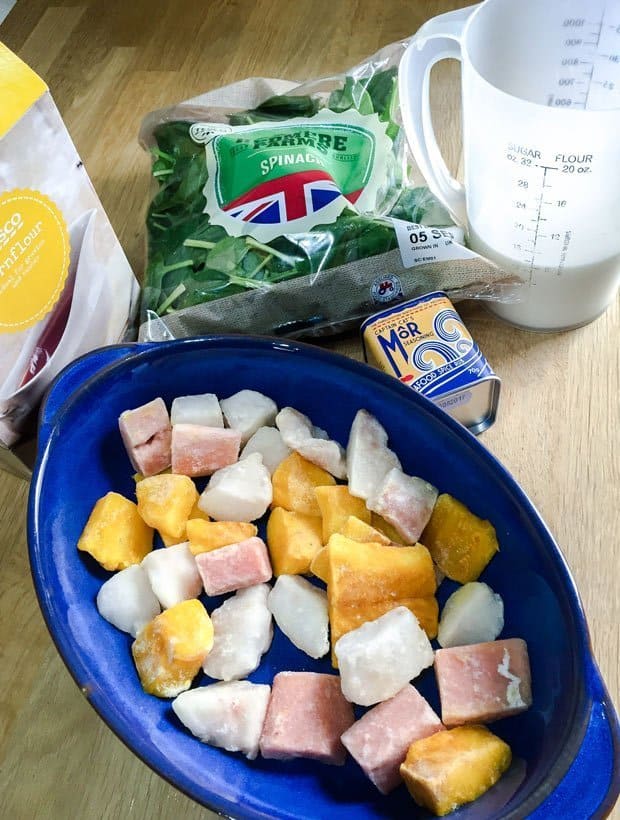 The Fish
Next, I put the frozen fish into the base of an ovenproof dish. There is no need to thaw the fish, it will thaw as it bakes int eh oven To make the pie with fresh fish, just reduce the cooking time by 10 minutes.

The Spinach
Place the spinach leaves on top of the frozen fish. You will think there are too many but pack them down because spinach is full of water and reduces very quickly.
Spinach is a great low-calorie vegetable It is packed with vitamins and minerals and it's only 7 calories per 100g!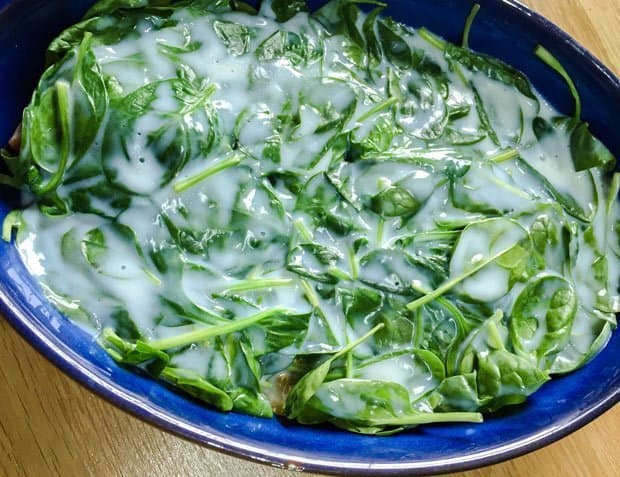 The Sauce
Another of my Mum's tips was to use cornflour to make the sauce rather than making a roux with butter and flour, this also cuts down on the fat and calories, if the sauce is well seasoned then you won't miss the butter.
I used a teaspoon of Captain Cat's Mor Fish Seasoning, which I found in Marks and Spencers, but some sea salt and freshly ground pepper will do just as well.
Heat the milk in a saucepan on the hob or heat it in the microwave. Use a big pan or jug so the milk doesn't boil over and make a mess.
Mix the cornflour with a little cold milk to make a paste, then add the hot milk, stirring to mix. Pop the mix back into the microwave or onto the stove to cook through.
Season the sauce well, as it is seasoning the fish and spinach too. Pour into the ovenproof dish over the spinach.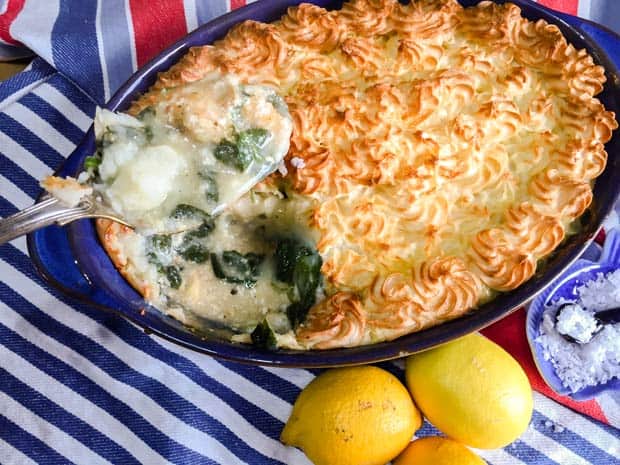 Pipe the mash on top of the pie, or place rough spoonfuls until the dish is covered. You can rough it up with a fork.
Beat the egg and brush the top of the mash with the beaten egg,. This makes the topping a lovely golden colour once baked. Bake in the oven for 40 minutes at 170C. Serve with a green vegetable.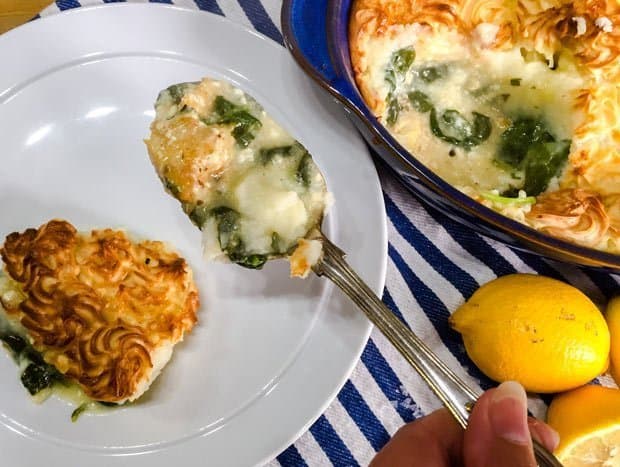 More Low Calorie Recipes from Farmersgirl Kitchen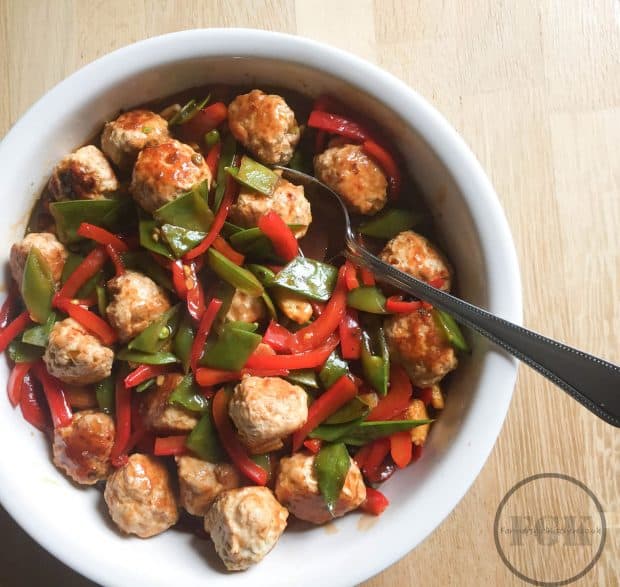 Sweet and Sour Turkey Meatballs
Mexican Spiced Cauliflower Quinoa Meatballs. (Vegan)
More Low Calorie Recipes
Spiced Chickpea, Carrot and Coriander Burgers – a dairy-free, vegan burger from Tinned Tomatoes ( 257 kcal)
Lemon and Rosemary Salmon – a perfect quick summer dinner from Hungry Healthy Happy (262 kcal)
Rainbow Noodle Salad with Tangy Peanut Dressing – hot, sour, salty, sweet, cool and crunchy is how Kellie at Food to Glow describes this colourful salad, sounds good to me (341 kcal)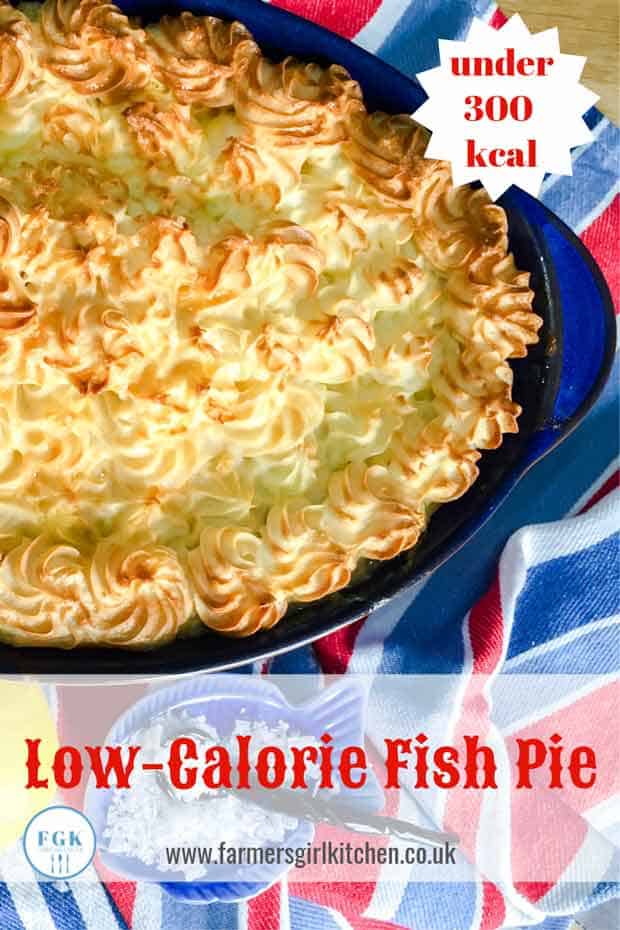 PIN ME FOR LATER
FOR MORE LOW CALORIE RECIPES FOLLOW MY 5:2 PINTEREST BOARD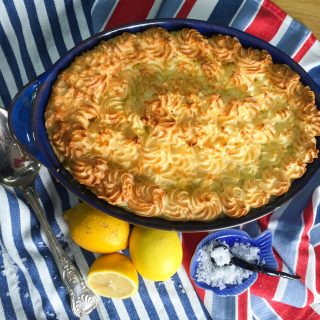 Low Calorie Fish Pie
Tasty chunks of fish, in a creamy sauce, topped with mashed potatoes., total comfort food with fewer calories.
Ingredients
400

g

frozen fish pie mix

or mixed fresh fish pieces

200

g

spinach

1 1/2

tbsp

cornflour

450

ml

semi-skimmed milk

500

g

potatoes

1

egg

salt and pepper to taste
Instructions
Peel and chop the potatoes and boil until soft.

Push the cooked potatoes through a potato ricer or mash.

Add a little semi-skimmed milk to get a creamy mash consistency.

Make the sauce by mixing some of the cold milk with the cornflour to make a thick paste, then heat the milk to just below boiling point, about 3 minutes in the microwave or heat in a pan on the stove.

Pour the hot milk into the cornflour paste and stir until thoroughly mixed, then heat for 1 more minute in the microwave until thickened.

Season the sauce with salt & pepper or other seasonings of your choice. The sauce should be quite thick as the frozen fish and the spinach will release water while cooking in the pie.

Place the frozen fish in an ovenproof dish, add half the sauce, then cover with the spinach leaves.

Pour over the remaining sauce, the spinach will wilt with the heat of the sauce.

Top the fish and spinach with the mash (you don't have to pipe it, but it does look pretty).

Beat the egg and brush the top of the mash with beaten egg.

Bake for 40 minutes at 170C or until bubbling and golden brown.
Notes
If your sauce is not thick enough, then mix another teaspoon of cornflour with cold milk and pour into the hot sauce mix, stirring all the time.
Calorie Count: 400g fish pie mix 312 kcal; 200g spinach 14 kcal; 1.5 tbsp cornflour 81 kcal; 450 ml semi-skimmed milk 153 kcal; 500 g potato 462 kcal; 1 egg 78 kcal.
Total Calories - 1,100 kcal
183 kcal per portion if serving 6.
275 kcal per portion if serving 4 - add 50 g runner beans = 291 kcal
Nutrition
Don't Miss My Latest Recipes
CLICK TO SUBSCRIBE NOW to join my newsletter list & receive a FREE 'How To Adapt Recipes For Your Slow Cooker' printable!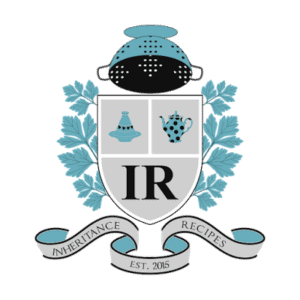 As this Low Calorie Fish Pie is based on my Mum's fish pie recipe, I'm linking up with Inheritance Recipes, the linky run by Coffee and Vanilla and Pebble Soup This month the linky is being hosted at Coffee and Vanilla so pop over and check out the recipes.