Seville Orange Curd is a made with seasonal bitter Seville Oranges. They combine brilliantly with butter, eggs, and sugar to make a sweet, creamy and tangy alternative to marmalade.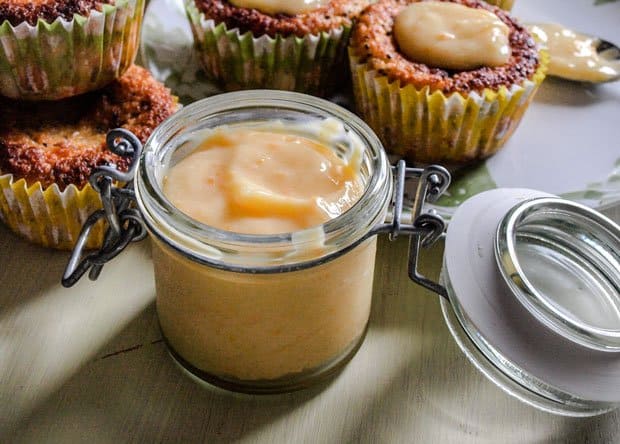 Advertisement: This post contains affiliate links for more information please see my PRIVACY POLICY
What are Seville Oranges?
Seville Oranges are a bright and cheerful reminder of the sunshine of Spain while we endure the cold early months of the year. They have a very sharp flavour and lots of pips, they are really too bitter to eat raw, but combine them with sugar and they create that lovely sweet-sour flavour that we all love.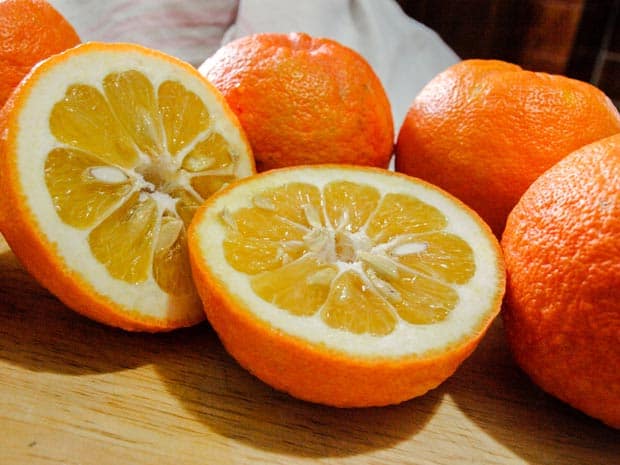 What is the Season for Seville Oranges?
Seville Oranges have a very short season. They are available to buy in the UK in January and February. This is a very short season so preserving them in Seville Orange Marmalade or this lovely Seville Orange Curd is a great way to extend the season.
I make the Seville Orange Curd in my Froothie Optimum ThermoCook, it's ideal for making fruit curds because it heats to an even temperature and stirs the mixture at the same time. You don't have to stand over it either, just set it up, and 15 minutes later, perfect delicious orange curd.
I don't have a power blender, can I still make the curd?
Yes, follow the alternative directions in the recpe card to make Seville Orange Curd in a double boiler or in a bowl over a pan of hot water.
I don't have Seville oranges what else can I use?
If you don't have Seville Oranges, they are only available for a short time, then use the zest of the orange and juice of one orange and one lemon.
How do I store Seville Orange Curd?
Store your Seville Orange Curd in the refrigerator. In order to ensure that it lasts as long as possible you should sterilise your jars before filling with the curd.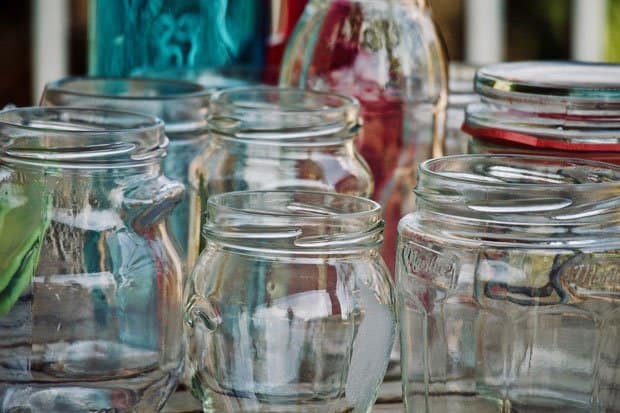 How do I sterilise the jars?
I sterilise my jam jars and metal lids by thoroughly washing and rinsing them. I then put them, still wet, upside down onto a baking tray and place it in the oven at 150C just before I start to make the jam.
The water creates steam which helps to sterilise the jars. I take them out of the oven and fill them with the hot jam, then put on the lids. There are other methods but this is how I sterilise my jars.
Can I increase the quantity of curd I make?
I wouldn't recommend increasing the quantities for Seville Orange Curd or any other curd. To maintain control of what is, effectively, a rich custard you need to keep the quantities small . Better to make more batches than increae the amount in the pan.

How do I serve Seville Orange Curd?
Serve Seville Orange Curd spread on bread or toast. It also makes an ideal topping for any kind of small bun or muffin. Try serving on vanilla ice cream for a rich and flavourful sauce.

More Citrus Recipes from Farmersgirl Kitchen

Homemade Seville Orange Marmalade is the perfect breakfast preserve to serve with toast. It is really not difficult to make and there is a whole world of difference in taste between homemade and commercial marmalade.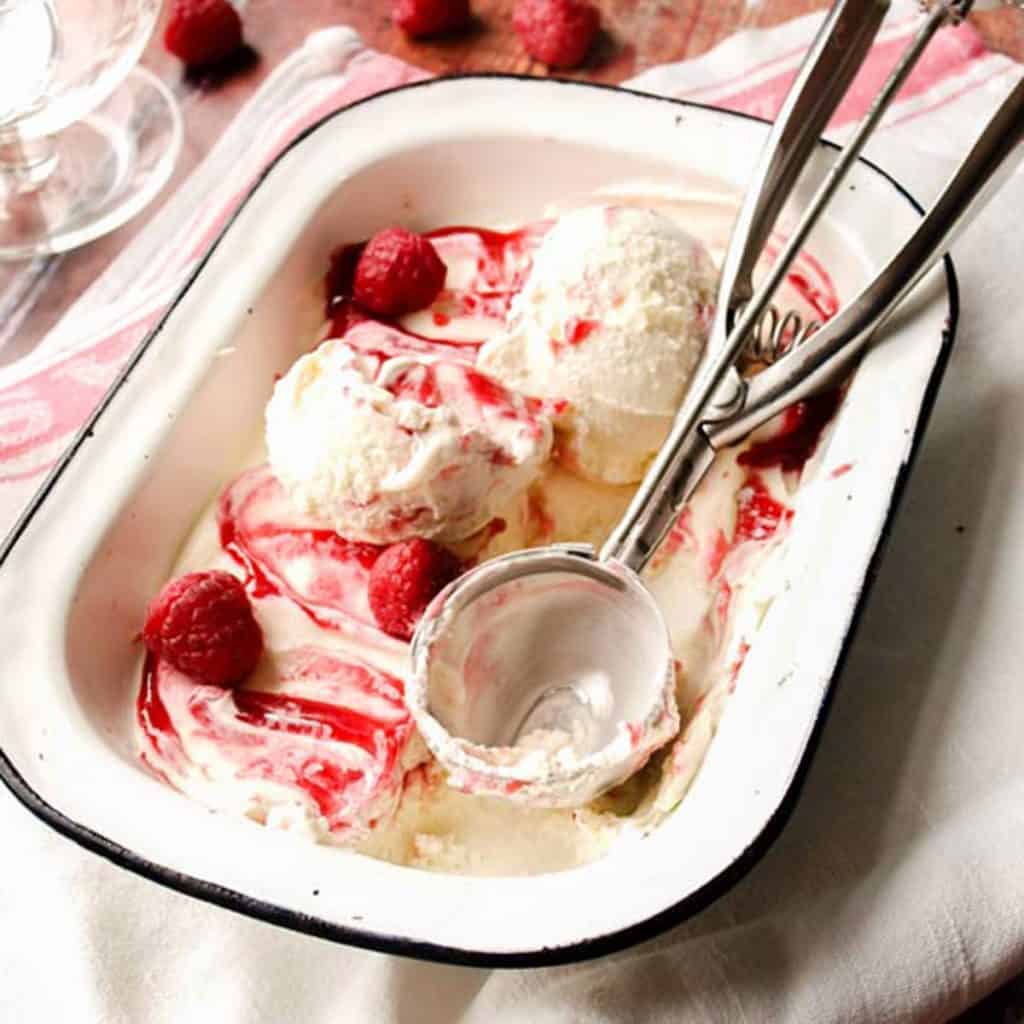 Easy Lemon Raspberry Ripple Ice Cream is rich and creamy with the sharp flavours of lemon and raspberry contrasting with the sweetness of the ice cream. Made with lemon curd, this recipe works perfectly as a No-churn, or make it extra smooth by churning in your ice cream maker.

Lemon Curd is an incredibly delicious preserve. It has a beautiful creamy texture and the sharp lemon juice provides a wonderful contrast to the sweetness and richness of the curd.
More Curd Recipes
Here are three more curd recipes made in either the Optimum ThermoCook or the Froothie Optimum high power blender: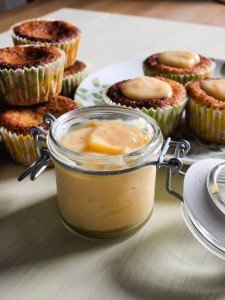 Seville Orange Curd
A simple and delicious orange curd with a fresh zingy flavour.
Ingredients
2

Seville oranges, zest and juice

100

g

unsalted butter

3

eggs

150

g

caster sugar
Instructions
For the ThermoCook
Place all the ingredients into the jug

Select mix for 7 seconds

Insert the Mixing Tool and cook at 80C, mix setting 3 for 15 minutes

When the curd is made, spoon it into sterilised jars and store in the refrigerator for 2-3 weeks
To make without a ThermoCook
Place all the ingredients in a double boiler or in a large heatproof bowl over a pan of simmering water. Sir until the sugar has dissolved and continue to heat gently, stirring, for about 20 minutes until thick enough to coat the back of the spoon; do not allow to boil or it will curdle.

Strain the lemon curd through a fine sieve. Pot and cover in the usual way. Store in the refrigerator and use within 2-3 weeks.
Notes
The same recipe can be used for Lemon Curd, replacing the oranges with lemons.
Nutrition
Calories:
1609
kcal
Carbohydrates:
181
g
Protein:
19
g
Fat:
93
g
Saturated Fat:
55
g
Cholesterol:
706
mg
Sodium:
199
mg
Potassium:
656
mg
Fiber:
6
g
Sugar:
174
g
Vitamin A:
3800
IU
Vitamin C:
139.3
mg
Calcium:
203
mg
Iron:
2.6
mg
Don't Miss My Latest Recipes
CLICK TO SUBSCRIBE NOW to join my newsletter list & receive a FREE 'How To Adapt Recipes For Your Slow Cooker' printable!
Share by Email
Disclosure: Froothie UK sent me the Optimum ThermoCook to use and review at home. I have not been paid for this post and was not required to give the ThermoCook a positive write up. All opinions are my own. Affiliate links included in this post.