I am so excited about this Hot Cross Bun Mug Cake! It's the first one that I've created myself and it's so good. You get all the flavours of a Hot Cross Bun in a matter of minutes. Hot Cross Buns are a sweet and spicy yeasted bun traditionally served on Good Friday, but I doubt if many people wait until then, as I know we start eating them as soon as they appear in the shops.
The Hot Cross Bun Mug Cake has a great texture and, although it took me a few trials, I think I've finally cracked it and got the right balance of fruit, spice and sugar, so it tastes recognisably like a Hot Cross Bun.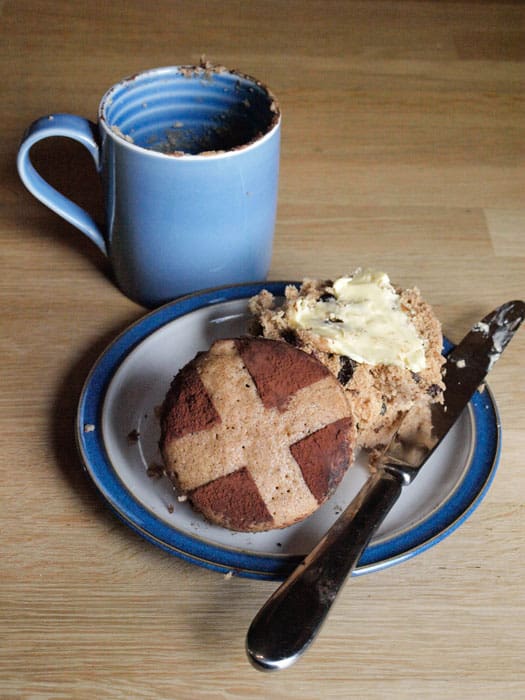 The Hot Cross Bun Mug Cake is perfect for one
If you want more you can easily double up the recipe and make two mug cakes. Like all mug cakes, it's best eaten soon after it has been cooked. Just run your knife around the edge of the mug cake and you can take it out of the mug, split and butter it, just like a proper Hot Cross Bun. This is my favourite way to eat this special treat.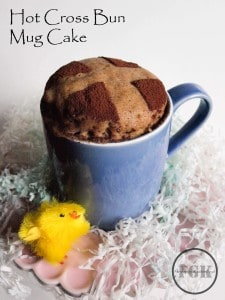 Hot Cross Bun Mug Cake
2016-03-18 15:00:29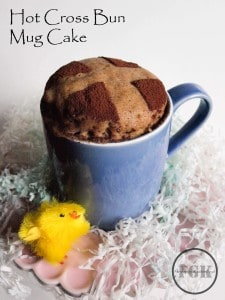 All the flavours of a Hot Cross Bun in a super speedy, microwave mug cake
Ingredients
15g butter
1/2 medium egg
1tbsp milk
3 tbsp soft light brown sugar
1/2 tsp mixed spice
2 tbsp mixed dried fruit (kind with mixed peel in it)
3 tbsp self-raising flour
1tsp cocoa powder
Instructions
Put the butter into a large mug and microwave for 20 - 30 seconds
Add the egg, milk and sugar and whisk to combine
Add the mixed spice, flour and salt and mix until the batter is smooth
Add the mixed dried fruit and orange zest and mix into the batter
Microwave the mug cake for 1 minute 30 seconds to 2 minutes 30 seconds, depending on the rating of your microwave.
While you leave the cake to cool slightly, make a cross with two strips of foil or paper, lay these over the mug and using a sieve or tea strainer to dust the top of the mug with cocoa. Remove the strips of foil or paper and you will reveal your cross.
Notes
Tip: When microwaving your mug cake, start with 1 minute 30 seconds, then if still wet on top cook for a further 20 seconds at a time until it is just firm on top. Try not to overcook or your cake may be dry.
You can make any shape for the top of your Hot Cross Bun, the cross is traditional but if you have other stencils or shapes, you can use those, a heart would be fun, or simply dust all of the bun with cooca.
As an alternative to cocoa you could use cinnamon
Farmersgirl Kitchen https://www.farmersgirlkitchen.co.uk/
Here's how I made the cross on the top of the Hot Cross Bun Mug Cake, note different mug, during the various trials to bring you the ultimate HCB Mug Cake:
I'm adding this Hot Cross Bun Mug Cake to a couple of Linky Parties: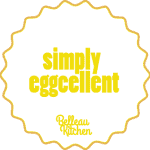 Simply Eggcellent – the Linky Party run by Belleau Kitchen where all things eggy are welcome.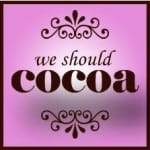 We Should Cocoa – okay, I know there is only a dusting of cocoa on top of my Hot Cross Bun Mug Cake, but it is there! We Should Cocoa is run by Choclette at Tin and Thyme and hosted this month by Lancashire Food who has chosen eggs as the theme.