Homemade Seville Orange Marmalade is the perfect breakfast preserve to serve with toast. It also makes a great ingredient in lots of other recipes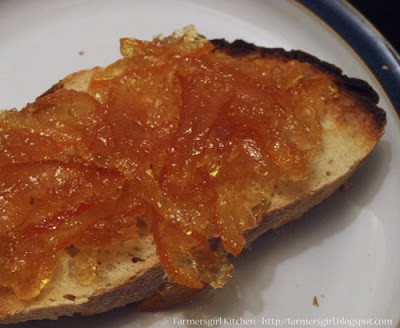 I really only like homemade marmalade and have been making marmalade since I was in my early 20s.
My mum always made her own marmalade and used to put the peel through the mincer, I would help by turning the handle.
When I spoke to her at the weekend she was planning to make some marmalade and bemoaning the fact that she no longer has that mincer!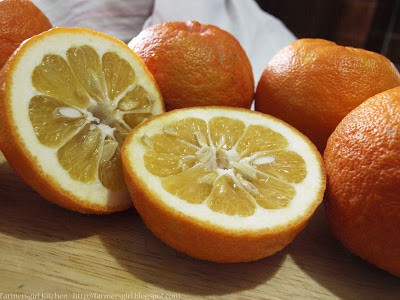 I managed to source some Seville Oranges and turned to my old favourite recipe from Home and Freezer Digest (regular readers will have worked out by now that I learnt a lot of my cooking from this little magazine published in the 1980s and 90s) I usually chop the peel in the food processor for home consumption, but this time I am entering a jar of marmalade in the World's Original Marmalade Awards and Festival 2nd & 3rd March 2013
This prestigious preserves contest, held at Dalemain
in Cumbria, attracts thousands of entries from all over the world. Everyone who sends in a jar gets their marmalade
tasted by a panel of expert judges and then gets sent a personalised mark card
with feedback on how the marmalade can be improved – or if they are lucky a gold, silver or bronze award. Judges for 2013 include Pam Corbin and the WI.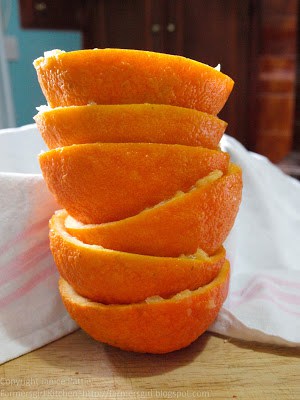 My friends Karen at
Lavender and Lovage
and Sue at A little bit of Heaven on a Plate are also entering the awards and you can read more about their marmalade making adventures on their blogs.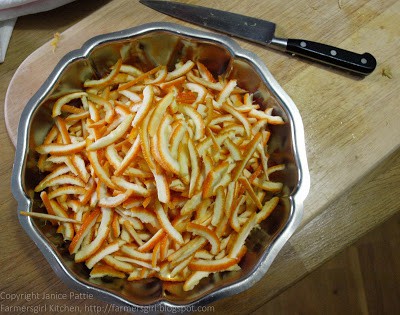 Seville Orange Marmalade
Makes 9lb (4kg)
2lb (900g) Seville oranges
4pt (2.3l) water
1 lemon
4lb (1.80kg) sugar
1. Wipe and cut the oranges in half, squeeze out juice an pips. Put pips in a muslin or stockinette bag and tie.
2. Put orange juice in pan with water and lemon juice.
3. Slice peel thinly and add to the pan with pips. Simmer about 1 1/2 hours until peel is soft and liquid reduced by half.
4. Take out bag of pips and squeeze out any liquid into pan. Stir in sugar over low heat until dissolved. Boi8l rapidly to setting point.
5. Cool 15 minutes in pan, stir well, our into warm, clean jars. Cover, seal, label. Store in a cool dry place.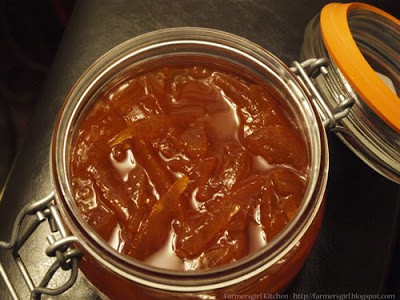 I suspect my marmalade is a little too set to win any competitions but the taste is phenomenal, the tart orange flavour bursts onto your tongue and stays with you for some time after eating. It's not too sweet and I'm really rather pleased with it!
Marmalade is perfect for breakfast so why not try to make some for
Farmhouse Breakfast Week
. There are lots of ideas for breakfast on the Shake Up your Wake Up website. You can follow
@breakfastweek
on Twitter and tweet a picture of your breakfast every day with the hash tag
#BreakfastWatch
. You can also post your photos to
Facebook
, Instagram and
Pinterest
.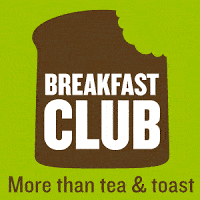 If you are cooking or baking your breakfast between now and 24th February, remember to link up to Breakfast Club and the good news is…Helen of Fuss Free Flavours has arranged for one lucky Breakfast Clubber to win a Sharpham Park Breakfast Hamper containing:
Sharpham Park Crunchy Spelt Bran Flakes
Sharpham Park Crunchy Spelt Bran Flakes with Berries
Sharpham Park Crunchy Spelt Bran Flakes with Dates and Walnuts
Sharpham Park Multigrain Flakes
Sharpham Park Multigrain Fruit & Fibre Flakes
Sharpham Park Organic Wholegrain Spelt Flour
Sharpham Park Organic White Spelt Flour
Sharpham Park Organic Baker's Blend Spelt Flour
Sharpham Park Organic Spelt Flour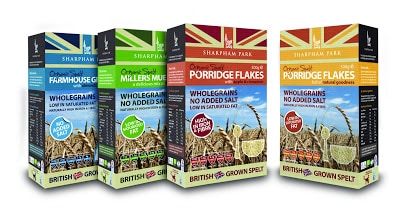 All you have to do is link your cooked or baked breakfast blog post to the Breakfast Club and we will choose one Breakfast Club entrant by Random Number Generator when the Breakfast Club ends on 24th February.