Homemade Seville Orange Marmalade is the perfect breakfast preserve to serve with toast. It is really not difficult to make and there is a whole world of difference in taste between homemade and commercial marmalade.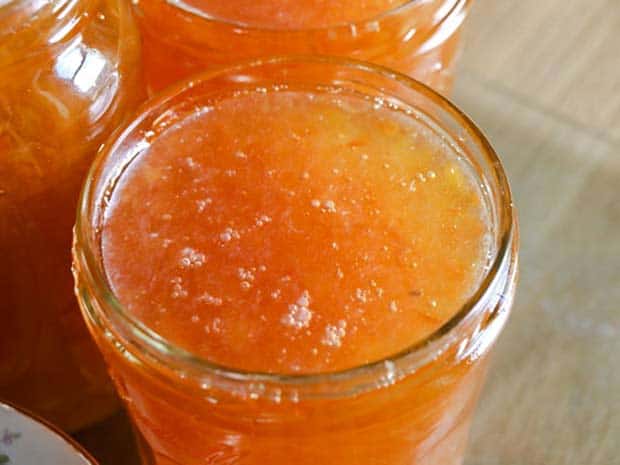 Making Marmalade – A Family Tradition
My mum always made her own marmalade in January. She would mince the peel with an old fashioned manual mincer, I would help her by turning the handle as she fed in the peel.
I started making marmalade in my early 20s when I first got my own kitchen.  I much prefer the sharp fresh taste of homemade Seville Orange Marmalade to the milder taste of commercially produced marmalade.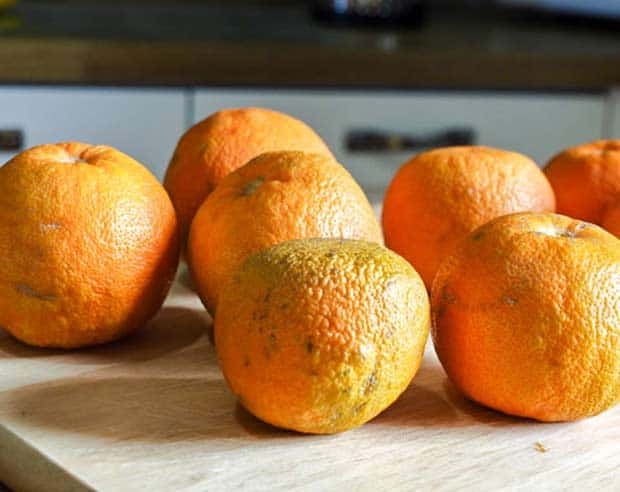 What are Seville Oranges?
Seville Oranges are a bitter orange with a thick bumpy peel.  They taste a little bit like lemons but not quite so sharp.  The oranges are imported from Spain and are available in the shops in the UK in January. 
I can't get Seville Oranges, can I still make marmalade?
Make a Three Fruit Marmalade using sweet oranges, grapefruit, and lemons.  The flavour is different but you will still have a delicious marmalade. 
Can I double the quantities to make more marmalade?
I do not recommend you increase the quantity of marmalade in this recipe.  Please be aware that this recipe has been tested for the amounts stated on the recipe card. 
How do you sterilise your jam jars?
I sterilise my jam jars and metal lids by thoroughly washing and rinsing them. I then put them, still wet, upside down onto a baking tray and place it in the oven at 150C just before I start to make the jam.
The water creates steam which helps to sterilise the jars. I take them out of the oven and fill them with the hot jam, then put on the lids. There are other methods but this is how I sterilise my jars.
How to make Easy Homemade Seville Orange Marmalade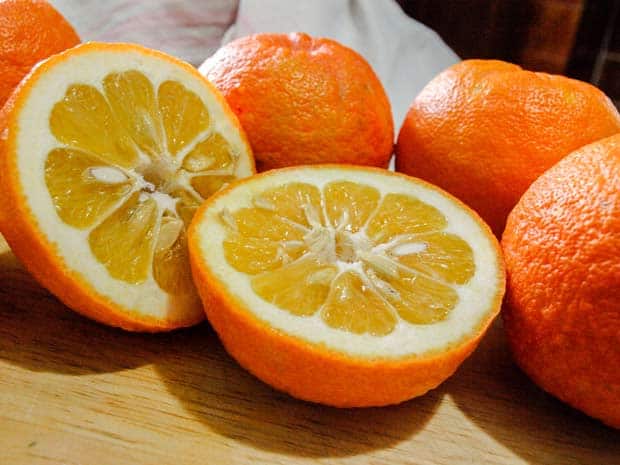 Juice the oranges
Cut the Seville Oranges and the lemon in half and, use a lemon squeezer to squeeze out the juice into a jug.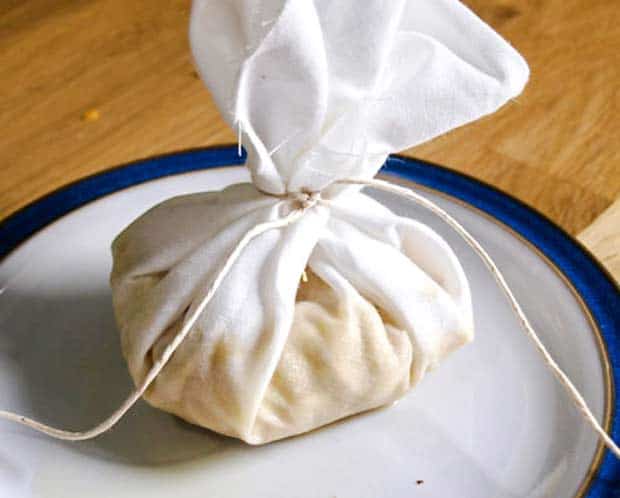 Tie the pips in muslin
Remove all the pips and tie them in a muslin cloth or jelly bag.  The pips provide pectin, the setting agent for the marmalade.  But you don't want them in your preserve so they go into the pot in a bag.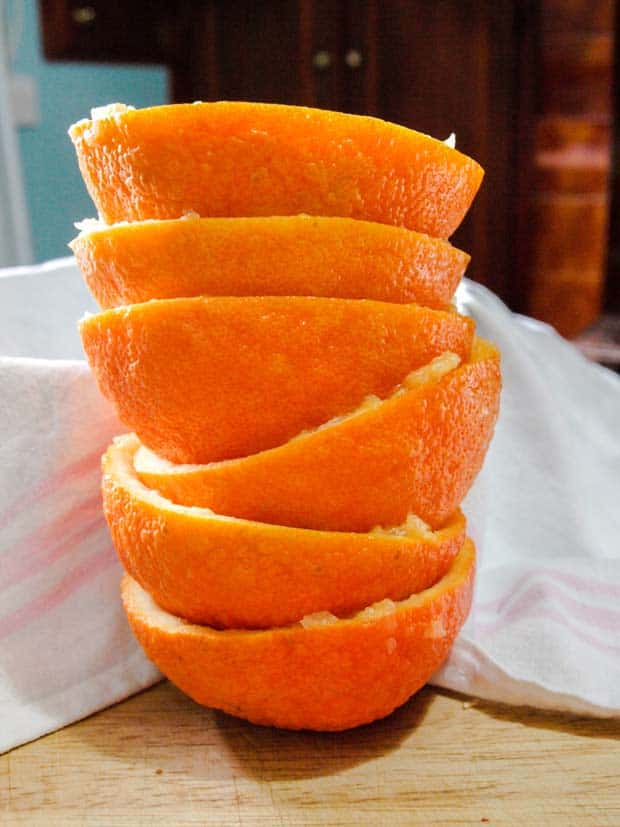 Check for pips
You now have a stack of empty Seville orange halves. Make sure you check thoroughly for pips as they hide in little pockets in the pith.
Choose whether you want to make traditional shred marmalade or my Easy Homemade Seville Orange Marmalade.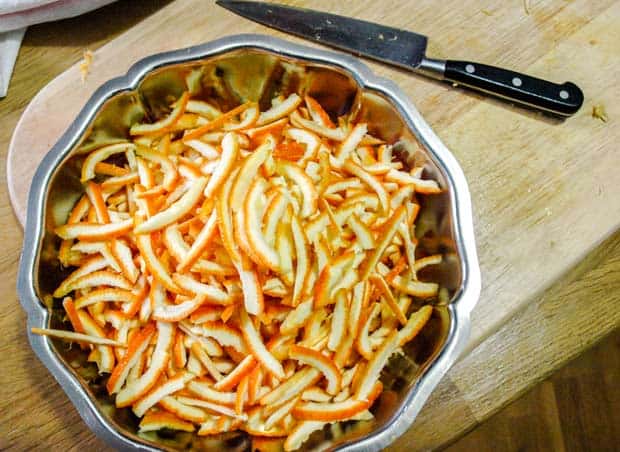 Shredded peel to be soaked overnight
If you choose to make shreds, scrape out as much pith as possible. Slice the peel with a sharp knife and soak the shreds in water overnight.  Use the soaking water to make the marmalade.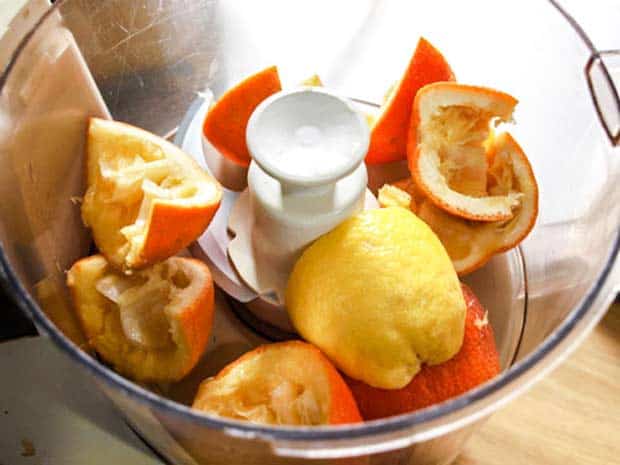 Easy Food Processor Marmalade – no overnight soak
If you choose to make the Easy Seville Orange Marmalade, put the peel into the food processor in batches and process until the pieces are the size of small peas.  There is no need to soak the peel, you can start to make marmalade right away.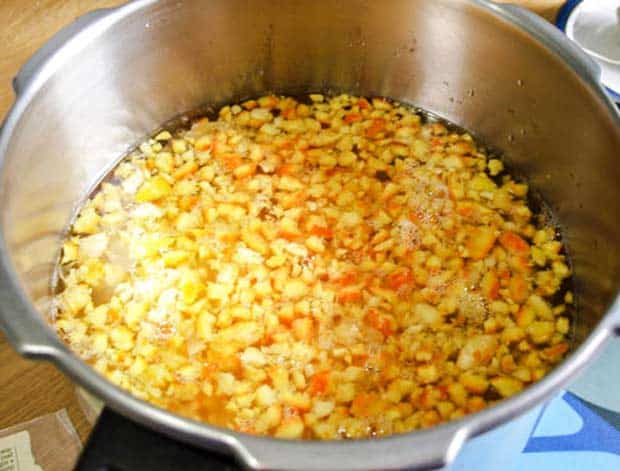 Simmer the peel
Put the juice, water, and chopped peel into the pan, add the muslin bag of pips.  Simmer for approximately 1 1/2 hours until the peel is soft and the liquid is reduced by half.
Take out the muslin bag and squeeze out any liquid into the pan.  Stir in the sugar over low heat until dissolved.  Bring to a rolling boil until the marmalade reaches setting point.
What does a rolling boil look like?
I  learned about making jam and marmalade from my mother and grandmother.  A lot of what you learn in cooking and baking is very visual.  It's much easier to understand when you can see what you are aiming for.  So here is a little help with the main techniques for jam making.
How do I know when the marmalade has reached setting point?
Once the marmalade has boiled, you will need to check if it will set (firm up) once cooled. There are many different ways to test for setting point. You can use a jam thermometer, you can use the 'flake' test, but I have always used the wrinkle test.
The Wrinkle Test
You need to place some saucers in the fridge before you start making the jam. Then once you have boiled your jam for 15 minutes, take the pan off the heat and put a teaspoon of the jam onto one of the cold saucers.
Place the saucer in the fridge and leave for 5 minutes.  Then remove the saucer and push your finger across the jam. 
My marmalade didn't wrinkle – what do I do?
If you haven't got a wrinkle, put the pan back on the heat and boil for another five minutes, then test for set on another cold saucer.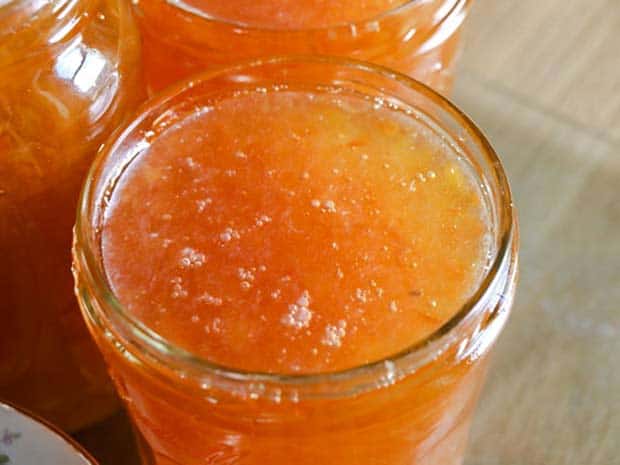 Why is the Easy Seville Orange Marmalade not clear?
As you can see food processor marmalade is less clear than shred marmalade.  This isn't a marmalade to enter into a show, it is a quick and delicious homemade marmalade to enjoy with your toast in the morning or perhaps to use as an ingredient in a recipe.
More Recipes using Seville Oranges or Marmalade from Farmersgirl Kitchen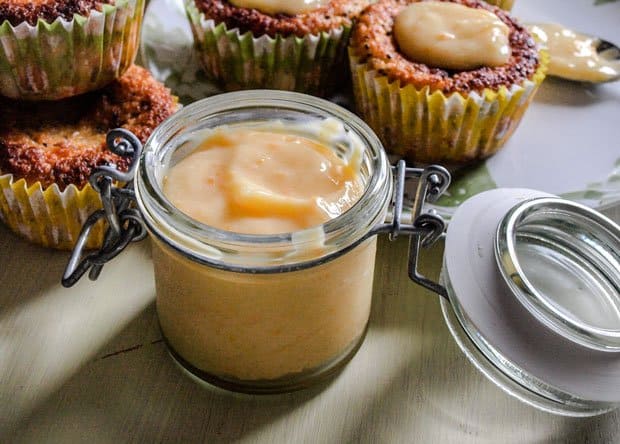 Seville Orange Curd is like Lemon Curd but with Seville Oranges, it makes a lovely change from marmalade.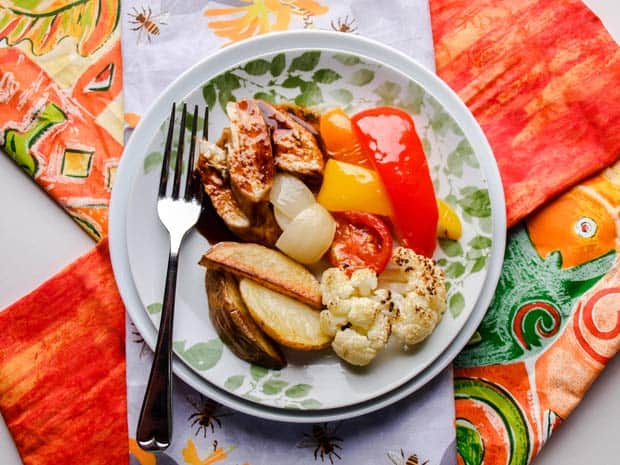 Sticky Marmalade Chicken is a barbeque style chicken recipe with a sticky glaze and a sweet and sour sauce.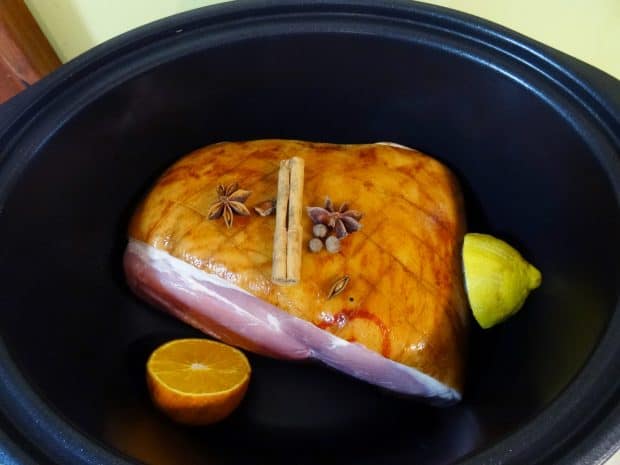 Slow Cooker Spiced Ham with Oranges and Lemons.  I didn't use Seville Oranges in this recipe but they would be absolutely perfect to give a strong citrus flavour. 
More Marmalade Recipes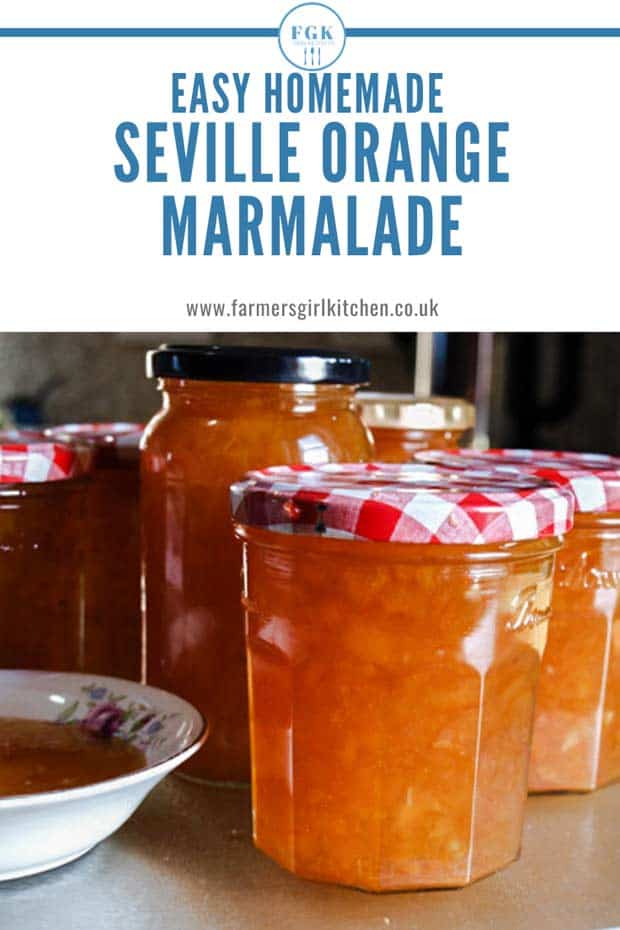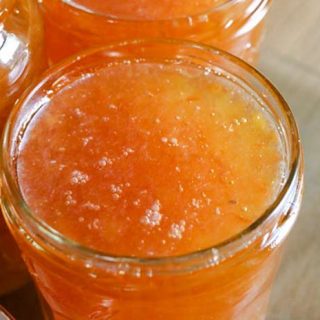 Easy Homemade Seville Orange Marmalade
Make this fresh and zesty classic breakfast preserve at home. This easy recipe uses a food processor to speed things up.
Equipment
Sharp knife

chopping board

Lemon squeezer

muslin cloth

Food Processor

weighing scales

large pan

long wooden spoon

9 x 450 ml jam jars

saucer
Ingredients
900

g

Seville oranges

2.3

litres

water

1

lemon

1.8

kg

sugar
Instructions
Wash and cut the oranges in half, squeeze out the juice and remove the pips.

Put the pips in a muslin or stockinette bag and tie.

Put orange juice in a pan with water and lemon juice.

Put the orange and lemon peel into a food processor in batches. Chop until the pieces are about the size of a small pea.

Add to the pan with the bag of pips.

Simmer about 1 1/2 hours until the peel is soft and liquid reduced by half.

Take out a bag of pips and squeeze out any liquid into a pan. Stir in sugar over low heat until dissolved.

Boil rapidly to setting point.

Cool 15 minutes in the pan, then stir well, pour into warm, sterilised jars.

Cover, seal, and label. Store in a cool dry place.
Notes
This recipe makes approximately 4 kg of marmalade, this is about 9 standard jam jars.  The calorie calculation is based on 14 servings per jar. 
Easy Homemade Seville Orange Marmalade will keep for a least a year if the jars are properly sterilised and sealed.
Marmalade sets easily so there is no need to use jam sugar or additional pectin.  I use granulated can sugar. 
Nutrition
Calories:
59
kcal
Carbohydrates:
15
g
Protein:
1
g
Fat:
1
g
Saturated Fat:
1
g
Sodium:
1
mg
Potassium:
14
mg
Fiber:
1
g
Sugar:
15
g
Vitamin A:
16
IU
Vitamin C:
4
mg
Calcium:
3
mg
Iron:
1
mg
Don't Miss My Latest Recipes
CLICK TO SUBSCRIBE NOW to join my newsletter list & receive a FREE 'How To Adapt Recipes For Your Slow Cooker' printable!
Share by Email