Chimichurri Steak Salad is a feast of a recipe featuring strips of delicious steak, a spicy chimichurri sauce and a stunning display of salad veggies to load up and enjoy with flatbreads.   This is just one recipe from a new cookbook, Seriously Good Salads: Creative Flavor Combinations for Nutritious Satisfying Meals by Nicky Corbishley.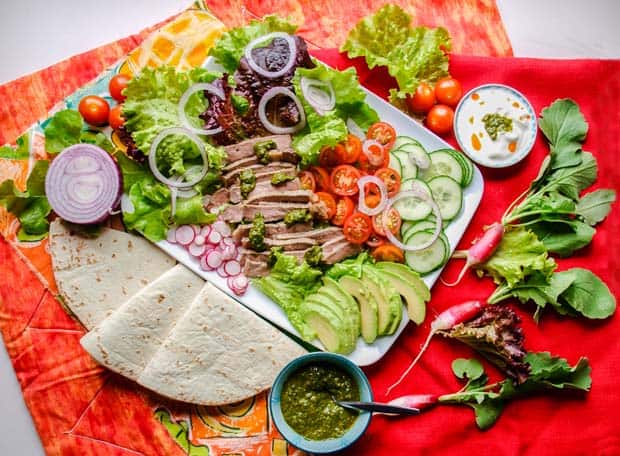 Food blogger Nicky Corbishly, founder of Kitchen Sanctuary, has created a new and refreshing way to think about salads in her first cookbook SERIOUSLY GOOD SALADS: Creative Flavor Combinations for Nutrition, Satisfying Meals. Thinking about salads as a meal, rather than a supplement, Corbishley has developed 75 new and creative salads that stray from traditional leaves and incorporate unique ingredients, such as her beef heavy Argentine-cuisine inspired "Chimichurri Steak Salad" and "Korean Bibimbap Salad with Red Rice".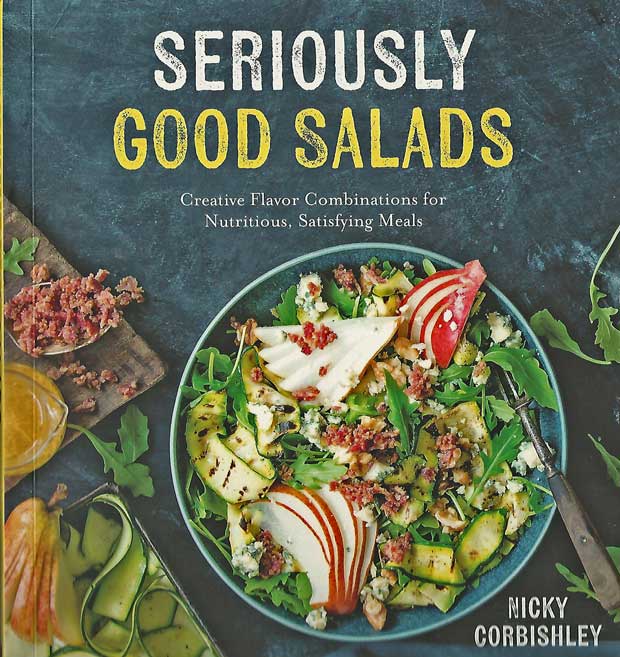 Seriously Good Salads – The Chapters
Here are the chapters in Seriously Good Salad and a few of my stand out choices:
Mighty Meat & Poultry including Chipotle Chicken Cobb Salad, Chicken Caesar Pasta Salad with Roasted Vegetables, Chimichurri Steak Salad (recipe below), Warm Bacon and Pea Salad with Lemon Dressing.
Filling Fish and Seafood including Blackened Salmon Citrus Salad with Avocado Dressing, Baja Fish Taco Bowl, Spicy Tropical Shrimp Salad.
Must Try Cheese and Egg Salads including Hasselback Honey Carrot Salad with Chickpeas and Feta, Fried Egg Breakfast Salad with Toasted Croutons, Cheddar Apple and Walnut Salad.
Nutritious Grans, Nuts and Seeds including Fattoush with Sumac Hummus and Pomegranate, Falafel Salad Bowl with Pomegranate and Feta Dressing, Thai-Style Slaw with Peanut Dressing.
Potatoes Pasta, Rich and Bread for any Occasion including Winter Noodle Salad with Miso Dressing, Orzo Pasta Salad with Salmon, Garlic, and Herb New Potato Salad,
Fruit-Based Salad Superstars including Coconut Brown Rice Berry Salad with Mango and Mint, Grilled Fruit Salad with Brown Sugar and Greek Yogurt,
Bonus Salad Dressings includes sweet Chile Mango Dressing, Creamy Chimichurri Dressing, Honey Sesame Ginger Miso Dressing.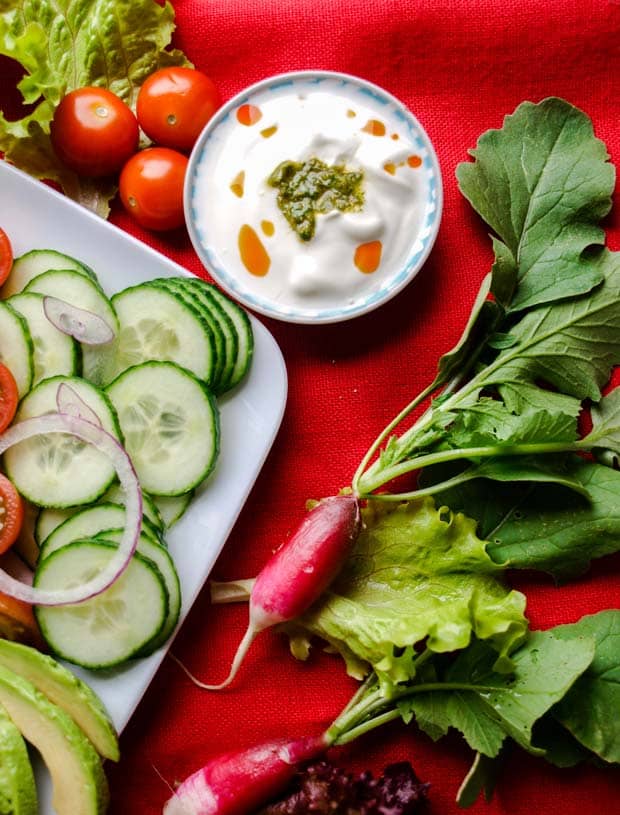 Who is it for?
Seriously Good Salads is a book for people who want to make inspired and inspiring main course salads.  More than half of the recipes would be suitable for vegetarians with eggs, cheese, grains pasta and bread featuring as key ingredients.  Meat and fish eaters won't be disappointed as there are some really creative ways to stretch smaller amounts of meat, poultry, and fish with larger quantities of salad.
Pros
Gorgeous tempting photographs, one for every recipe.  This is so important when you want to be inspired to cook or create.  One of my personal peeves is cookbooks that won't stay open, but hurrah, Seriously Good Salads lies perfectly flat allowing you to refer easily to the recipe.
Cons
Many of the recipes require quite a few ingredients but this is pretty standard for a salad and it is often about assembling those ingredients for the salad or dressing.  However, if you don't keep a cupboard full of herbs or spices that may be off-putting.
The Verdict
We loved the Chimichurri Steak Salad.  We had eaten steak the previous evening and this salad enabled me to feed four with a single sirloin steak and everyone was full and happy.
The recipes in  Seriously Good Salads are well written and easy to follow.
Each Chapter has an introductory page, each recipe also starts with a little paragraph giving you some extra information and suggestions.
I found the photographs really drew me in and made me want to make all the recipes., which is a pretty good recommendation.
SERIOUSLY GOOD SALADS By Nicky Corbishley. Published by Page Street Publishing Co., July 16, 2019, £16.31
Pre-order paperback in the UK for release on 1st August 2019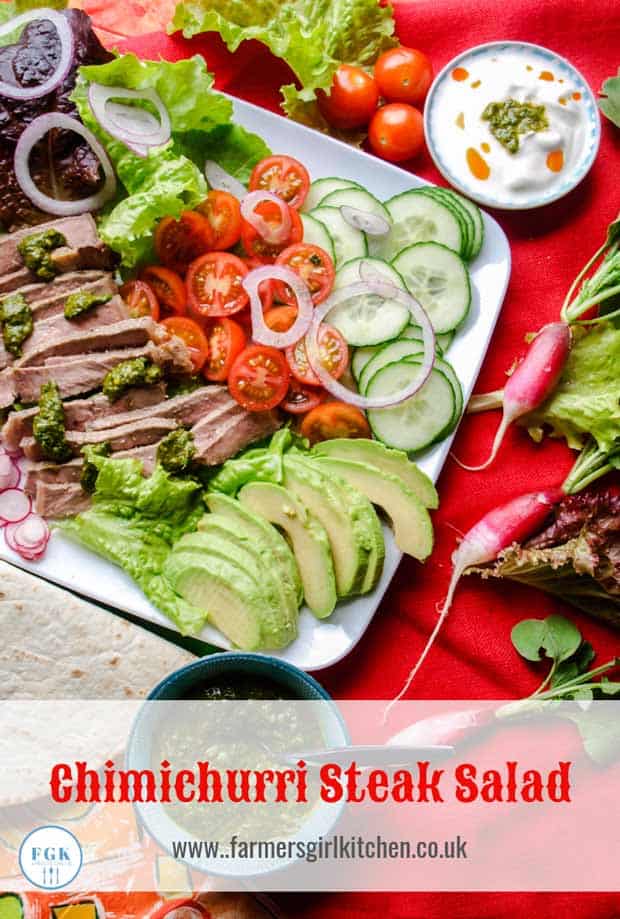 Don't forget to PIN this Chimichurri Steak Salad recipe for the next time you want a really tasty salad to share with family and friends, or just to treat yourself. and follow me @farmersgirlcook  on PINTEREST.
More Salad Recipes from Farmersgirl Kitchen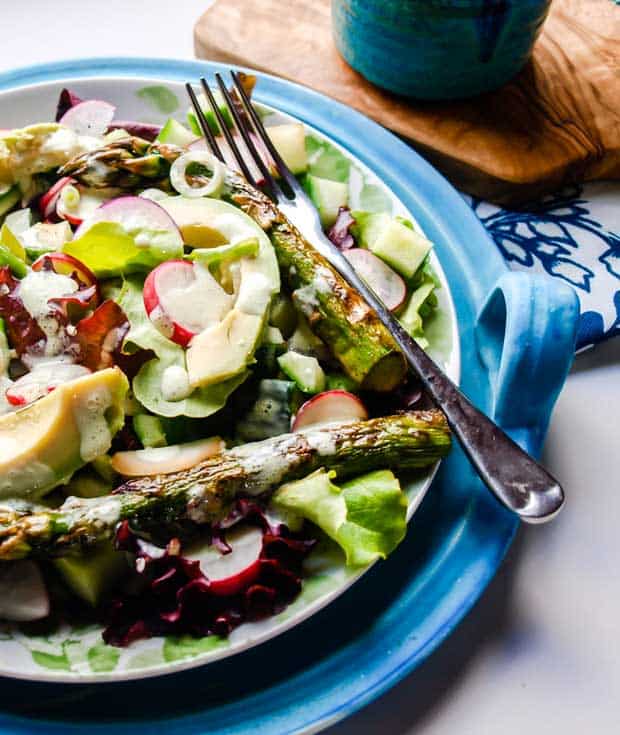 Radish Asparagus Avocado Salad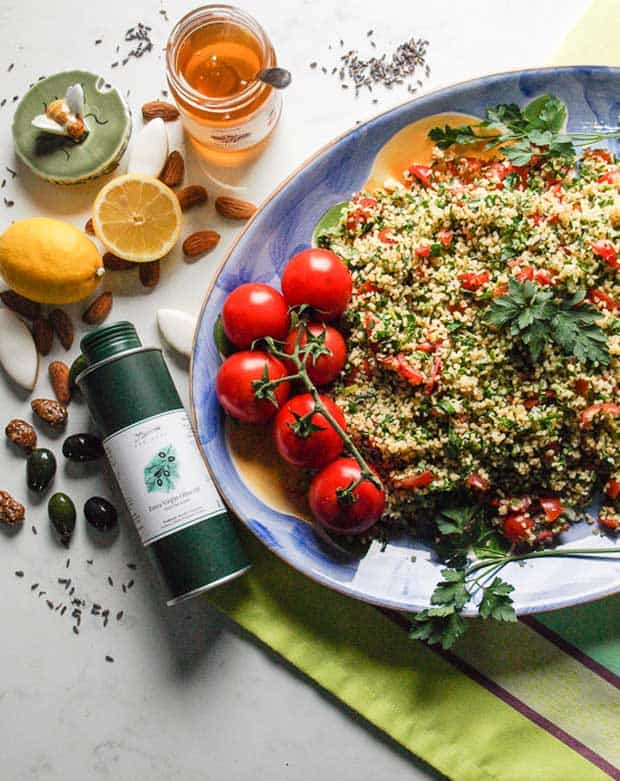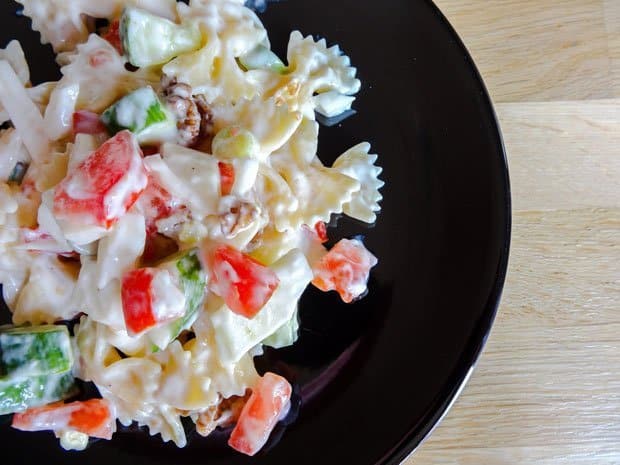 Chilli Fennel & Walnut Pasta Salad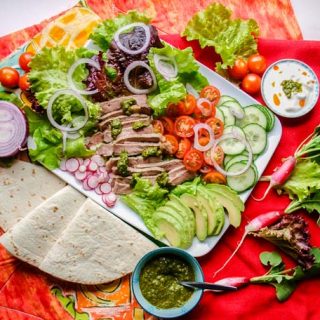 Chimichurri Steak Salad
An Argentinian spin on a steak salad - this meal is virant, zingy and delicious.
Ingredients
Steak
280

g

sirloin steak

2 x 190g steaks

1 1/2

tbsp

vegetable oil

1/4

tsp

salt

1/4

tsp

freshly ground pepper
Chimichurri
60

g

packed fresh parsley

chopped very finely

1/2

tsp

red pepper flakes

6

tbsp

olive oil

2

cloves

garlic

1/2

tsp

salt

1/4

tsp

freshly ground black pepper

1/4

tsp

dried oregano

1

tbsp

lemon juice

1

tsp

red wine vinegar
Salad
90

grams

baby salad leaves

10

grape tomatoes

sliced in half

2

radishes

sliced thinly

1

avocado

peeled, pitted and chopped into small chunks

1/2

red onion

sliced thinly

1/4

cucumber

sliced

2

flatbreads

toasted and sliced into large wedges

2

tbsp

sour cream
Instructions
Heat a cast-iron grill pan or skillet over high heat.

Place the steaks on a cutting board and drizzle with the oil, then sprinkle them with the salt and black pepper. Rub in the oil and seasonings with your hands to coat both sides.

Cook the steaks for 3 to 5 minutes on each side, depending on how well cooked you like your steaks. Once cooked, transfer to a cutting board to rest for 5 to 10 minutes.

Meanwhile, prepare the chimichurri,. In a small bowl, stir together all the chimichurri ingredients. Allow to sit for a few minutes while you finish the rest of the salad.

Assemble the salad. On a serving platter, arrange the baby salad leaves, tomatoes, radishes, avocado, red onions, cucumber and flatbreads.

Top with the cooked steak, then drizzle with most of the chimichurri. Nestle a small dollop of the sour cream into the platter and drizzle a little more chimichurri on to before serving.
Notes
Although the recipe recommends 2 steaks for 4 people.  I found that one steak thinly sliced was adequate for our appetites.
If you want to bulk out the salad for a more filling meal you could add a little cooked quinoa or rice. 
Nutrition
Calories:
499
kcal
Carbohydrates:
22
g
Protein:
20
g
Fat:
39
g
Saturated Fat:
10
g
Cholesterol:
46
mg
Sodium:
596
mg
Potassium:
785
mg
Fiber:
6
g
Sugar:
3
g
Vitamin A:
2070
IU
Vitamin C:
40.3
mg
Calcium:
72
mg
Iron:
3.3
mg
Don't Miss My Latest Recipes
CLICK TO SUBSCRIBE NOW to join my newsletter list & receive a FREE 'How To Adapt Recipes For Your Slow Cooker' printable!
Share by Email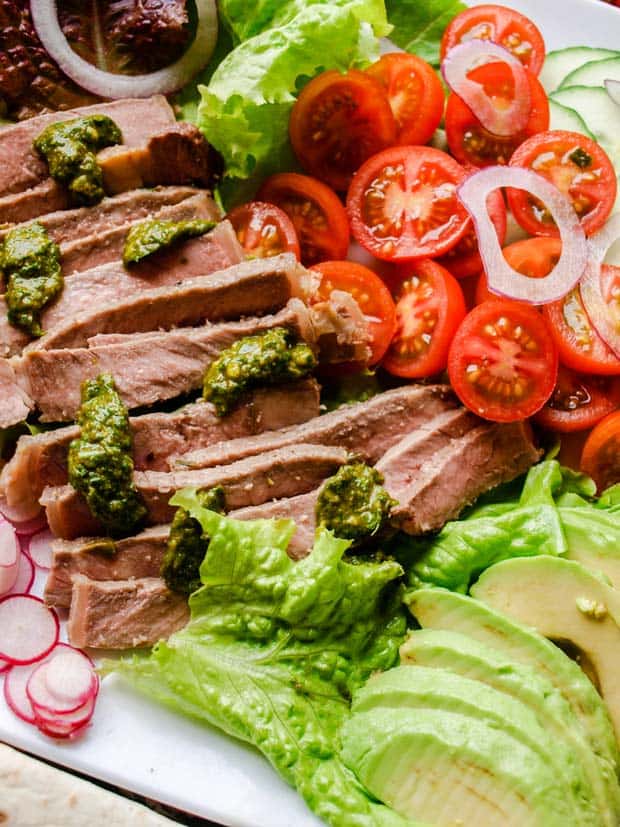 For another review of Seriously Good Salads and a recipe for Fattoush with Sumac Hummus, check out this post from Tin & Thyme.