Lemon and Mint Tabbouleh Salad is a fresh and flavourful bulgur wheat salad with tomatoes, mint and parsley, tossed in a garlic and lemon dressing and drizzled with a  mint flavoured  extra virgin olive oil that comes straight from the Provence region in the South of France.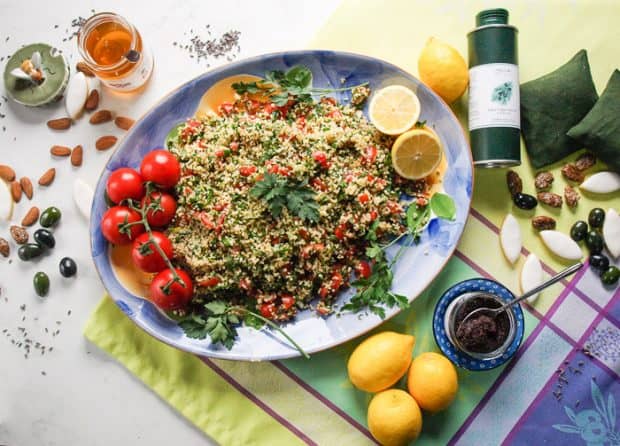 Tariette is a new grocer whose French produce is sourced directly from small, trusted local producers in Haute Provence. Their offering of regional products, from olive oil to chocolate, aims to reflect the seasons and showcase local traditions. All their producers are handpicked for not only the quality of their goods, but an honest, ethical, and sustainable approach.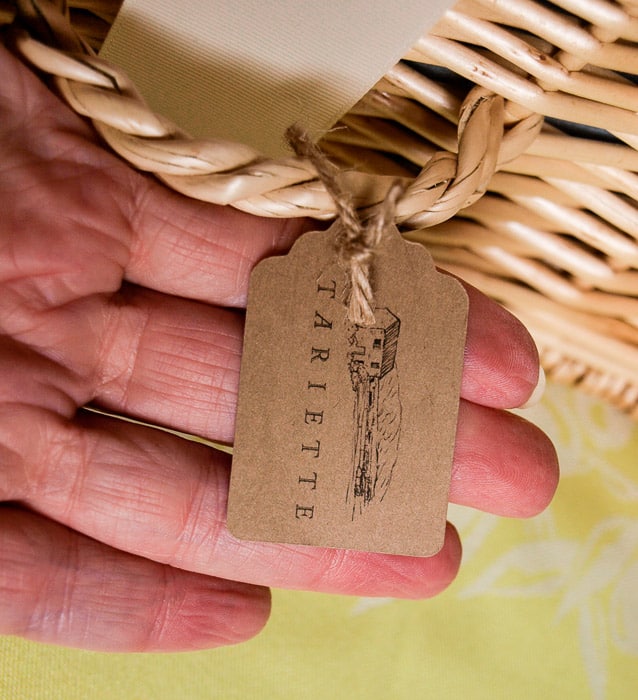 The company was started by Sylvie Jacquel and her sons, Thomas and Pierre. Born and raised in Haute-Provence, they share a genuine passion for local food and produce from their region.

It was the good, honest food of Provence—no artificial flavours, frills, or glam packaging—that Thomas found himself missing after moving to London. For all the great British food he could find locally, there was nothing like the taste of home. Sylvie's regular parcels were a godsend to him, and it was from these that the idea for Tariette was born. Its mission is to provide anyone who loves Provençal food, wherever they are, with an authentic taste of the region.

Thomas sent me a sample of some of the Tariette produce from Provence.  The wicker hamper was beautifully presented, tied with a ribbon, with a  and inside the products are all packed carefully in bubble wrap, wood straw, covered with tissue paper and sealed with a Tariette sticker.

My Tariette hamper contained the following:
Calissons – The iconic calisson is a Provence favourite, with a marzipan-like texture and sweet flavours from the almond and melon.
Liquid Lavender Honey is 100% pure honey, Tariette don't heat or mix their honey—gravity is its only filter, keeping its authentic, sweet and delicate lavender flavour. Liquid Lavender Honey has IPG certification which guarantees its origin and Label Rouge government recognition which assures its quality.
Raw & Untreated Almonds from Provence are as natural as it gets—the shells are removed and nothing else, so they keep all their wonderful nutrition. A handful of almonds can lower blood sugar, blood pressure, and cholesterol levels. There are few healthier snacks.
Mint Infused Olive Oil -this fragrant and delicious olive oil is just like adding fresh mint to your dishes. The traditional extraction process ensures the highest quality oil. Enjoy it with lamb, peas, tabbouleh and any oriental dish.
Tapenade – few foods are more traditionally Provençal than tapenade. Spread some on a slice of good bread, pour yourself a glass of rosé and let the magic happen! It's a great dip for carrot sticks too, but tapenade and fish is the marriage made in heaven. Spread a thin layer on a white fish filet and cook en papillotte for 20 minutes—you won't be disappointed
Roasted Almond Pralines – a fairground classic with a Provençal twist! These delicious caramelised almond pralines, from the heart of Haute Provence, are a moreish indulgence, with a delectable sugar coating that isn't too thick.
Chocolate Olives de Provence – Roasted almonds, covered in dark and white chocolate, finished with green and black glazes to mimic olives. These 'olives' look stunning and taste even better, offering a semi-sweet treat ideal as an afternoon snack or a light dessert.
Lavender Pillows –  mini hand-sewn pillows, filled with gently dried lavandin flowers collected from the lavender fields of Haute Provence. Pop them in your wardrobe for a subtle lavender scent and to keep moths away. Lavender relaxes you and helps you sleep too, so a couple of these in your bed will make for a blissful night dreaming of our beautiful Provencal fields

While you can buy the products individually, Tariette, pride themselves on curating gift boxes and hampers with food and surprises that showcase the very best Provence has to offer. Starting from £75 with free shipping, the personalised hampers are a beautiful way to make someone feel extremely special, or treat yourself with an unforgettable gift!  I loved the way the products were packaged with matching ribbons and understated labelling.

I used the Mint flavoured Extra Virgin Olive Oil in the recipe for Lemon and Mint Tabbouleh Salad.  This is olive oil as it should be, it's slightly cloudy and deep olive green, smooth and silky with a subtle flavour of real mint.

The recipe only requires a couple of tablespoons drizzled over the bulgur salad to lift all the flavours and take an ordinary salad to another level. I can honestly say this is the most delicious Tabbouleh Salad I have eaten, it's absolutely scrumptious.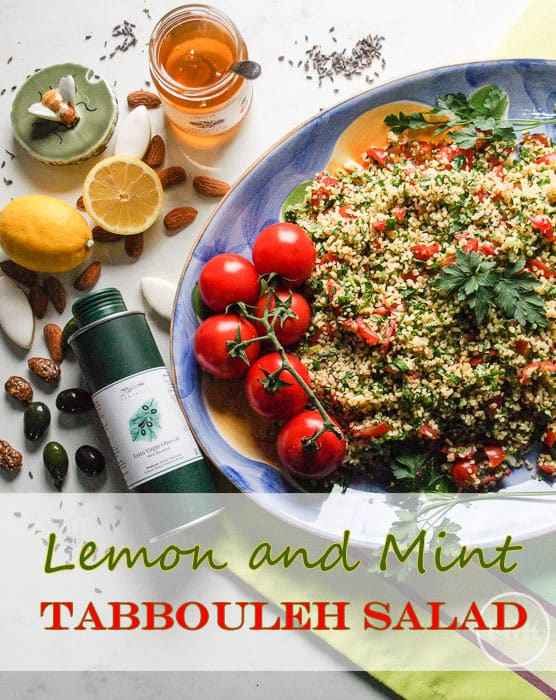 Pin this Lemon and Mint Tabbouleh Salad for later
The producers chosen by Tariette share some common values: tradition, excellence, and above all, a passion for their craft. Each one is at the top of their field for a classic Provençal product—whether it's cold-pressed olive oil from the chalky foothills of the Alps or fragrant lavender from the region's famous fields. All the producers are missing is a chance to showcase their talents to a wider audience. It may be that their size or logistics hold them back from working with the ruthless distribution chains of big supermarkets. Nevertheless, Tariette believes they still deserve an opportunity to shine. You can find out more about the local producers of the products on the Tariette website.

2018 is due to be an exciting year for Tariette, which has grown rapidly since its launch. The team will continue to attend selected markets, mainly in and around London at first, as well as several larger events such as the Hampton Court Flower Show in July. New products are constantly being sourced, with seasonal ranges and tableware among the big additions to be added soon. Their gift hampers continue to be incredibly popular and more options for sending loved ones treats are in the pipeline.
Find out more about Tariette and check out their Instagram account @tarietteuk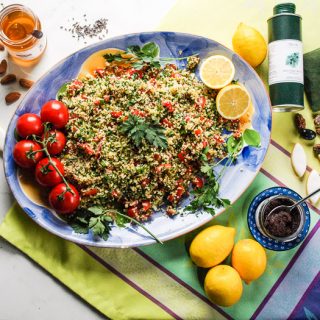 Lemon and Mint Tabbouleh Salad
I love this dish because it's such a global favourite—you can find tabbouleh in all corners of the globe! It's so simple in that not only does it require minimum effort, but you can also make it anytime and leave covered to blend the flavours for up to a day. This recipe uses our mint-flavoured olive oil to add a real kick to proceedings just as you're plating up.
Ingredients
30

ml

Extra virgin olive oil

2

tbsp

Extra virgin olive oil flavoured with mint

60

ml

Fresh lemon juice

3

cloves

Garlic:

large

200

g

Bulgur wheat

300

g

Seeded plum tomatoes

20

g

Fresh parsley

2

Green onions

large

50

g

Fresh mint

Salt and pepper: To taste
Instructions
Mince the garlic and whisk with the olive oil and lemon juice in a small bowl before setting aside.

Add a cup of boiling water to the bulgur wheat and let stand for 15 minutes or so, until the water is absorbed.

Chop the tomatoes, parsley, green onions, and mint and add them to the bulgur wheat. Toss in the oil mixture to blend, season with salt and pepper, and let stand again for at least half an hour.

Before serving, plate the tabbouleh and drizzle with the mint olive oil. Simple!
Nutrition
Calories:
221
kcal
Carbohydrates:
30
g
Protein:
5
g
Fat:
10
g
Saturated Fat:
1
g
Sodium:
14
mg
Potassium:
348
mg
Fiber:
8
g
Sugar:
2
g
Vitamin A:
1090
IU
Vitamin C:
19.1
mg
Calcium:
47
mg
Iron:
1.6
mg
Don't Miss My Latest Recipes
CLICK TO SUBSCRIBE NOW to join my newsletter list & receive a FREE 'How To Adapt Recipes For Your Slow Cooker' printable!
Share by Email
More Recipes featuring Mint:
Turmeric Fries with Mint and Coriander Dip – Farmersgirl Kitchen
How to make Fresh Mint Chocolate Cake  – Farmersgirl Kitchen
Strawberry, Cucumber and Mint Salad – Foodie Quine
Limonana – Israeli Mint Lemonade – Family Friends Food
Cucumber Roll Ups with Garlicky Feta & Mint Filling – Tin & Thyme
Chocolate Mint Rum Cocktail Cupcakes – Tin & Thyme
 More Mediterranean Salad Recipes:
Tomato Salad with Basil and Garlic in a Jar – Farmersgirl Kitchen
Avocado and Olive Salsa – Farmersgirl Kitchen
Israeli Vegetable Salad – Family Friends Food
Balsamic Roasted Tomato, Baby Spinach and Giant Couscous Salad – Kavey Eats
I received the products featured as a gift and was not paid for this post.