I'm delighted to present to you 'What to make with Blackberries' a collection of recipes for  Blackberry Desserts;  Jams, Jellies & Preserves; Cakes & Bakes; Drinks & Cocktails and even a savoury recipe all using blackberries. There is bound to be a blackberry recipe you want to make.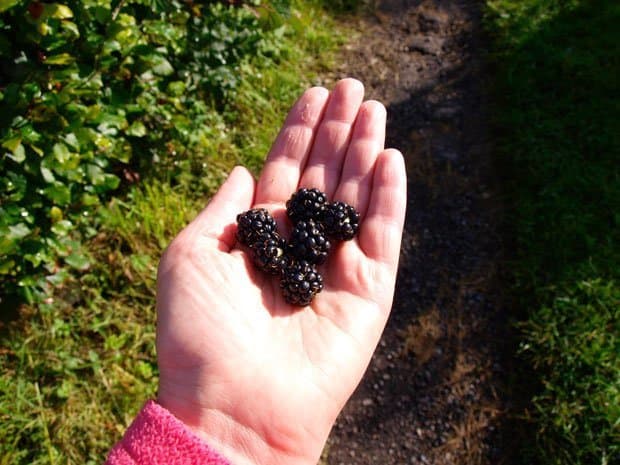 When I see blackberries ripen in the hedgerow around our farm, I'm out there picking them right away without a thought of what to make. It's only when I get home that I think about what I'm going to do with my haul. This is the ideal resource to find the perfect recipe.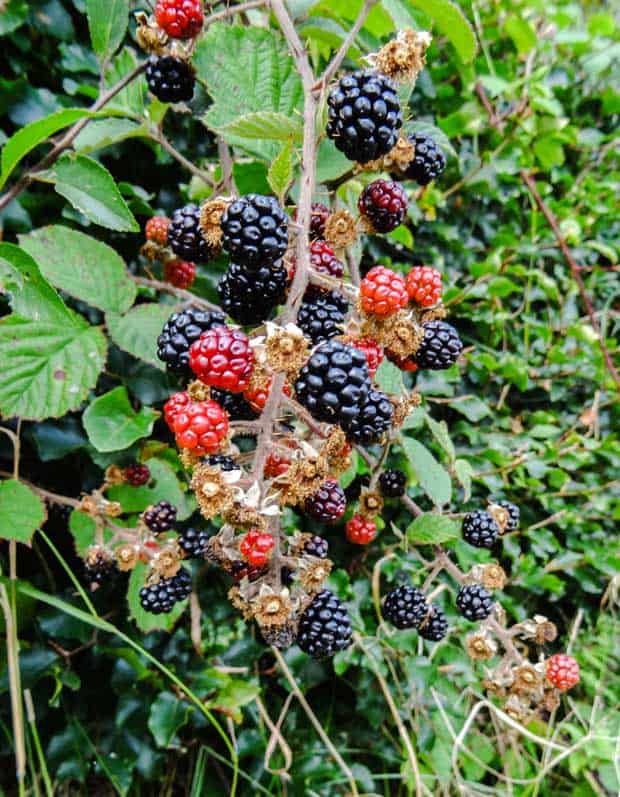 How to pick Blackberries
If you've never picked wild blackberries or brambles, then here are a few tips to help you with your foraging and avoid disappointment.
Blackberries are at their best towards the latter half of summer, peaking in August and early September.
You will find blackberries in woods, hedges, roadside verges, and possibly even your garden.
Do not trespass on private property, always ask if you see blackberries in an area that looks private.
Don't pick blackberries close to a busy road as the berries will be covered in pollution from exhaust fumes.
Pick only berries that are fully black and shiny. Mature berries are plump yet firm, a deep black colour, and pull free from the plant without a yank. Berries do not ripen after being picked.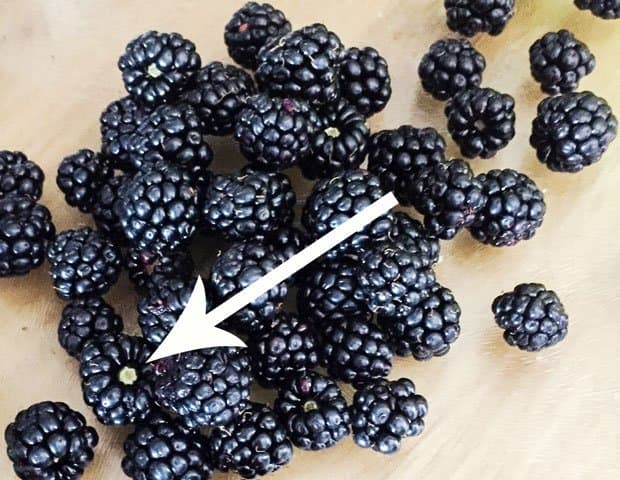 Once you pick each berry check the core (see photo above) it should be white and not discoloured.  If it is brown then the berry is past its best and should go into the compost.
Pick blackberries during the cooler parts of the day. Once picked, place berries in the shade and refrigerate as soon as possible
Once you get your berries home, pour them out into trays or baking trays in a single layer and remove any soft or unripe berries and random leaves.
Don't wash the berries until you are ready to use them or freeze them.  Washing makes them more prone to spoiling.
What to make with Blackberries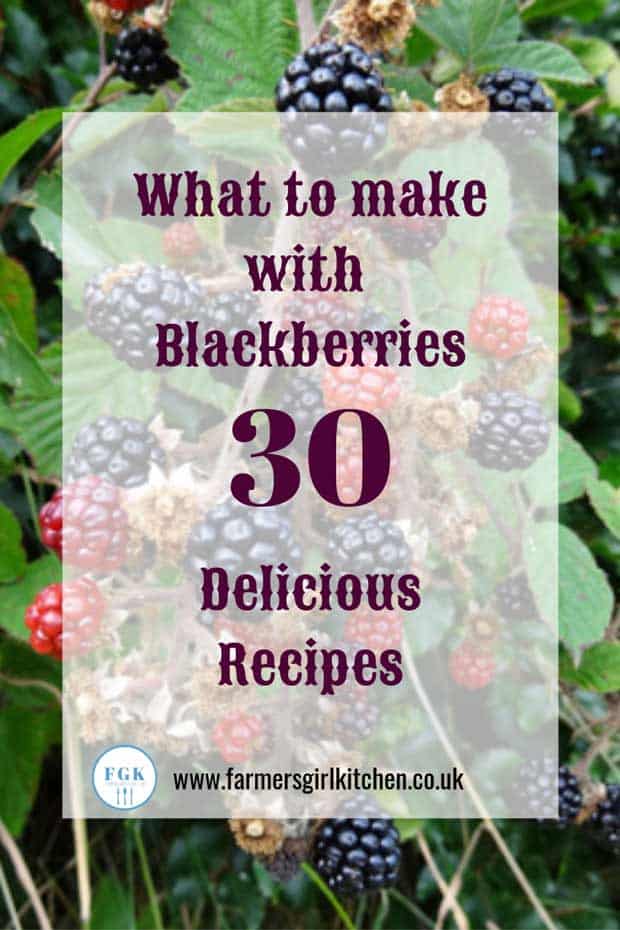 PIN FOR LATER
Let's make Blackberry Desserts
I love dessert and the sweet and sharp taste of blackberries makes an ideal vehicle for lots of different dessert recipes.  The apple is the natural seasonal partner for blackberries but blackberries also combine beautifully with mint, cinnamon, and lemon.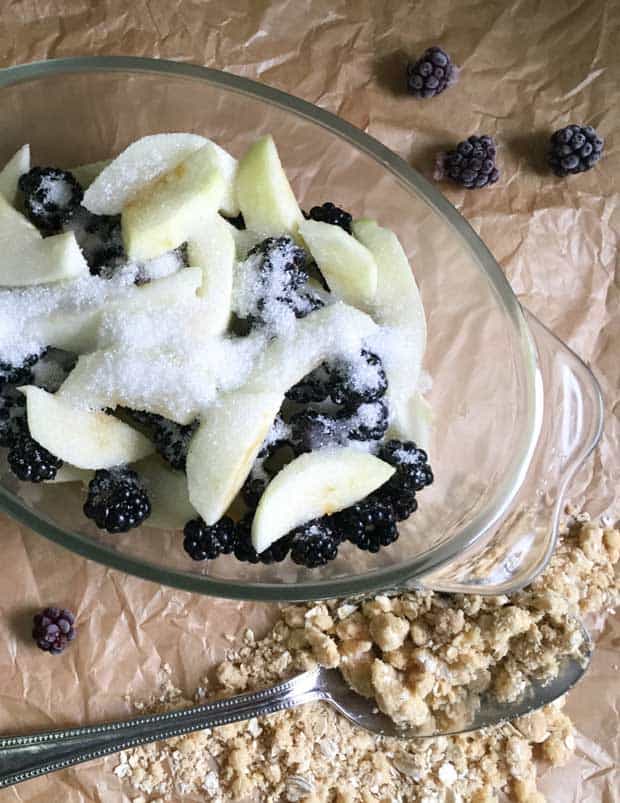 Blackberry and Apple Crumble  Blackberries, apples, and sugar, topped with a crumble mixture of butter rubbed into flour, rolled oats and more sugar. The perfect comfort food when served with custard.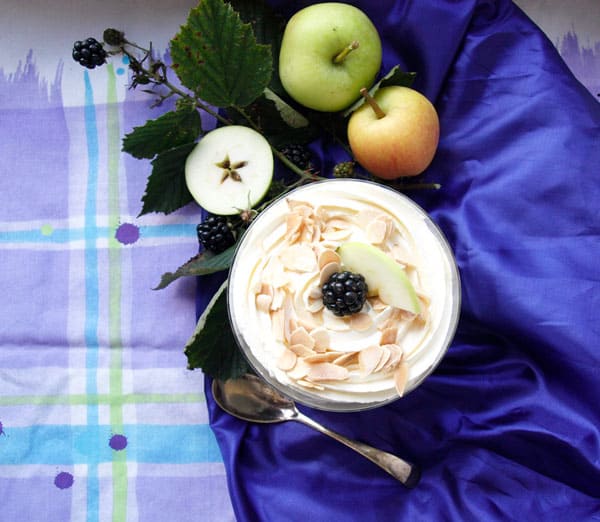 Blackberry and Apple Trifle a classic Scottish trifle made with  layers of cake,  delicious blackberry and apple compote, topped with custard and whipped cream, a real feast of a dessert.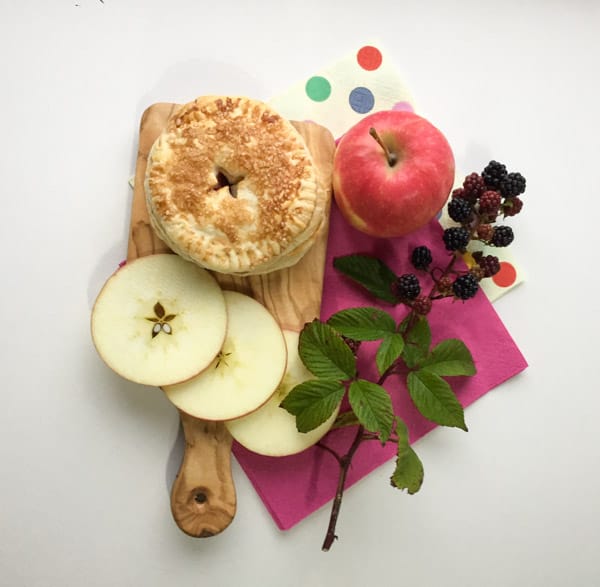 Blackberry and Apple Hand Pies are individual fruit pies, made easy by using ready-made puff pastry. These little pies make a delicious dessert served warm or take them on a picnic for the perfect end to your meal.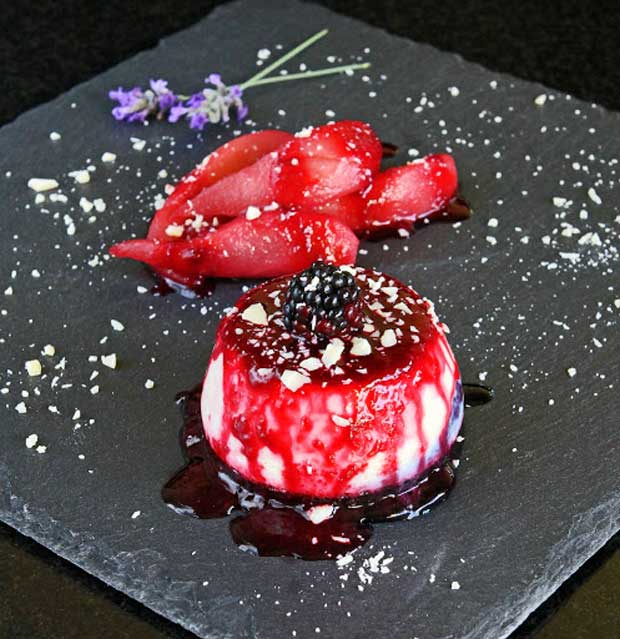 White Chocolate, Lavender Panna Cottta with Blackberry Sauce by the Gluten Free Alchemist. Smooth silky panna cotta flavoured with white chocolate and culinary lavender and served with a blackberry sauce, naturally gluten free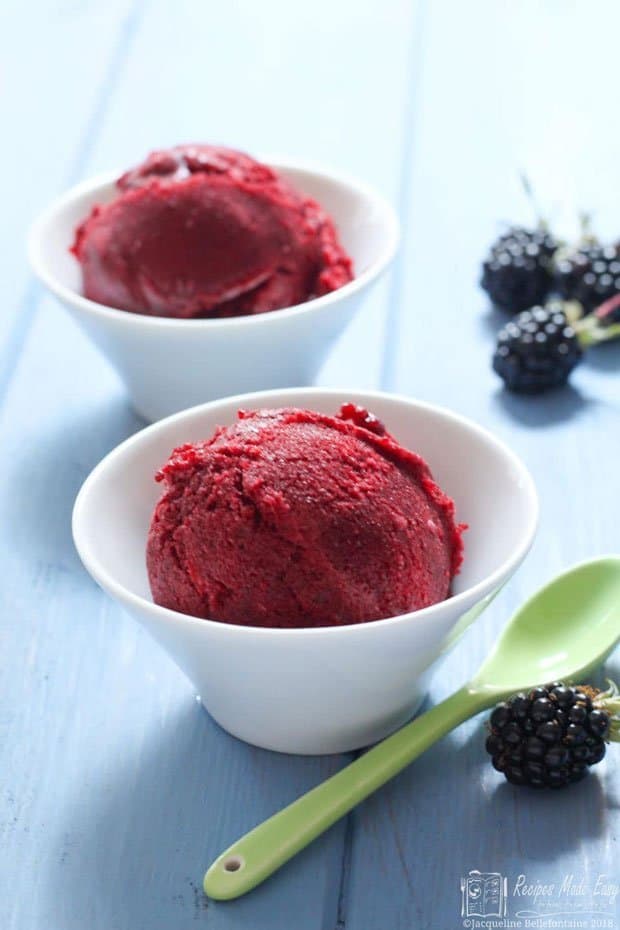 Blackberry Sorbet by Recipes Made Easy.  An intense berry  sorbet that is perfect to keep in the freezer for those warm late summer and early autumn days. Using on five ingredients it's easy to make too.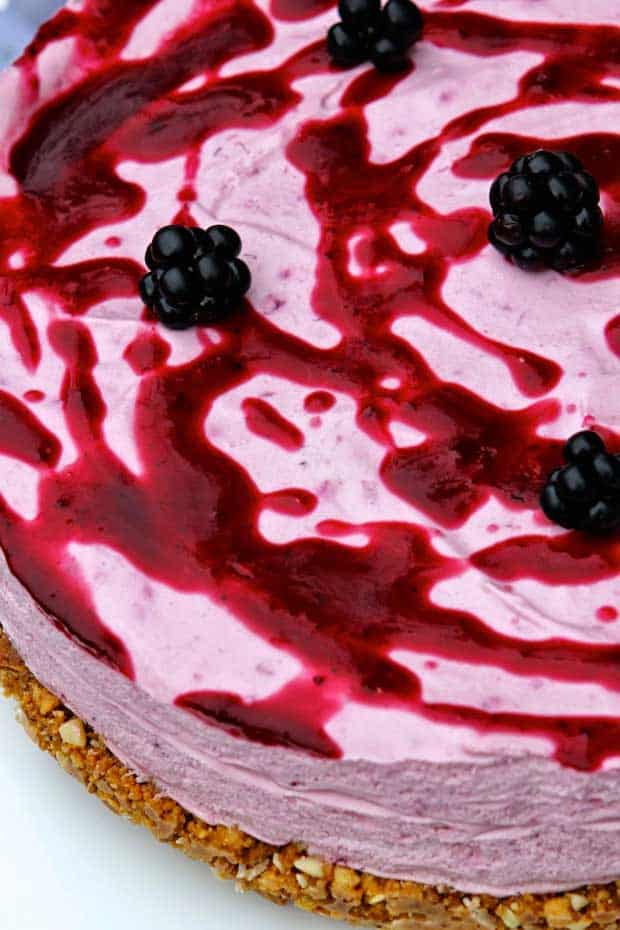 Blackberry Coconut Chocolate Nobble Cheesecake by the Gluten Free Alchemist.  This cheesecake uses three coconut elements to draw out and enhance the flavour from the gluten-free biscuits, with amazing results.  It is also seasonally fresh using foraged blackberries to make a beautiful purple puree which flavours and tints the 'mousse' and forms the base of a home-made jelly glaze topping to add extra blackberry depth.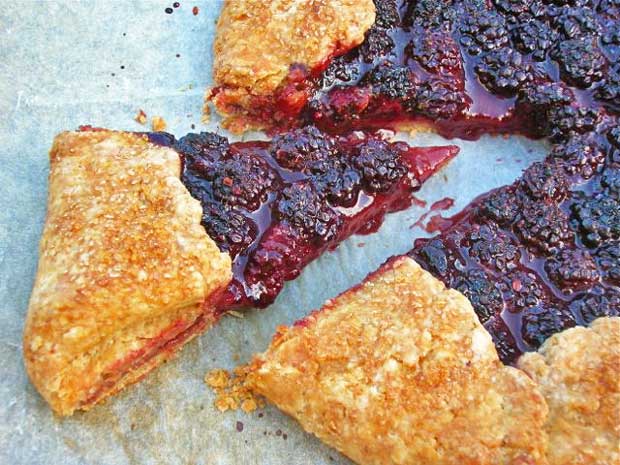 Double Blackberry Chocolate Galette by Tin & Thyme. This pastry recipe is easy to handle and produces a beautifully flaky buttery crust. The chocolate blackberry jam adds depth of flavour and sweetness and the blackberries give their distinctive late summer essence.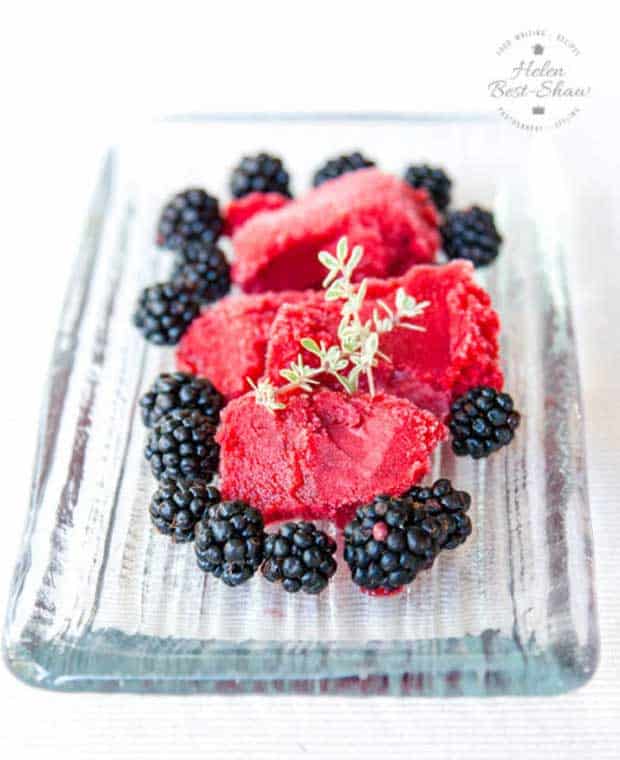 Blackberry and Apple Sorbet with a hint of Thyme by Fuss Free Flavours  This sorbet is an adaption of a real classic for the British late summer and early autumn. Blackberry and apple stewed together are both delicious and versatile.  The sorbet contains vodka for an extra kick but it is optional and the sorbet is equally delicious without the alcohol.
Brownie Based Blackberry Cheesecake by She Eats  Rich brownie base, then the creamy cheesecake and the tart fruit cuts through it all. There ain't no cheesecake like a brownie based cheesecake, why not try it and judge for yourself?
Brownie Baked Blackberry Cheesecake
Rich brownie, then the creamy cheesecake and the fruit just cuts through it all. There ain't no cheesecake like a brownie based cheesecake!
Check out this recipe
Let's make Blackberry Jams, Jellies, and preserves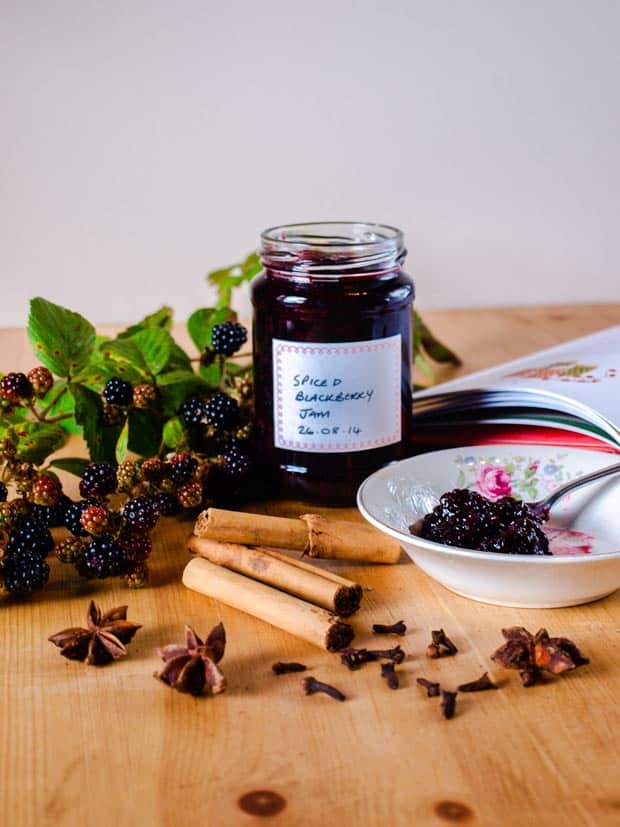 Spiced Blackberry Jam has an intense and deliciously spicy flavour. The dark berries combine beautifully with the spices and create something a little different. You can leave the berries whole or crush and sieve them to make a seedless jam.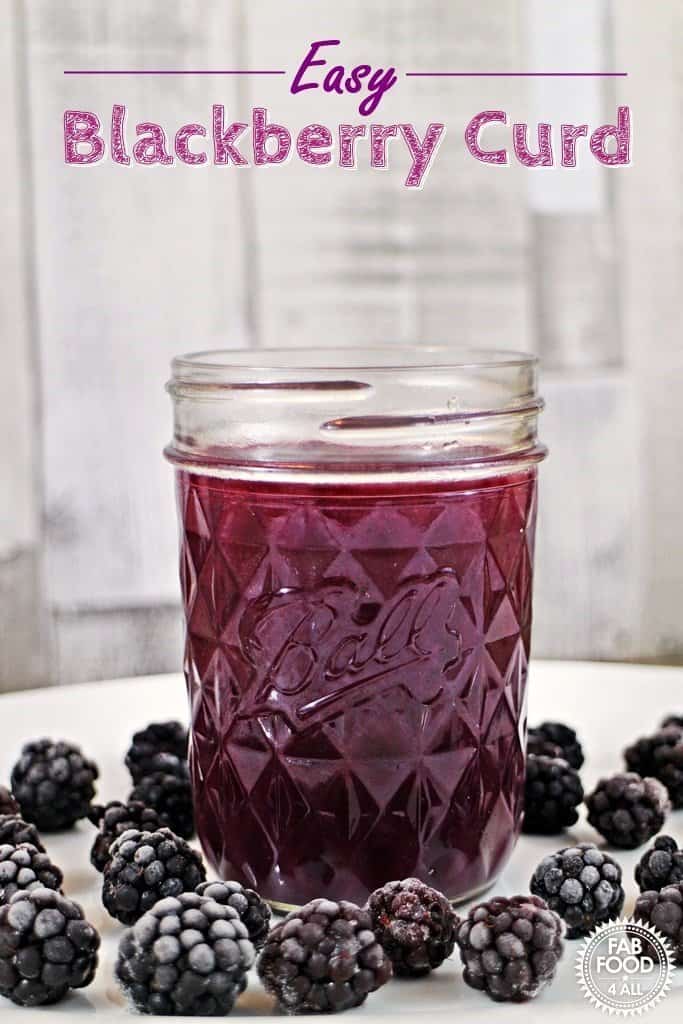 Easy Blackberry Curd by Fab Food 4 All is a rich smooth spread full of blackberry flavour.  It can be made with fresh or frozen blackberries and uses a simple tried and tested method that you really need to try.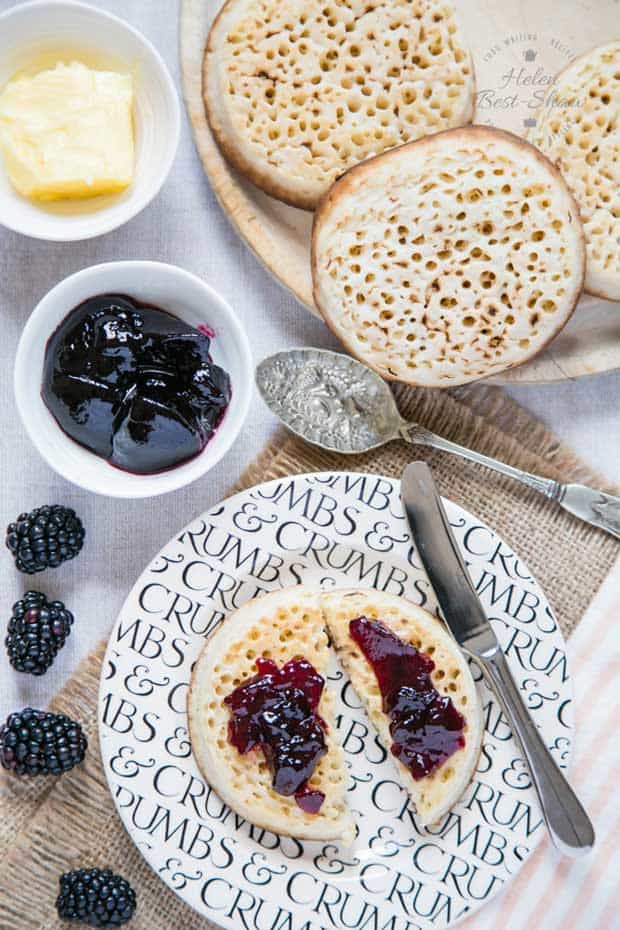 One-Pot Blackberry Jelly by Fuss Free Flavours contains only three ingredients and no added pectin.  It's made in one pot and couldn't be simpler to make, what a delicious treat.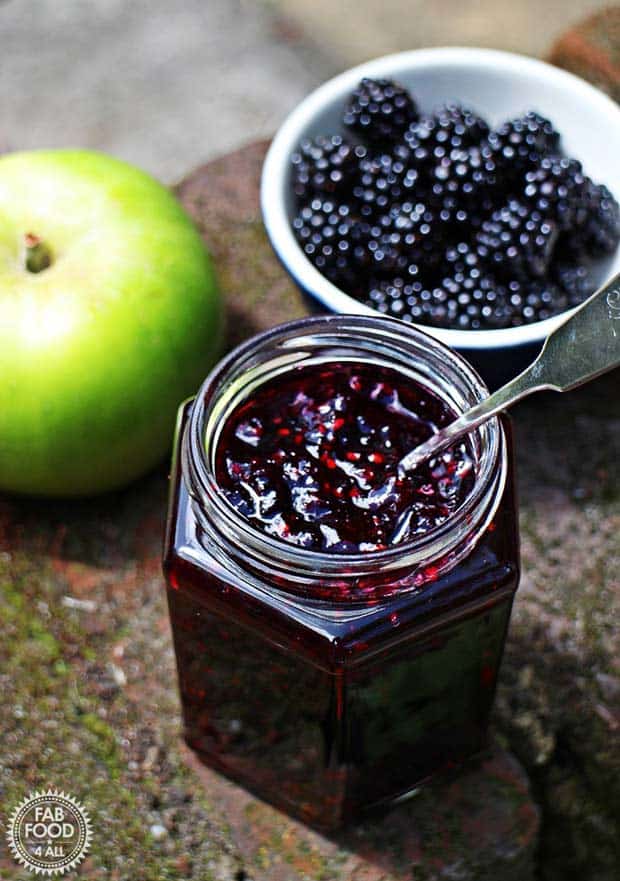 Easy Blackberry and Apple Jam by Fab Food 4 All.  A delicious recipe using the classic combination of apples and blackberries, it tastes all the better for foraging for your own blackberries.
Blackberry Chutney by Kitchen Talk & Travels for those who prefer savoury preserves, a wonderful concoction of blackberries, apples and spices that makes a great gift for foodie friends and family.
Let's make Blackberry Cakes & Bakes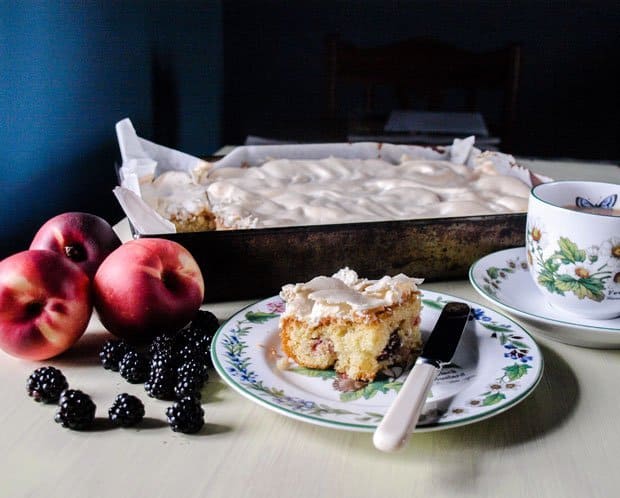 Peach and Blackberry Meringue Slice is a soft traybake style cake filled with pieces of seasonal fruit and topped with a thin layer of crisp meringue.  The contrasting flavours and textures make it a really delicious cake .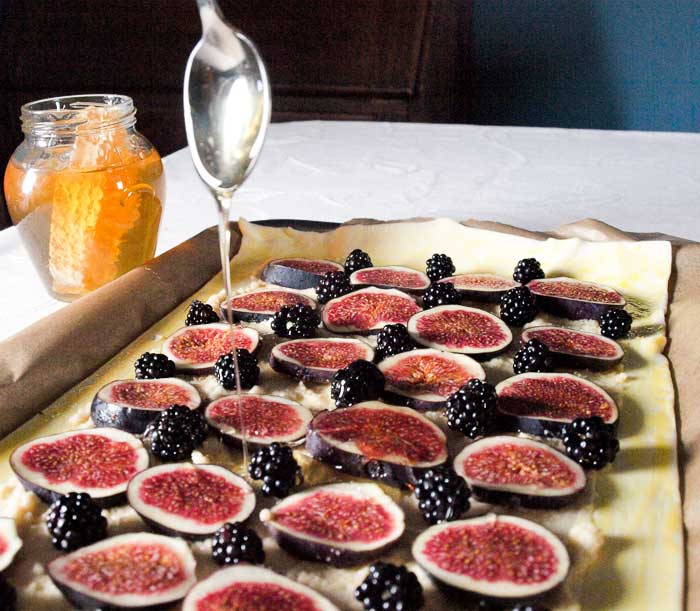 Quick & Easy Fig Honey & Almond Tart.  Blackberries may not be in the title of this super simple bake but they are certainly a key ingredient, another great way of combining seasonal fruits.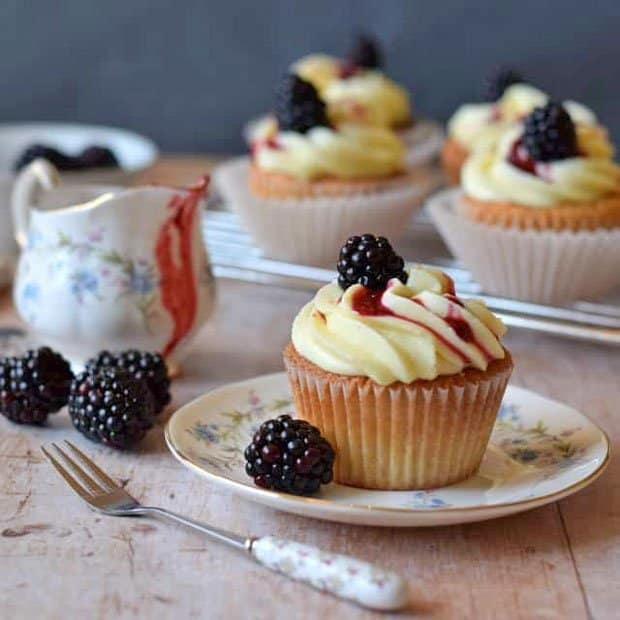 Blackberry and Pear Cupcakes by Only Crumbs Remain.  These sweet little cupcakes are filled with Blackberry and pear Jam, then topped with  Mascarpone & White Chocolate Frosting, topped with a blackberry and drizzled with a seasonal fruit coulis – oh my!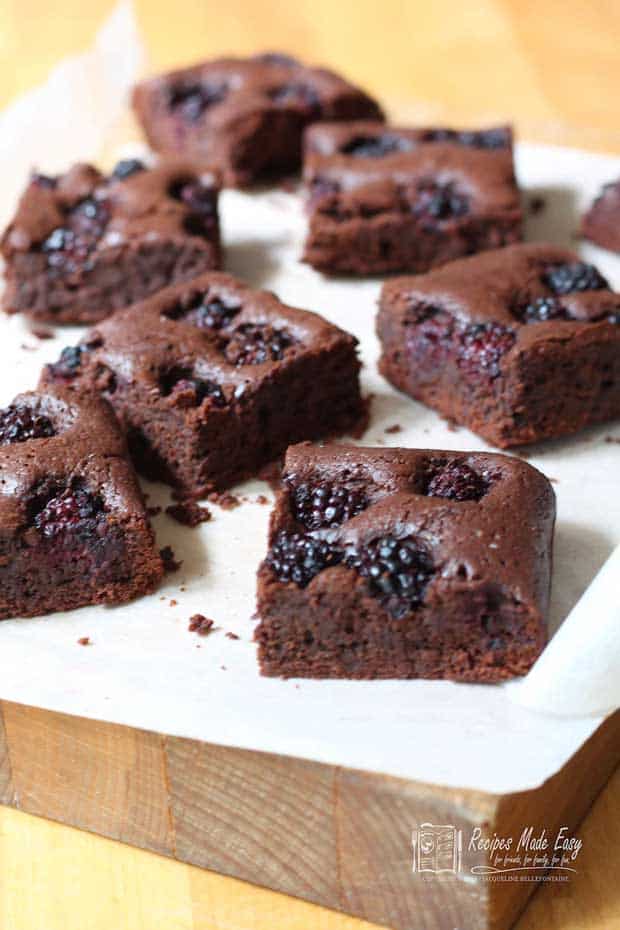 Blackberry Brownies by Recipes Made Easy. Delightfully chocolatey brownies are always a treat and with the addition of blackberries, they will definitely not disappoint.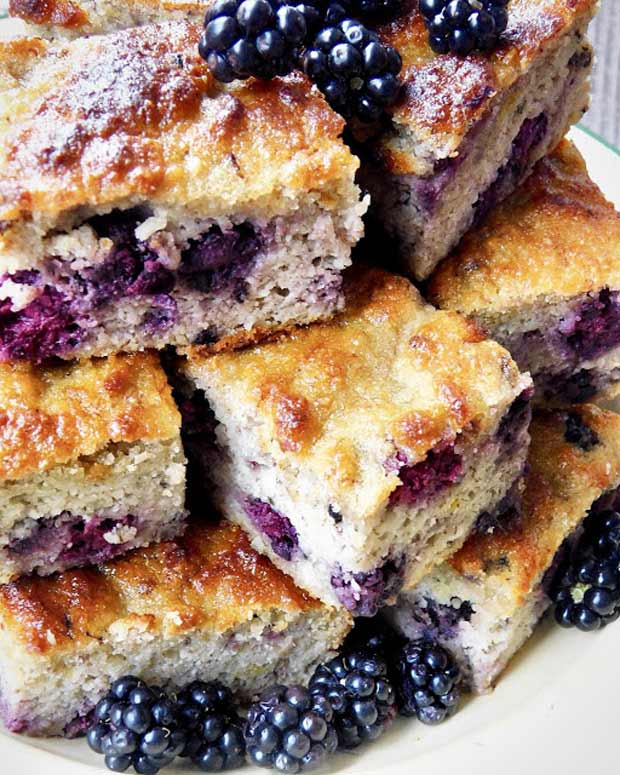 Banana, Bramble and Almond Traybake by Foodie Quine.  This gluten-free bake is packed with blackberries (brambles)and perfect as a teatime cake or serve with custard for dessert.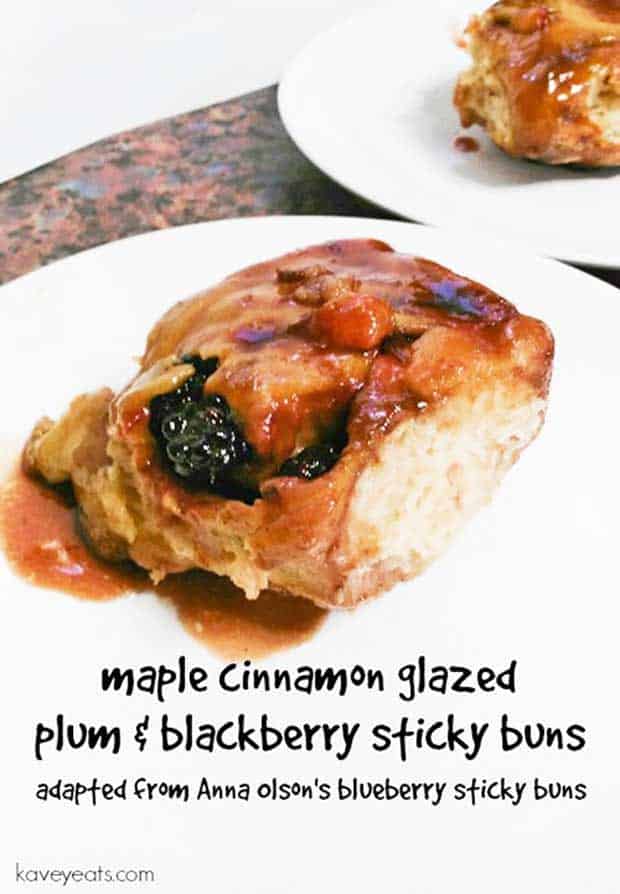 Maple Cinnamon Glazed Plum & Blackberry Sticky Buns by Kavey Eats.  Based on a recipe that Anna Olsen made for Kavey on a trip to Canada with local seasonal fruits of plum and blackberry instead of blueberries.  I do love a sticky bun and these look fabulous.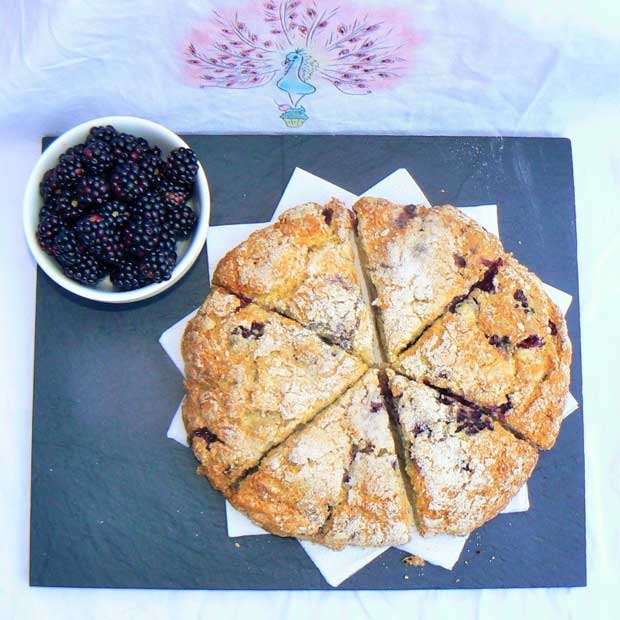 Apple & Blackberry Vegan Scones by Peachicks Bakery. This scone recipe is perfect for using up blackberries.  It is great for using those slightly under-ripe blackberries as they hold their shape better in the dough.  I love this idea and will definitely be making some blackberry and apple scones this year.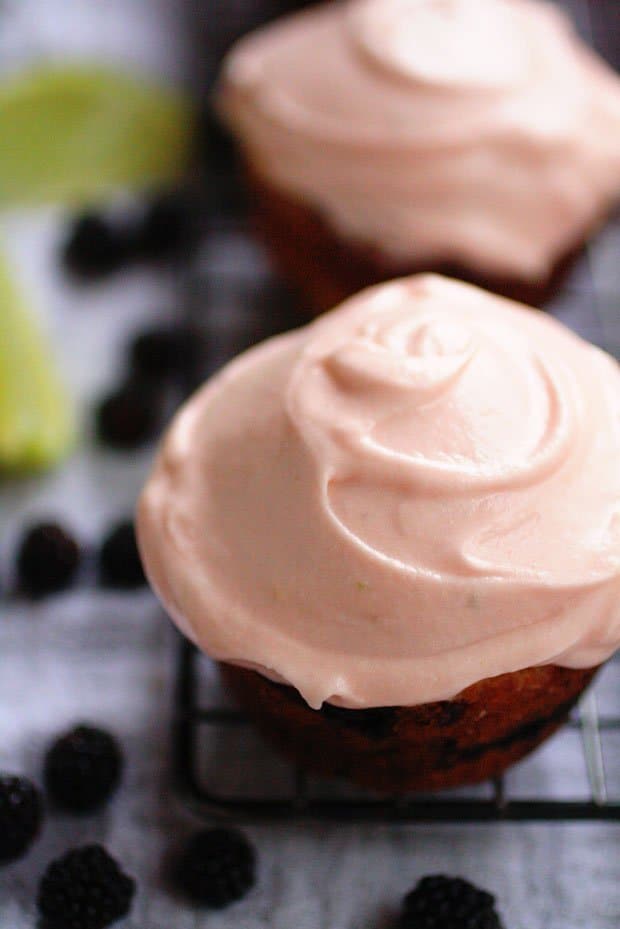 Blackberry & Lime Cupcakes by CIPA by the Dozen. These cupcakes are tender, full of berries and a delicious creamy lime frosting. Lizet describes them as a party in your mouth. well that's one party I really want to join!
Blackberry & Lime Cupcakes
Tender, full of berries and a delicious creamy lime frosting.
Check out this recipe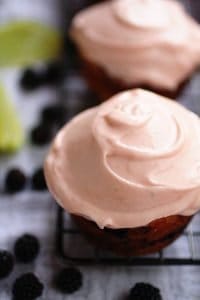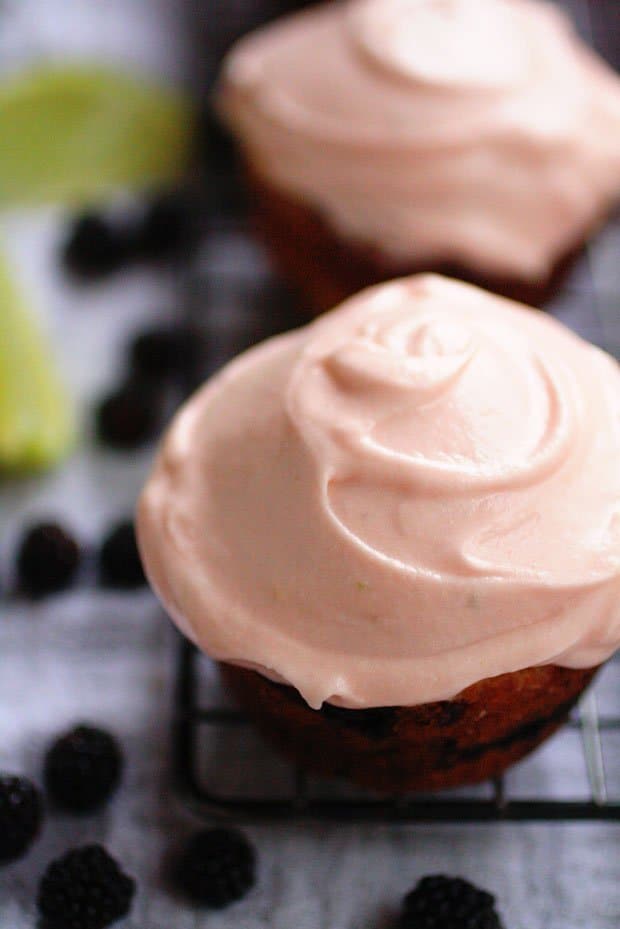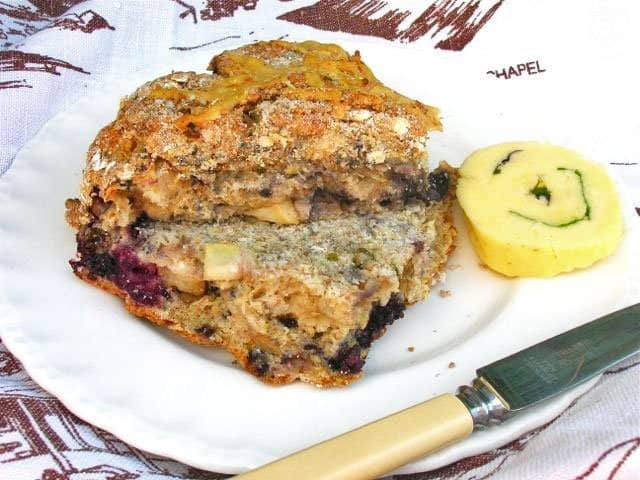 Blackberry & Apple Spelt Soda Bread by Tin & Thyme. This soda bread is quick and easy to make, It's ideal at teatime, spread with butter or, for accompanying a bowl of soup. I like the idea of serving a semi-sweet bread with soup, I think that would work really well.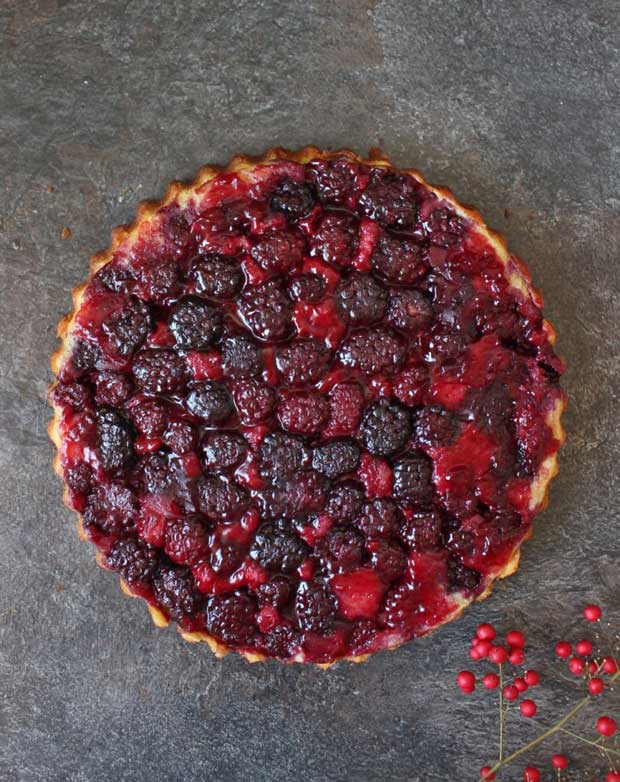 Blackberry Upside Down Cake by A Baking Journey. This cake is really simple, as long as you have Blackberries in your freezer and the pantry of a casual baker, you should be able to whip up this cake in less than 30 minutes. You don't have to use frozen blackberries but it's good to have a recipe like this in your repertoire for last-minute catering.
Let's make Blackberry Drinks and Cocktails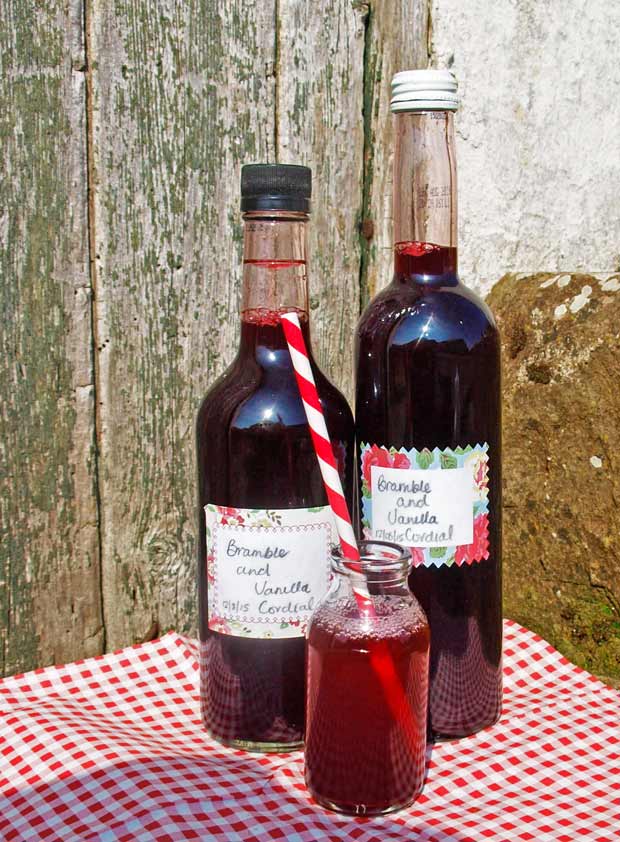 Blackberry and Vanilla Cordial can be made using fresh or frozen blackberries.  It makes a refreshing drink with still or sparkling water or you can add dry wine, prosecco or make your own cocktails.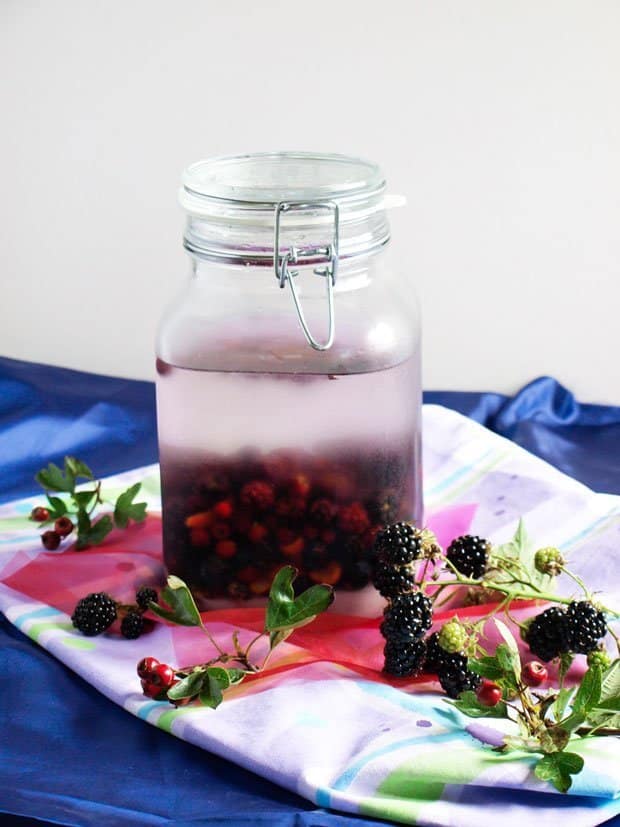 Hedgerow Vodka has to be the easiest of drinks to make, you just need a little patience. Blackberries, rosehips, hawthorn berries and sloes are gathered from the hedgerow, then combined with vodka and sugar. The finished liqueur has a rich spicy flavour, not too sweet and with a bit of an edge.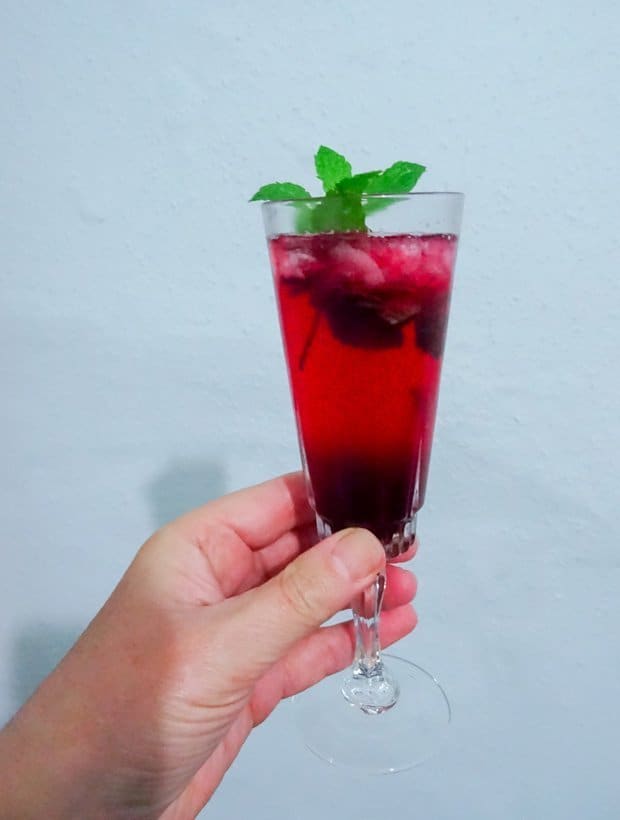 Forager's Fancy is a Blackberry Gin & Mint Cocktail.  This countryside cocktail combines blackberry cordial with gin and fresh mint leaves to create a fresh and refreshing drink that's simple to make and quite delightful to drink.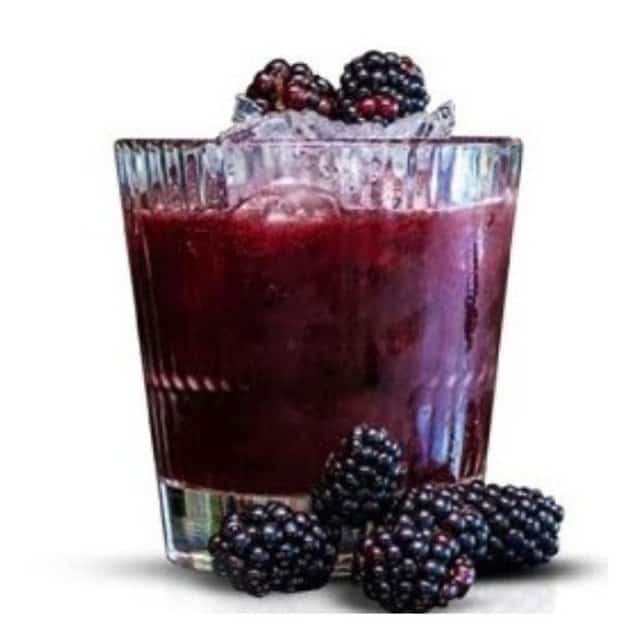 Purple Stag Cocktail by Tinned Tomatoes is a glorious cocktail featuring blackberries, berry tea and blackcurrant jam! Ideal to celebrate the end of the summer and the start of the new season.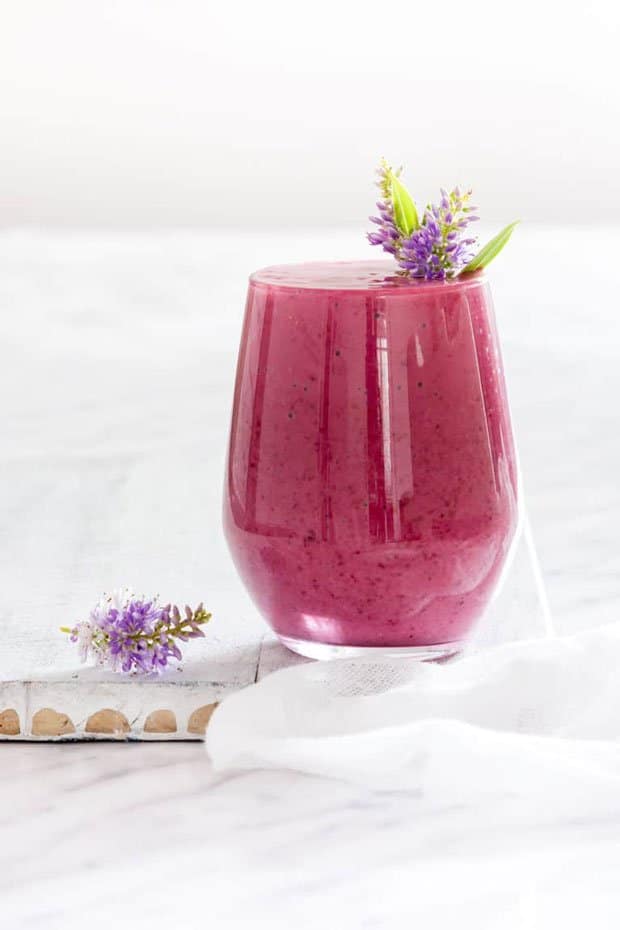 Blackberry Smoothie by Recipes from a Pantry is a combination of blackberries, bananas, yoghurt, and milk and sweetened with honey.  A delightful start to the day or an anytime healthy and filling snack.
Let's make a savoury recipe with Blackberries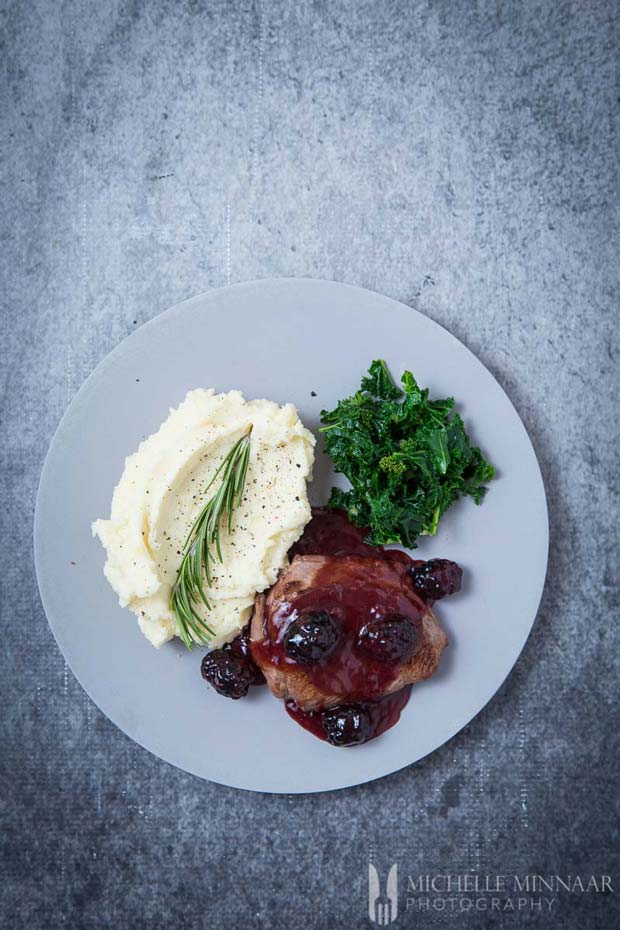 Venison Steak with Blackberry Sauce by Greedy Gourmet. A delicious dish which is perfect for when you have guests or family over. With its beautiful umami flavours paired with a creamy mash and blackberry sauce, this recipe will definitely impress.  I'm very impressed with this idea and will experiment with some savoury blackberry recipes this autumn.