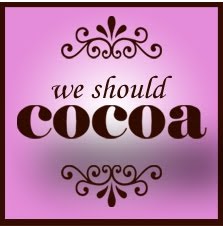 Let's pretend that I had read the instructions properly for the February 'We should Cocoa', if I had, then I would have made this recipe with quorn mince or some other suitable vegetarian alternative. However, sadly that is simply not the case, so if I am disqualified for using beef mince, so be it!
Chocolate Chilli Con Carne
500g beef mince or quorn
3 cloves of garlic crushed
20g of fresh chillis, finely chopped (deseed if you prefer your chilli less hot)
1 tin of chopped tomatoes
1 tbsp tomato puree
1 beef or vegetable stock cube
1 tin kidney beans
4 squares dark chocolate
salt to taste
To serve
Chopped coriander
Chopped spring onions
Sour Cream or Natural Yogurt
1. Brown the mince in a large pan. Add the crushed garlic and chillis and cook, stirring for a few minutes.
2. Add the tinned tomatoes, stock cube/powder and tomato puree. Cook on a low heat for about 30 minutes.
3. Add salt to taste, then add the kidney beans and the four squares of chocolate and let them melt into the mixture.
4. Just before serving add some fresh chopped coriander and stir through.

Serve with rice, I used brown basmati rice, topping the chilli with sour cream or yogurt, some chopped spring onions and chopped coriander.
I enjoyed this chilli, the chocolate adds a depth of flavour, ours was pretty hot as I left the seeds in the chillis, I always find fresh chillis quite difficult to judge and either end up with not enough or too much heat!