Slow Cooker Scottish Cloutie Dumpling is an updated recipe for a delicious traditional Scottish steamed 'pudding' dessert. It tastes exactly as it should, retaining all the expected flavours but I make it in my slow cooker for maximum convenience.

What is a Cloutie Dumpling?
A Cloutie Dumpling is a sweetened fruit pudding. The mixture is put into a clean cloth that has been 'scalded' with boiling water and dusted generously with flour. The cloth (clout or cloot) is tied up and lowered into a pot of boiling water.
My Granny's signature dish was Cloutie Dumpling, she didn't make Christmas Pudding, she made a Cloutie Dumpling at Christmas. It was also her go-to recipe as a birthday cake, and as it was my Dad's favourite she would make it for his birthday.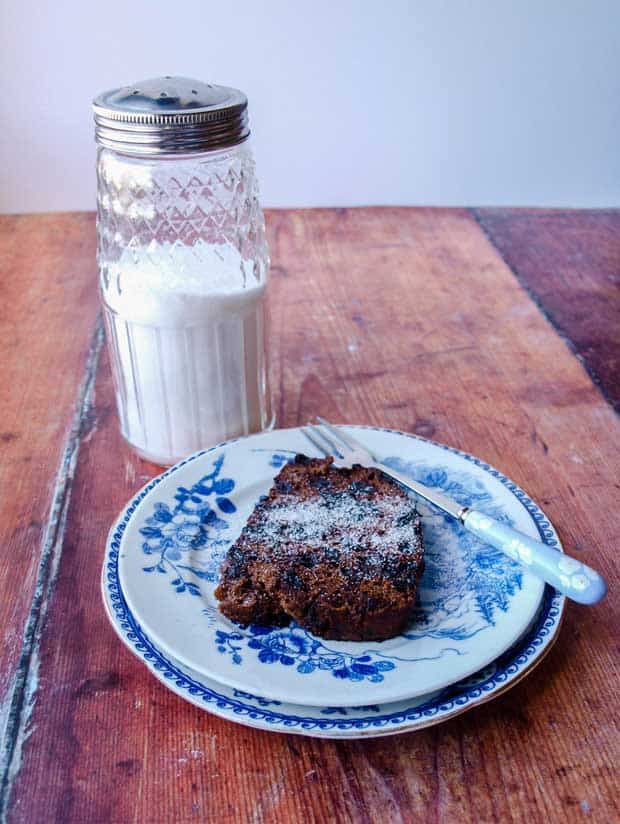 Granny would always send us home with half the dumpling. The next day my Dad would fry it in butter and cover it with caster sugar. I have to say that it is probably my favourite way to eat it.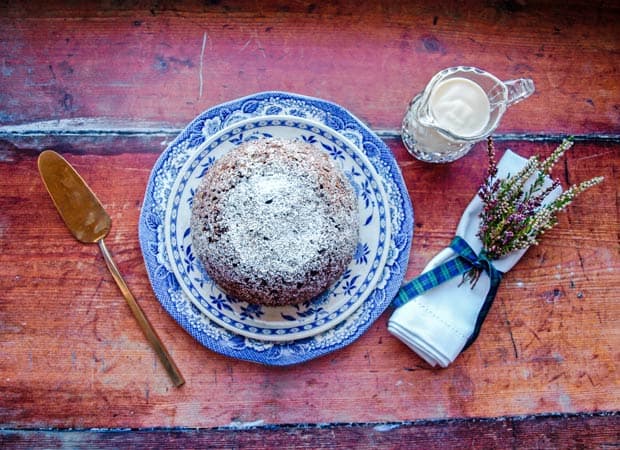 How Granny made Cloutie Dumpling
Granny would mix the Dumpling in her washing up bowl. She sterilised the bowl first with boiling water. She didn't weigh anything, it was a handful of this and a handful of that. And she added a whole tub of mixed spice.
One Christmas Granny put a piece of holly on top of the Dumpling and put it back in the oven to dry off and keep warm.
When she took it out of the oven, the PLASTIC holly had melted in a green pool on top of the dumpling! We laughed so much, then just scraped the plastic off and ate the Dumpling anyway.
Cloutie or Clootie?
There is some debate about the spelling of the clout or cloot. I spell it cloutie but many recipes seem to go with clootie.
I did a bit of research to see if there was a definitive spelling and there is not. Renowned Scottish food writer and author of The Scots Kitchen, F. Marian McNeill, spells it cloutie dumpling, so I have stuck with that spelling.
Can you freeze Cloutie Dumpling?
Slice the Cloutie Dumpling into portions and open freeze on a tray. Then store in a freezerproof container for up to 3 months. To use, let the slices defrost, then either fry them in butter, heat in the microwave, or cover with foil and heat in the oven for 15-20 minutes at 180C.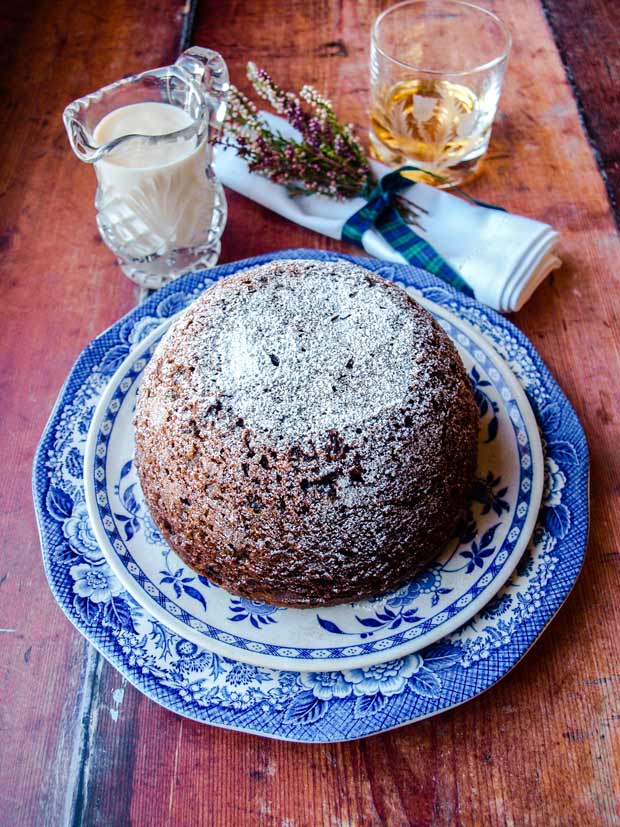 How to make Slow Cooker Scottish Cloutie Dumpling (nae clout)
A slow cooker is an excellent steamer. I make my Christmas Pudding in the slow cooker and reheat it on Christmas Day the same way.
I really don't like my kitchen full of steam and often don't have time to watch that a pot is not going to boil dry. The Slow Cooker method means that I can make Cloutie Dumpling more often.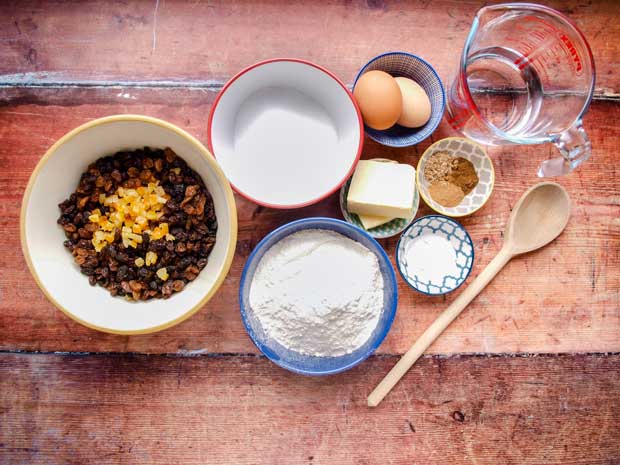 Ingredients for Cloutie Dumpling
Flour
Sugar
Butter
Mixed dried fruit
Spices
Eggs
Bicarbonate of Soda
Water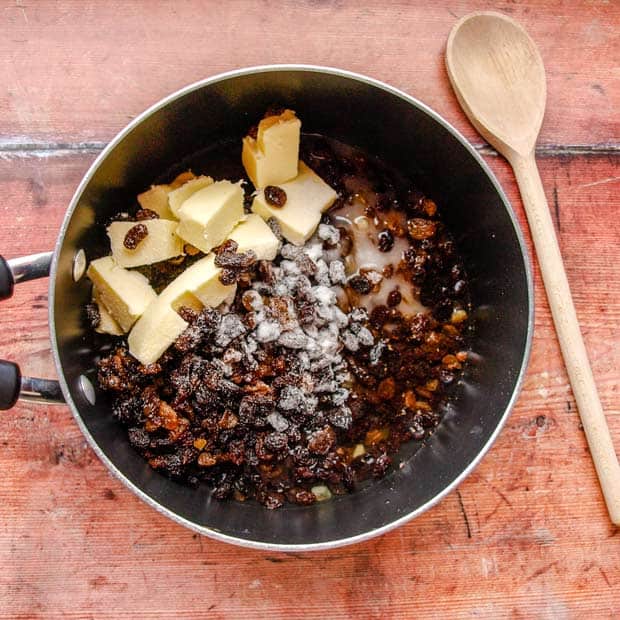 Place ingredients in a pan
Put all the ingredients, except the flour and egg into a large pan.
Bring the mixture to a boil
Gently bring the mixture up to a boil, then simmer for 10 minutes. Set aside to cool.
Add the egg and flour
Add the eggs a little at a time, alternating with spoonfuls of flour until they are all used. Stir until well mixed.
To make Self-Raising Flour
If you don't have self-raising flour you can make your own with the instructions below:
To cook in a pudding basin
Grease the inside of the pudding basin with butter
Put a tablespoon of flour into the basin and move it around to coat the sides. Remove any excess flour.
If you want to ensure the Cloutie Dumpling doesn't stick to the bottom of the bowl, then butter both sides of a small piece of baking parchment and place it in the bottom of the bowl, then dust with flour.
Fill and Cover
Carefully spoon the mixture into the pudding basin.
I use a reusable silicon bowl cover to cover the bowl. If you don't have one then cover with a layer of parchment paper and a layer of foil. Put a pleat in the covers so they can rise with the dumpling. Tie in place with string.
Put into the Slow Cooker
Place a trivet or a heatproof saucer in the bottom of your slow cooker.
Place the covered bowl into the slow cooker.
Slowly pour boiling water, from the kettle, until it is a but 2 inches up the sides of the bowl.

Alternative method
When I first made the Slow Cooker Cloutie Dumping I made it as you would a slow cooker cake. The pudding basin produces a pleasing shape but the direct method also produces a delicious dessert.
Line your slow cooker with a cake tin liner or baking parchment.
Fill the mixture directly into this lining.
How long do you cook the Cloutie Dumpling for?
Both cooking methods take about the same length of time. Cook on High for 2 1/4 – 2 1/2 hours. Test with a skewer and if it comes out clean the pudding is ready. Turn onto a serving plate and dust with icing sugar (confectioners sugar) if liked.
Many recipes
I researched a number of different recipes for Cloutie Dumpling. Every Scots Granny seems to have her own recipe.
In the end, I decided against breadcrumbs and suet in favour of butter for my 'Nae Clout' (No Cloth) Cloutie Dumpling,
I know that purists will miss the 'skin' that is formed by the floured cloth and I'm not claiming that it's a traditional Cloutie Dumpling. However, it smells and tastes exactly as I remember so I think it is pretty close.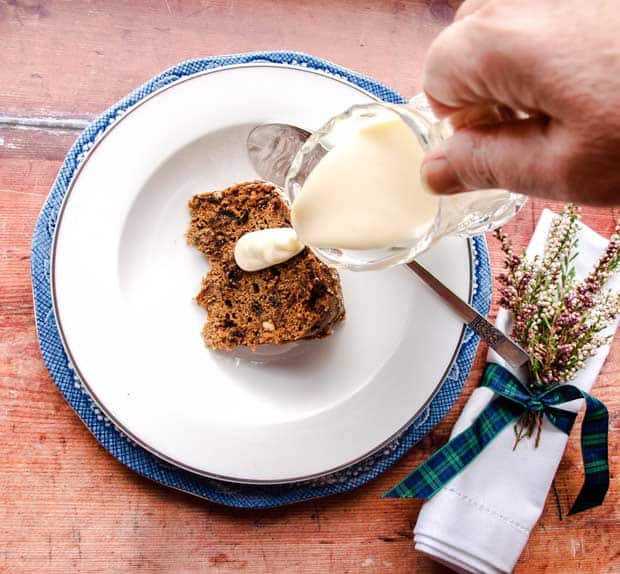 How to serve Slow Cooker Cloutie Dumpling
Cloutie Dumpling and custard are a match made in heaven. My granny liked to serve dumpling with custard made from custard powder and that is very good. However, serve it with my Easy Vanilla Custard Sauce to take it to another level of deliciousness.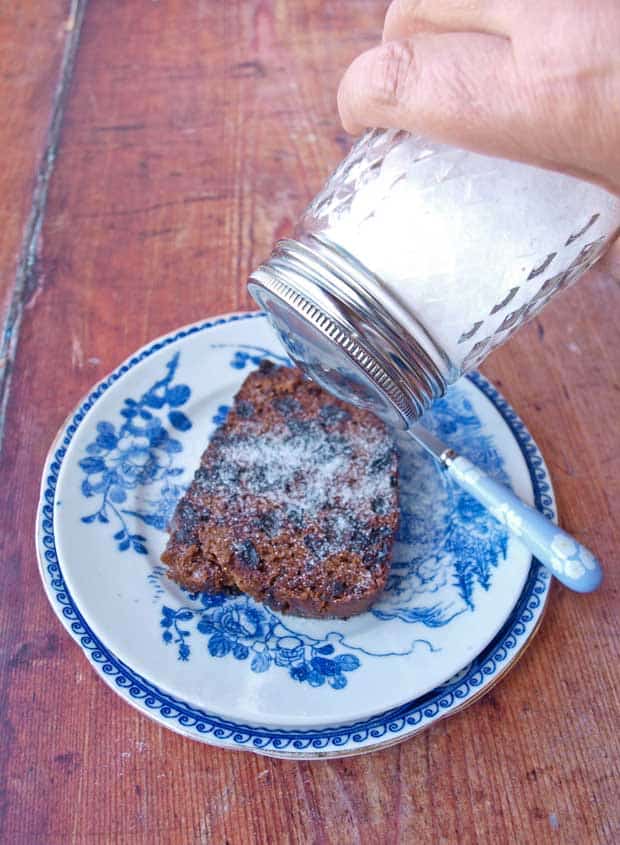 How to serve leftover Cloutie Dumpling
This is a substantial dessert so, unless you are feeding a large crowd, there will be leftover cloutie dumpling.
Dumpling can be served with a full Scottish breakfast. A slice of dumpling is fried alongside the bacon, eggs, haggis, black pudding, tattie(potato) scone, grilled mushrooms, and tomatoes.
Or serve it for dessert the following day. Melt some butter in a frying pan on medium heat and fry the dumpling. Be careful, because it doesn't take long and can easily burn. Flip over the slice of dumpling and fry the other side. Sprinkle with lots of caster sugar and eat.
Radio Scotland's Kitchen Cafe
This recipe was originally published in 2014 and has been updated in 2020. When it was originally published, I got a mention on the Kitchen Cafe radio programme. The recipe was also noticed by Sue Lawrence, a well-known Scottish cookery and food writer, and ex Masterchef winner.
More Scottish Recipes from Farmersgirl Kitchen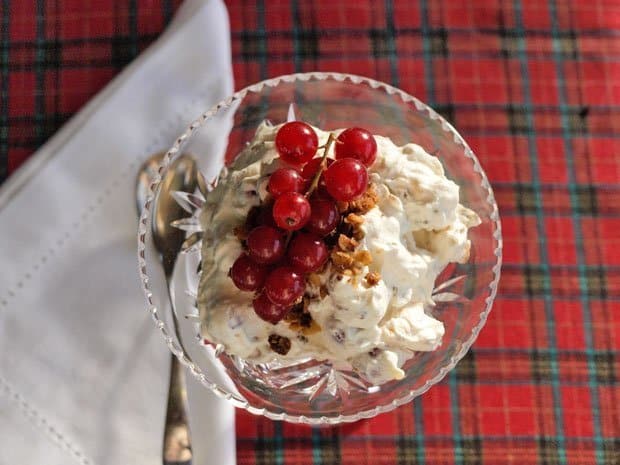 Scottish Whisky Mac Cranachan is a twist on the classic Scottish Cranachan dessert, a traditional dish made with cream, honey, whisky and oats with Scottish Raspberries. This recipe includes ginger and redcurrants.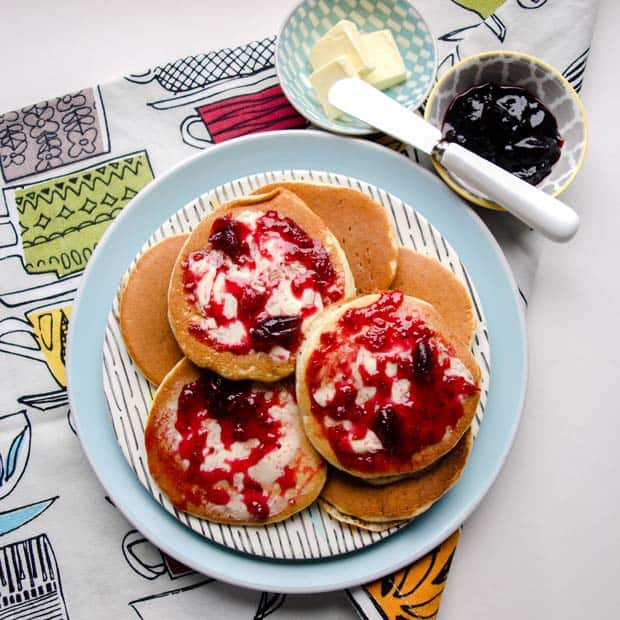 Scotch Pancakes are soft, light and slightly sweet, they are really easy to make on the stovetop with a girdle or frying pan.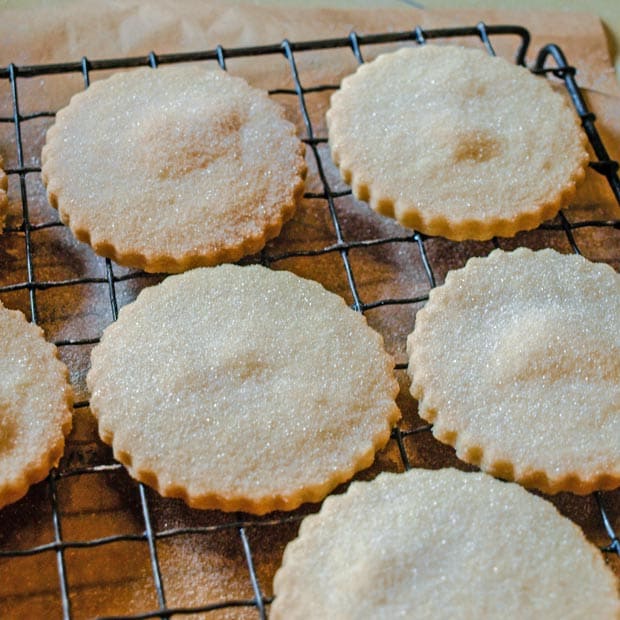 Scottish Shortbread Biscuits are a classic, indeed, iconic Scottish biscuit. These buttery, crumbly biscuits (cookies) need only three ingredients to produce the very best sweet treat you can enjoy.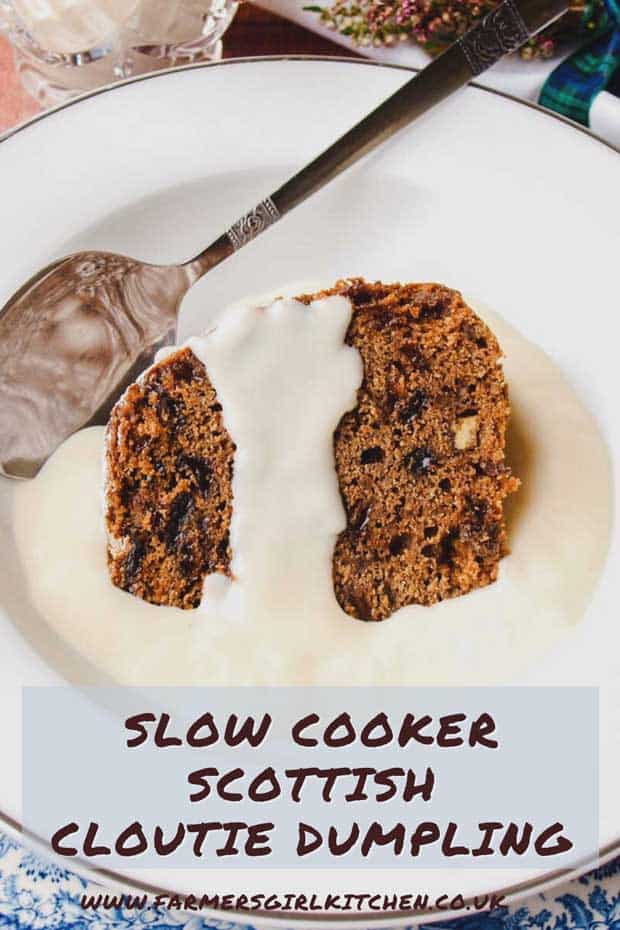 Slow Cooker Scottish Cloutie Dumpling
A Cloutie Dumpling is a sweetened fruit pudding, boiled in a cloth (clout), the cloth is floured giving the pudding a 'skin', this one is easily made in the Slow Cooker.
Equipment
Slow Cooker

weighing scales

Measuring spoons

Large saucepan

1.1 litre (2 pint) pudding basin

small bowl

silicone bowl cover or parchment paper, foil and string
Ingredients
350

grams

mixed dried fruit

110

grams

caster sugar

220

millilitres

water

110

grams

butter

1

teaspoon

bicarbonate of soda

1

teaspoon

mixed spice

1/2

teaspoon

cinnamon

1/2

teaspoon

nutmeg

2

eggs

beaten

110

grams

plain flour

110

grams

self-raising flour
Instructions
Put the dried fruit, sugar, water, butter, spices and bicarbonate of soda into a pan and bring to the boil.

Simmer for 10 minutes.  Set aside until just warm.

Add the eggs a little at a time alternating with spoonfuls of the flour.  Mix well.
In a pudding basin
Grease the inside of the pudding basin with butter

Put a tablespoon of flour into the basin and move it aorund to coat the sides. Remove any excess flour.

Carefully spoon the mixture into the pudding basin.

Cover the bowl either with a reusable silicone bowl cover or with parchment paper and foil, pleated in the middle and tied around the bowl.

Place a trivet or a heatproof saucer in the base of your slow cooker, put the covered bowl on top of the trivet.

Slowly pour boiling water from the kettle until the water is about 2 inches up the side of the bowl.
Direct in the Slow Cooker
Line your Slow Cooker with baking parchment or a cake tin liner, fill the mixture into the lined slow cooker.
Cook
Cook on High for 2 1/4 hours.

Turn out onto a plate and dust with icing (confectioners) sugar, if liked.
Notes
Slow cookers do vary in timing, so it may take 15 minutes either side of this time. If your cooker has a clear lid, you can see the change to the top of the dumpling as it bakes. I did test this one with a skewer after 1 hour 45 minutes but the middle wasn't cooked. Lifting the lid does increase baking time, so do keep an eye on this as it reaches the 2-hour mark.
Next day you can fry a slice of dumpling in butter and dust with caster sugar or fry along with your bacon and tattie scones and serve as part of a traditional Scottish breakfast.
Nutrition
Calories:
378
kcal
Carbohydrates:
63
g
Protein:
6
g
Fat:
13
g
Saturated Fat:
8
g
Cholesterol:
70
mg
Sodium:
257
mg
Potassium:
341
mg
Fiber:
5
g
Sugar:
35
g
Vitamin A:
403
IU
Vitamin C:
1
mg
Calcium:
88
mg
Iron:
2
mg
Don't Miss My Latest Recipes
CLICK TO SUBSCRIBE NOW to join my newsletter list & receive a FREE 'How To Adapt Recipes For Your Slow Cooker' printable!
Share by Email
I'm also entering the Slow Cooker Scottish Cloutie Dumpling with nae clout for Tea Time Treats, the monthly blogging event run alternately by Karen at Lavender and Lovage and Jane at The Hedgecombers .
Jane is hosting this month and the theme is Bonfire Night, I think a nice slice of dumpling would be perfect for bonfire night, with or without custard!