My Granny (Dad's Mum) was not a very adventurous cook. She made an amazing peppermint slice, mince and tatties and broth, however, her 'signature dish' was her Cloutie Dumpling. A Cloutie Dumpling is a sweetened fruit pudding, boiled in a cloth (clout), the cloth is floured giving the pudding a 'skin'.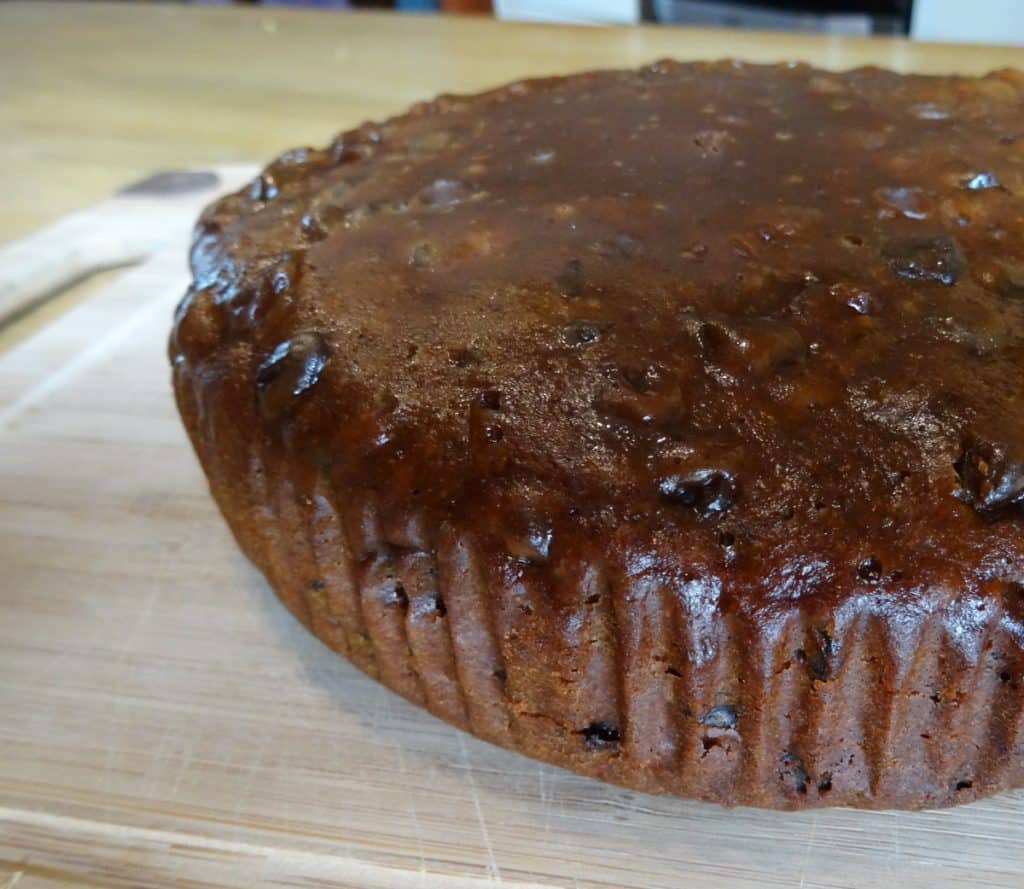 My Granny made a Dumpling at Christmas and for my Dad's birthday and we ate it as dessert with custard. She would always send us home with half the dumpling and Dad would fry it in butter and dredge it with caster sugar, that was my favourite way to eat it. I know a lot of people also serve it with a full Scottish breakfast.
Mum Tried to make the Cloutie Dumpling
My Mum, who is an excellent cook and baker, tried to replicate Granny's Dumpling but she never could get it to taste the same. Granny would mix the Dumpling in her washing up bowl, sterilised with boiling water, she didn't weigh anything it was a handful of this and a handful of that and she added a whole tub of mixed spice. We had such a laugh one Christmas when Granny put a piece of holly on top of the Dumpling and put it back in the oven to dry off after boiling (as you do). When she took it out, the PLASTIC holly had melted in a green pool on top of the dumpling! We just scraped it off and at the Dumpling anyway.
I'm not sure whether it was Mum's failure that put me off or the fact that I am not really that keen on Dumpling, but I've only made it once, it worked okay but boiling puddings for hours is a luxury I really don't have.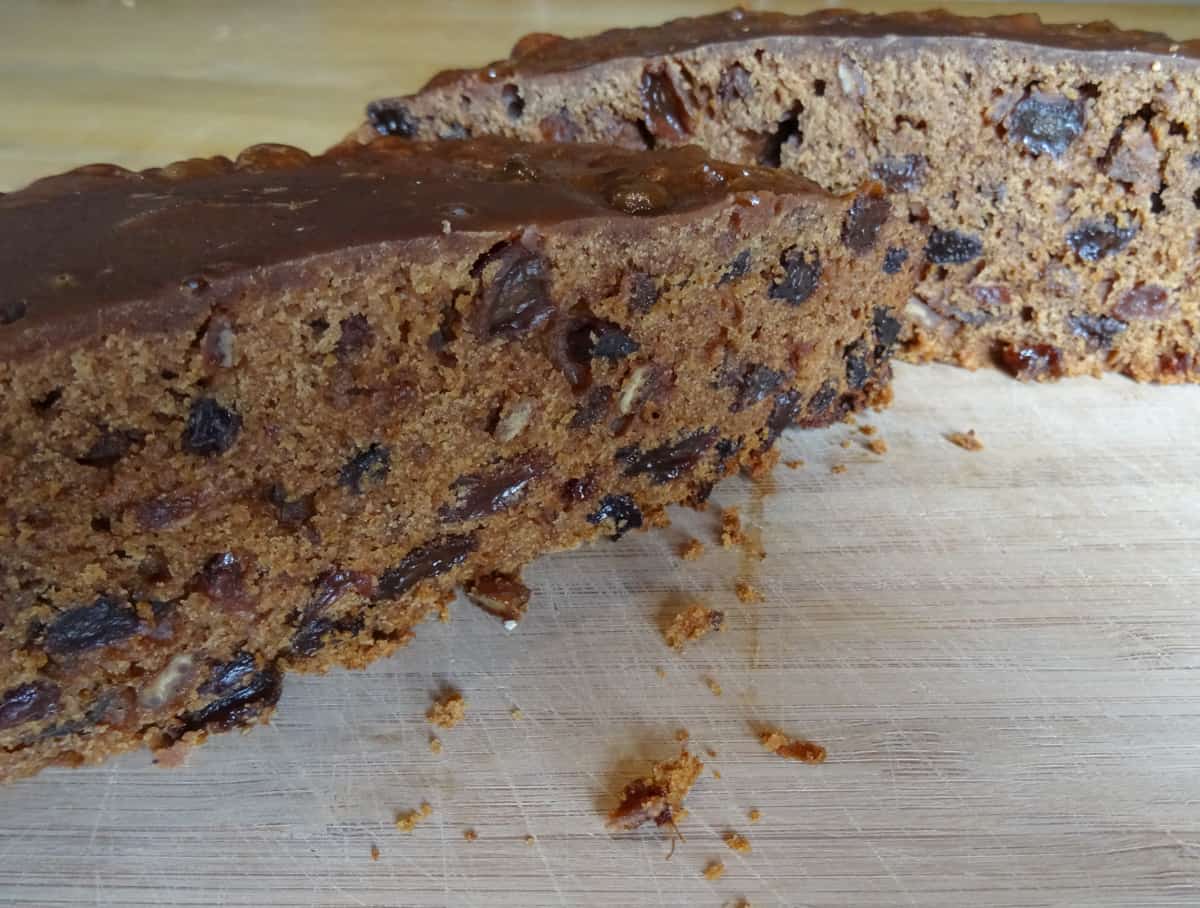 My Slow Cooker 'Nae Clout' Cloutie Dumpling
Having learned a few things about cakes and puddings in the Slow Cooker recently, I wondered whether it would be possible to cook a Cloutie Dumpling in the Slow Cooker as it has a sort of steaming effect. I decided against using a 'clout' and lined the Slow Cooker with a baking parchment cake liner.
I perused a number of different recipes for Cloutie Dumpling, every Scots Granny seems to have her own recipe, but none uses a whole tub of mixed spice! In the end, I ditched the breadcrumbs and suet in favour of butter in this hybrid 'Nae Clout' (No Cloth) Cloutie Dumpling,
I don't pretend it's a real Cloutie Dumpling more a boiled/steamed fruit cake, but the smells coming from the pan and the finished texture is pretty good, without having your windows steamed up and constantly checking to see that there is still enough water in the pan!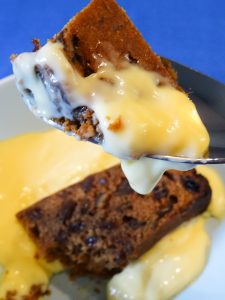 Slow Cooker Cloutie Dumpling
A Cloutie Dumpling is a sweetened fruit pudding, boiled in a cloth (clout), the cloth is floured giving the pudding a 'skin', this one is easily made in the Slow Cooker.
Print
Pin
Rate
Cook Time:
2
hours
15
minutes
Total Time:
2
hours
30
minutes
Ingredients
350

g

mixed dried fruit

110

g

caster sugar

220

ml

water

110

g

butter

1

tsp

bicarbonate of soda

1

tsp

mixed spice

1/2

tsp

cinnamon

1/2

tsp

nutmeg

2

eggs

beaten

110

g

plain flour

110

g

self-raising flour
Instructions
Put the dried fruit, sugar, water, butter, spices and bicarbonate of soda into a pan and bring to the boil.

Simmer for 10 minutes.  Set aside until just warm.

Add the eggs a little at a time alternating with spoonfuls of the flour.  Mix well.

Line your Slow Cooker with baking parchment or a cake tin liner, cook on high for 2 1/4 hours.

Serve warm with custard.
Notes
Slow cookers do vary in timing, so it may take 15 minutes either side of this time. If your cooker has a clear lid, you can see the change to the top of the dumpling as it bakes. I did test this one with a skewer after 1 hour 45 minutes but the middle wasn't cooked. Lifting the lid does increase baking time, so do keep an eye on this as it reaches the 2-hour mark. Next day you can fry a slice of dumpling in butter and dust with caster sugar or fry along with your bacon and tattie scones and serve as part of a traditional Scottish breakfast.
Nutrition
Calories:
504
kcal
|
Carbohydrates:
83
g
|
Protein:
8
g
|
Fat:
17
g
|
Saturated Fat:
10
g
|
Cholesterol:
93
mg
|
Sodium:
370
mg
|
Potassium:
454
mg
|
Fiber:
6
g
|
Sugar:
46
g
|
Vitamin A:
10.7
%
|
Vitamin C:
0.8
%
|
Calcium:
11.7
%
|
Iron:
14
%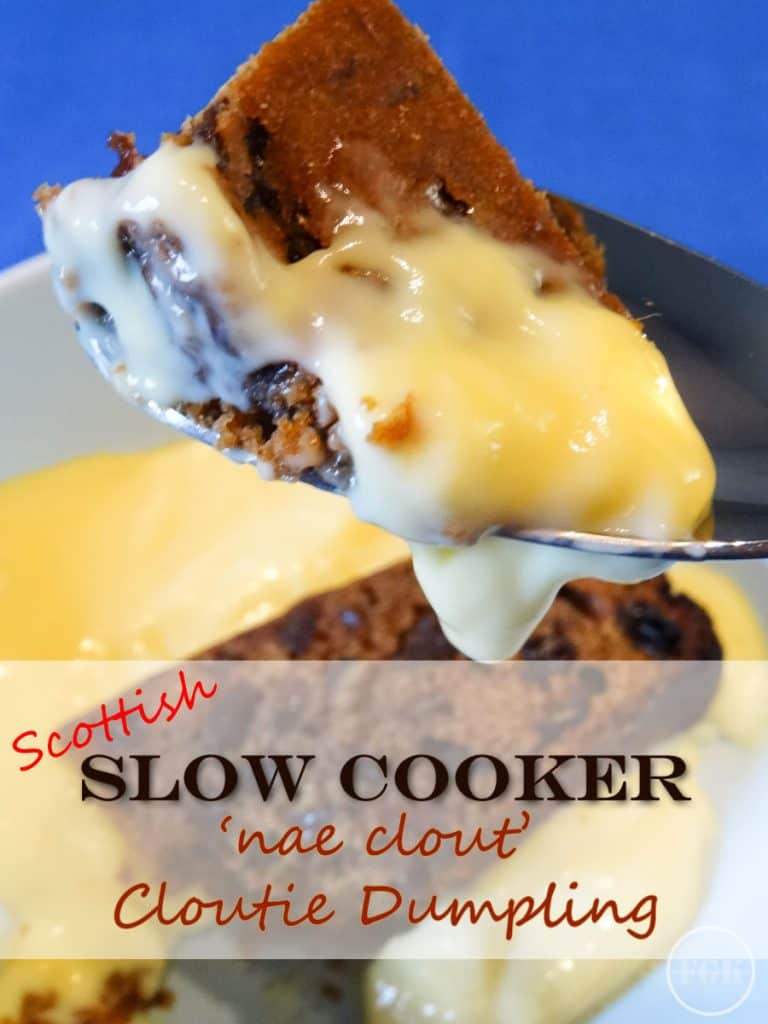 There's no doubt that Cloutie Dumpling and Custard were made to be served together. No fancy creme anglaise, this is Birds Custard which was what my granny would make to serve with her dumpling. Of course, unless you are celebrating with a crowd there will be leftover cloutie dumpling, in fact, make sure there is some leftover. You are going to want to try frying it in butter next day and dredging it with caster sugar, or serving it fried with your breakfast bacon. However you serve it, I hope you enjoy this trip down memory lane.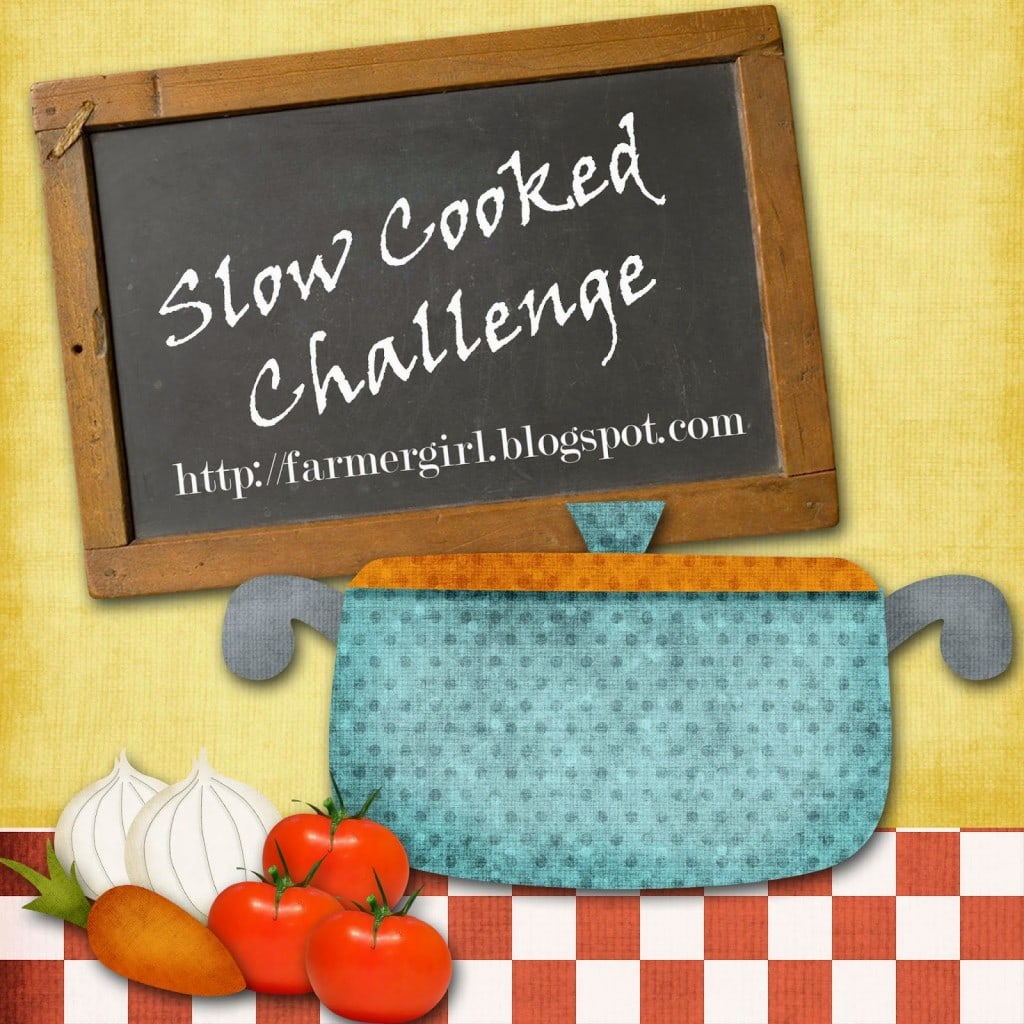 This is my entry for my own Slow Cooked Challenge, the theme this month is St Andrew's Day and what better way to celebrate than a Cloutie Dumpling!
I was listening to BBC Radio Scotland's Kitchen Cafe programme last Friday, as I was on holiday from work, the programme was all about Food Blogging and I tweeted about the Cloutie Dumpling with 'nae clout', I got a mention on the programme and the tweet below from Sue Lawrence, well-known Scottish cookery and food writer and ex Masterchef winner.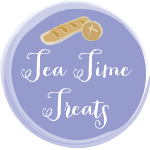 I'm also entering the Cloutie Dumpling with nae clout for Tea Time Treats, the monthly blogging event run alternately by Karen at Lavender and Lovage and Jane at The Hedgecombers . Jane is hosting this month and the theme is Bonfire Night, I think a nice slice of dumpling would be perfect for bonfire night, with or without custard!