Scottish Shortbread Biscuits are a classic, indeed, iconic Scottish biscuit. These buttery, crumbly biscuits (cookies) need only three ingredients to produce the very best sweet treat you can enjoy.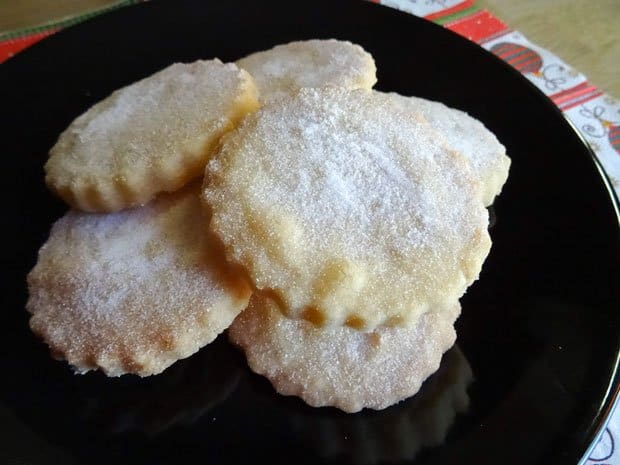 A Family Shortbread Tradition
This recipe is the same one that my Mum uses. These melt in the mouth biscuits are popular with everyone and I always associate them with Christmas. My mum used to make up a box of shortbread biscuits to take to my Grandpa who really loved them.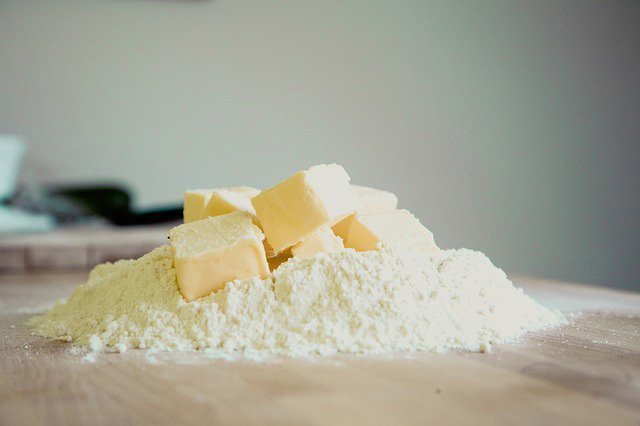 Three Ingredients
Scottish Shortbread contains only three ingredients:
Some people add ground rice or semolina, but I find that flour, butter, and sugar work very well on their own.
Equipment
You will need a rolling pin, an 8 cm plain edged round cookie cutter, baking parchment or a non-stick baking mat and two baking sheets.
How to make Scottish Shortbread Biscuits
Here is a step by step guide to making your own shortbread biscuits.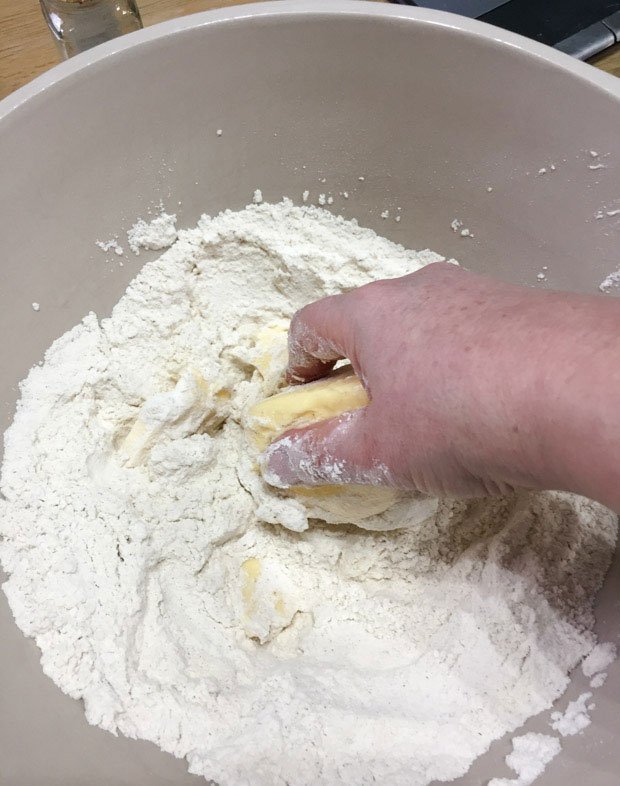 Work the butter into the flour and sugar
Take the butter out of the fridge for a few hours to soften, then take the block and push it into the mixture of flour and sugar. The butter will gradually take up more of the dry mixture as you work it in.
It only takes a few minutes of kneading the mixture and then suddenly you will find that the dough has come together. All the butter will have merged with the flour, sugar.

Roll out the shortbread dough
There is no need to chill the dough, in fact, chilling will make it more difficult to roll out. You can make your shortbread straight away.
Lightly dust your work surface and rolling pin with flour and press down the dough, then roll it out gently until it is about 1/2 cm thick.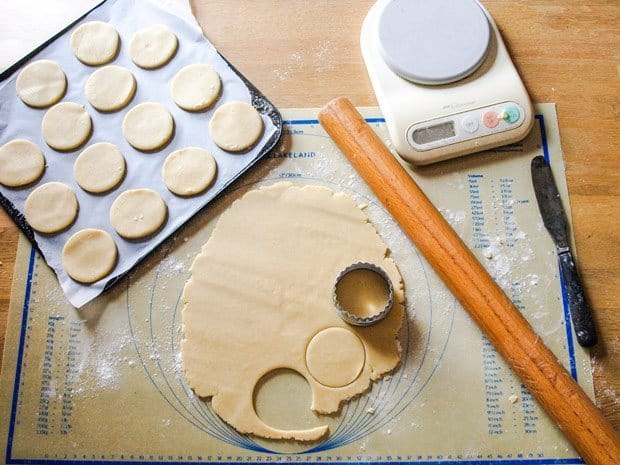 Cut out the biscuits
Use the cutter to cut out the biscuits, re-roll the remaining dough and cut more biscuits until you have used it all. You can cut the biscuits with the plain side of the cutter or the ridged side, it's entirely up to you.
This recipe makes about 15 x 8 cm biscuits, I can get nine biscuits on my baking sheet. If you use a smaller cutter you will get more shortbread biscuits. Shortbread doesn't really spread so you can place them quite close together.
Bake the Shortbread
Bake the biscuits between 8-10 minutes until golden brown. Lift the cookies off the baking sheet and place on a wire cooling tray.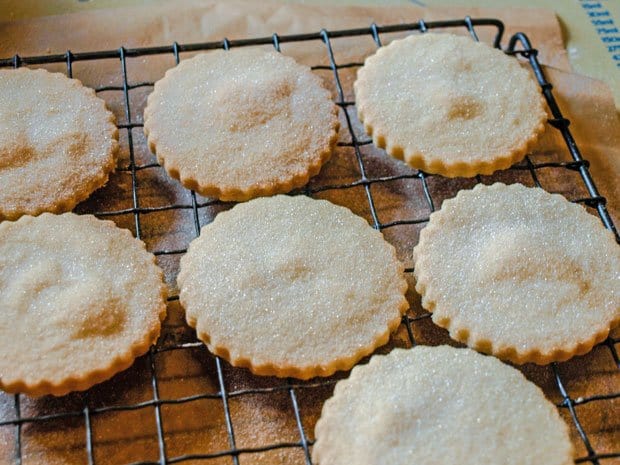 Dust with Caster (Superfine) Sugar
Use a sieve, or a sugar sifter and dust the warm biscuits thickly with caster (superfine) sugar. Leave to cool completely.
How do you store Shortbread?
Shortbread will keep fresh in an airtight tin or plastic box for 2 or 3 weeks. You can also freeze the shortbread biscuits for up to 3 months, defrost at room temperature on a wire rack. If you know you will freeze the biscuits don't dredge with sugar, you may wish to refresh the biscuits in the oven for 2 or 3 minutes then dust with the sugar.
More Shortbread Recipes from Farmersgirl Kitchen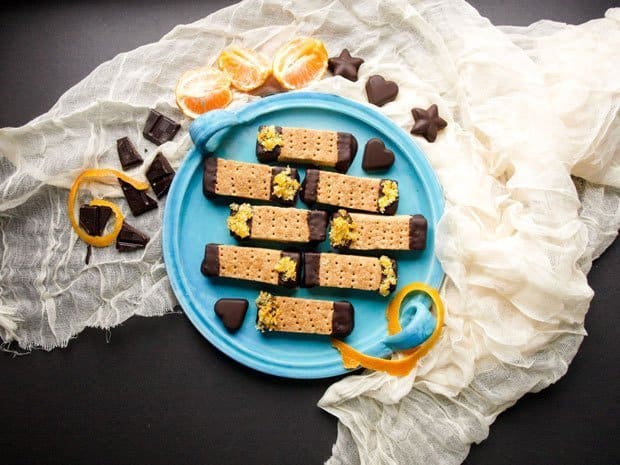 Chocolate Orange Scottish Shortbread brings a classic flavour combination to this traditional biscuit. The acidity of the oranges helps to cut through the richness of the sweet shortbread and enhances the flavour of the dark chocolate.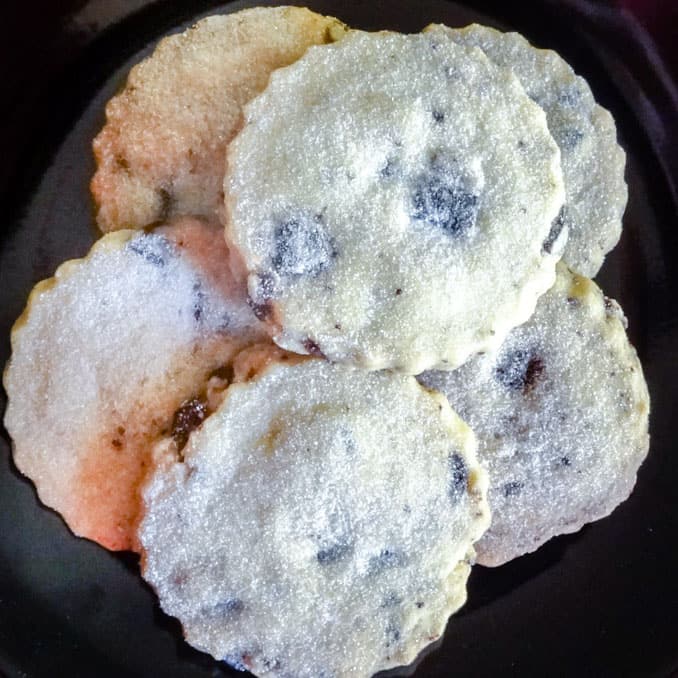 Chocolate Chip Shortbread Cookies are made simply by adding chopped dark chocolate to a basic flour, butter, and sugar shortbread recipe.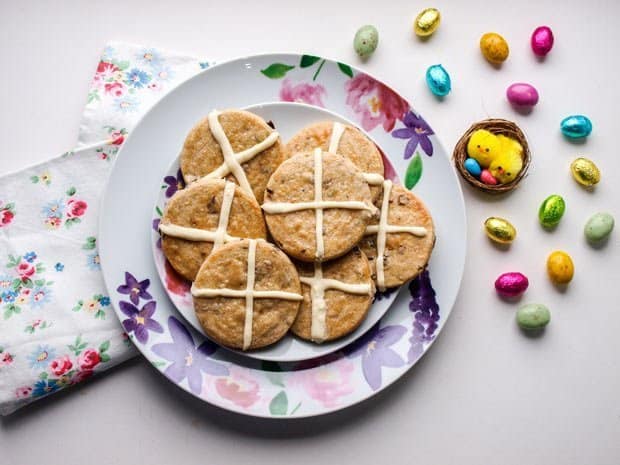 Hot Cross Shortbread Cookies are shortbread cookies with all the citrus and spicy flavours of a Hot Cross Bun. It's the perfect recipe for your cookie jar all year round, but when you dress up these cookies with a piped cross, they make a great addition to your Easter tea table.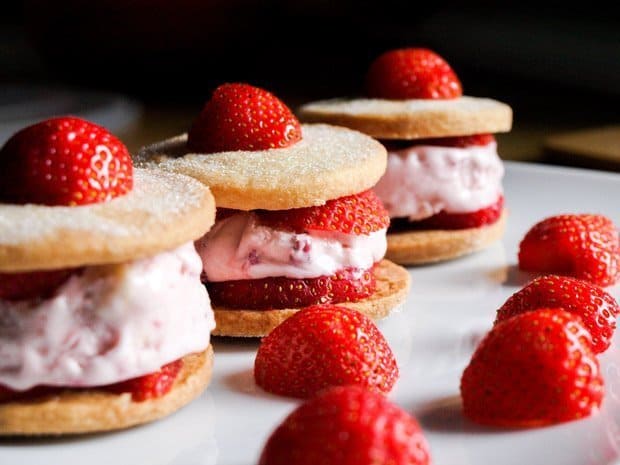 Shortbread makes the ideal biscuit for a Strawberry Shortbread Ice Cream Sandwich. Break through the crisp buttery cookie to reach the sweet, ice cream centre.
More Buttery Biscuits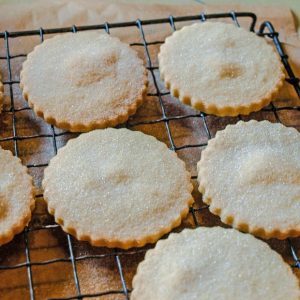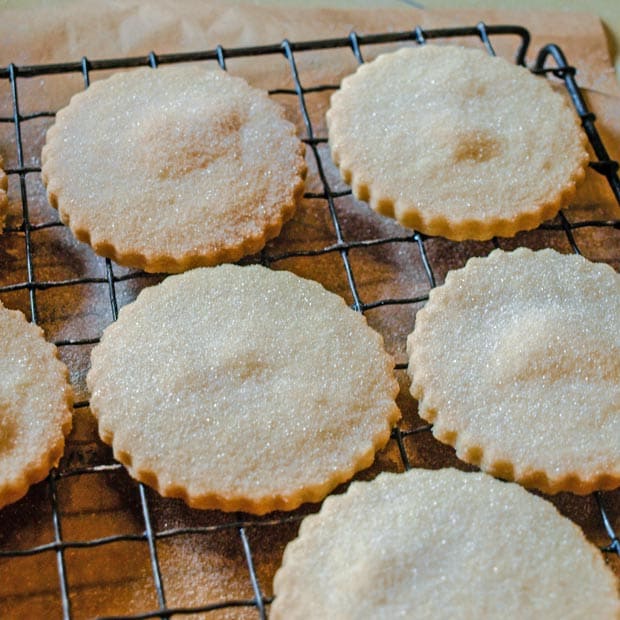 Shortbread Biscuits (Cookies)
Buttery, crumbly Scottish Shortbread Biscuits, just three ingredients for the best biscuits of all.
Ingredients
300

g

plain flour

100

g

caster sugar

200

g

butter

caster sugar

for dredging
Instructions
Sift the flour into a bowl and add the sugar. Work in the butter with your fingertips – keep it in one piece and gradually work in the dry ingredients. Knead well.

Pat down on a work surface and use a rolling pin to roll the dough to about 1/2 cm (1/8 in) and cut out with a cookie cutter. You will probably have to keep pushing the dough back together again as it is very crumbly.

Slide the cut biscuits off the work surface with a knife and onto a baking sheet.

Bake in the oven at 170C (325F) Mark 3 for about 8 minutes until firm and pale golden brown.

Lift onto a cooling tray with a spatula and dredge with caster (superfine) sugar.
Nutrition
Calories:
194
kcal
Carbohydrates:
22
g
Protein:
2
g
Fat:
11
g
Saturated Fat:
7
g
Cholesterol:
29
mg
Sodium:
96
mg
Potassium:
25
mg
Fiber:
1
g
Sugar:
7
g
Vitamin A:
333
IU
Calcium:
6
mg
Iron:
1
mg
Don't Miss My Latest Recipes
CLICK TO SUBSCRIBE NOW to join my newsletter list & receive a FREE 'How To Adapt Recipes For Your Slow Cooker' printable!
Share by Email