My Granny's signature dish was Cloutie Dumpling. A Cloutie Dumpling is a sweetened fruit pudding, boiled in a cloth (clout)or cloot). The cloth is floured giving the pudding a 'skin'.
My Granny didn't make Christmas Pudding, she made a Dumpling at Christmas. It was also her go-to recipe as a sort of birthday cake. She still liked to make it for my Dad's birthday. We ate it as a dessert with custard.
She would always send us home with half the dumpling. The next day my Dad would fry it in butter and dredge it with caster sugar. I have to say that it is probably my favourite way to eat it.
How Granny made Cloutie Dumpling
Granny would mix the Dumpling in her washing up bowl. She sterilised the bowl first with boiling water. She didn't weigh anything it was a handful of this and a handful of that. And she added a whole tub of mixed spice.
We had such a laugh one Christmas when Granny put a piece of holly on top of the Dumpling and put it back in the oven to dry off after boiling (as you do).
When she took it out, the PLASTIC holly had melted in a green pool on top of the dumpling! We just scraped it off and ate the Dumpling anyway.
When Mum tried to make a Cloutie Dumpling
My Mum, who is an excellent cook and baker, tried to make Granny's Clootie Dumpling recipe. She tried many times but she never could get it to taste the same.
Cloutie or Clootie?
There is some debate about the spelling of the clout or cloot. I have always spelled it cloutie but many recipes seem to go with clootie.
Renowned Scottish Food writer and author of The Scots Kitchen, F. Marian McNeill goes with cloutie dumpling, so I have stuck with that spelling.
Cloutie Dumpling for Breakfast
Dumpling can also be served with a full Scottish breakfast. A piece of dumpling is fried alongside the bacon, eggs, haggis, black pudding, tattie(potato) scone, grilled mushrooms and tomatoes.
Slow Cooker Scottish Cloutie Dumpling (nae clout)
I'm not sure whether it was Mum's failure that put me off but I have only made it once. It was a success but I found that the time it takes to boil the traditional dessert is a luxury I really don't have.
Christmas Pudding
I know I can bake cakes and puddings in the Slow Cooker as I use it for my Christmas Pudding. So I wondered whether it would be possible to cook a Clootie Dumpling in the Slow Cooker.
A slow cooker has a sort of steaming effect which I thought would work well. I decided against using a 'clout' and lined the Slow Cooker with a baking parchment cake liner.
Many recipes
I researched a number of different recipes for Cloutie Dumpling. Every Scots Granny seems to have her own recipe, but none uses a whole tub of mixed spice!
In the end, I decided against breadcrumbs and suet in favour of butter in this hybrid 'Nae Clout' (No Cloth) Cloutie Dumpling,
I'm not claiming that it's a real Cloutie Dumpling but the smells coming from the pan and the finished texture are pretty close.
The bonus is that your kitchen isn't full of steam and you are not constantly checking to see that there is still enough water in the pan and it hasn't boiled dry.
How to serve Slow Cooker Cloutie Dumpling
There's no doubt that Cloutie Dumpling and custard were made to be served together.
No fancy Creme Anglaise. This is Birds Custard powder which was what my granny would make to serve with her dumpling.
Unless you are celebrating with a largecrowd there will be leftover cloutie dumpling.
In fact, make sure there is some leftover because you really must try frying it in butter the next day and dredging it with caster sugar.
Or perhaps you will serve it fried with your breakfast bacon.? However you serve it, I hope you enjoy this trip down memory lane.
More Scottish Recipes from Farmersgirl Kitchen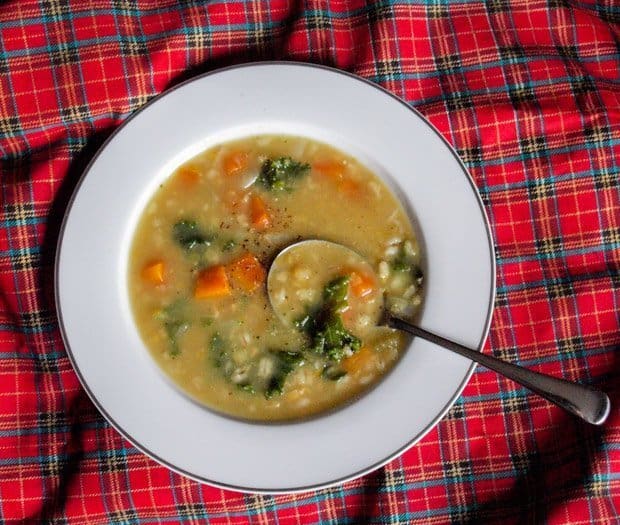 How to make Scotch Broth like a Scot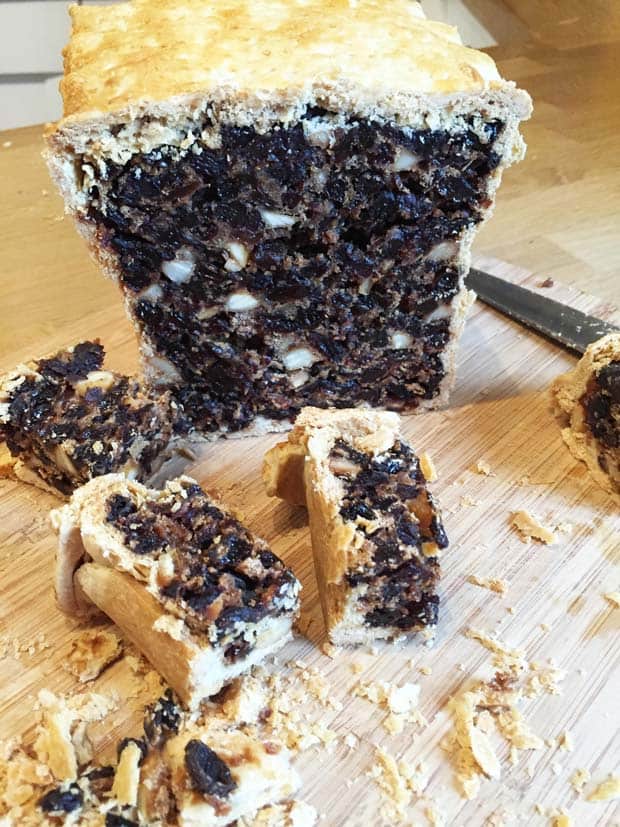 Black Bun, Traditional Scottish New Year Cake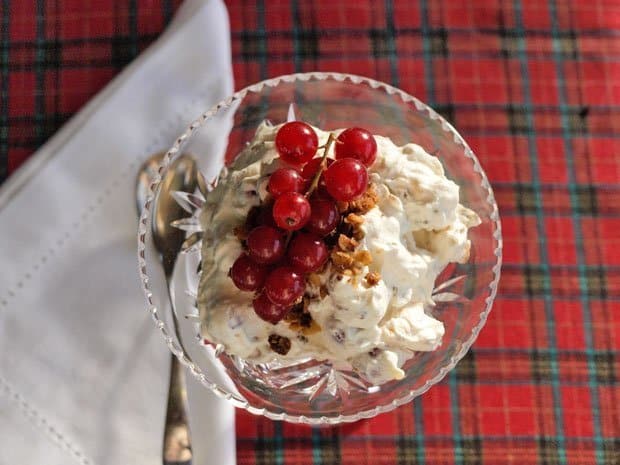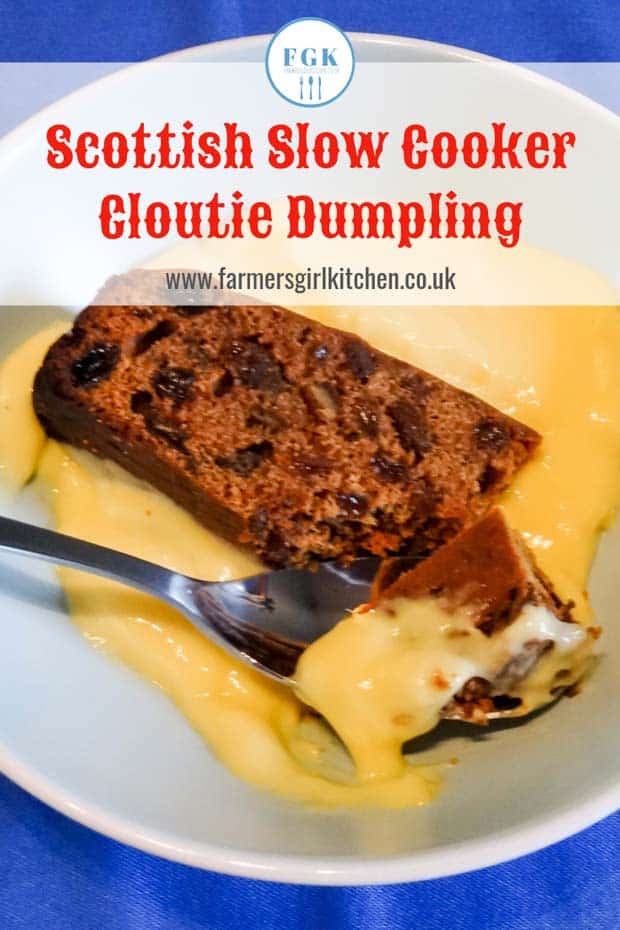 Are we connected?
Stay in touch with everything that's going on at Farmersgirl Kitchen.
Facebook Pinterest Instagram Twitter
Radio Scotland's Kitchen Cafe
I was listening to BBC Radio Scotland's Kitchen Cafe programme last Friday, as I was on holiday from work.
The programme was all about Food Blogging and I tweeted about the Cloutie Dumpling with 'nae clout',
I got a mention on the programme and the tweet below from Sue Lawrence, a well-known Scottish cookery and food writer, and ex Masterchef winner.
@FarmersgirlCook @BBCKitchenCafe #cloutiedumpling without Clout! How is that poss? Baked not boiled? Look forward to being enlightened..
— Sue Lawrence (@SueHLawrence) October 31, 2014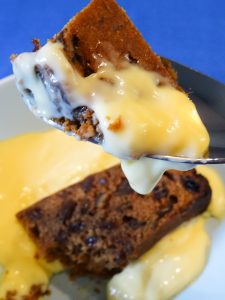 Slow Cooker Cloutie Dumpling
A Cloutie Dumpling is a sweetened fruit pudding, boiled in a cloth (clout), the cloth is floured giving the pudding a 'skin', this one is easily made in the Slow Cooker.
Ingredients
350

g

mixed dried fruit

110

g

caster sugar

220

ml

water

110

g

butter

1

tsp

bicarbonate of soda

1

tsp

mixed spice

1/2

tsp

cinnamon

1/2

tsp

nutmeg

2

eggs

beaten

110

g

plain flour

110

g

self-raising flour
Instructions
Put the dried fruit, sugar, water, butter, spices and bicarbonate of soda into a pan and bring to the boil.

Simmer for 10 minutes.  Set aside until just warm.

Add the eggs a little at a time alternating with spoonfuls of the flour.  Mix well.

Line your Slow Cooker with baking parchment or a cake tin liner, cook on high for 2 1/4 hours.

Serve warm with custard.
Notes
Slow cookers do vary in timing, so it may take 15 minutes either side of this time. If your cooker has a clear lid, you can see the change to the top of the dumpling as it bakes. I did test this one with a skewer after 1 hour 45 minutes but the middle wasn't cooked. Lifting the lid does increase baking time, so do keep an eye on this as it reaches the 2-hour mark.
Next day you can fry a slice of dumpling in butter and dust with caster sugar or fry along with your bacon and tattie scones and serve as part of a traditional Scottish breakfast.
Nutrition
Calories:
504
kcal
Carbohydrates:
83
g
Protein:
8
g
Fat:
17
g
Saturated Fat:
10
g
Cholesterol:
93
mg
Sodium:
370
mg
Potassium:
454
mg
Fiber:
6
g
Sugar:
46
g
Vitamin A:
535
IU
Vitamin C:
0.7
mg
Calcium:
117
mg
Iron:
2.5
mg
Don't Miss My Latest Recipes
CLICK TO SUBSCRIBE NOW to join my newsletter list & receive a FREE 'How To Adapt Recipes For Your Slow Cooker' printable!
I'm also entering the Slow Cooker Scottish Cloutie Dumpling with nae clout for Tea Time Treats, the monthly blogging event run alternately by Karen at Lavender and Lovage and Jane at The Hedgecombers .
Jane is hosting this month and the theme is Bonfire Night, I think a nice slice of dumpling would be perfect for bonfire night, with or without custard!