Vietnamese Chicken Curry (ca ri ga) is a fragrant, light, and mild curry recipe. It's a bit like a spiced chicken stew and contains potatoes and carrots. Bring a taste of Vietnam to your kitchen with this easy recipe.

This delicious chicken curry recipe comes from My Vietnamese Kitchen by Uyen Luu, a delightful book full of stories and recipes that tell of the fusion of flavours that make up the cuisine of Vietnam.


What is the cooking style of Vietnam?
Most of the work of Vietnamese cooking is in the preparation rather than in the cooking. The skill is to balance the sweet, sour, salty, umani, bitter and hot flavours. Texture is also important in Vietnamese recipes with crunchy vegetables contrasting with meat or fish.

Yin & Yang
As with some other Asian cuisines many Vietnamese follow the yin and yang way of combining heating and cooling ingredients, they may also view food as medicine.

Vietnamese food influences
No country is an island as far as food is concerned with travellers bringing different ingredients and cooking styles with them. Vietnamese cooking has a long tradition but is also influenced by the cooking of China.
Probably the best-known influence comes from France because from 1887 to 1954, Vietnam was an essential part of French Indochina. Pho is one of the classic Vietnamese dishes, and is thought to have been influenced by the French Pot-au-feu, a beef broth. And, of course, the Bahn Mi is served in that classic French bread, a baguette.

What do I need to make Vietnamese Chicken Curry?
Don't be put off by the long list of ingredients, many of these you will alredy have in your larder with only a few more specilised ingredients.
Chicken Legs
Red Onion
Oil
Fresh Ginger
Lemongrass
Garlic
Curry Powder
Coconut Milk
Chicken Stock
Potatoes
Carrot
Aubergine (Eggplant)
Okra (optional)
Asian shallot
Mangetout (Snow Peas)
Fish Sauce (Nam Pla)
Sugar
Ground Black Pepper
You may also want to add some garnishes of Thai Sweet Basil, Spring Onion and Birds Eye Chillis. Serve the curry with warm baguettes (french bread) and butter or steamed rice.

What is Lemongrass?
Lemongrass is a tall perennial grass. The stem has a zesty lemon flavour that is key to many Vietnamese dishes. It is now commonly available in supermarkets in the UK.

What is Fish Sauce?
Fish sauce (Nam Pla) is a cooking ingredient made from salted and fermented fish. It adds a rich, savoury, and umami flavour when added to recipes. Don't be put off by the smell of the fish sauce, there is no fishy taste when you include it in this recipe.

What is Okra?
Okra is a green vegetable also known as bhindi or lady's fingers, because of its long, tapered shape. Its flavour is quite mild, and it works well with spicy ingredients.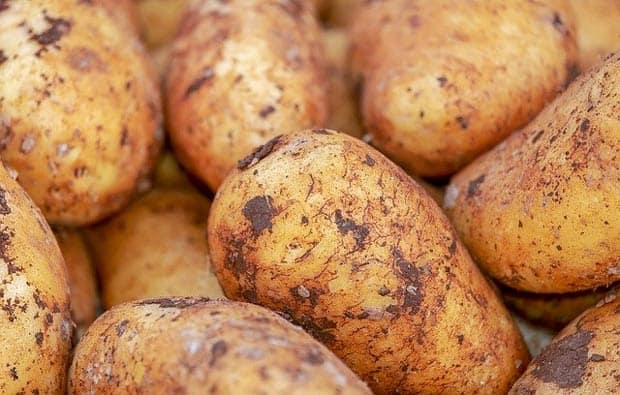 What kind of potatoes should I use?
I use Maris Piper potatoes because they are a good multi-use potato and they hold together reasonably well. You can also use waxy potatoes like new potatoes. Check out potato varieties at Love Potatoes.

What kind of curry powder should I use?
While the recipe does not state a particular type of curry powder, there is a Vietnamese Curry Powder which you may be able to source. I use a Madras curry powder as this is usually suggested as a substitute.

What does Vietnamese Chicken Curry taste like?
The Vietnamese Chicken Curry is one of the best curries I have made. If you like Thai curry then you will love this Vietnamese verison. It packs a flavour punch and has just the right amount of heat and piquancy.
More Chicken Curry Recipes from Farmersgirl Kitchen
Slow Cooker Coconut Chicken Curry
Slow Cooker Coconut Chicken Curry is a rich and creamy curry, made easy with curry paste and coconut milk.
Check out this recipe

Super Simple Chicken Curry
It really is super simple and the curry spices are well balanced with a lovely sauce. If you've never made a curry from scratch start here.
Check out this recipe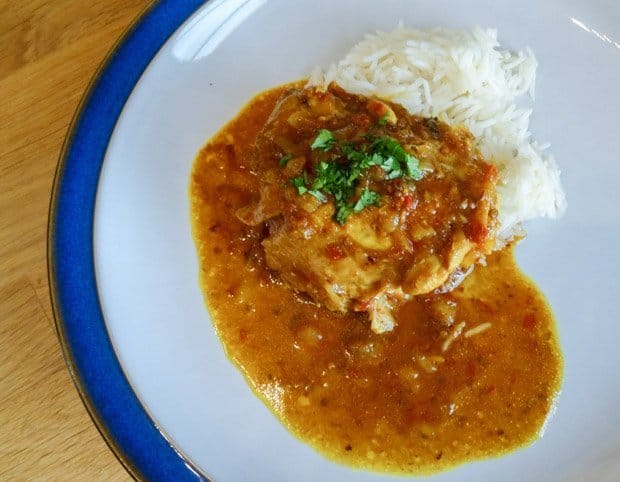 More Curry Recipes


Vietnamese Chicken Curry – ca ri ga
Chicken curry based on the flavours of Vietnam, similar flavours to a Thai Green curry
Ingredients
1

tbsp

cooking oil

1

red onion

roughly chopped

1

thumb's worth of fresh ginger

finely chopped

1

lemongrass stalk

finely diced

2

large chicken legs

cut into bite-size pieces or 6 whole drumsticks, skin on

3

teaspoons

curry powder

2

garlic cloves

finely chopped

165

ml

coconut milk

2/3 cup

300

ml

chicken stock

1/4 cup

2

medium potatoes

cubed

1

carrot roughly sliced

4

tbsp

fish sauce

1

tsp

sugar

ground black pepper

1/2

aubergine/eggplant cubed

optional

handful of okra

cut into bite-size pieces (optional)

6

Asian shallots

peeled

handful of mangetout/snow peas

optional

warm baguette and butter

or steamed rice to serve
Garnishes
Thai sweet basil

spring onion/scallion

Bird's eye chillis
Instructions
Heat the oil in a medium saucepan over low heat. Gently fry the red onion , ginger and lemongrass.

Once the onion has softened, add the chicken legs and fry, turning often until they're evenly browned.

Add the curry powder, stirring well until the chicken legs are well coated. Add the garlic, coconut milk, chicken stock, potatoes and carrot and stir.

Cover with a lid and simmer for about 10 minutes.

Season the curry with the fish sauce, sugar and a pinch of black pepper, then add the aubergine/eggplant, okra, shallots and mangetout pea/snow peas.

Cook for a further 8-10 minutes or until the chicken is cooked through.
Notes
Garnish with Thai sweet basil, spring onions/scallions and chillies. Serve with a fresh, warm baguette and butter, or a bowl of steamed rice.
What I did differently
I used 6 chicken thighs, doubled up the aubergine, potatoes, carrots and the coconut milk. Used a Korma curry paste rather than powder. No okra or mangetout, so I used a green pepper and some green beans. The fish sauce and coconut milk are both key to the flavour of this dish.
Nutrition
Calories:
834
kcal
Carbohydrates:
69
g
Protein:
38
g
Fat:
48
g
Saturated Fat:
22
g
Cholesterol:
124
mg
Sodium:
3218
mg
Potassium:
2338
mg
Fiber:
13
g
Sugar:
19
g
Vitamin A:
5270
IU
Vitamin C:
40.4
mg
Calcium:
186
mg
Iron:
13.6
mg
Don't Miss My Latest Recipes
CLICK TO SUBSCRIBE NOW to join my newsletter list & receive a FREE 'How To Adapt Recipes For Your Slow Cooker' printable!
Share by Email