Have you tried a Vietnamese Chicken Curry? This was a first for me, but it certainly won't be the last, waht a wonderful mixture of spices and flavours in this delicious simple curry recipe.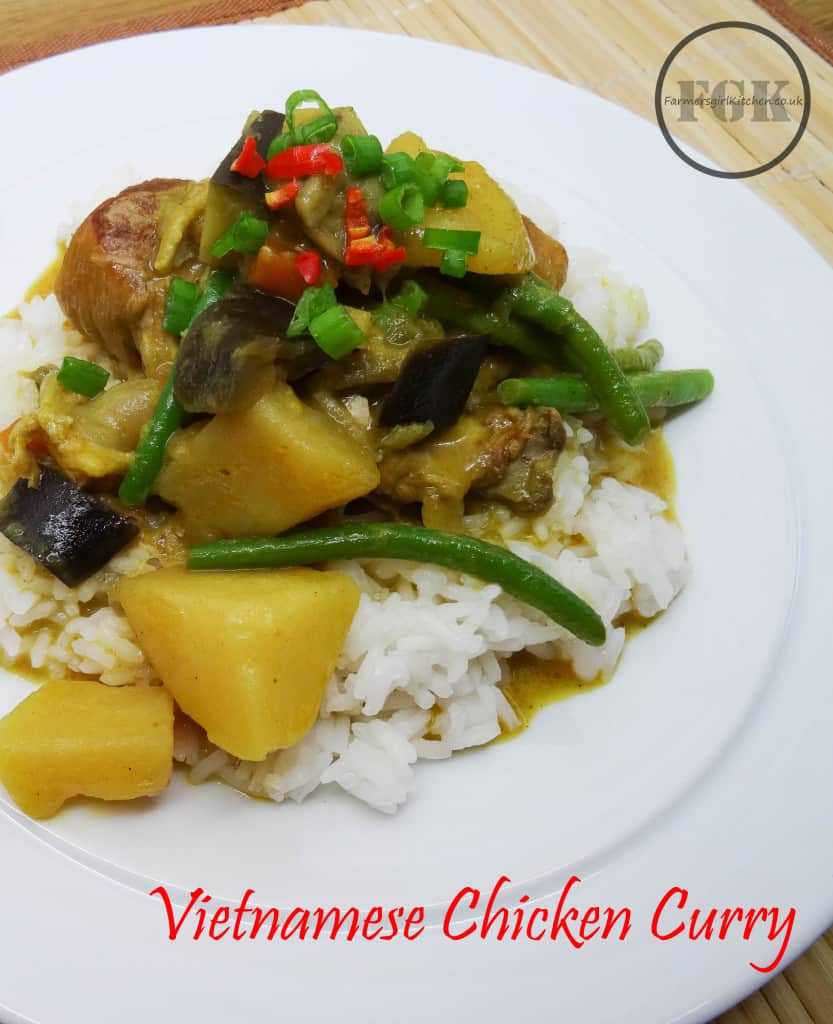 The light fresh flavours of the recipes in My Vietnamese Kitchen by Uyen Luu seem very appealing now that the festive season is over.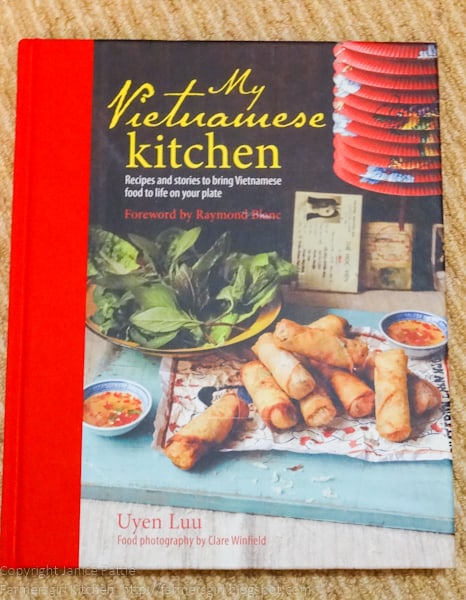 The Author
Uyen Luu hosts a Vietnamese supper club in her East London apartment where she cooks dishes she learned from her mother, she also holds Vietnamese cookery classes and teaches people from all over Europe. Visit Uyen's blog and find out more about her interests, including photography and film making.
The Photographer
Clare Winfield specialises in photographing food, her work has appeared in magazines and cookery books.
Introduction
The book has a foreword by Raymond Blanc who met Uyen durng the filming of his television series, How to Cook Well. The introduction goes on to tell of Uyen's childhood an cooking inspiration. This is followed by a glossary of ingredients with alternatives which is always useful.


Chapter 1 – Awaken the Senses, Breakfast
Many of the breakfast recipes would translate well into lunch or even main meal dishes. I particularly liked: Lemongrass Beef or Pork Baguette; Hue Noodle Soup with Beef and Pork, Chicken Curry (see recipe below); Beef Stew with star anise.
Chapter 2 – Feed the Soul, Soups
These are main course soups, full of fish, meat and vegetables including Hot and Sour Fish Soup, Duck Congee and Crab Tomato and Omelette Soup.
Chapter 3 – Sticky Fingers, Snacks
Street food is a major influence on the dishes in this chapter and there some of the tasty bites I liked the look of were Puff Pastry Chicken Pies; Spring Rolls, Sai Gon fresh summer rolls and Sizzling Crepes with pork and prawns.
Chapter 4 – Live Long, Noodles
There are many different kinds of noodles and the dishes in 'My Vietnamese Kitchen' feature a variety of these. Here are my favourites: BBQ Pork Belly Skewers (with rice noodle salad), Stir Fried Beef and Fresh Noodles and Egg Noodles with Chinese Broccoli.
Chapter 5 – Eat and Play, Lunch and Dinner
And so to the main event, I was fascinated by the Fishcakes with Dill which are held together with french baking powder rather than potato, so all that you eat is fish! Fish features heavily with a beautiful Fired Tiliapia with Green Mango and a Baked Seabream both of which I found very appealing. Rich and sticky BBQ Spare Ribs would be hard to beat and a rather surprising Spaghetti Bolognese, included because of the love of Italian food in the new cosmopolitan Vietnam.
Chapter 6 – Happy Endings, Sweets
I love Mango and the Mango Smoothie looks and sounds totally delicious. This chapter also includes Banana Fritters, Creme Caramel and Avocado Ice cream as well as Pandan Cake, coloured with an extract from Pandan Leaves.
The chapters are interspersed with interesting short essays about the Vietnamese way of eating, cooking and dining as well as information about the French influence on their cuisine.
Who is it for? Anyone who enjoys Asian food and would like to expand their repertoire I would suggest you check out Uyen's web site and if you like the recipes she has published there, then you will love this book . Fish, seafood, beef and pork feature throughout the book with a very few vegetarian recipes, so probably not a good buy for vegetarians.
Pros: The book is well laid out, with beautiful, tempting photographs and a fairly wide range of different recipes. The fusion of Asian and French cuisine leads to some really inspired dishes.
Cons: Some of the ingredients may be difficult to source outside a large city, although you may be able to get them online. It would have been helpful to include some information about where to source ingredients.
Ease of Use: While I have eaten curry for breakfast while visiting Malaysia, it's probably not something I would do at home, so I felt that it was easier to ignore the chapter headings when looking for a dish to cook. Otherwise, the recipe I cooked was well laid out and I had no difficulty following the instructions.
The Verdict
At first, I found it quite difficult to get going with this book, I think because of the chapter headings as I've described above. Once I got over this and just looked at the recipes, I found that there were many dishes here that I wanted to make.
The Chicken Curry was one of the best I have made, similar to a Thai Green Curry, with so much flavour and just the right amount of piquancy. I am, therefore, excited and encouraged to make more recipes from My Vietnamese Kitchen.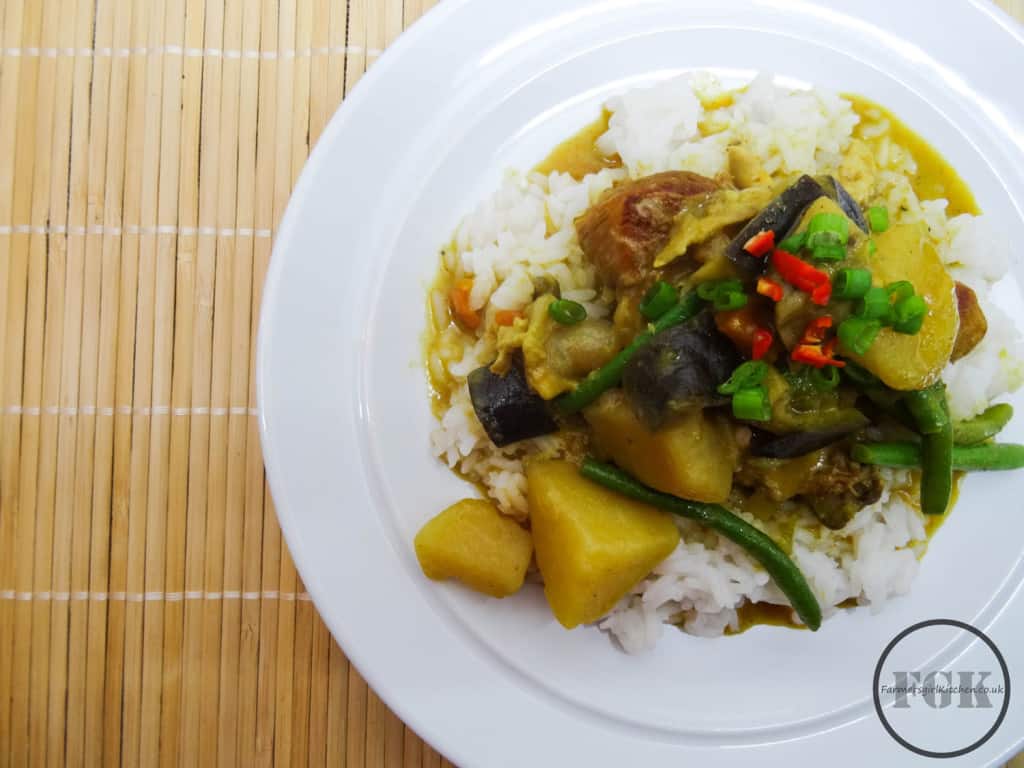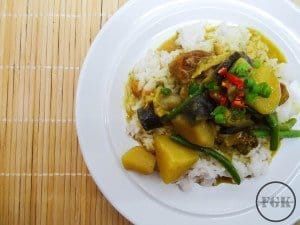 Vietnamese Chicken Curry - ca ri ga
Chicken curry based on the flavours of Vietnam, similar flavours to a Thai Green curry
Print
Pin
Rate
Ingredients
1

tbsp

cooking oil

1

red onion

roughly chopped

1

thumb's worth of fresh ginger

finely chopped

1

lemongrass stalk

finely diced

2

large chicken legs

cut into bite-size pieces or 6 whole drumsticks, skin on

3

teaspoons

curry powder

2

garlic cloves

finely chopped

165

ml

coconut milk

2/3 cup

300

ml

chicken stock

1/4 cup

2

medium potatoes

cubed

1

carrot roughly sliced

4

tbsp

fish sauce

1

tsp

sugar

ground black pepper

1/2

aubergine/eggplant cubed

optional

handful of okra

cut into bite-size pieces (optional)

6

Asian shallots

peeled

handful of mangetout/snow peas

optional

warm baguette and butter

or steamed rice to serve
Garnishes
Thai sweet basil

spring onion/scallion

Bird's eye chillis
Instructions
Heat the oil in a medium saucepan over low heat. Gently fry the red onion , ginger and lemongrass.

Once the onion has softened, add the chicken legs and fry, turning often until they're evenly browned.

Add the curry powder, stirring well until the chicken legs are well coated. Add the garlic, coconut milk, chicken stock, potatoes and carrot and stir.

Cover with a lid and simmer for about 10 minutes.

Season the curry with the fish sauce, sugar and a pinch of black pepper, then add the aubergine/eggplant, okra, shallots and mangetout pea/snow peas.

Cook for a further 8-10 minutes or until the chicken is cooked through.
Notes
Garnish with Thai sweet basil, spring onions/scallions and chillies. Serve with a fresh, warm baguette and butter, or a bowl of steamed rice.
What I did differently
I used 6 chicken thighs, doubled up the aubergine, potatoes, carrots and the coconut milk. Used a Korma curry paste rather than powder. No okra or mangetout, so I used a green pepper and some green beans. The fish sauce and coconut milk are both key to the flavour of this dish.
Nutrition
Calories:
834
kcal
|
Carbohydrates:
69
g
|
Protein:
38
g
|
Fat:
48
g
|
Saturated Fat:
22
g
|
Cholesterol:
124
mg
|
Sodium:
3218
mg
|
Potassium:
2338
mg
|
Fiber:
13
g
|
Sugar:
19
g
|
Vitamin A:
105.4
%
|
Vitamin C:
49
%
|
Calcium:
18.6
%
|
Iron:
75.4
%
My Vietnamese Kitchen by Uyen Luu
Published by Ryland Peters and Small
RRP £16.99
I'm entering this recipe for Bloggers Around the World, a blogger challenge from Chris at Cooking Around the World blog. This month the country of choice is Vietnam, thanks Chris for motivating me to make this dish and post the review.