Easy Blackberry and Apple Trifle is an ideal dessert to make the most of foraged blackberries and homegrown apples. It's simple to make and the layers of cake, fruit, custard, and cream make it one of my very favourite desserts.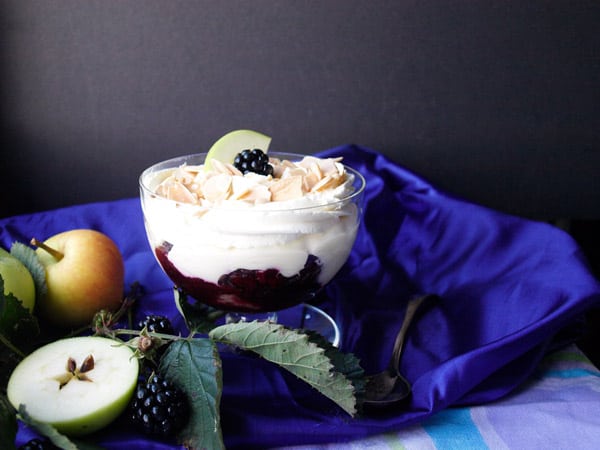 I'm lucky that I have access to all the hedgerows on our farm and I have my own apple tree. However, if you don't have access to the countryside and have no apple tree, never fear, you can buy cultivated blackberries or use frozen fruit. And apples are available everywhere and all year round.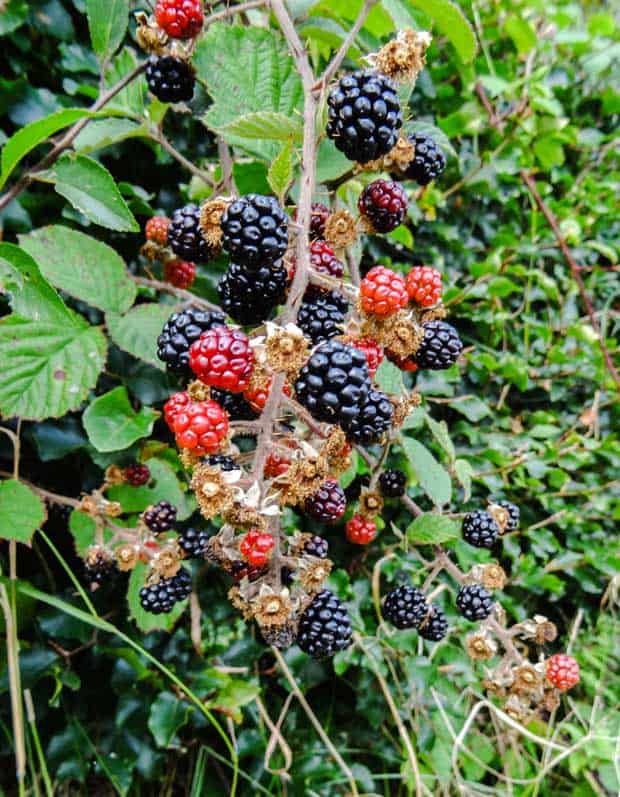 WHAT ARE BLACKBERRIES?
Blackberries are the fruit of a usually prickly bush which is part of the rose family. Each individual blackberry, when ripe, is made up of 20-50 single seeds known as drupelets that are small, juice-filled, and a deep purplish-black when ripe.
ARE BRAMBLES THE SAME AS BLACKBERRIES?
In Scotland blackberries are known as brambles, the terms can be used interchangeably. Sometimes the long, prickly arching stems are referred to as the brambles and the fruit the blackberries. Whatever you call them, they are absolutely delicious!
WHERE CAN I FIND BLACKBERRIES?
FORAGED BLACKBERRIES
Wild blackberries grow in all kinds of places. You will find them growing over ruined buildings, at the edges of woodlands, in parks, and in hedgerows. I even have them invading my garden!
CULTIVATED BLACKBERRIES
You can buy cultivated blackberries at markets, in supermarkets and green grocer's shops. You can also grow the cultivated varieties in your garden. One of the advantages of cultivated blackberries is that you can get thornless varieties.
HOW TO PICK BLACKBERRIES
If you've never picked wild blackberries or brambles, then here are a few tips to help you with your foraging and avoid disappointment.
Blackberries are at their best towards the latter half of summer, peaking in August and early September.
You will find blackberries in woods, hedges, roadside verges, and possibly even your garden.
Do not trespass on private property, always ask if you see blackberries in an area that looks private.
Don't pick blackberries close to a busy road as the berries will be covered in pollution from exhaust fumes.
Pick only berries that are fully black and shiny. Mature berries are plump yet firm, a deep black colour, and pull free from the plant without a yank. Berries do not ripen after being picked.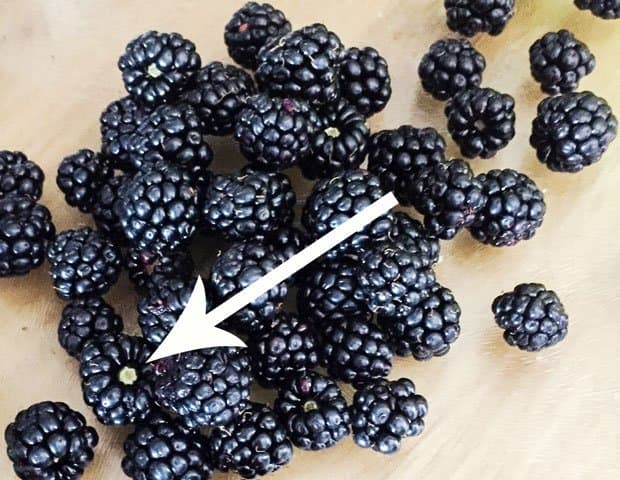 Once you pick each berry check the core (see photo above) it should be white and not discoloured. If it is brown then the berry is past its best and should go into the compost.
Pick blackberries during the cooler parts of the day. Once picked, place berries in the shade and refrigerate as soon as possible
Once you get your berries home, pour them out into trays or baking trays in a single layer, and remove any soft or unripe berries and random leaves.
Don't wash the berries until you are ready to use them or freeze them. Washing makes them more prone to spoiling.
Step by Step How to make Easy Blackberry and Apple Trifle
This Blackberry and Apple Trifle really is very simple to make. Use ready made cake and custard and it's an easy assembly job that looks fantastic and tastes amazing.
Trifle is one of my favourite desserts, it's such an easy dessert to assemble and now that you can get really good ready-made custard in supermarkets it is even easier.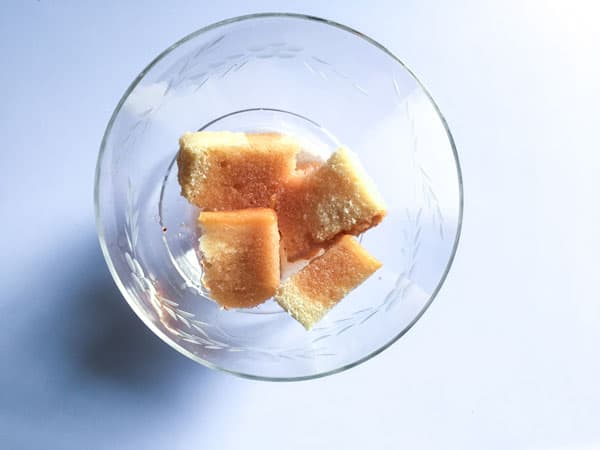 Put the cake in the base of the glass
Start the Blackberry and Apple Trifle with some cubes of Madeira cake. You can use other plain cake or even trifle sponges, but I find that madeira cake makes a nice base.
Add the sherry
Madeira cake soaks up alcohol very nicely and holds together well without disintegrating. I used the last of my Hedgerow Vodka, but use sherry or other fruit liqueurs whatever you enjoy.
Make with orange juice
Make it without alcohol, use orange juice to moisten the cake.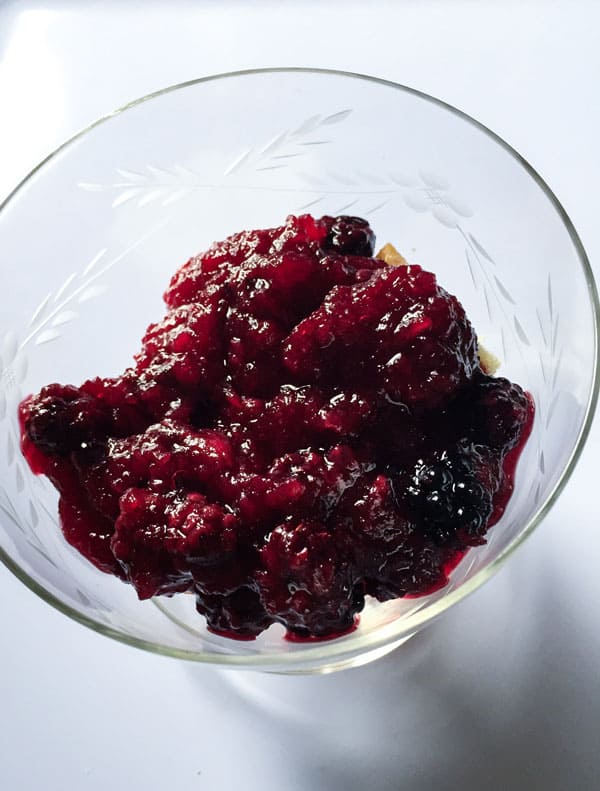 Add the Blackberry and Apple Compote
Make sure you add plenty of the Blackberry and Apple compote. It's the star of the show and, although it is sweetened, it has a nice tart flavour which balances out the custard and cream.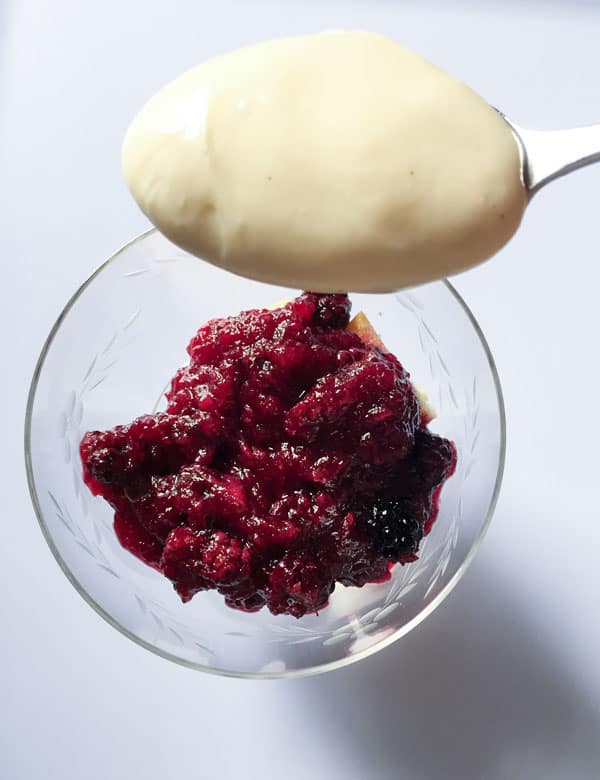 Spoon over the custard
Spoon the custard over the fruit compote. Make sure you cover the blackberry and apple compote it with a nice even layer of custard.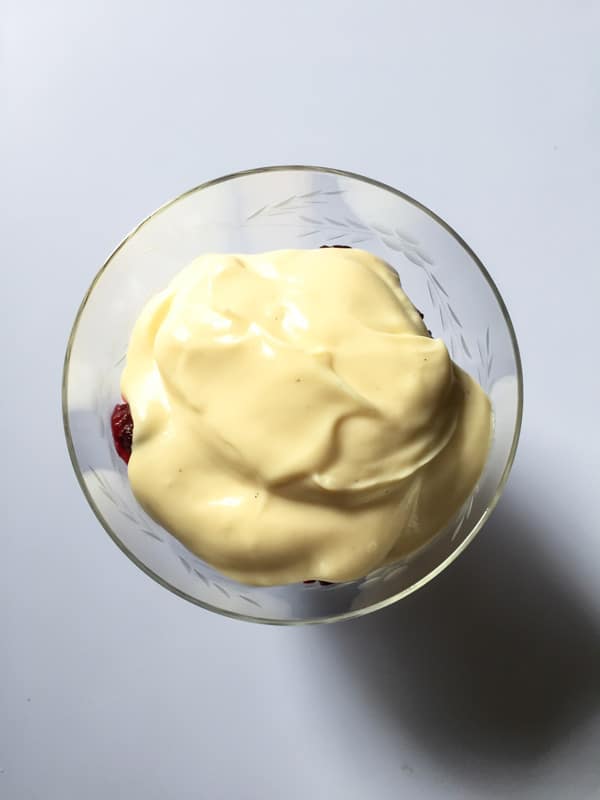 Whip the cream
Whip the double (heavy) cream just to the point where it holds its shape.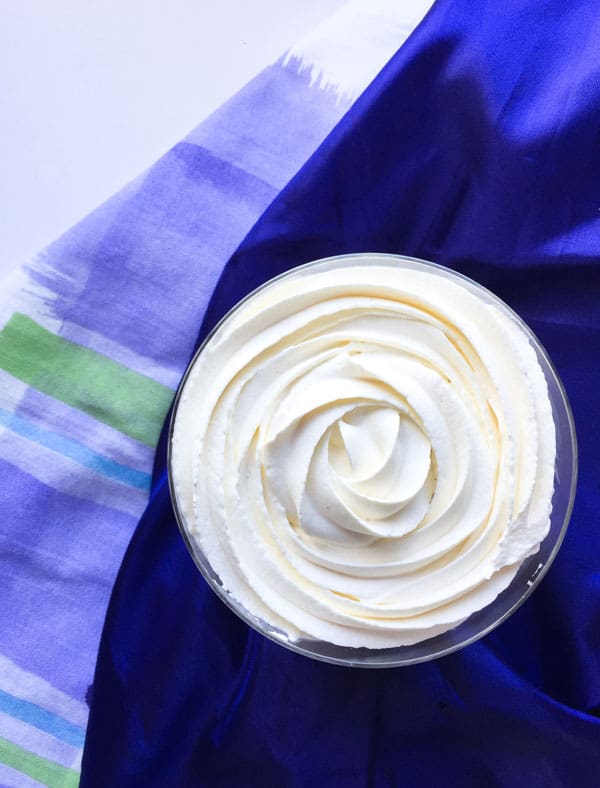 Pipe the cream onto the Easy Blackberry & Apple Trifle
Pipe the cream onto the trifles if you want to make the Easy Blackberry and Apple Trifle a little prettier. I used a Wilton 1M piping nozzle and started piping from the centre of the bowl.
If you are not confident about piping then simply pile the cream on top of the custard.

Serving Suggestion
Just before serving sprinkle the trifle with toasted flaked almonds, a fresh blackberry and a thin slice of apple.
More Blackberry and Apple Recipes from Farmersgirl Kitchen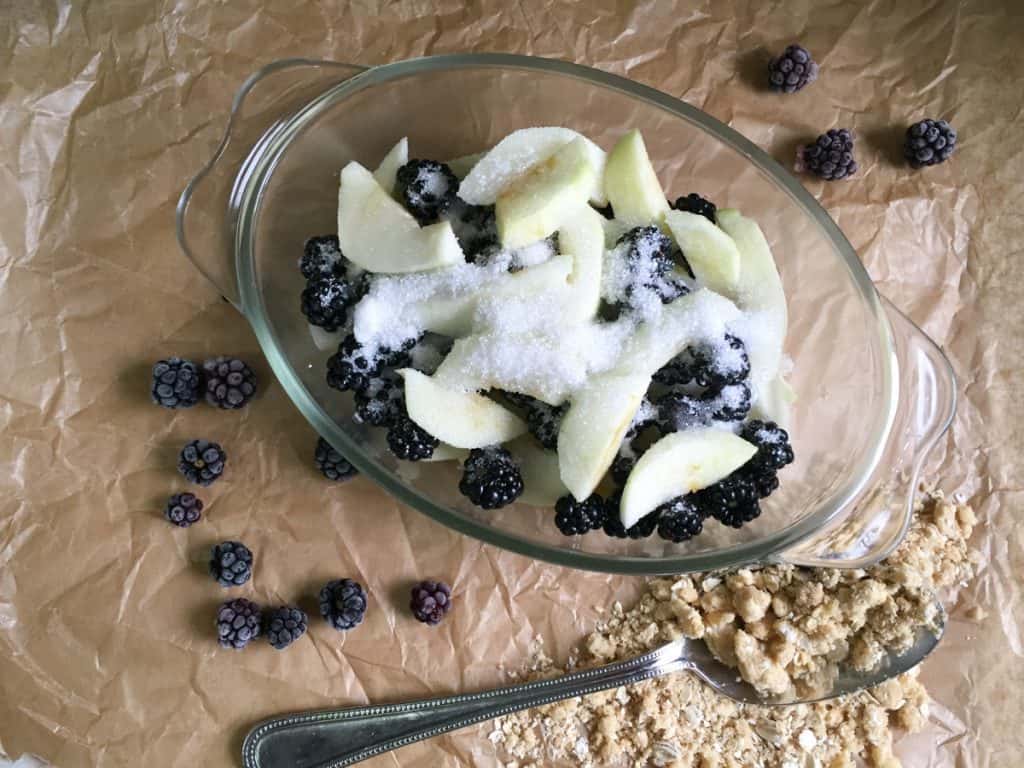 Blackberry and Apple Crumble is one of the real treats of the end of summer. It's an easy dessert to make and can be served with ice cream, cream, yogurt or custard.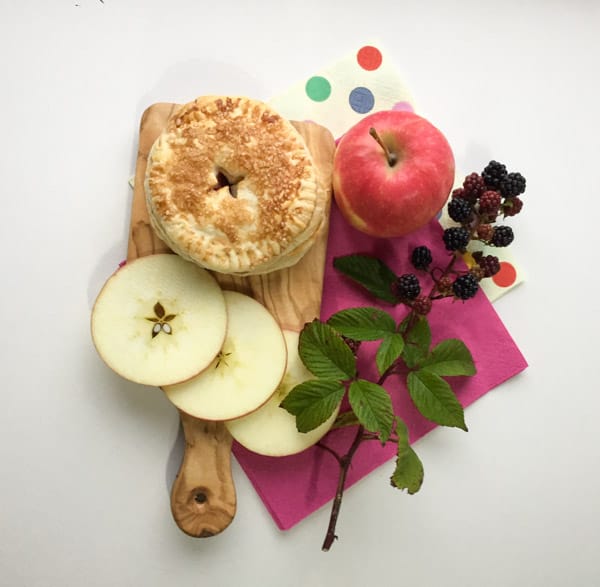 Easy Blackberry and Apple Hand Pies are individual puff pastry dessert pies filled with delicious blackberries and apple.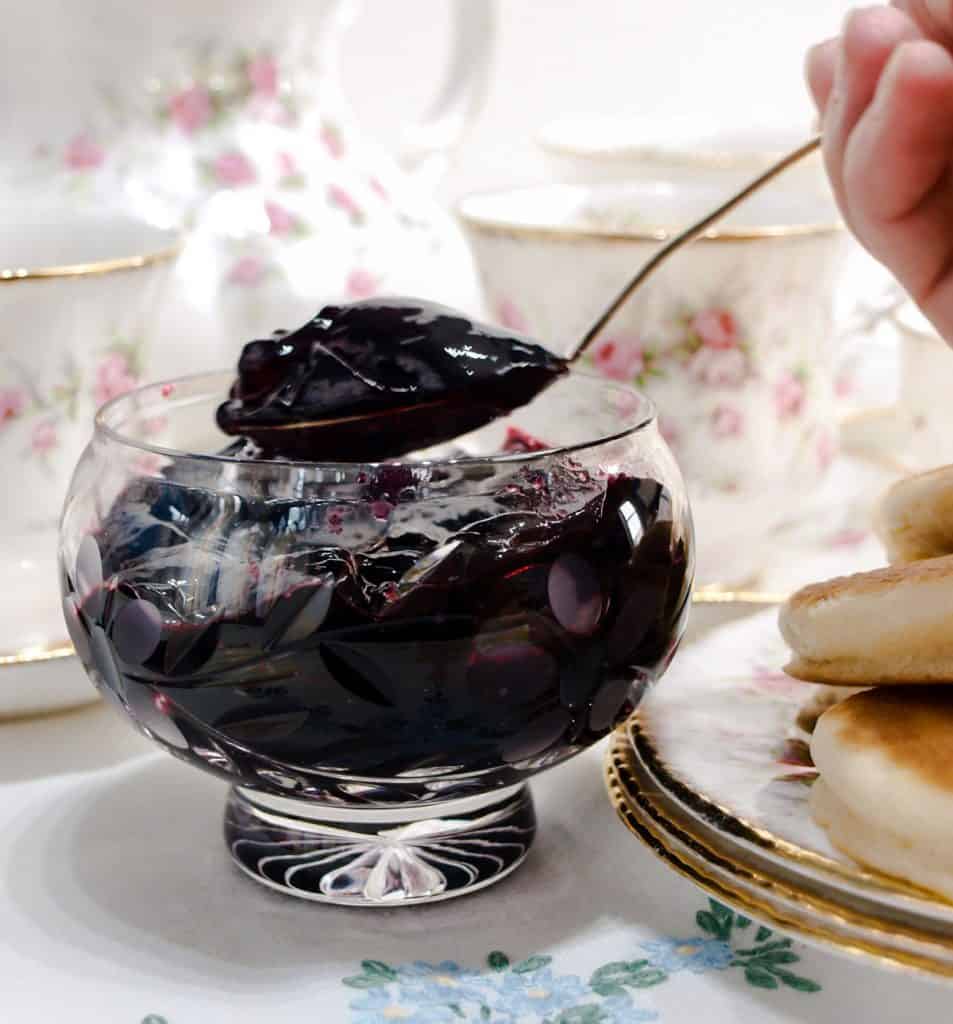 Blackberry & Apple Jelly is a classic and delicious jelly that is the perfect way to preserve the flavours of autumn (fall).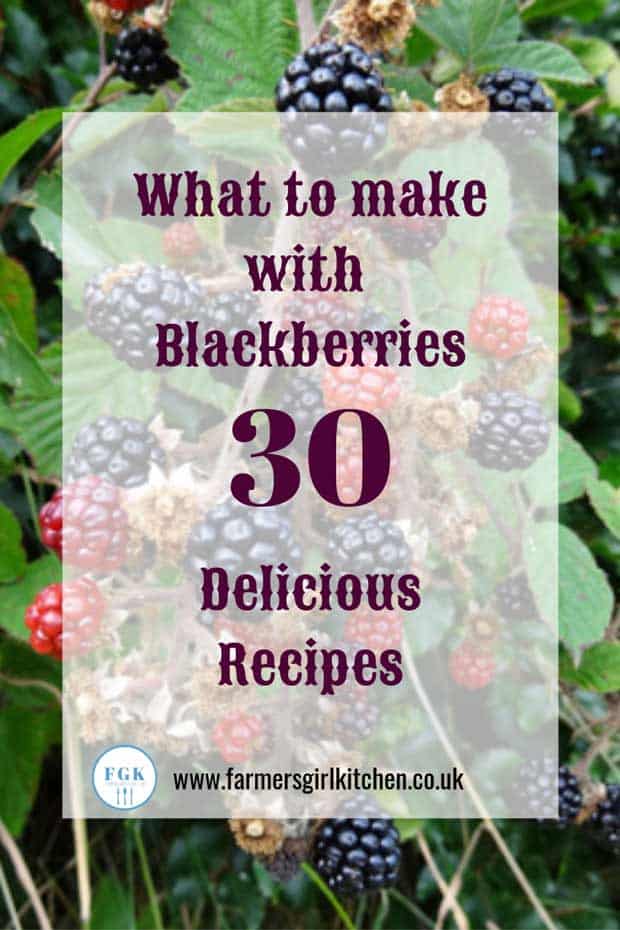 What to make with Blackberries
What to make with Blackberries is a collection of 30 Blackberry recipes. You'll find Blackberry Desserts; Jams, Jellies & Preserves; Cakes & Bakes; Drinks & Cocktails and even a savoury recipe all using blackberries. There is bound to be a blackberry recipe you want to make.
More Blackberry and Apple Recipes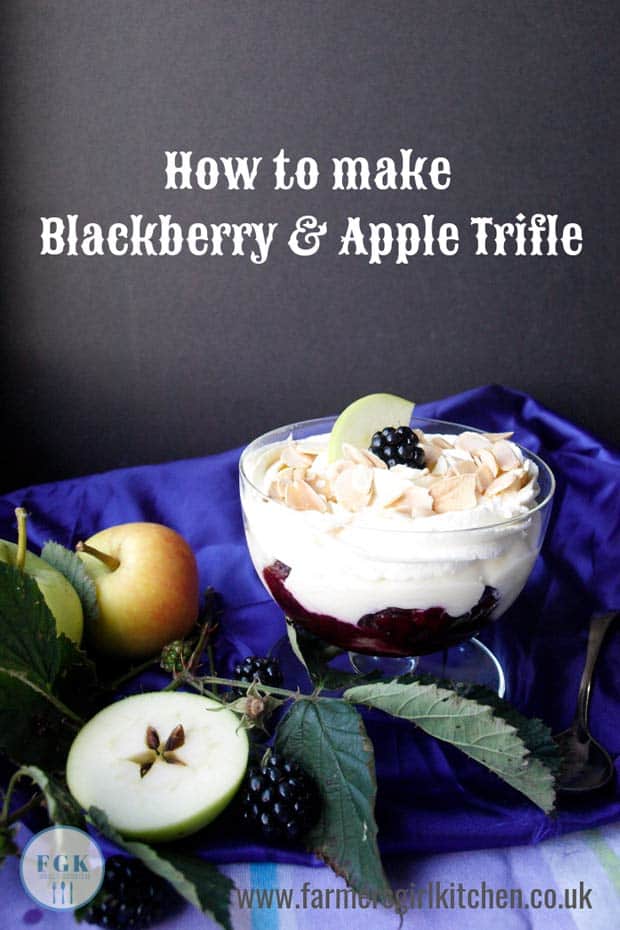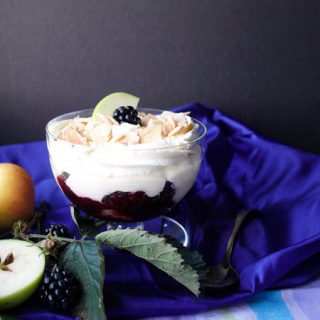 Easy Blackberry and Apple Trifle
Easy Blackberry and Apple Trifle is a glorious layered dessert full of sweet and tart flavours topped with whipped cream and crunchy toasted almonds.
Ingredients
150

grams

madeira or other sponge cake

300

grams

Easy Vanilla Custard Sauce

or ready made chilled custard

200

ml

double cream

25

grams

flaked almonds, toasted

20

ml

hedgerow vodka, sherry or orange juice

4

fresh blackberries

for decoration

1

apple

for decoration
Blackberry and Apple Compote
4

medium

cooking apples

300

grams

blackberries

100

grams

sugar

2

tbsp

water
Instructions
To make the compote
Peel, core and dice the apples.

Put the apples, blackberries, sugar and water into a saucepan and heat gently until the sugar is melted.

Simmer for 5-10 minutes until the apples have dissolved to a pulp.
To assemble the trifes
Cut the cake into cubes and place in the bottom of the trifle dishes, divide the alcohol between the four portions, sprinkling over the cake.

Spoon blackberry and apple compote over the cake. You will have plenty of compote, so add as much as you like but do cover the cake.

Cover the compote with custard.

Whip the cream until it is soft but will hold its shape. You don't have to pipe it onto the trifles but it does look pretty. I used a Wilton 1M piping nozzle. If you don't pipe then simply pile the cream onto the custard.

Toast the flaked almonds in a dry frying pan on a medium heat, moving them around until they are a golden brown.

Just before serving, Sprinkle the toasted almonds over the trifles and add fresh blackberries and a half slice of apple.
Notes
You can make a large trifle instead of individual bowls, just follow the same steps.
Don't Miss My Latest Recipes
CLICK TO SUBSCRIBE NOW to join my newsletter list & receive a FREE 'How To Adapt Recipes For Your Slow Cooker' printable!
Share by Email
I'm adding this Blackberry and Apple Trifle to the #CookBlogShare link up for bloggers recipes, it's a great place to find new recipes and new blogs to follow.