Wartime Picnic Recipes come from Carried Meals and Snacks, a little Ministry of Food leaflet that belonged either to my MIL or my husband's grandmother. It came with the house, as did most of the really old recipe cuttings that I have managed to gather together.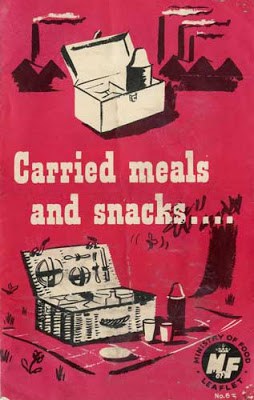 The cover is interesting as it features both the image of a 'packed lunch' for the worker, in a factory, and also the traditional picnic hamper for a day out in the countryside.

on the back page is the leaflet number, there must have been a series, but this is the only one I have, and the date June 1946.

Here are some of the pages, just in case you were wondering why the recipes don't seem to follow on from each other, the leaflet is one sheet of paper folded, so not too easy to scan!

The recipes are not too bad really, athough I don't fancy Butter or Margarine extender, but I guess that was what you had to do when food was rationed.


Who'd have thought that there would be hamburgers and coleslaw on the picnic menu in 1946!


Flapjacks are pretty much the same then as now, but coffee essence – bleurgh!
More Wartime Recipes
The Woolton Pizza Pie Recipe is my update on one of the most famous wartime rationing recipes, Woolton Pie. This tasty and nutritious vegetable pie was created by Francis Ladry, Chef at the Savoy Hotel in London. It is named after Lord Woolton, who helped to make the recipe popular when he became Minister of Food in 1940.
Ration Book Cooking with Egg and Sausage Pie Recipe
The National Loaf – Wartime Bread Recipe