Not everyone feels confident about choosing a range of cheeses and accompaniments, so I am going to lead you through the process giving you some hints and tips so that you can choose your cheeses and be confident that you know How to create your perfect cheeseboard.
Cheese is fabulously versatile, ideal as a quick snack and integral to so many recipes, I'm not quite sure what I would do without it. As the festive season approaches, more of us will be thinking of serving a cheeseboard, perhaps at the end of a celebration meal, as part of a buffet at a party, or perhaps as a lazy lunch relaxing with friends and family.
My parents held legendary parties, there was usually a theme, fancy dress and fabulous food made by my mother. I loved to see the food laid out on the table and there would always be a cheeseboard. My sister and I would hover around but were forbidden to touch anything until after the guests had eaten. It was always fun to enjoy the remains of the feast the next day.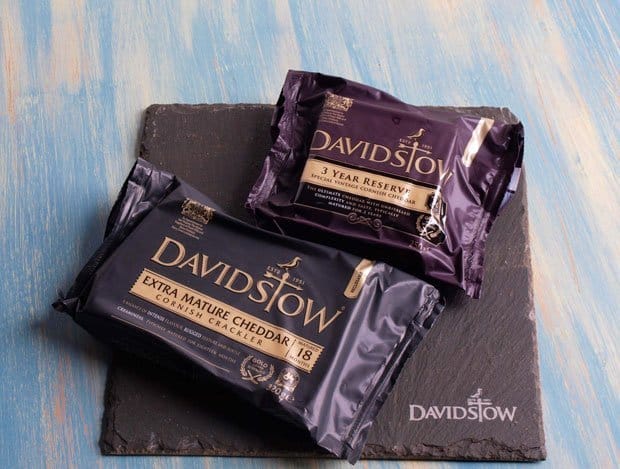 Choose a cheese that you know everyone will recognise, this is your featured cheese. I would recommend Davidstow 18 Month Extra Mature, which is intense, yet pleasantly sweet, cheese with added layers of complexity an concentrated bursts of flavour from the naturally occurring crunchy crystals that it acquires with age. It's a real crowd pleaser.
Now add a vintage cheddar, something creamy with a rounded yet intense long-lasting flavour. Davidstow 3 Year Vintage Reserve Cheddar is matured for a minimum of three years, giving this award winning cheese its distinct firm yet crumbly texture and unrivalled complexity in taste and crystalline appearance. Pair this flavourful cheese with rich fruit cake, oatcakes or my homemade Wholemeal Caraway Seed Crackers (recipe below).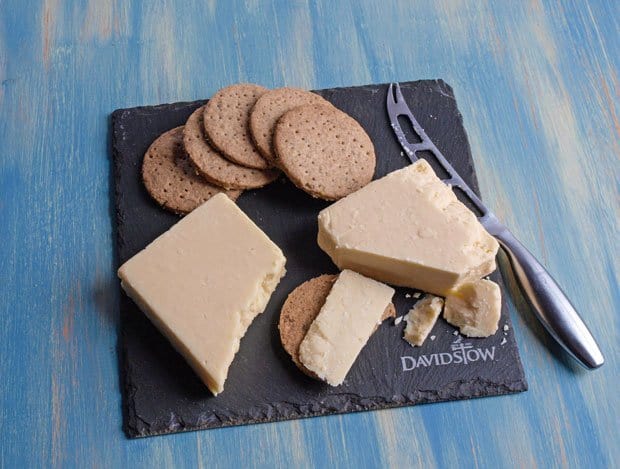 Now that you have chosen two cheeses that are likely to be popular with all the family, you can really start to be more creative and bring in your own favourites and maybe something you haven't tried before.
It's all about balance, hard cheese, soft cheese, semi-soft, creamy and mild, strong and even some stinky cheese if that's what you like to eat. For a balanced cheeseboard pick one of each type of cheese, or more if you are catering for a crowd.
Hard cheese, we already have our Davidstow 18 Month Extra Mature and Davidstow 3 Year Vintage Reserve Cheddar which would be complemented by a milder Cheshire cheese or, for a different texture and flavour a strong, good quality parmesan. There are also cheeses with added fruit e.g. cranberries or apricots which you might like to offer.
Semi – hard cheeses include Manchego from Spain and Comte from France, some smoked cheese also come into the semi-hard category.
Semi-soft cheese like Gouda , Tallegio and Fontina are often popular too.
Blue cheeses like the traditional Stilton, Danish Blue, and if you really like blue cheese then a pungent cheese like Gorgonzola will certainly make it's presence known! There are certainly makesoft blue cheeses which are a great introduction to blue cheese.
Soft cheeses are always a favourite, there are now British regional versions of brie and camembert, as well as the French originals. Add a mild cheese such as mozzarella and perhaps a soft goats cheese.
For my perfect cheeseboard, the featured Davidstow Cheddar were joined by a semi-hard Comte, a creamy blue cheese and a Camembert.
Once you have chosen your cheeses, you can start to think about other accompaniments. In the summer I would choose olives, cherry tomatoes and fresh apricots and peaches.
For a Festive Cheeseboard, I would always include nuts, they go really well with cheese and it's fun cracking them open. I added some some grapes, clementines or satsumas and a pomegranate for a fresh flavour, celery sticks would be another good choice.
You might also include chocolate as it pairs well with cheese too.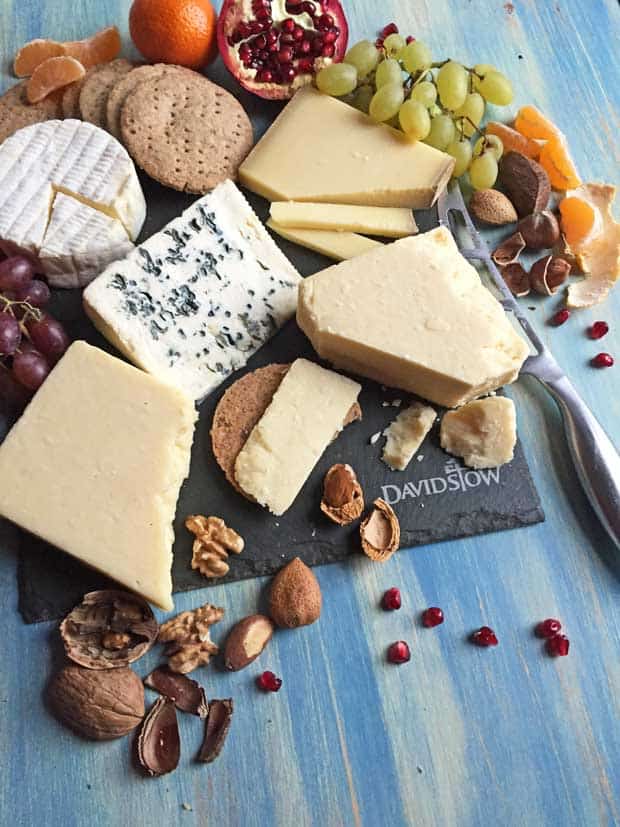 All you need now is some crisp french bread and a selection of oatcakes, water biscuits, and some homemade Wholemeal Caraway Seed Crackers and you are all set to go.
If you have never made your own crackers, then now's the time to try, it's no more difficult than making sweet biscuits or cookies and the difference in flavour will make your perfect cheeseboard really stand out from the crowd.

RECIPE FOR WHOLEMEAL CARAWAY SEED CRACKERS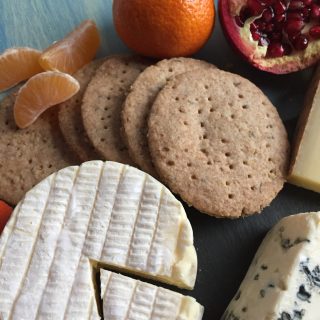 Wholemeal Caraway Seed Crackers
These buttery wholemeal and oat crackers with a sprinkling a caraway seeds for extra flavour, perfect with cheese and quite nice to eat on their own too.
Ingredients
180

g

wholemeal flour

I used spelt flour

1

tsp

caraway seeds

1/4

tsp

salt

10

g

caster sugar

10

g

rolled oats

125

g

softened butter
Instructions
Measure the flour into a bowl and add the salt, sugar, oats and caraway seeds.

Work in the butter with your fingertips – keep it in one piece and gradually work in the dry

ingredients.

Knead well once the dough has come together.

Pat down on a work surface and use a rolling pin to roll the dough to about the thickness of a 2p coin and cut out with a plain cookie cutter.

You may have to keep pushing the dough back together again if it is very crumbly.

Slide the cut biscuits off the work surface with a knife and onto a baking sheet covered in baking parchment

Prick the crackers with a fork.

Bake in the oven at 170C (325F) Mark 3 for 10-15 minutes until firm and pale golden brown.

Lift onto a cooling tray with a spatula and leave to cool.
Notes
If you don't like the flavour of caraway seeds you can leave them out. Other seeds would also work well e.g. sesame seeds, cumin seeds, poppy seeds even crushed black peppercorns. Herbs would also be a nice alternative, rosemary would work particularly well as it has a robust flavour.
Don't Miss My Latest Recipes
CLICK TO SUBSCRIBE NOW to join my newsletter list & receive a FREE 'How To Adapt Recipes For Your Slow Cooker' printable!
Share by Email
*This cheeseboard and the cracker recipe was commissioned by Davidstow Cheddar. All opinions are my own.*
The Wholemeal Caraway Seed Crackers didn't last long, we loved them so I'll need to make another batch to serve with my perfect cheeseboard for when my family gets together over the festive season.
I hope you have found this useful, I'd love to know what would be on YOUR perfect cheeseboard and what accompaniments you would choose. You might give me some ideas to improve my own festive cheeseboard.
WHY NOT PIN FOR LATER?