Slow Cooker Haggis Lasagne is a tasty alternative way of using the traditional combination of Haggis, Neeps (Turnip/Swede) and Tatties (Potatoes).  There is no pasta in the recipe, the layers are made with the haggis and vegetables.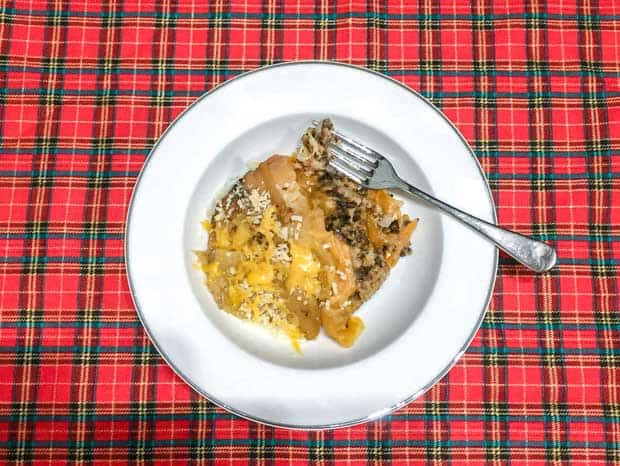 This recipe for Slow Cooker Haggis Lasagne was developed because my husband won a Burns Night Feast Hamper which contained a magnificent 900 g haggis.  We had already had our Ultimate Burns Supper, so I decided to make something a little different.
What is Haggis?
Every country has a type of sausage, think of German Bratwurst or chorizo from Spain.  Haggis is a type of sausage, it may not be long and thin but it is meat and cereal cooked in n a casing.
"Historically, when hunters made their kill, they would use up the offal, which went off first, using the cleaned animal's stomach as a cooking bag. Minced heart, liver and lungs are bulked out with oatmeal, onions, suet, seasoning and spices before cooking. Nowadays natural casings are still used, but synthetic ones are becoming more common (there is no effect on the flavour.)" BBC Good Food 
Can I make it Vegetarian?
You can buy some really good vegetarian haggis which will work perfectly in this recipe.
How can you make Lasagne with no pasta?
Instead of using pasta, I sliced the swede and potatoes with a mandolin to create thin slices for the layers between the haggis.
Italian purists will throw their hands up in horror that I should call this dish Lasagne when it contains no pasta.  I used the term because I felt that it best described the layers I have created.
You also slice the haggis, just take it out of its casing and cut it into thick slices. Just in case you are wondering, that is a Slow Cooker liner I'm using, it's not essential but saves on washing up!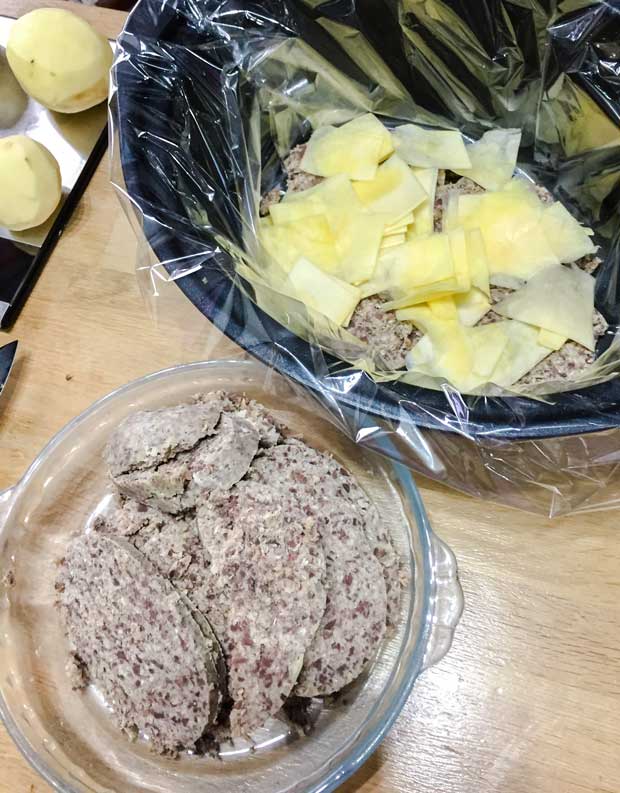 Sauce for the Haggis Lasagne
The sauce for the Slow Cooker Haggis Lasagne is made from cream cheese.  I used a type of cream cheese that comes in a jar and is a little more liquid than the usual tub,
If you are using solid cream cheese in a block or tub place teaspoonfuls over the layers.  It will melt down as the lasagne cooks.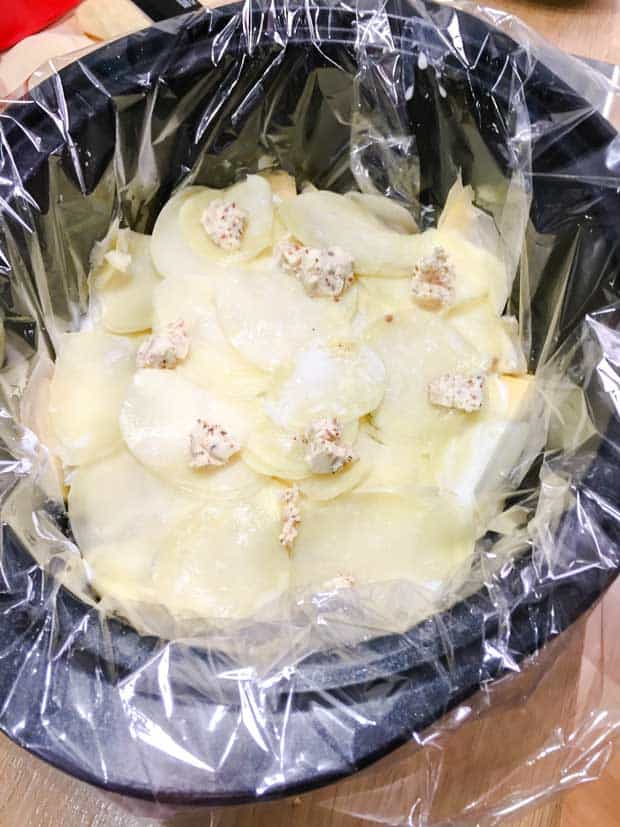 Add the potatoes
The final layer for the Haggis Lasagne is sliced potatoes topped with some dots of butter.  I used pink peppercorn butter, but plain butter would be just as good.
Seasoning the Slow Cooker Haggis Lasagne
Season the dish lightly because the haggis is quite highly seasoned.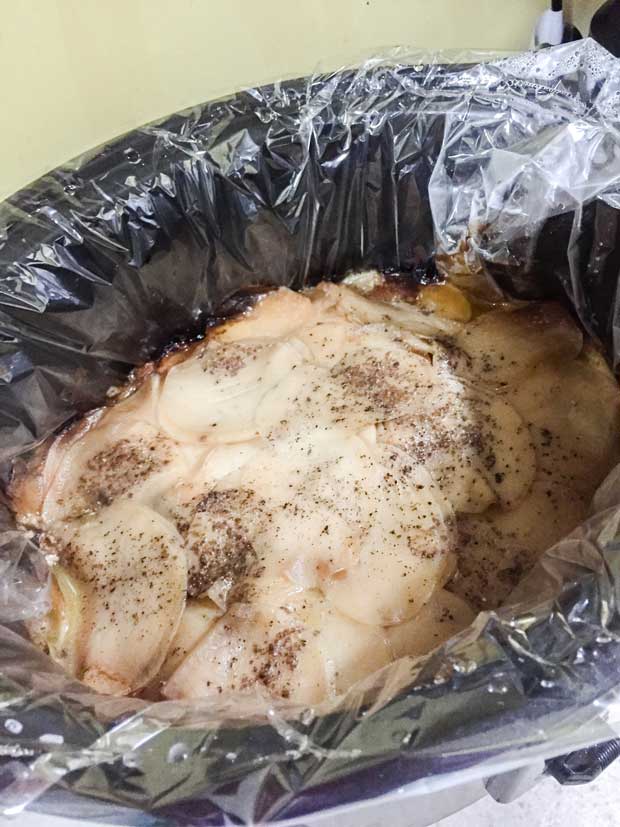 Add the grated cheese
Sprinkle over some grated cheese as soon as the Slow Cooker Haggis Lasagne is cooked. Switch off the heat and place the lid back on the slow cooker for 5-10 minutes. The cheese will melt from the heat of the food.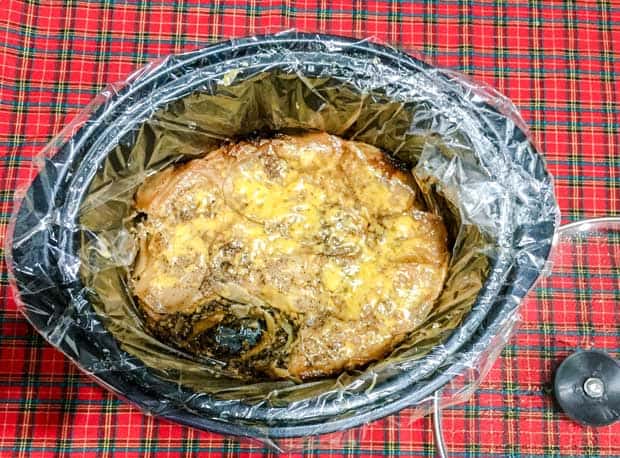 If you are able to put your slow cooker under direct heat, then mix the cheese with panko breadcrumbs and brown under the grill.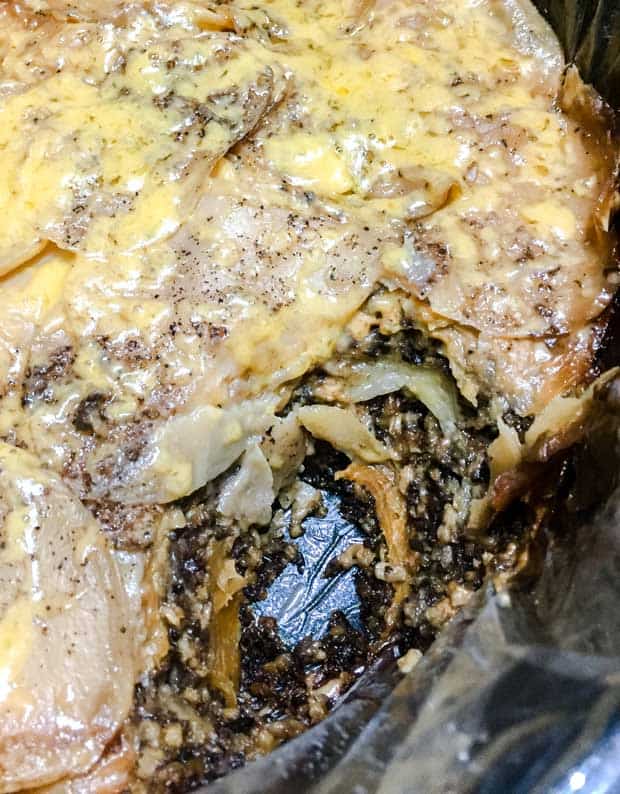 The layers of swede are meltingly tender but don't disintegrate. You can see how they form layers of haggis and swede in the close-up photo above.
We really enjoyed the Slow Cooker Haggis Lasagne.  All the traditional flavours are included but with a different texture and with no pans of boiling water on the stove.
More Haggis Recipes from Farmersgirl Kitchen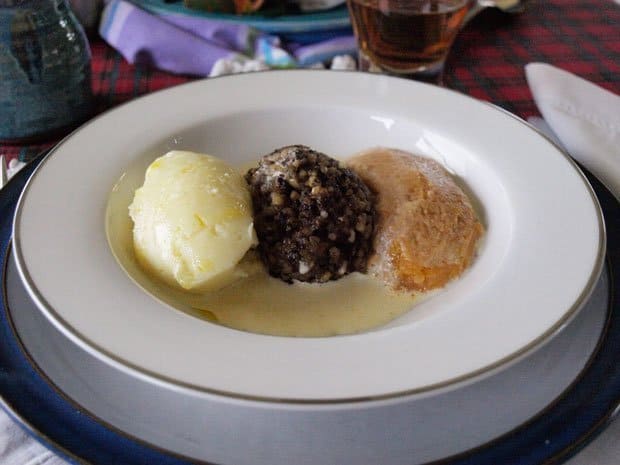 How to Host the Ultimate Bruns Supper – Haggis Neeps and Tatties with a Whisky Cream Sauce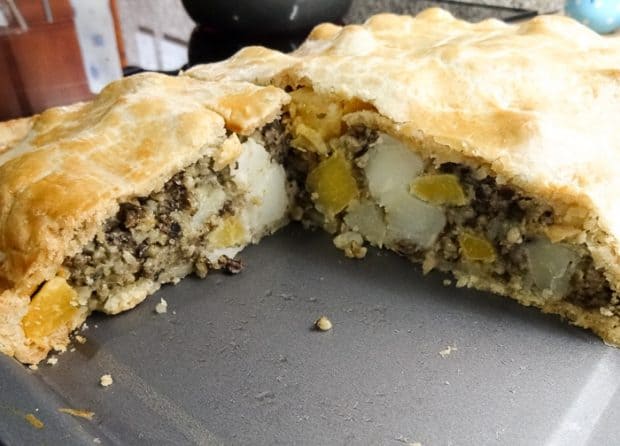 Haggis, Neeps and Tatties Pie – Burns Night on a Budget

Slow Cooker Haggis Stuffed Apples with Red Cabbage and Cranberries
Alternative 'lasagne' recipes by top UK bloggers:
Sausage Ragu Stuffed Courgettes – Kavey Eats
Vegetarian and Gluten-free Lasagne – Emily's Recipes and Reviews
Apple and Custard Lasagne – Foodie Quine
Easy Lasagna Cups – The Petite Cook
Superfood Salmon Lasagna with Kale and Spinach – The Petite Cook
Roast Chicken Lasagne – Munchies & Munchkins
Alternative ragu sauces for  lasagne:
Chorizo and Green Bean Ragu – Fab Food For All
Chinese Spag Bol – Kavey Eats
Thermomix Ragu Bolognese – Kavey Eats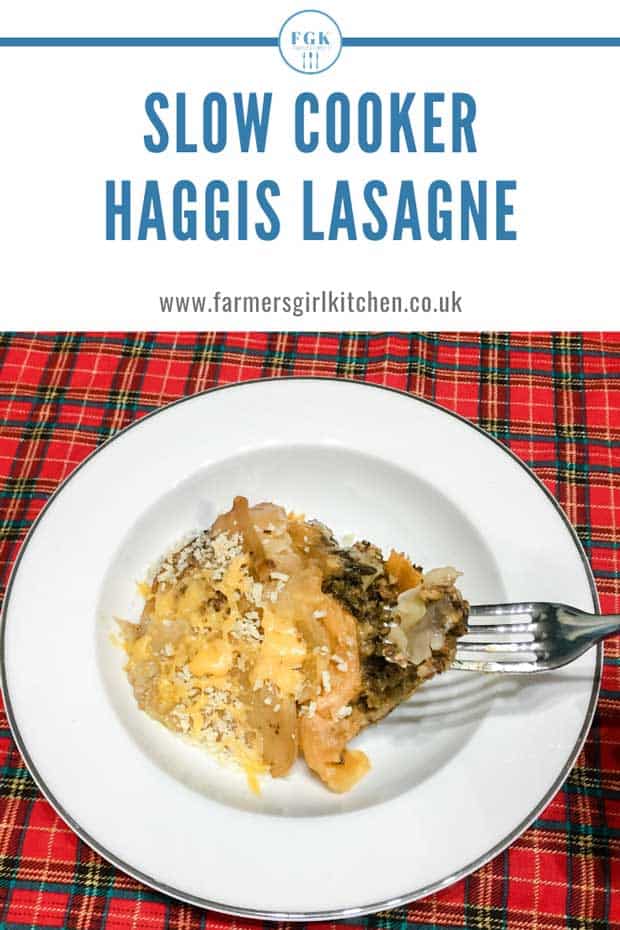 PIN FOR LATER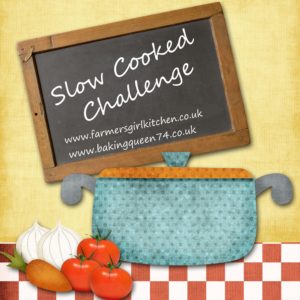 The Slow Cooked Challenge is a monthly Linky dedicated to making recipes using a Slow Cooker/Crockpot or by slow cooking in the oven, aga or other slow method of cooking.
If you would like to take part, then please:
Make your recipe in your Slow Cooker or other slow cooking method and post a photograph and the recipe, or a link to a recipe, on your blog
Link to Farmersgirl Kitchen and Baking Queen 74
Use the Slow Cooked Challenge logo in your post
If you use twitter, tweet your post with @FarmersgirlCook @BakingQueen74 and use #SlowCookedChallenge and we will re-tweet it to our followers AND post your picture on the dedicated Pinterest Board.
A round up of all the entries will be posted on the host's blog.
Rules:
Please do not publish recipes from cookbooks on your blog without permission, they are copyright.
If you are using recipes from another website, please link to the recipe on the website rather than publishing the recipe.
One entry per blog.
Recipes must be added to the linky by the 28th of each month and a round up will be posted on the host blog.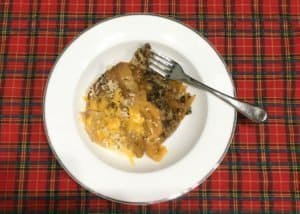 Slow Cooker Haggis Lasagne (no pasta)
Layers of haggis, swede and potato make a hearty lasagne-style dish to cook in your slow cooker.
Ingredients
900

g

haggis

sliced

500

g

peeled swede

400

g

peeled potatoes

200

g

cream cheese

100

ml

hot water

25

g

butter

salt & pepper

50

g

grated cheese

cheddar or mozzarella
Instructions
Slice the end off the haggis and peel away the casing.

Slice the haggis into 1 cm slices

Slice 500 g of swede very thinly, using a mandoline or food processor slicing disk.

Slice 400 g of potatoes very thinkly using a mandoline or food processor slicing disk

Blanch the swede and potatoes (separately) either by microwaving with a little water for 2-3 minutes or plunging into a pan of boiling water for 2-3 minutes.

Drain the vegetables

Place a layer of haggis in the base of the slow cooker.

Top with a layer of swede, then another layer of haggis and a layer of potato, season lightly with salt and a little pepper.

Dot half the cream cheese over the potato.

Add another layer of haggis, a layer of swede, a layer of cream cheese and a layer of potato.

Pour over the hot water.

Dot with butter, season lightly with salt and pepper.

Bake on low for 5-6 hours.

When cooked, switch off, remove the lid and sprinkle with the grated cheese, replace the lid and leave for 5-10 minutes until the cheese melts, then serve.
Notes
If your slow cooker can go under the grill (broiler) then you can grill the cheese along with some breadcrumbs to give a crunchy topping.
This recipe can also be made in the oven. Bake, covered at 160C for 1 1/2 - 2 hours, remove lid and add cheese and breadcrumbs, then bake for a further 10 -15 minutes.
Don't Miss My Latest Recipes
CLICK TO SUBSCRIBE NOW to join my newsletter list & receive a FREE 'How To Adapt Recipes For Your Slow Cooker' printable!
Share by Email