This is a sponsored post
Have you ever been to a Burns Supper? It's a lot of fun, a night to celebrate the works of Scotland's National Bard, Robert Burns on his birthday 25th January. A Burns Supper involves speeches, often humorous, recitations of Burns poems and renditions of his songs. The main event is the haggis which is usually piped into the room, the haggis is 'addressed' by the speaker who reads Burns' poem 'To a haggis'.
I went to my first Burns Supper with my Dad when I was 17. I'm not sure why he had a spare ticket, someone must have dropped out, but I was up for a new experience, and the actor Russell Hunter was giving The Immortal Memory, the main speech to Robert Burns memory. It was quite an experience and gave me a life long love of whisky! I have been to Burns Suppers since, but none has impacted on me quite like the first, possibly because of the quality of the speakers and the fact that the food tends to take second place to the entertainment.
Burns Supper menus generally consist of Cock-a-Leekie soup or Scotch Broth, followed by Haggis, Neeps (turnips/swede) and Tatties (mashed potatoes). This may be followed by Cloutie Dumpling, a boiled fruit pudding, or Tipsy Laird (sherry trifle) but I've never known that, and I think Cloutie Dumpling after haggis would definitely sink you! In my experience, the meal has concluded with oatcakes and cheese. Whisky is served for the toasts of which there are many!
I'm sure it's no surprise that my Ultimate Burns Supper would be more focused on the food, although I've let my imagination run away with me and 'invited' the people I'd like to hear in my ultimate (fantasy) Burns Supper. I've also created a menu that remains true to the roots of the Burns Supper and celebrates the incredible food of Scotland and the fabulous malt whisky of the Balblair Distillery. The Balblair Distillery has a long pedigree, it was established 1790 and each Balblair Vintage captures the essence of its year in a bottle. They're only ever selected at the absolute peak of perfection. You'll notice the bottles are not marked with an age statement, but simply with the year that the whisky was laid down. From then, every cask is sampled, judged and selected by John MacDonald to find its optimum maturation point. The point at which each Vintage says it's ready.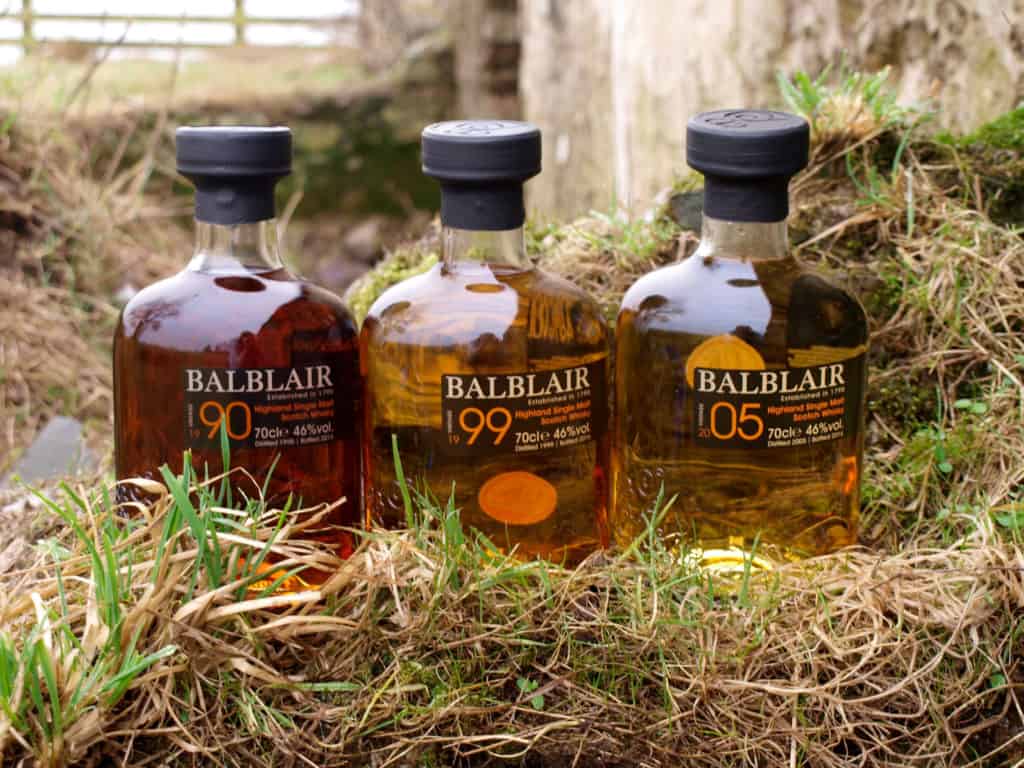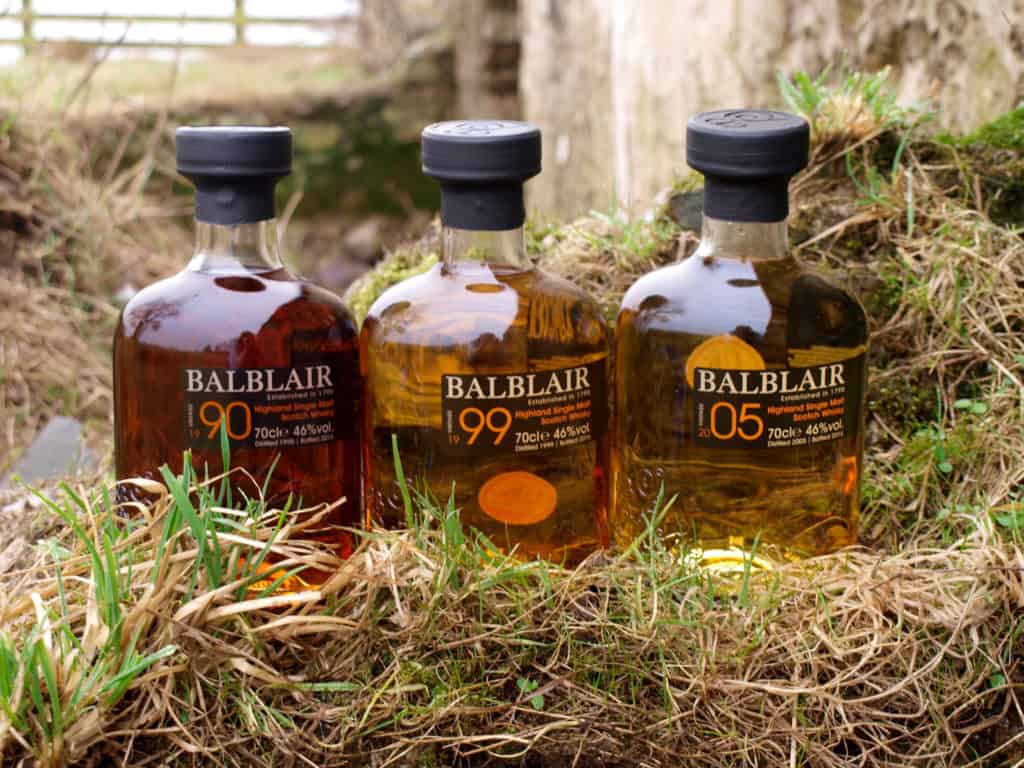 At my Ultimate Burns Supper I would invite the Reverend Richard Coles to start the proceedings by sayIng the Selkirk Grace, a prayer that, like most of Burns poetry, speaks to people today as well as to those in the days when Burns wrote it:
'Some hae meat and canna eat,
And some wad eat that want it,
But we hae meat and we can eat,
And sae the Lord be thankit.'
The plate with the Selkirk Grace on it was given to me by my maternal grandmother, it's not of great value, but it always reminds me of her. Her other great saying was "Better belly burst than good food wasted", which was hardly surprising as she was a wife and mother through the war years and brought up four children. Although he is not Scottish, I think Richard Coles would appreciate the sentiments Robert Burns and he would also be very entertaining company.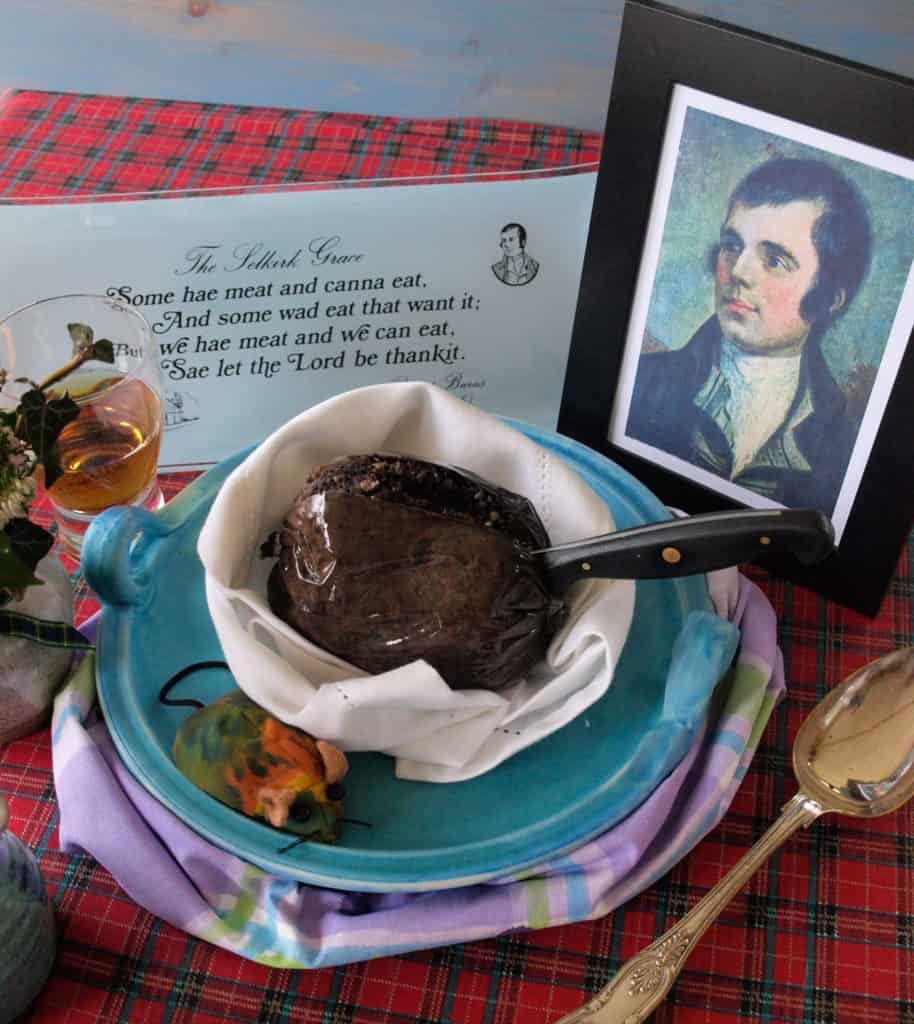 After the Selkirk Grace, it's time to pipe in the Haggis and to declaim the famous poem that epitomises the Burns Supper, To a Haggis. At my Ultimate Burns Supper this poem would be read with gusto by actor, Robert Carlyle, an accomplished actor, who would add an air of menace with the knife poised to cut open the haggis. Here are a few verses, you can read the full version by clicking on the poem title.
Fair fa' your honest, sonsie face,
Great chieftain o' the pudding-race!
Aboon them a' ye tak your place,
Painch, tripe, or thairm :
Weel are ye wordy o'a grace
As lang's my arm.
The groaning trencher there ye fill,
Your hurdies like a distant hill,
Your pin wad help to mend a mill
In time o'need,
While thro' your pores the dews distil
Like amber bead.
His knife see rustic Labour dight,
An' cut you up wi' ready sleight,
Trenching your gushing entrails bright,
Like ony ditch;
And then, O what a glorious sight,
Warm-reekin', rich!
Once the ceremonial cutting open of the haggis is accomplished, it is taken back to the kitchen to be served and the meal can begin.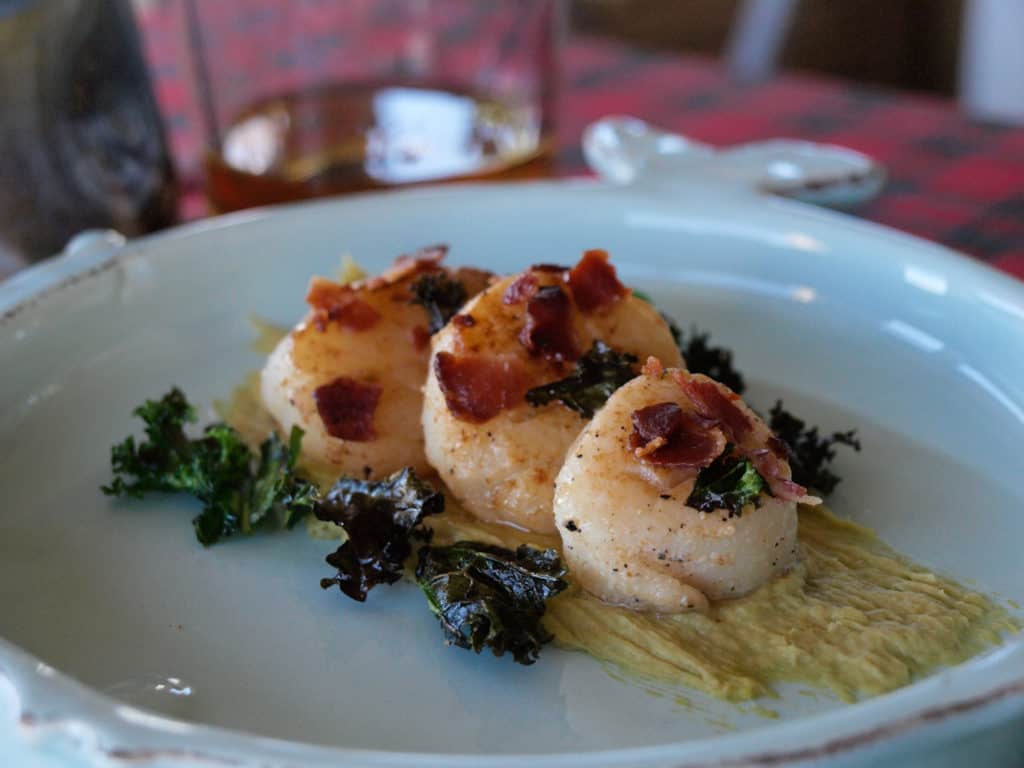 My Ultimate Burns Supper menu begins with Pan-fried Scallops on a leek puree with crispy bacon and kale chips. Both king scallops and queenies are fished locally in the Solway Firth, mainly being landed at Kirkcudbright. Leeks are part of the traditional Cock-a-leekie soup and grow well over the winter in the colder climes of Scotland, as does kale. Traditional Ayrshire middle bacon is what I grew up on, it is rolled giving you both the back and the streaky rashers rolled into one, Ayrshire is also the county where Robert Burns was born. I would choose a light citrussy wine or sparkling wine to drink with this scallop dish, on this occasion whisky would over-power the delicate seafood.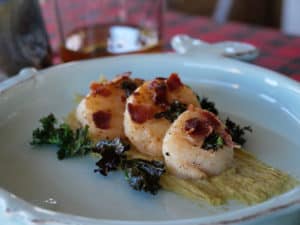 Pan-fried scallops on a leek puree with crispy bacon and kale chips
2017-01-16 19:12:01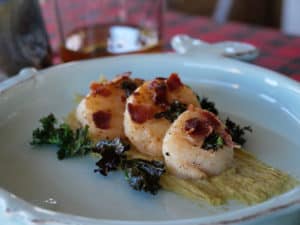 Serves 4
Tender juicy scallops on a leek puree topped with crispy bacon and kale chips, a feast of taste and texture.
Ingredients
12 scallops (3 per person)
2 medium leeks
30g butter
10 g kale chips
1 tsp Scottish rapeseed oil
2 rashers streaky bacon
Salt & freshly ground pepper
To make the leek puree
Split the leeks from top to bottom and rinse thoroughly to remove any earth and grit.
Drain and chop finely.
Melt 20g butter in a saute pan on a medium heat, add the leeks and saute gently until the leeks have softened but not coloured, about 10-15 minutes, leave to cool.
When cool, puree in a liquidiser or food processor with a tablespoon of cream and a tablespoon of milk. The texture of the puree should be that of whipped cream, so add a little more liquid if it is too thick.
To make the kale chips
Cut the thick ribs out of the kale and cut into small pieces.
Rub the oil into the kale pieces
Spread onto a baking sheet and bake at 200C for 10 minutes (check frequently to make sure they don't burn)
When crisp remove to a plate covered in kitchen paper and they will crisp up further
To make the crispy bacon
Grill or oven bake the bacon (while you are making the kale chips) until it is brittle and crisp about 5-8 minutes.
When cool, crumble into small pieces
To cook the scallops
Melt the remaining 10g butter in a frying pan on a medium to high heat.
Cook the scallops for 3 minutes each side.
To assemble
Spread a dessert spoonful of the leek puree across each plate.
Top each with three scallops
Drizzle over the buttery juices from the pan.
Sprinkle with crispy bacon and kale chips.
Place a few kale chips up either side of the row of scallops.
Farmersgirl Kitchen https://www.farmersgirlkitchen.co.uk/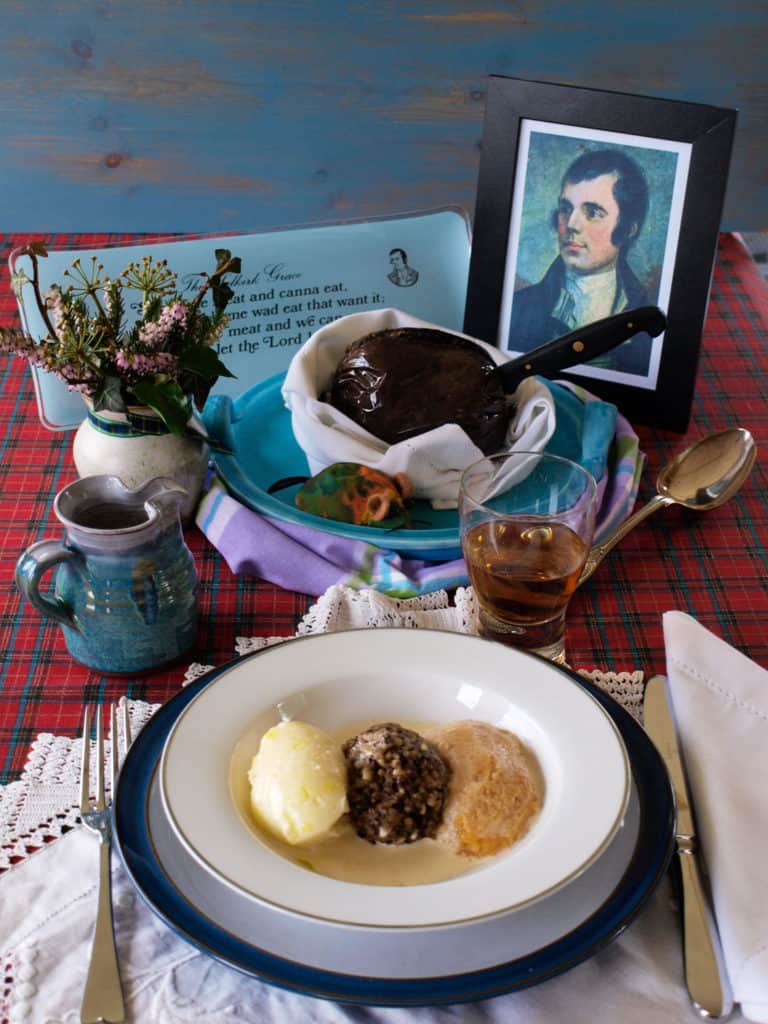 Then the time comes to serve the haggis, with its traditional accompaniments of bashit neeps (mashed swede) and champit tatties (mashed potato) less traditional is the whisky cream sauce I am serving with the haggis neeps and tatties, but oh boy is it good! Here is how to prepare the main event at your Burns Supper.
Haggis, Neeps and Tatties
2017-01-18 19:33:02
Serves 4
Ingredients
450g haggis
For the neeps
700 g swede
1 tsp whisky
1 tbsp cream
20g butter
Salt and pepper
For the tatties
500 g King Edward or Maris Piper potatoes (suitable for mashing)
25 ml milk
50 g butter
salt
For the whisky sauce
1 tbsp Balblair 90
200ml double cream
For the Haggis
Haggis can be cooked in different ways, traditionally it would be boiled, a 450g Haggis should be simmered for 45 min - 1 hour. I would advise that you wrap it in foil first in case the skin splits and bursts.
You can also wrap in foil and cook it in the oven at 190C in an ovenproof dish, half filled with water for about 1 hour 10 minutes.
Haggis takes well to being microwaved and this is the quickest method. Remove it from its skin and place in an oven proof dish, cover with cling film and microwave for 5 minutes on full power (800W or category E oven)
For the Neeps
. Method 1
Peel and dice
Cook in boiling salted water until tender, about 20- 30 minutes
Drain and mash with the cream, whisky and butter.
Season with copious amounts of black pepper
Method 2
Pierce swede all over. Cook upright 850 w. Cook for 1 minute per 100 g. Allow to stand for 1 minute then turn upside down. Cook for a further 1 minute per 100 grams Once cooked allow to stand for 5 minutes, cut in half and scoop out the centre and mash. Season to taste.
For the tatties
eel and half or quarter the potatoes depending on the size. Try to make the pieces of similar size so they all cook at the same time.
Cook in boiling salted water for 15-20 minutes
Drain well and mash well with the milk and butter. I put the potatoes through a potato ricer as it gives a lovely smooth mash with no lumps.
For the whisky sauce
Place in a pan and warm gently, serve in a jug at the table
Farmersgirl Kitchen https://www.farmersgirlkitchen.co.uk/
2005 Highland Single Malt Scotch Whiskey, 1st release
Only a handful of American oak, ex-bourbon casks laid down in 2005 were selected by Distillery Manager John MacDonald to form this classic Balblair expression. Sparkling gold in colour and full of character, this expression displays the classic Balblair house aromas of green apple, ground spices and honey on the nose with hints of sweet toffee and a deliciously spicy long finish on the palate. Furthermore, its notes of ground spice and oaky vanilla make it the perfect accompaniment to the traditional Burns Night supper of haggis, neeps and tatties.
At my Ultimate Burns Supper, the dessert is a twist on the classic Scottish Cranachan, a traditional dish made with cream, honey, whisky and oats with Scottish Raspberries. I have changed this up a bit, inspired by another Scottish classic: the Whisky Mac. Whisky Mac is a drink made by mixing whisky with Green Ginger Wine, the combination of whisky and ginger makes for a really warming drink. My Whisky Mac Cranachan features chopped ginger in syrup, and a ginger oat granola, I've used redcurrants, rather than raspberries, to add a little acidity to balance out the richness of the cream, they also make a really pretty garnish.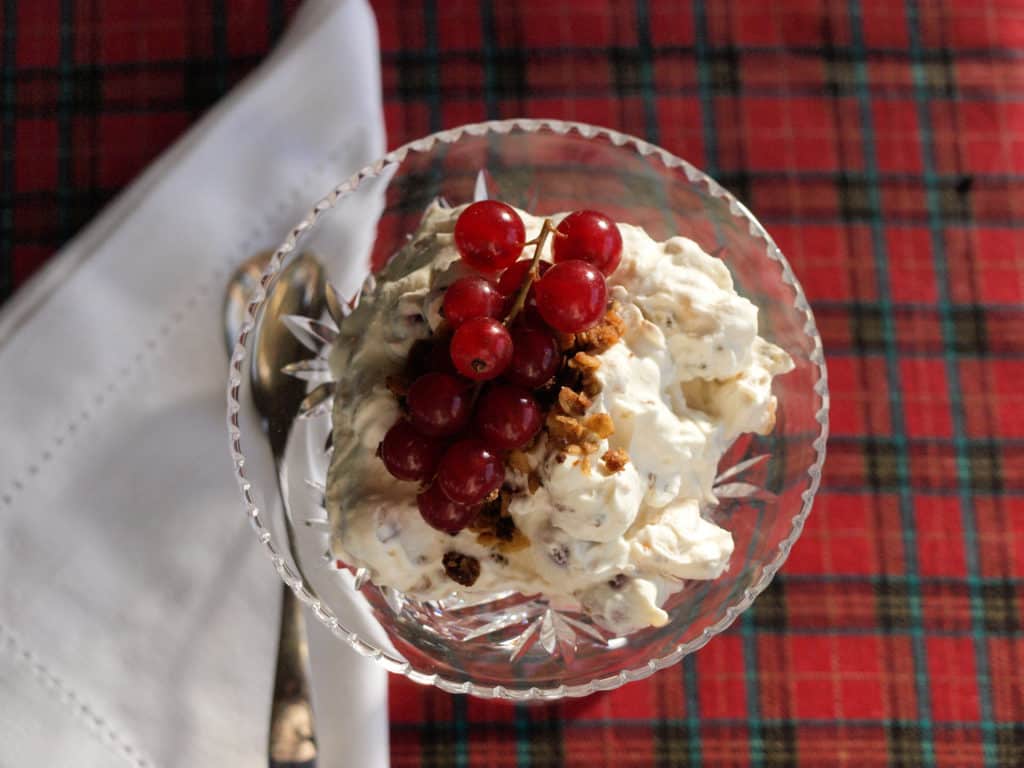 It's in the recipe, so alongside serve the 1999 Highland Single Malt Scotch Whiskey, 2nd release with the Whisky Mac Cranachan. It's a beautifully developed Balblair Vintage which boasts the classic, fruity, floral and light heart of Balblair set against a darker, richer backdrop of further maturation in Spanish oak.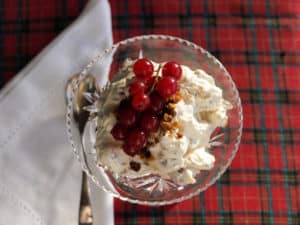 Whisky Mac Cranachan
2017-01-18 19:55:28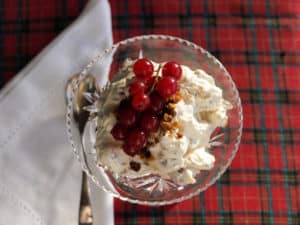 Serves 4
A traditional whisky, honey, cream and toasted oatmeal dessert, spiced up with ginger in syrup and the sweetness offset by fresh red currants.
Ingredients
70g rolled oats
35g butter
35g runny honey
1 tsp ground ginger
300 ml double cream
80 g ginger in syrup (4 balls)
45 g honey on the comb
150 g redcurrants (save four sprigs for decoration)
1 tbsp Green Ginger Wine
1 tbsp Balblair 1999 Highland Single Malt Whisky, 1st Release
To make the ginger oat granola
Place the oats and ground ginger in a bowl and stir with a spoon, add the butter and runny honey.
Microwave for 2 minutes or until the butter and honey has melted.
Stir until all the oats are covered, turn out onto a baking tray in a shallow layer.
Bake at 180 C for 10-15 minutes. Check after 5 minutes and stir to ensure the granola browns evenly.
Once the granola is a deep golden brown, remove from the oven and leave to cool.
To make the Cranachan
Whip the double cream until your beaters just start to leave a trail in the cream. You don't want it too thick as the oat granola will thicken it.
Chop the preserved ginger balls into small pieces.
Chop the honeycomb into small pieces.
Using a fork, remove the redcurrants from their stalks (keep four stalks for decoration)
Mix the ginger, honeycomb and redcurrants into the whipped cream. Add 1 tbsp Green Ginger drink and 1 tbsp Balblair 1990 Highland Single Malt Whisky and stir to combine.
Just before serving add 50g of the oat granola to the cream and stir gently.
To assemble
Spoon the cream mixture into four glasses, top each glass with a little more granola and a stalk of redcurrants.
Farmersgirl Kitchen https://www.farmersgirlkitchen.co.uk/
After dessert I would serve tea and coffee with
Scottish tablet
and
Balblair 1990 Highland Single Malt Whisky
, 1st release. It's matured in American oak ex-bourbon casks and Spanish oak ex-sherry butts. Blablair Vintage 1990 2nd release is truly exceptional, luxurious and the perfect after dinner treat and ideal to toast the Bard.
Next up in my Burns Supper programme would be Neil Oliver, the popular Scottish TV archaeologist, telling of the life of Robert Burns in the 'Immortal Memory' followed by Eddi Reader singing the songs of Burns including Ae Fond Kiss and Ye Jacobites. Fred McAuley has the right balance of wit and humour to provide an entertaining Toast to the Lassies and comedian, Susan Calman would be my choice to provide a robust reply to that toast.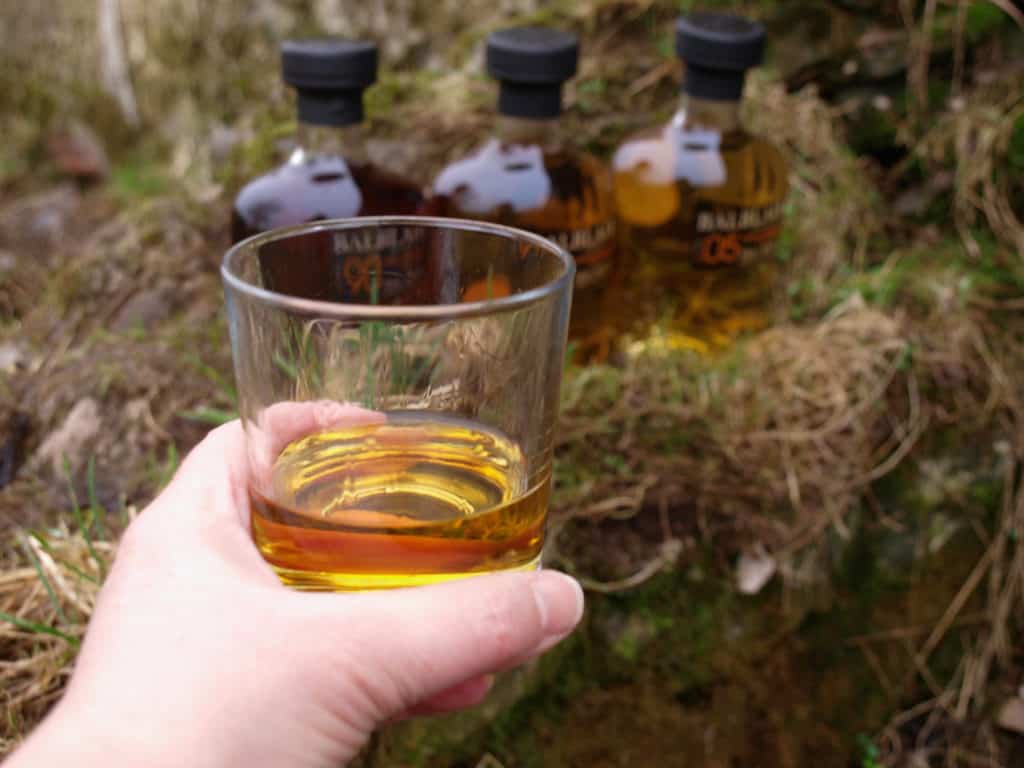 Of course, every toast requires you to lift your glass and take a sip of Balblair Whisky, so make sure you have plenty to go round! The evening would end with Eddi Reader leading the singing of Auld Lang Syne.
I hope you have enjoyed my Ultimate Burns Supper and that you'll try some haggis and raise a wee dram of Balblair whisky to toast Robert Burns on the 25th January.
For more information about hosting a Burns Supper and links to the poetry of Robert Burns, Visit Scotland have a comprehensive guide.
*********************************************************************************************
For more Burns Night recipes with Balblair Whisky visit these top UK bloggers:
Scotch Beef and Haggis Meatloaf with Whisky Neeps – Foodie Quine
Orange Bundt Cake with Salted Whisky Caramel – Recipes from a Pantry
Vegetarian Haggis and Mushroom Wellington – Amuse your Bouche
This is a commissioned post in association with Balblair Malt Whisky, all opinions are my own.