Haggis, Neeps and Tattie Pie is a thrifty way to stretch one haggis into a feast for eight people. This recipe is also a great way to introduce haggis to anyone who might be a little reluctant to try Scotland's national dish.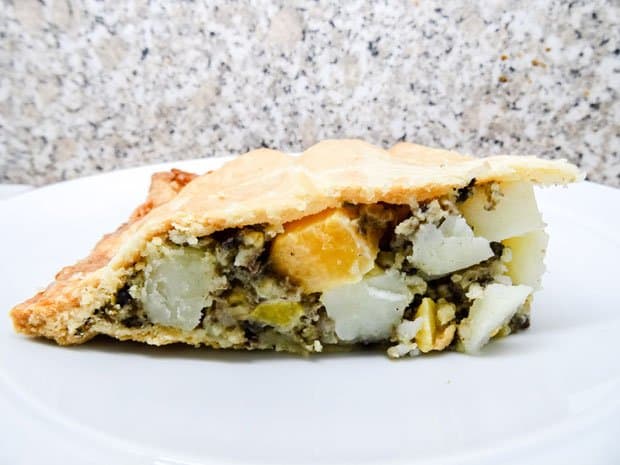 What is Haggis?
Every food culture has some kind of sausage in its repertoire. Whether it is a Bratwurst from Germany, Chorizo from Spain or a Boudin in France. Haggis is the Scottish equivalent of a boiled sausage.
However, instead of using the intestine of the animal to make a long sausage, haggis was traditionally made in the cleaned 'pluck' or stomach so giving it a round shape.
Although natural casings are still used synthetic ones are also common. Haggis is made with offal usually lamb heart, liver, and lungs and bulked out with oatmeal, onions, suet, seasoning, and spices before cooking.
Can I use Vegetarian Haggis?
Yes, I have tried some excellent vegetarian haggis. You can substitute vegetarian haggis for traditional haggis in this recipe.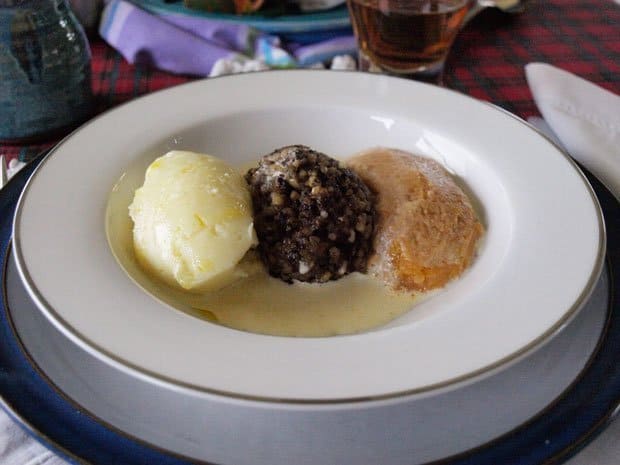 What are Neeps and Tatties?
Neeps are the Scottish dialect word for Turnips which is the name Scots give to the Swede or Rutabaga. The orange-fleshed vegetable with green or purple skin. Usually served mashed as in the photograph above.
Tatties are potatoes and a floury mashing potato is best for this recipe rather than a waxy salad potato. I use Maris Piper potatoes as they are an excellent all-rounder.
How to make Haggis Neeps and Tattie Pie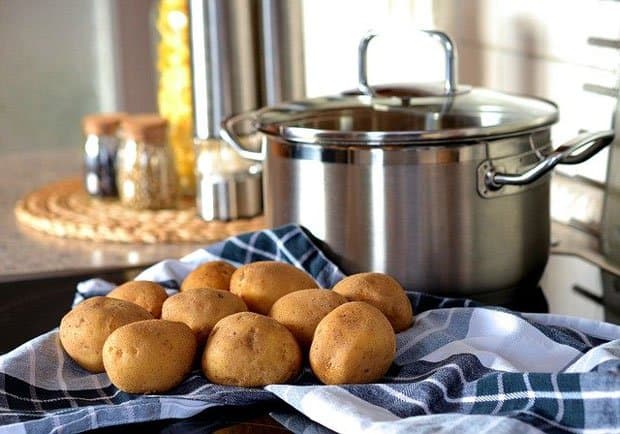 Peel the potatoes and the turnip (swede) and cut them into chunks. Boil each in a separate pan of salted water until they are just tender. Drain thoroughly and leave to cool for 15 minutes.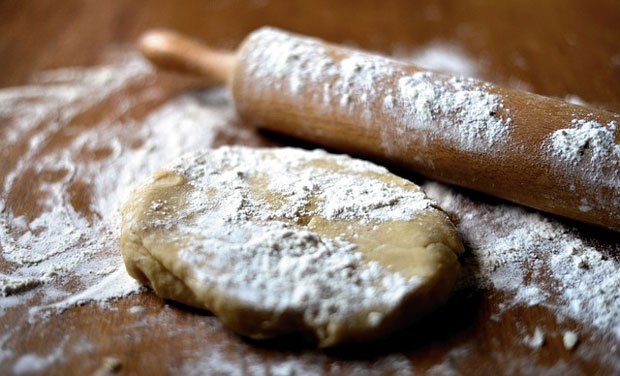 While the vegetables are cooking, make the pastry. Roll out two sheets of pastry to fit a baking sheet approximately 20 cm x 30 cm. Alternatively, you can use two sheets of ready-made shortcrust pastry.

Remove the casing from the haggis and cut it into dice. In a large bowl mix the haggis, turnip, and potato chunks with the whisky and cream.
Pile the mixture onto a sheet of shortcrust pastry laid on a baking tray. Brush the edges of the pastry with beaten egg.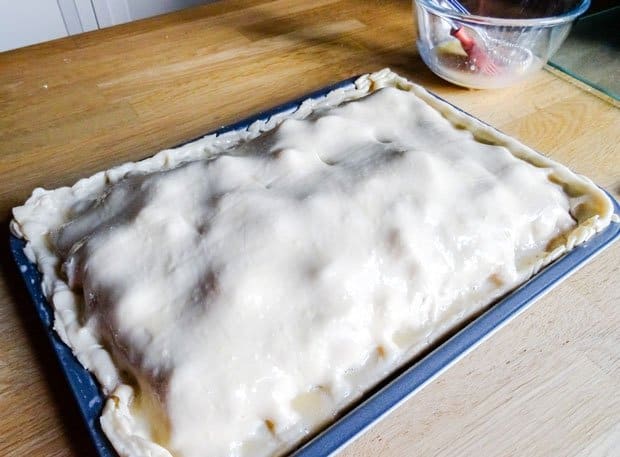 Cover the mixture with another sheet of pastry and crimp the two sheets of pastry together to seal the pie.
Brush the top of the pie with beaten egg and make four holes in the top to let out the steam.

Bake for 30 – 40 minutes until the pastry is golden and the filling is cooked.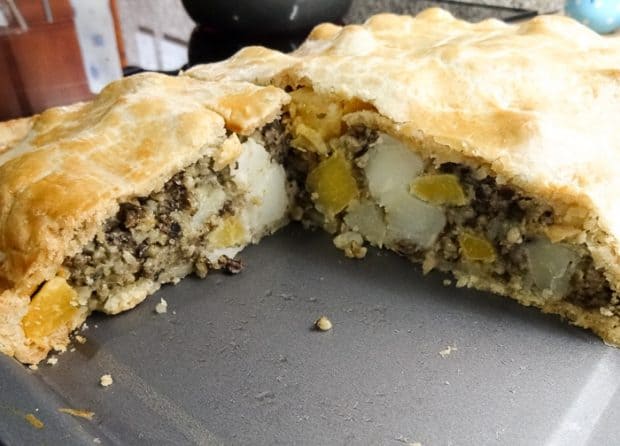 Serve in generous slices with gravy and cooked kale or savoy cabbage.
More Haggis Recipes from Farmersgirl Kitchen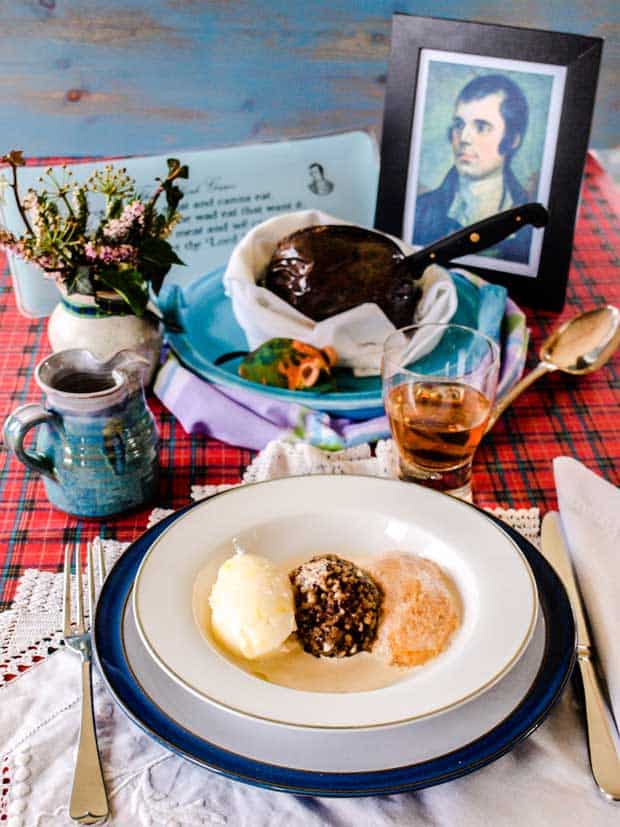 The Ultimate Burns Supper – Recipes and Traditions. Everything you need to host your own Burns Supper to celebrate Scottish poet Robert Burns.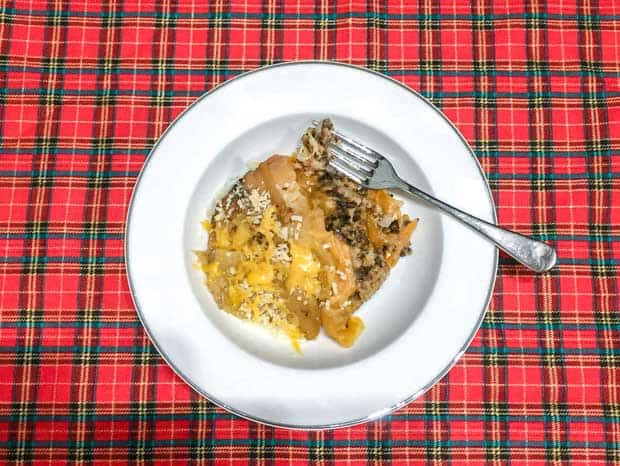 How to make Slow Cooker Haggis 'Lasagne' with no pasta.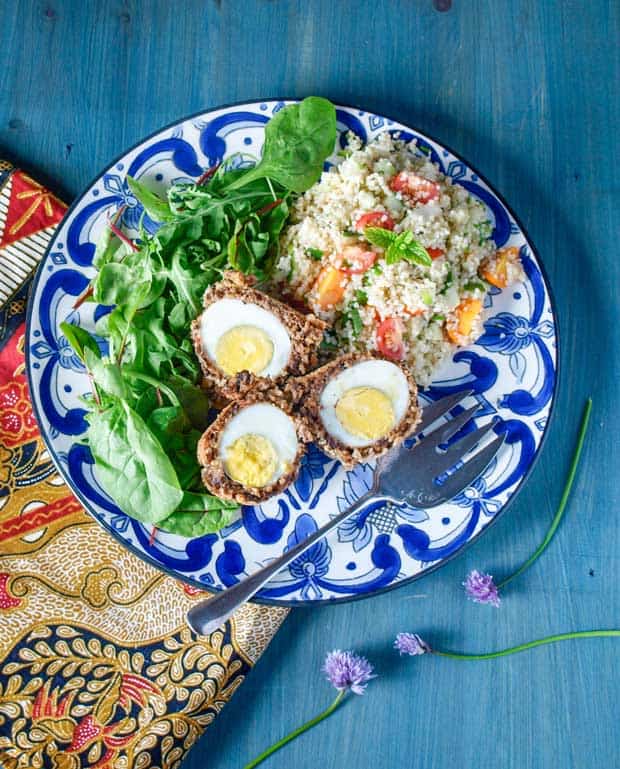 Use Vegetarian Haggis to make these delicious spicy Moroccan Vegetarian Scotch Eggs.
More Haggis Recipes
Veggie Haggis and Onion Chutney Toasties – Tinned Tomatoes
Haggis, Neeps and Tatties Stack with WHisky Sauce – Christina's Cucina
Vegan Beer Battered Haggis Bites – Tinned Tomatoes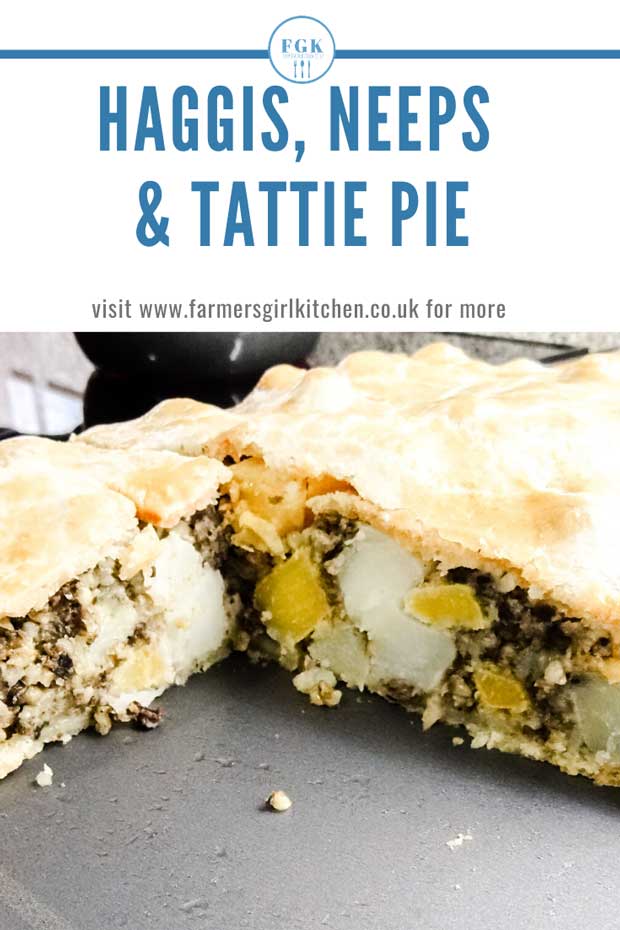 PIN FOR LATER
Are we connected?
Stay in touch with everything that's going on at Farmersgirl Kitchen.
Facebook Pinterest Instagram Twitter

Haggis, Neeps and Tattie Pie
A hearty, Cornish Pasty style pie simply made on a tray and filled with haggis, potatoes and swede with a little cream and whisky.
Ingredients
For the pastry (or use two sheets of ready-made shortcrust pastry)
500

g

plain flour

200

g

butter

diced

70

g

lard or baking fat

diced

1

tsp

salt

2

eggs

one whole and one egg yolk
For the filling
1

small haggis

1

small turnip

swede, peeled and cut into 2cm dice

3

medium potatoes

peeled and cut into 2cm dice

1

pack of shortcrust pastry sheets or make your own pastry

2

eggs

100

ml

double cream
Instructions
Simmer the turnip and potatoes in salted water until just starting to soften, about 5 minutes for the potato and about 10-15 for the turnip (swede).
To make the pastry
Sift the flour into a bowl, rub in the fats with your fingertips until the flour mixture resembles breadcrumbs. Or whizz in a food processor.

Add the salt and the beaten egg and mix to a dough, adding a little cold water if necessary. Try not to handle the dough too much as this makes it tough

Divide the pastry into two pieces and roll out each piece on a lightly floured work surface to fit your baking tray.

Open the haggis packaging, slice and dice the haggis and cook in the microwave according to the pack instructions.

Mix the haggis, potato and turnip together with 1 egg, double cream and the whisky, if using.

Line a medium baking tray with one sheet of pastry, brush around the edge with beaten egg. Add the filling mixture and cover with the other sheet of pastry, crimping the edges of the pastry to seal.

Make two or three steam holes in the top of the pie and brush with more beaten egg.

Bake the pie for 30-40 minutes until the top is golden brown. Serve sliced with green vegetables, you may also wish to serve gravy if you prefer.
Notes
Serve the Haggis, Neeps and Tattie Pie with green winter vegetables such as kale or savoy cabbage and gravy, if liked. The texture is similar to a Cornish Pastythe pie also tastes good served cold.
Nutrition
Calories:
353
kcal
Carbohydrates:
33
g
Protein:
6
g
Fat:
7
g
Saturated Fat:
3
g
Cholesterol:
58
mg
Sodium:
205
mg
Potassium:
527
mg
Fiber:
3
g
Sugar:
2
g
Vitamin A:
245
IU
Vitamin C:
21.2
mg
Calcium:
63
mg
Iron:
4.1
mg
Don't Miss My Latest Recipes
CLICK TO SUBSCRIBE NOW to join my newsletter list & receive a FREE 'How To Adapt Recipes For Your Slow Cooker' printable!