These Vegetarian Haggis Scotch Eggs are an absolute delight to make and eat. The veggie haggis makes the perfect covering for the eggs and they are ideal warm or cold served with salad.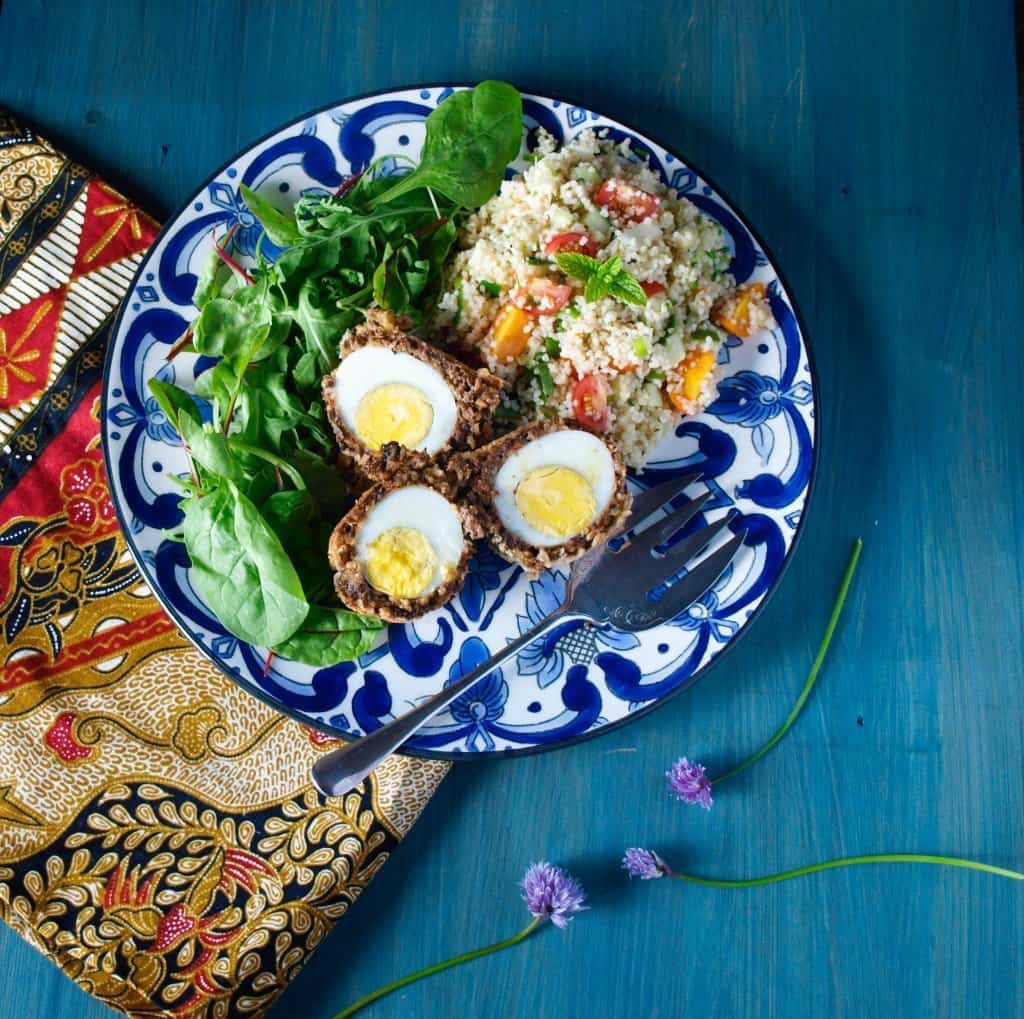 What is a Scotch Egg?
A Scotch Egg is a hard-boiled egg covered in sausagemeat and breadcrumbs then deep-fried. These delicious snacks were a part of my childhood and always popular on picnics or served with salad.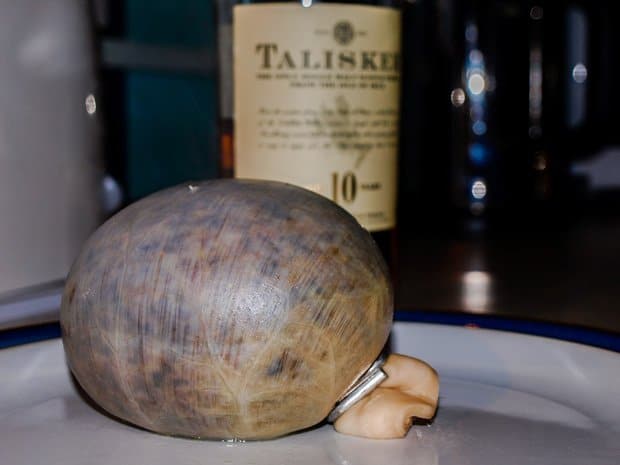 What is haggis?
Haggis is Scotland's national dish. It's made with lamb, beef, oats onions and spices and tastes like a sort of peppery mince sausage.
Traditionally the 'bag' or casing for the haggis is a cleaned sheep's stomach. However, other casings are used and vegetarian haggis has a suitably vegetarian casing.
Read How to Host the Ultimate Burns Supper with a recipe for Haggis, Neeps & Tatties in a Whisky Sauce for more information.
Are Scotch Eggs Scottish?
The origin of Scotch Eggs is really interesting. It comes not from Scotland but from the word 'Scorched' or cooked over an open flame. As language changed this became Scotched and then Scotch.
London's Fortnum & Mason became a key supplier of quality Scotch Eggs in the 18th Century, providing this tasty snack to wealthy travellers.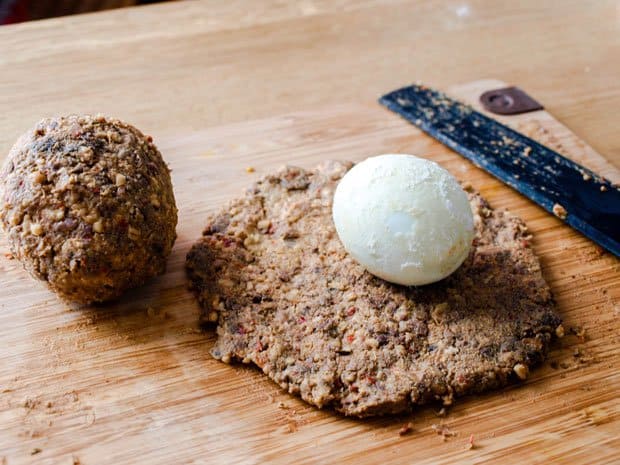 How do you make a vegetarian haggis Scotch Egg?
The recipe is much easier to make than it looks and the flavours are really good, so do give it a try.
My version of the classic recipe uses a vegetarian haggis to surround the boiled egg. It is then covered in breadcrumbs and shallow fried, then baked.
What are the ingredients in vegetarian haggis?
The ingredients for a vegetarian haggis vary depending on who makes it. Here are some typical ingredients:
Oats
Fats
Kidney Beans
Carrot
Swede
Mushrooms
Red Split lentils
Onions
Pumpkin Seeds
Sunflower seeds
Spices
Salt
Can you buy vegetarian haggis?
Yes, there are a number of different companies who make vegetarian haggis. Many of them have online shops and will deliver their products to you by mail or courier.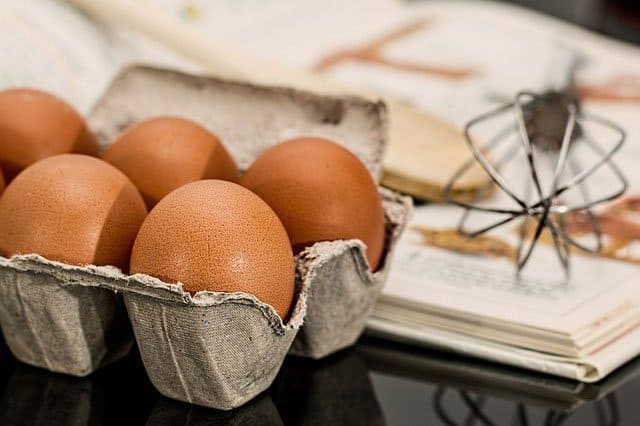 What kind of eggs should I use?
This recipe is made with large hen's eggs. I recommend free-range and organic eggs but you can use any good quality fresh eggs for this recipe.
I don't have Panko breadcrumbs is there anything else I can use?
Panko breadcrumbs are widely available and provide the best crisp finish. However, if you can't get them, you can make your own white breadcrumbs.
Use a food processor or blender to blend day old white bread
Spread the breadcrumbs on a baking sheet
Bake at 150C for 10-15 minutes, turning the crumbs with a spatula every 5 minutes
The crumbs should remain a pale colour, reduce the heat of the oven if they start to turn golden.
Leave to cool then use as Panko breadcrumbs.
Can I deep-fry the Vegetarian Haggis Scotch Eggs?
In this recipe the Scotch Eggs are baked and shallow fried becuase the the vegetarian haggis is not as sticky or robust as sausage meat. I would not recommend deep-frying this particular recipe.
Can I freeze Vegetarian Haggis Scotch Eggs?
No, this recipe is not suitable for freezing. The hard-boiled eggs would become rubbery and the haggis would become dry.
Store the finished Scotch Eggs in a closed container in the fridge no more than one day before eating.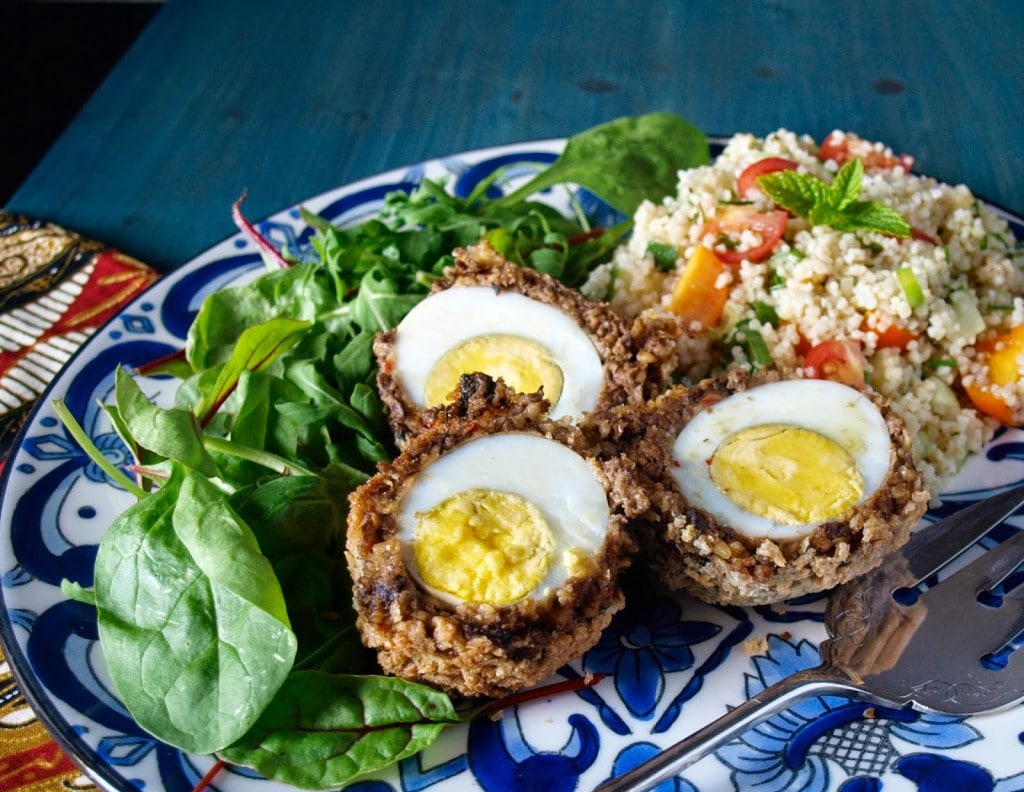 How do I serve Vegetarian Scotch Eggs?
Serve at room temperature with Lemon & Mint Tabbouleh, a bulgur wheat side dish,  and a mixed leaf salad.  
Serve warm with chips (fries) and baked beans in tomato sauce.
Pack in a rigid container and serve as part of a picnic with cherry tomatoes and carrot batons.
More Vegetarian Recipes from Farmersgirl Kitchen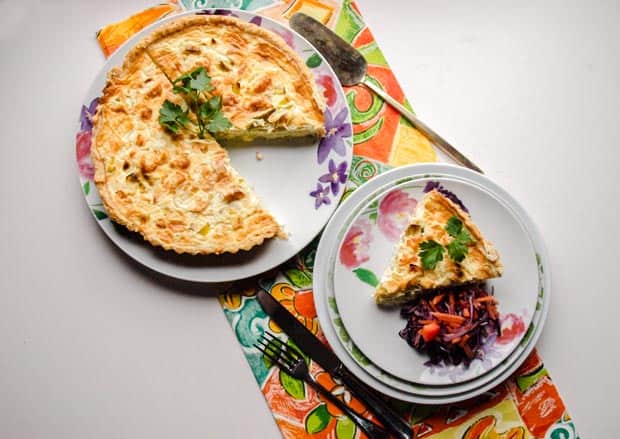 Leek & Cheese Tart is a double cheese delight.  Follow the step by step instructions for a melt in the mouth cheese pastry case filled with a creamy custard, gently sautéed leeks with delicious little chunks of cheese.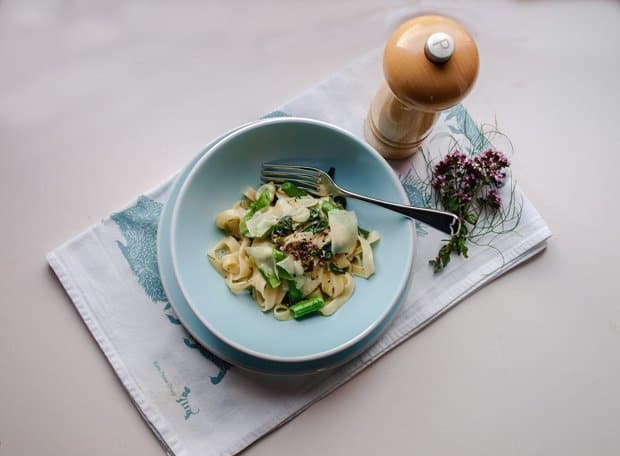 Creamy Pasta with Summer Vegetables is a simple seasonal recipe using fresh peas, beans, and herbs from my garden.  If you don't grow your own vegetables you can still make this recipe.  All of these vegetables are available to buy from a market or supermarket.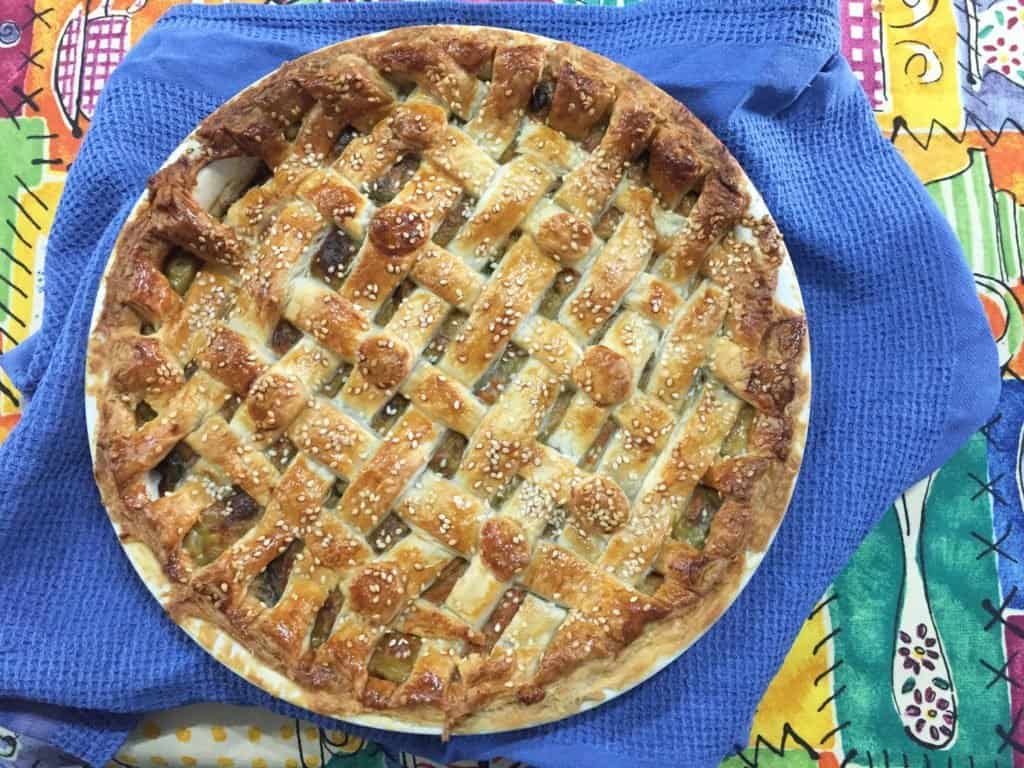 This Easy Cheesy Vegetable Lattice Pie is impressive enough for Sunday lunch and simple enough for a weeknight supper.   
More Scotch Egg Recipes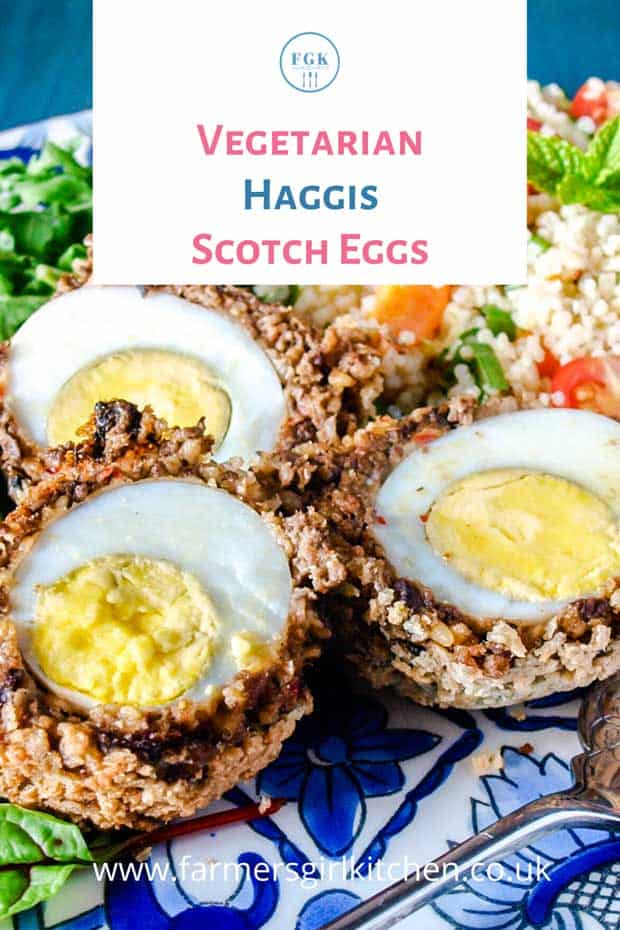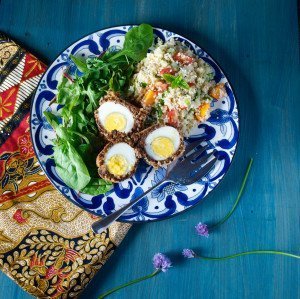 Vegetarian Haggis Scotch Eggs
These Vegetarian Haggis Scotch Eggs are an absolute delight to make and eat. The veggie haggis makes the perfect covering for the eggs and they are ideal warm or cold served with salad.
Ingredients
3

eggs

hard boiled for 5 minutes, cooled under cold water and peeled.

1

egg

lightly beaten

1

tablespoon

flour

227

g

Vegetarian Haggis

25

g

panko crumbs

3

tablespoons

oil
Instructions
Divide the Haggis evenly into three pieces. Lightly flour your work surface and pat down each portion of the haggis into a 12-14cm circle.

Roll the eggs in the flour. Lift one of the haggis patties and place in the palm of your hand then place one of the eggs in the centre and pat and press the haggis around it to coat. Repeat with the other eggs.

Spread the panko breadcrumbs on a plate, brush the haggis covered eggs with the beaten egg and then dip into the panko crumbs and press them on to cover.

Place the 'Scotch Eggs' on a baking parchment lined baking tray and chill for 30-40 minutes. Heat the oven to 190C/Gas 5

Fry the Scotch Eggs in the oil just to brown the crumbs, if you cook them too long they will start to split.

Bake for 10-12 minutes, drain on kitchen paper and serve either slightly warm or cold.
Notes
I served the Vegetarian Haggis Scotch Eggs with Tabbouleh and a mixed leaf salad. This was much easier to make than I had anticipated and the flavours were superb.
Nutrition
Calories:
430
kcal
Carbohydrates:
8
g
Protein:
9
g
Fat:
20
g
Saturated Fat:
3
g
Cholesterol:
218
mg
Sodium:
144
mg
Potassium:
97
mg
Fiber:
1
g
Sugar:
1
g
Vitamin A:
317
IU
Calcium:
48
mg
Iron:
2
mg
Don't Miss My Latest Recipes
CLICK TO SUBSCRIBE NOW to join my newsletter list & receive a FREE 'How To Adapt Recipes For Your Slow Cooker' printable!
Share by Email