This recipe for Slow Cooker Lamb with Rosemary Garlic and Lemon couldn't be easier to make. You simply marinate a leg of lamb with rosemary, garlic and lemon overnight and pop in the slow cooker in the morning.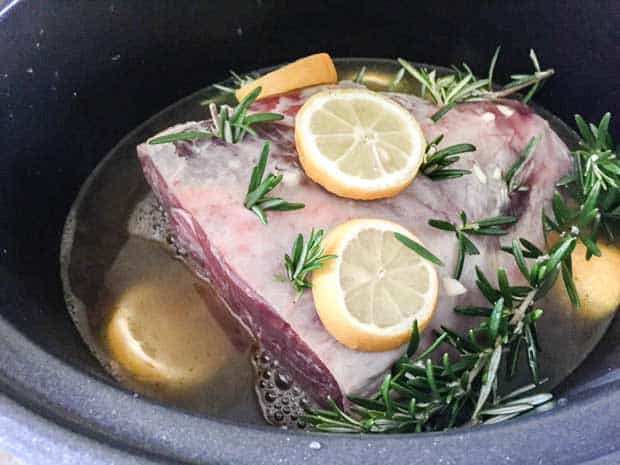 I really like to get the prep out of the way the night before and have a minimum wok in the morning.
Marinading overnight means you get a lot more flavour from the long marinating time as well as from the long slow cooking time.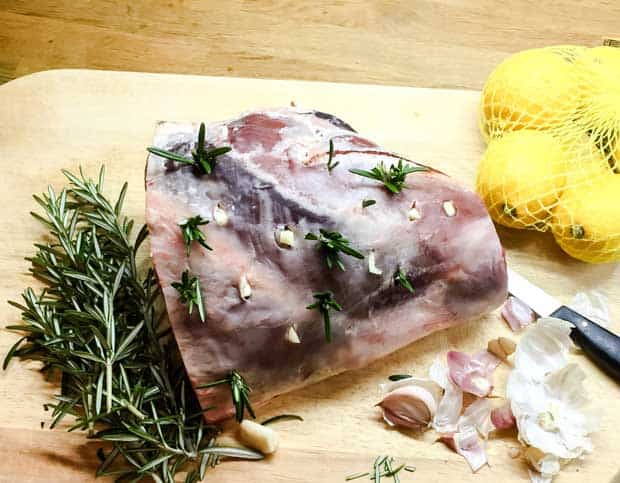 Preparing the Slow Cooker Lamb with Garlic, Rosemary and Lemon
Prepare the leg of lamb by making small slits with a sharp knife.
Peel the garlic and cut into slivers.
Put the garlic pieces into half of the slits.
Cut or pull off short pieces of fresh rosemary and push these into the remaining slits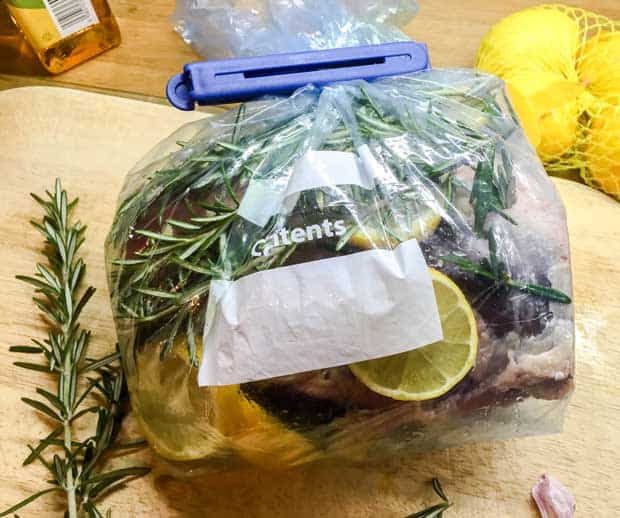 Marinate the Lamb
Place the lamb and the rest of the ingredients in a bag or a bowl which can be sealed. Leave overnight for all the flavours to permeate the leg of lamb.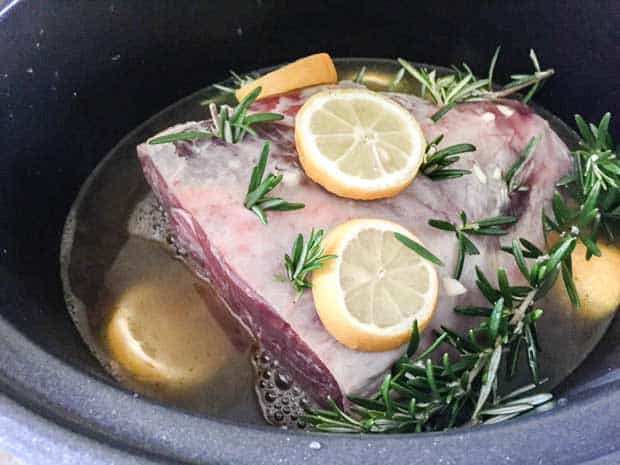 In the morning place the lamb, lemon slices, herbs and the marinade juices into the slow cooker and cook on low for 8 hours.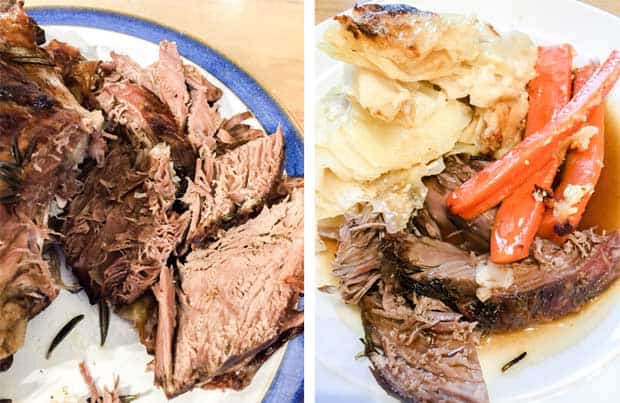 The lamb was delicious, falling apart and full of flavour. I made gravy with the juices and served it with a potato and celeriac gratin and roasted carrots.
More Slow Cooker Meat Joints from Farmersgirl Kitchen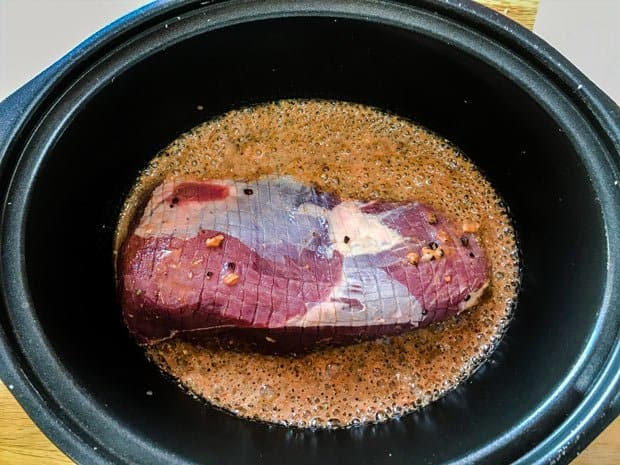 Another overnight marinated recipe is Slow Cooker Chipotle Chilli Beef it really packs a punch of flavour.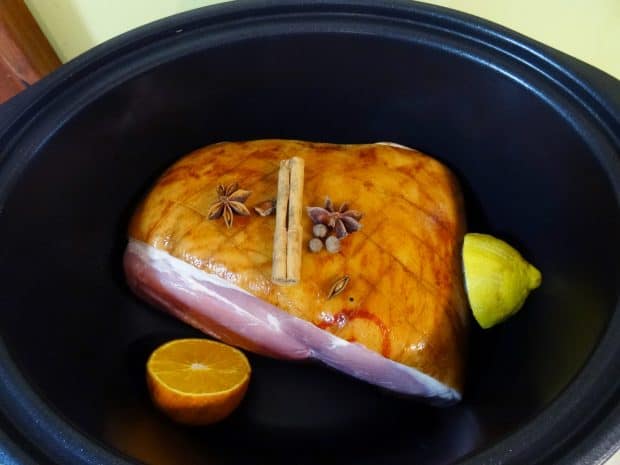 Slow Cooker Spiced Ham combines citrus and spices for a delicious and simple cooked ham.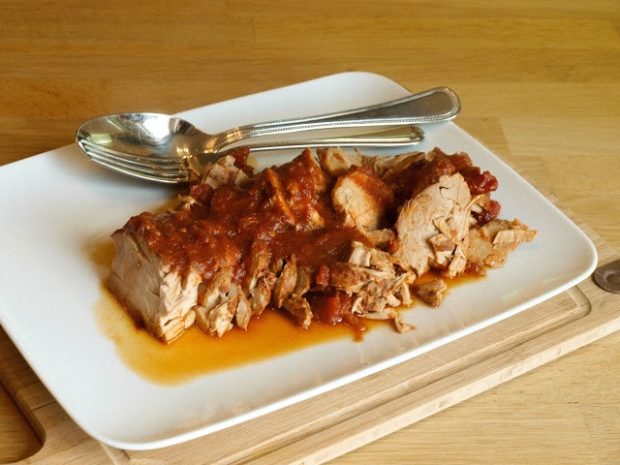 Slow Cooker Spicy Tomato Pork Tenderloin creates its own sauce as it cooks and is moist and delicious.

Why not try this Slow Roasted Lemon Pepper Chicken, it's cooked in your oven not the slow cooker and you get a crisp skin and succulent meat that falls off the bone.
More Slow Cooker Meat Joints
Slow Cooker Shoulder of Lamb with Apricot and Chestnut Stuffing – Fab Food 4 All
Slow Cooker Pork Roast with Sage and Onion Stuffing – Baking Queen 74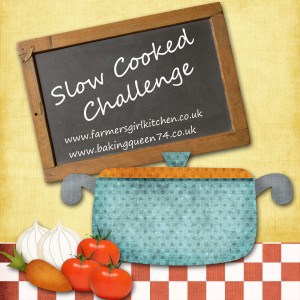 This is my entry for The Slow Cooked Challenge this month. The Slow Cooked Challenge is a monthly Linky party for all slowly cooked food which I run with Lucy from Baking Queen 74. You can read all the information about the challenge and join in our March 'Oranges and Lemons' Citrus Linky CLOSED.

I'm also adding it to Cooking with Herbs the Linky Party run by Karen at Lavender and Lovage. The theme this month is Herbs for Easter and Spring, and this lamb dish is ideal for Easter or Spring entertaining.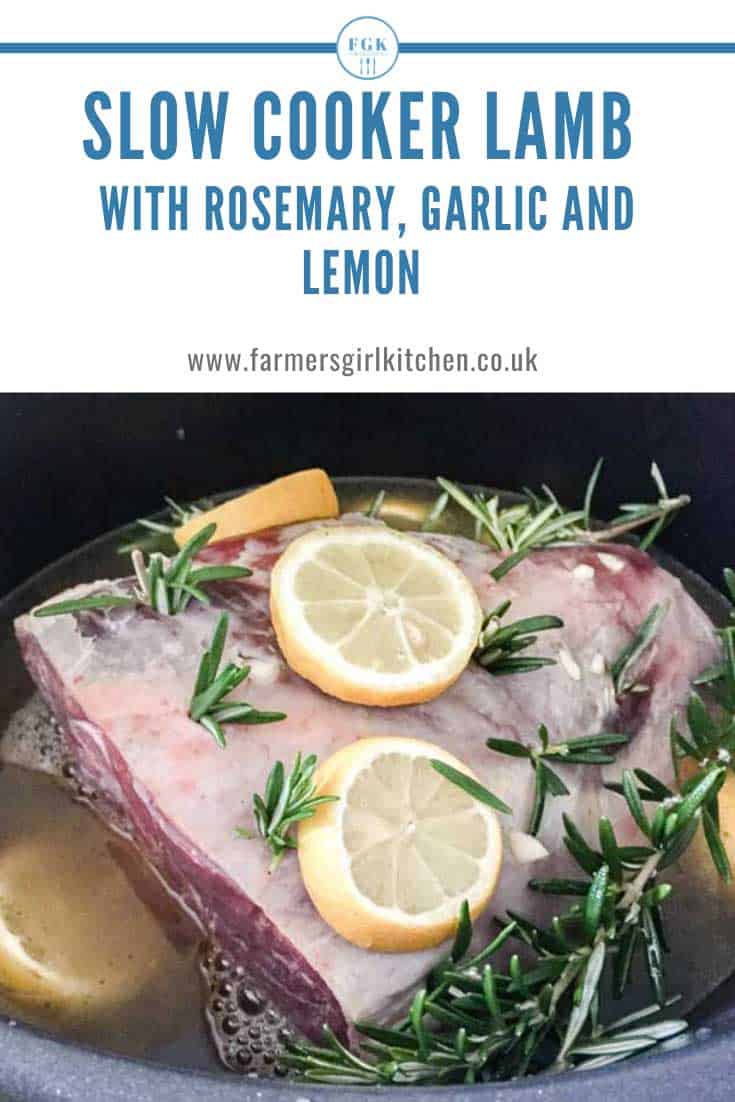 Are we connected?
Stay in touch with everything that's going on at Farmersgirl Kitchen.
Facebook Pinterest Instagram Twitter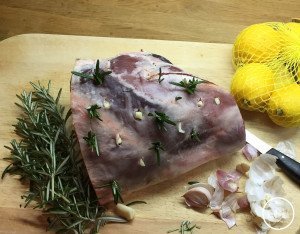 Slow Cooker Lamb with Rosemary and Lemon
A fragrant leg of lamb flavoured with rosemary, garlic and lemon. Start your prep the night before for a really easy 'roast'.
Ingredients
2

kg

Leg of Scotch Lamb

bone in for more flavour

4

sprigs of rosemary

3

cloves

of garlic

1

lemon

sliced

2

tbsp

of olive or rapeseed oil

1

litre lamb stock

salt and freshly ground black pepper
Instructions
Pierce the leg of lamb all over with the tip of a sharp knife.

Push pieces of rosemary into half of the holes and slivers of garlic into the other half making sure you distribute them evenly.

Place the lamb into a large plastic bag, add the lemon slices and the remaining rosemary sprigs and the oil into the bag and season well.

Seal the top of the bag with a clip and place in the fridge.

Place the bag in the fridge overnight.

In the morning, empty the contents of the bag into your slow cooker or crockpot and add a litre of lamb stock.

Cook on low for 8 hours.
Notes
I finished the joint off in the oven for 20 minutes at 180C, just to crisp it up, but that is optional.
Nutrition
Calories:
317
kcal
Carbohydrates:
2
g
Protein:
43
g
Fat:
14
g
Saturated Fat:
3
g
Cholesterol:
134
mg
Sodium:
131
mg
Potassium:
637
mg
Vitamin C:
10
mg
Calcium:
20
mg
Iron:
3.9
mg
Don't Miss My Latest Recipes
CLICK TO SUBSCRIBE NOW to join my newsletter list & receive a FREE 'How To Adapt Recipes For Your Slow Cooker' printable!