Slow Cooker Ham in Ginger Beer is a very simple recipe and the ginger beer adds a sweet and spicy flavour to a ham or gammon joint. Glaze with a sticky ginger preserve and serve it warm with mashed potatoes and seasonal vegetables or cold with salad and pickles.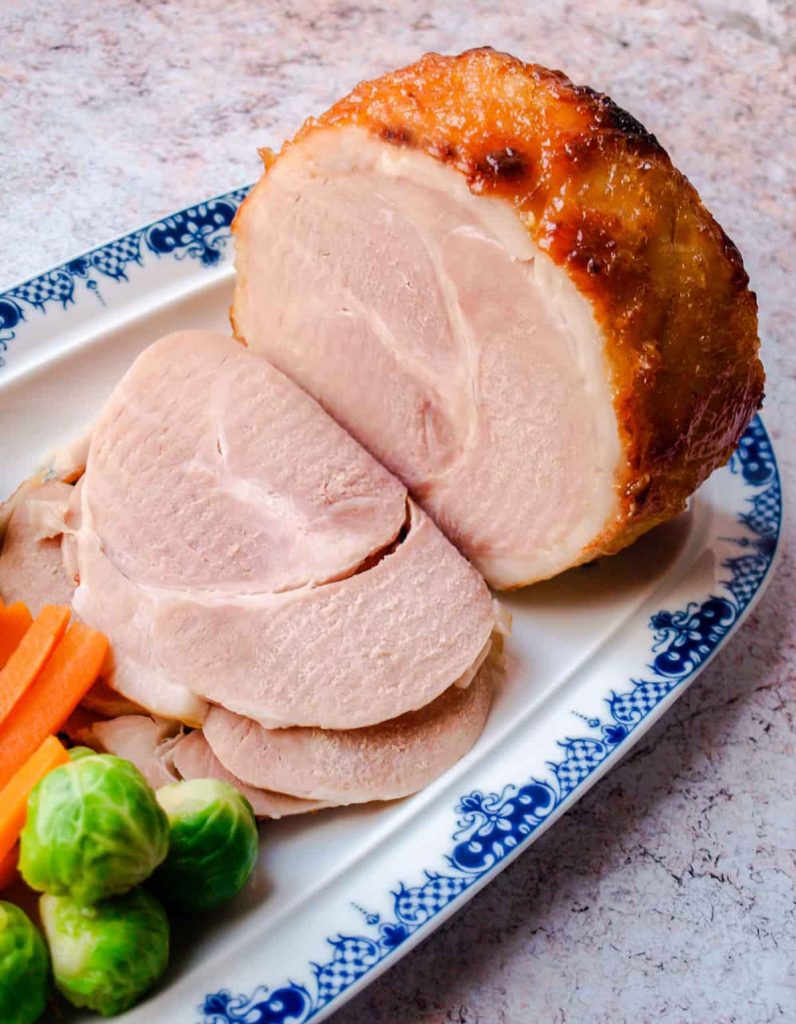 Why cook Ham in Ginger Beer?
The idea for the recipe came to me from recipes to cook ham or gammon in other fizzy drinks like cola or cider. I really like anything flavoured with ginger so I thought I'd try ginger beer for this recipe.
I later found out that both Mary Berry and Nigella have recipes for Ham in Ginger Beer so I'm obviously in good company!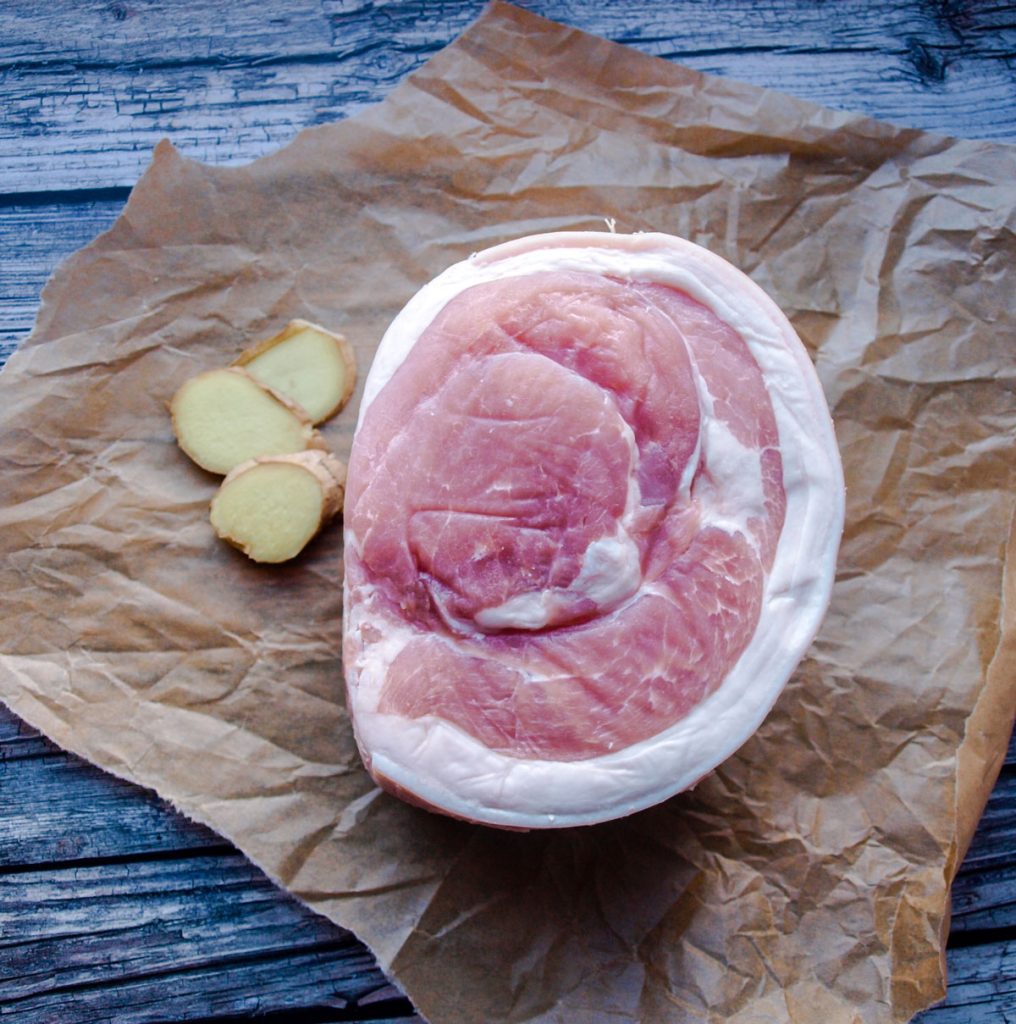 What kind of ham should I use?
This recipe is designed to cook a joint of ham or gammon. I prefer to use unsmoked for this recipe because it takes on more of the flavour of the ginger beer. But you can use either a smoked or unsmoked uncooked joint of ham.
What kind of Ginger Beer should I use?
I make this recipe with alcoholic ginger beer which has the strength of cider and is really delicious both to drink and to cook with. However, I do also make the recipe with non-alcoholic ginger beer and it is also very good.
Buy the best ginger beer you can afford. Look for a ginger beer with lots of ginger flavour and the more expensive brands sold in smaller bottles tend to have more ginger and a stronger flavour.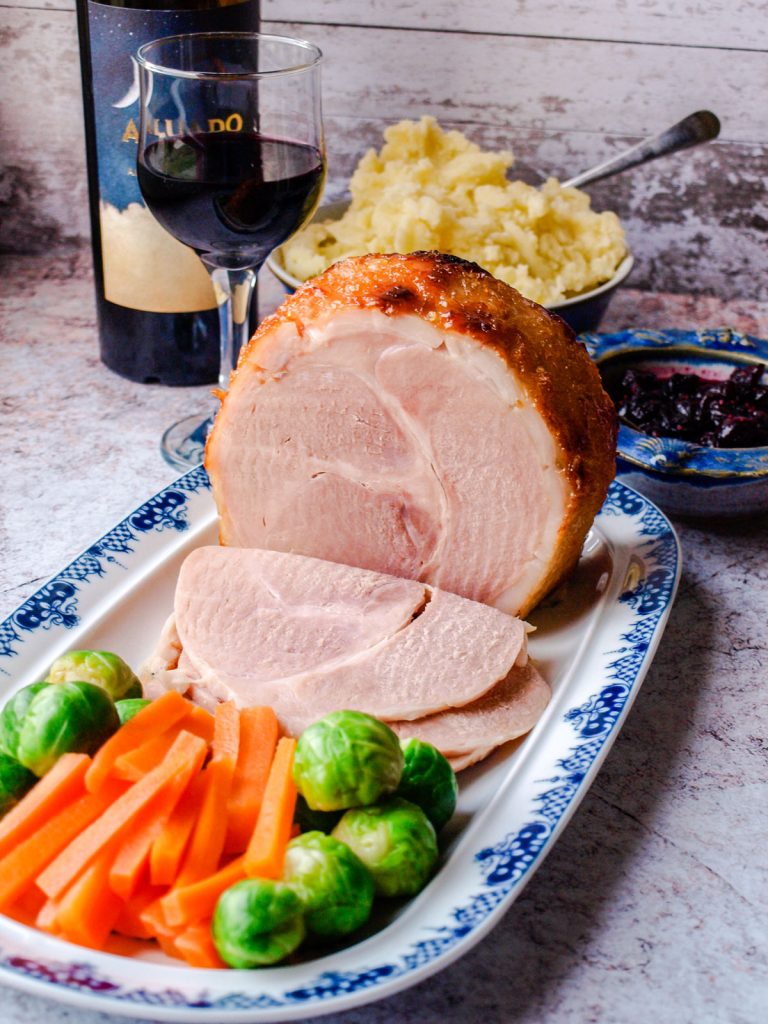 Why use a slow cooker to cook the Ham in Ginger Beer?
Reduce preparation time
This recipe for Slow Cooker Ham in Ginger Beer has almost no preparation time.
Make it ahead
Make the Slow Cooker Ham in Ginger Beer the day before, keep it in the fridge overnight and then add the glaze and oven roast as per the recipe.
Leave it to cook
It is ideal for busy days when you are going out to work or for fun. The ham is cooked when you come home. It is best with the glaze but you can eat Slow Cooker Ham in Ginger Beer just as it is from the slow cooker. You only need to add some vegetables or a salad to complete your meal.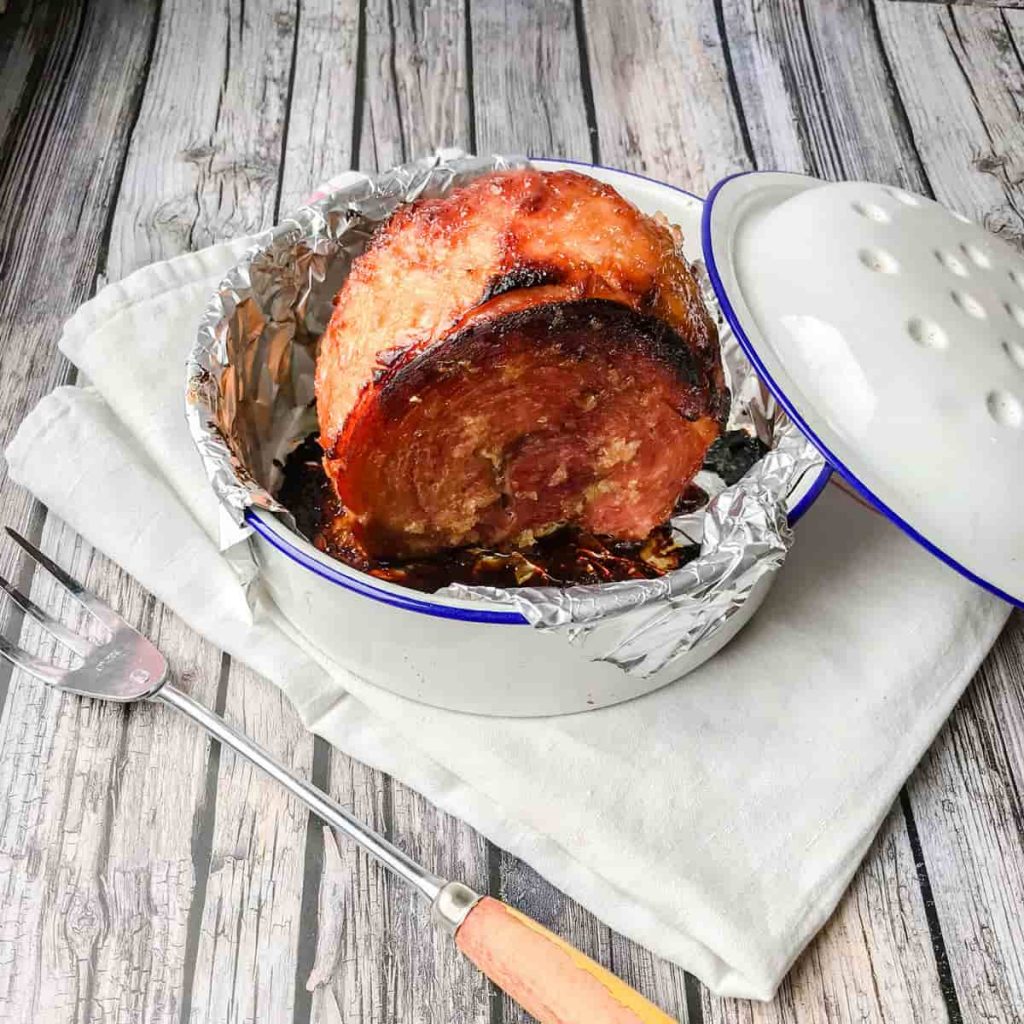 Slow Cooking makes gammon joints really tender
Slow Cookers are brilliant for cooking ham and gammon joints. The slow cooking makes the ham really tender and it's such a simple dish to make.
Reduce washing up
Put some foil in the bottom of the slow cooker or use a slow cooker liner to save it from sticking to the bottom of the pot and making a mess.
Put foil in the base of the roasting tin too, because the sweet, sticky glaze will stick fast to the tin. Whereas you can lift out the foil and it's much easier to clean.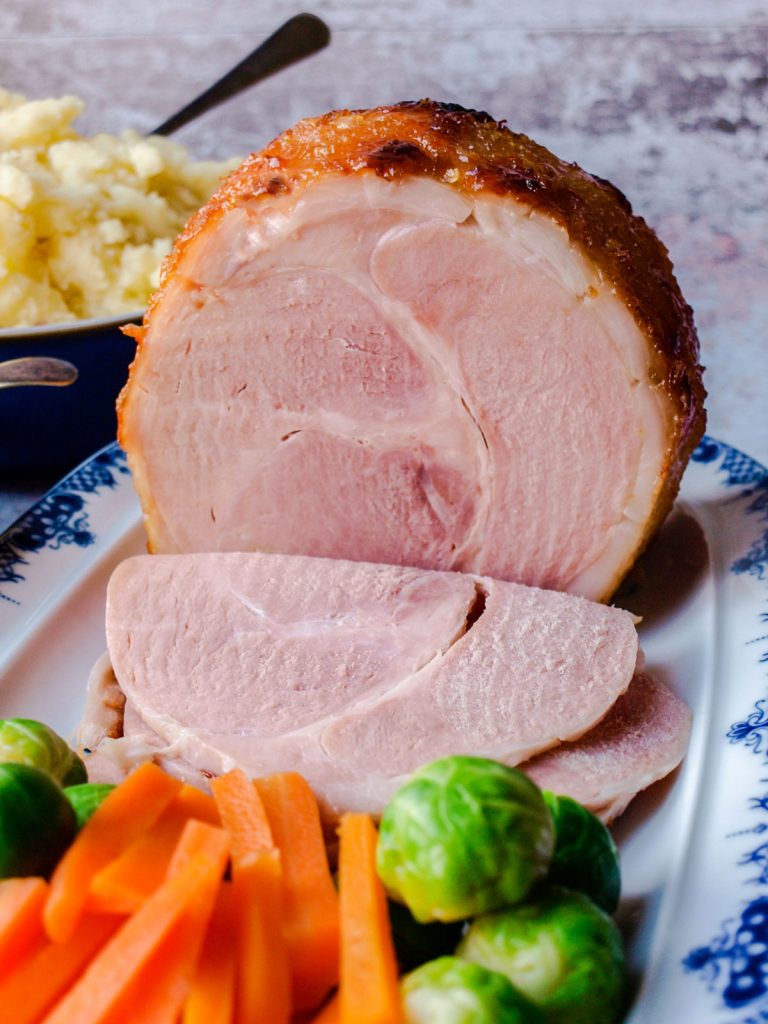 Ham so tender it falls apart
The ham is very tender, cut it into thick slices while still warm. If you want to use the ham to serve cold then check out my method for Slow Cooker Ham for Cold Cuts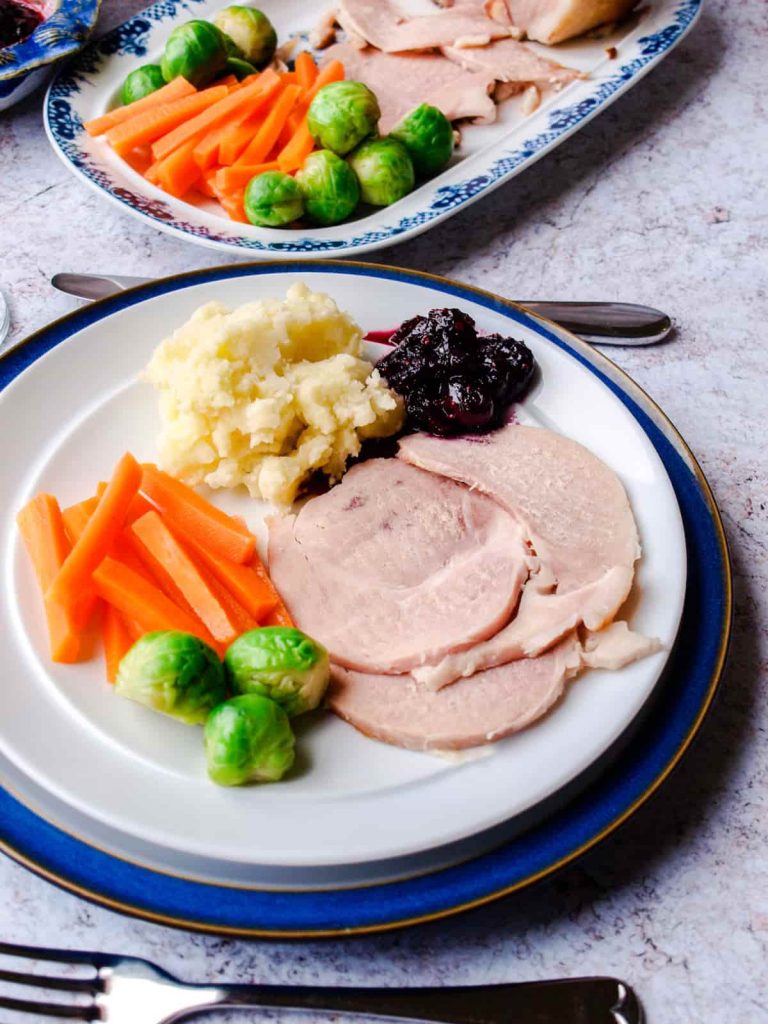 How to serve Slow Cooker Ham in Ginger Beer
Serve it hot
Serve the Ham in Ginger Beer ham with mashed potatoes, brussels sprouts and carrots. If you like gravy, try my Easy Blender Onion Gravy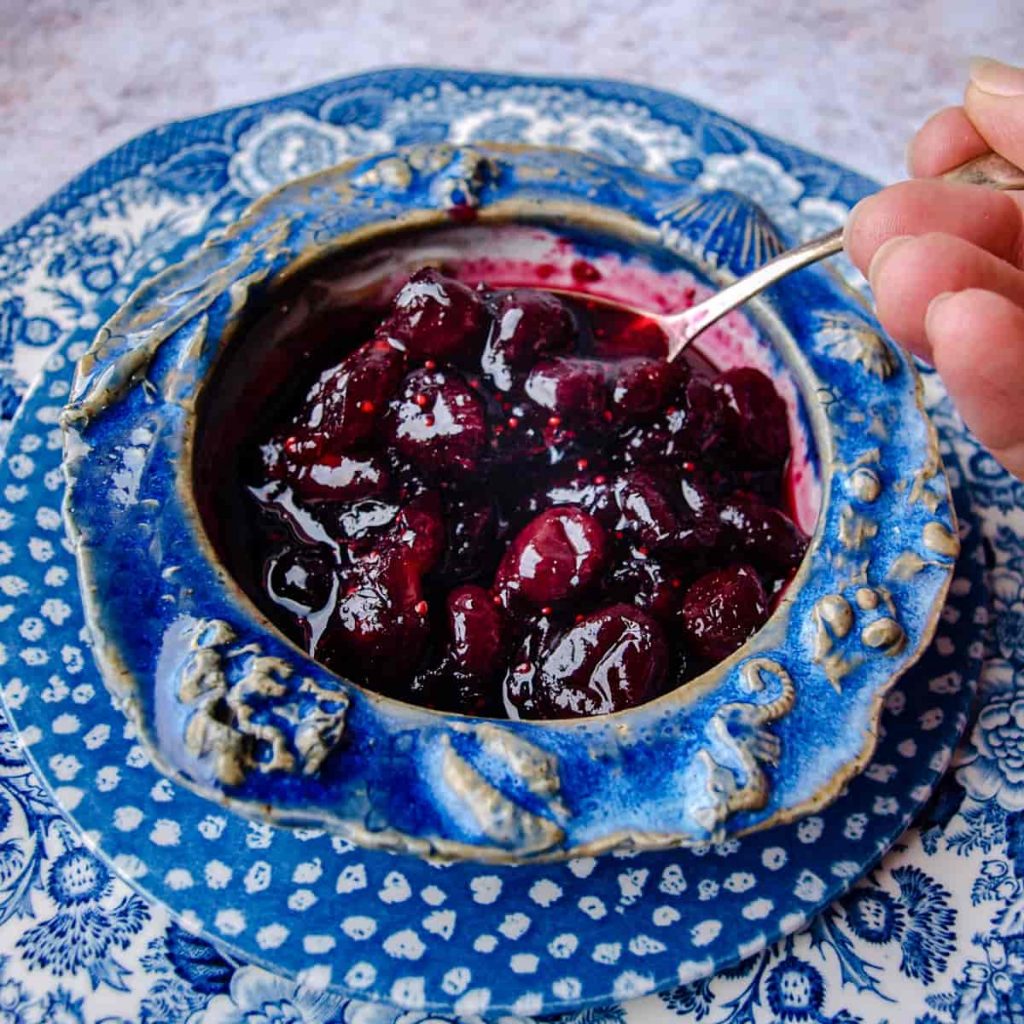 Or serve with this delicious three-ingredient Easy Cranberry & Red Wine Sauce which is probably my favourite Cranberry Sauce ever!

Although it's not traditional to serve stuffing with ham, the combination of sweet dried apricots and juicy pork sausagemeat in my Apricot & Sausagemeat Stuffing is a perfect match for Ham in Gingerbeer.
Warm ham is also delicious with boiled new potatoes, cauliflower and parsley sauce. Add a little of the cooking liquor to the parley sauce as it gives a lovely sweetness with just a hint of ginger.
Serve it cold
Serve the ham cold with salad and baked potatoes. The flavour of the Ginger Beer comes through more strongly in the ham slices when it is cold. It's ideal to serve with pickles, relishes and chutney.
Green Tomato, Apple & Pepper Chutney is the perfect way to use the last of the tomatoes of the season.
Sweet Cucumber Relish is a sweet, crunchy and pickled relish that is ideal to liven up your sandwiches, burgers, salads and more.
Pineapple Chilli Jam is a sweet and spicy relish with a similar combination of flavours to mango chutney.
Good Value
I make the ham joint stretch to three meals for three adults, with reasonably sized portions. I think that is pretty good value all round.
More Ham Recipes from Farmersgirl Kitchen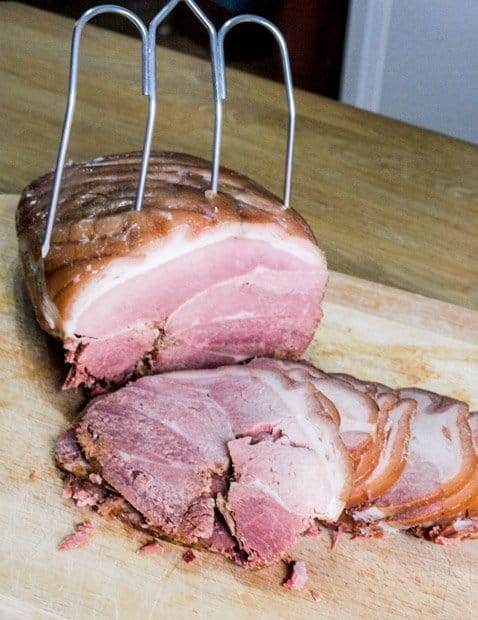 Slow Cooker Ham for Cold Cuts is a recipe that is so very simple and yet really rather clever. A slow cooker is great for cooking a joint of ham but the meat is very tender and can fall apart. This is fine when you are serving the ham warm, but when you want slices of cold ham you really want them to hold together.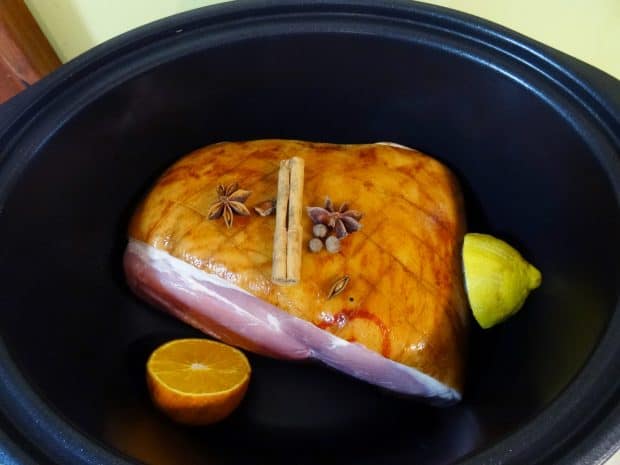 Slow Cooker Spiced Ham is the simplest of recipes. All you need to do is add the citrus fruits and spices to the Slow Cooker with the liquid of your choice. The juices and spices infuse into the ham during the long slow cooking, leaving the ham gently flavoured and wonderfully moist.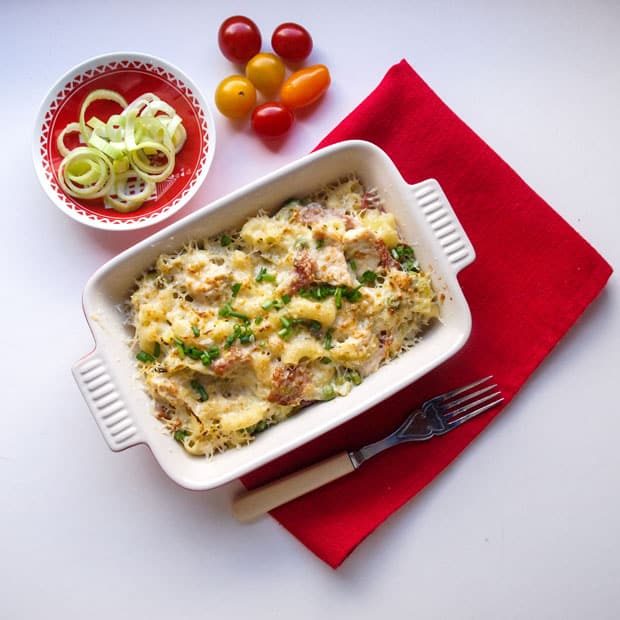 Leftover Turkey and Leek Pasta Bake is a great way to use the leftover turkey, chicken, or ham from a celebratory meal.

Leftover Ham Pate is a smooth processed spread made from leftover baked or boiled ham (gammon) combined with cottage cheese, a little honey, and some mustard. It's ideal to spread on bread, toast or crackers
Traditionally Roasted Ham Recipes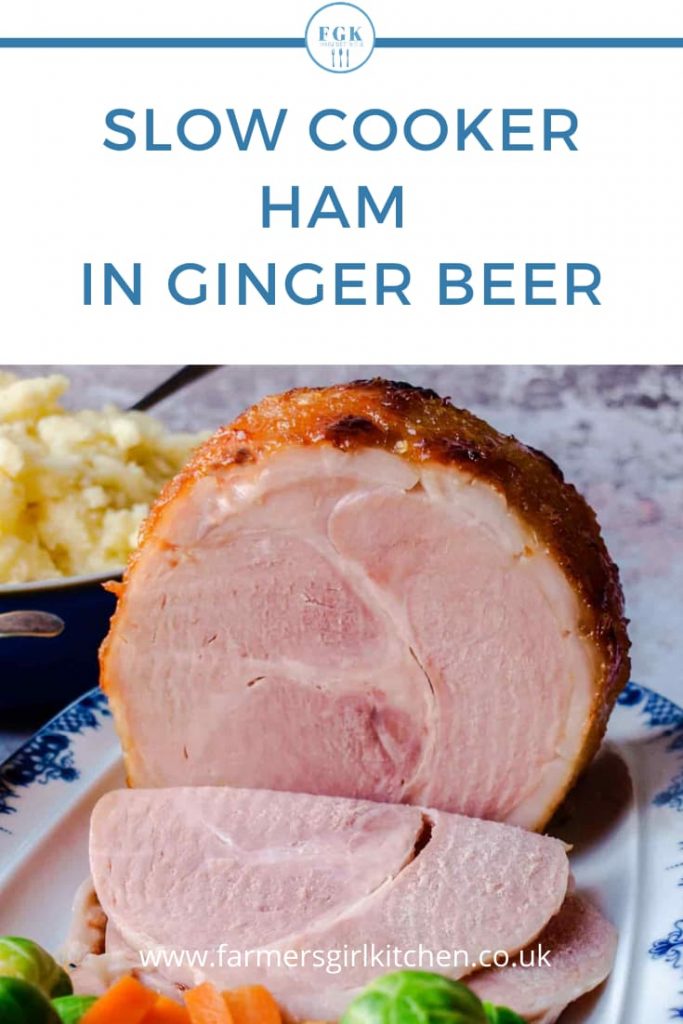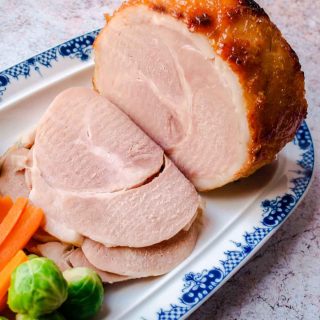 Slow Cooker Ham in Ginger Beer
Ham in Ginger beer has a sweet and spicy flavour, it's delicious warm served with mashed potatoes and seasonal vegetables or serve cold with salad and pickles.
Equipment
Slow Cooker

roasting tin

Measuring spoons

small saucepan

wooden spoon

Pastry brush
Ingredients
1

kg

ham or gammon joint

unsmoked

330

ml

Alcoholic Ginger Beer

or Ginger Beer

3

slices

fresh ginger root
For the glaze
3

tbsp

Ginger preserve

2

tbsp

water

1

tsp

grated fresh ginger root
Instructions
Cook the Ham
Place the ham and ginger root in the slow cooker and pour over the ginger beer.

Place the lid on the slow cooker and cook on HIGH for 4-5 hours.

When the cooking time is up, lift the ham from the cooker and drain. Discard the cooking liquid.
Make the Glaze
Place the ginger preserve in a small saucepan with 2 tbsp of water and a tsp of grated fresh ginger root.

Bring to the boil stirring with a wooden spoon to break down the preserve.

Simmer for 5 minutes, then pour into a bowl.
Roast the Ham
Remove the skin from the ham.

Cut across the fat with a sharp knife to create a diamond pattern.

Place the ham in a foil-lined roasting tin and brush all over with half the glaze.

Roast for 15 minutes, remove from the oven and brush over the remaining glaze.

Increase the oven temperature to 190C and roast for another 15 minutes until the glaze is golden.

Remove from the oven and set aside for 15 minutes before carving.
Nutrition
Calories:
339
kcal
Carbohydrates:
9
g
Protein:
27
g
Fat:
21
g
Saturated Fat:
7
g
Cholesterol:
78
mg
Sodium:
1489
mg
Potassium:
363
mg
Fiber:
1
g
Sugar:
7
g
Vitamin C:
1
mg
Calcium:
10
mg
Iron:
1
mg
Don't Miss My Latest Recipes
CLICK TO SUBSCRIBE NOW to join my newsletter list & receive a FREE 'How To Adapt Recipes For Your Slow Cooker' printable!
Share by Email