Do you indulge yourself when you are on holiday? I certainly do, so now the holidays are over it's back to counting calories and cutting out cakes from my diet. However, that doesn't have to mean dull and boring food, I'm on a mission to make some of my favourite dishes lower in calories. First up is Sweet and Sour Turkey Meatballs, the recipe is packed with flavour and comes in at under 300 calories including a portion of quinoa.

THE 5:2 FASTING DIET: You can read about my holiday indulgences in French Cheese Cake in the Charente-Maritime It must have been the French cheese that piled on the pounds…it couldn't possibly have been the wine and delicious Pineau de Charentes… everyone knows that wine has no calories when you are holiday…don't they?
I've been managing my weight with the 5:2 Fasting Diet for about 18 months now, it's pretty simple to follow and ideal if you have a hectic schedule and your life doesn't allow you to follow a routine. I simply have two days in every week when I eat 500 kcal, men are allowed 600 kcal. On the other five days of the week, I eat normally. That doesn't mean eating everything under the sun and expecting to lose or maintain weight, but you can eat sensibly and enjoy some higher calorie foods on your non-fasting days.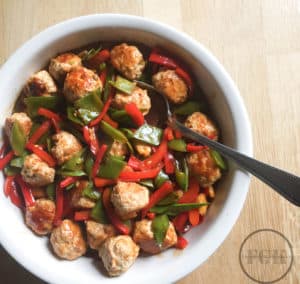 Sweet and Sour Turkey Meatballs
This low calorie Sweet and Sour Turkey Meatballs recipe allows you to enjoy all the sweet and sour flavour with the minimum calories.
Print
Pin
Rate
Ingredients
For the meatballs
500

g

turkey mince

2

spring onions

15

g

ginger

grated

1/2

tsp

Chinese five spice

Pinch

of salt

2

tsp

oil
For the sauce
1

tsp

oil

1

red pepper

12

mangetout peas

6

baby corn

1

clove

garlic finely chopped

1

tsp

cornflour

4

tbsp

oyster sauce

3

tbsp

rice wine vinegar

2

tbsp

ketchup

1

tsp

mango chutney

1

tbsp

marmalade

1

tsp

Clear Spring Umami paste with ginger

optional
Instructions
Make the meatballs
Mix together the turkey mince, 5 spice powder, finely chopped spring onion, salt and grated ginger in a bowl.

Form the mixture into small balls about the size of a walnut ( I made 20 meatballs from 500g of turkey mince)

Heat the oven to 160C

Heat 2 tsp oil in a wok or saute pan and fry the turkey meatballs until brown on all sides, place the meatballs in an ovenproof dish and place in the oven for 15 minutes to ensure they are cooked through.

Stir fry the red (bell) pepper, mangetout or sugarsnap peas, baby corn and garlic in the pan until they have taken on some colour and are starting to soften slightly.

In a bowl mix together the cornflour and rice wine vinegar, then add all the other ingredients and mix well.

Add to the stir fried vegetables and stir, add a little water if the sauce is too thick. Turn down the heat and cook for 2 minutes to ensure the cornflour starch is cooked out.

Add the meatballs and coat with sauce.

Serve with rice or other grains such as quinoa.
Notes
Total Calories 921
Calories per portion for 6 people 154 kcal + 60g dry weight quinoa (cooked) = 286 kcal per portion
Calories per portion for 4 people 230 kcal + 60g dry weight white rice (cooked) = 368 kcal per portion
60g dry weight quinoa – 132 cal
60g dry weight white rice – 138 cal
Nutrition
Calories:
295
kcal
|
Carbohydrates:
17
g
|
Protein:
25
g
|
Fat:
14
g
|
Saturated Fat:
3
g
|
Cholesterol:
92
mg
|
Sodium:
660
mg
|
Potassium:
440
mg
|
Fiber:
1
g
|
Sugar:
7
g
|
Vitamin A:
1210
IU
|
Vitamin C:
43
mg
|
Calcium:
40
mg
|
Iron:
2
mg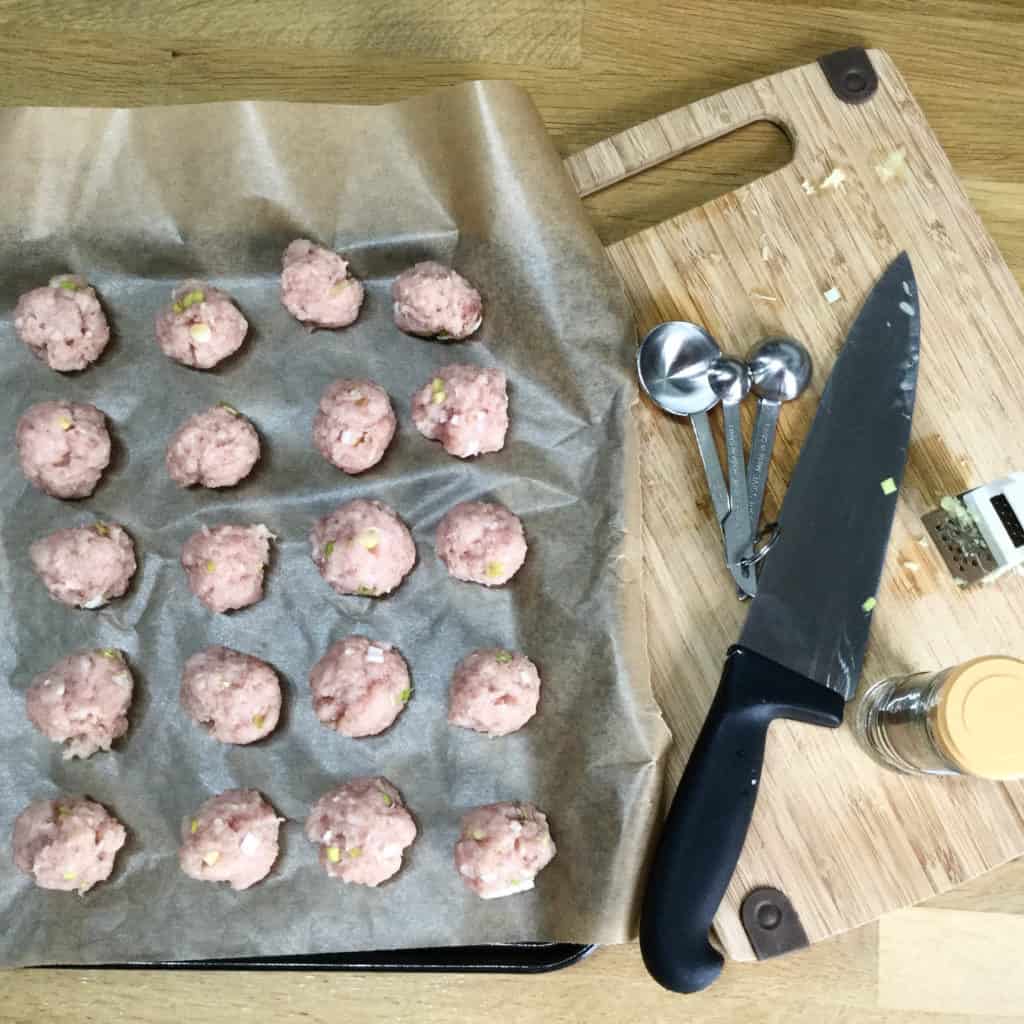 Now back to the
Sweet and Sour Turkey Meatballs,
making the meatballs is simple and adding flavours to the meatball mixture really helps to lift the turkey mince which can be a bit bland without a little help. Using lots of vegetables helps too, not only with the flavour, but also with the calorie count. Vegetables are generally lower in calories than meat or carbs and they help to fill you up.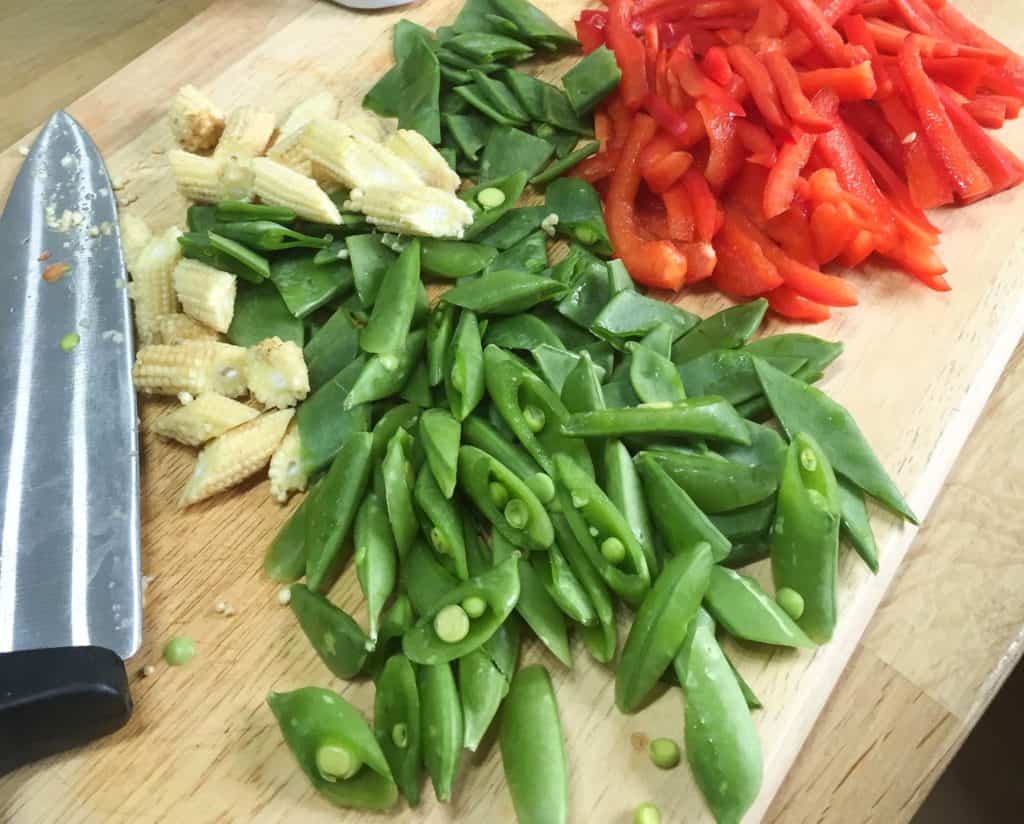 LOW CALORIE AND LOW COST
Sweet and Sour Turkey Meatballs are low calorie, and they are also a low-cost meal. I calculated these prices from a leading supermarket, but you could probably get the cost down even further by buying at a market or a discount supermarket (prices calculated August 2016). Turkey Breast Mince £3.00 per 500g Red pepper 50p Baby corn and mangetout £1.60 Spring onions 12p Ginger 5p Oyster sauce 60p Rice wine vinegar 50p Chutney, ketchup and marmalade 20p Garlic 3p Oil and spices 10p £6.70 – 4 portions at £1.67 per portion 6 portions £1.12 per portion (with quinoa £1.58 per portion) Quinoa – 60g – 47p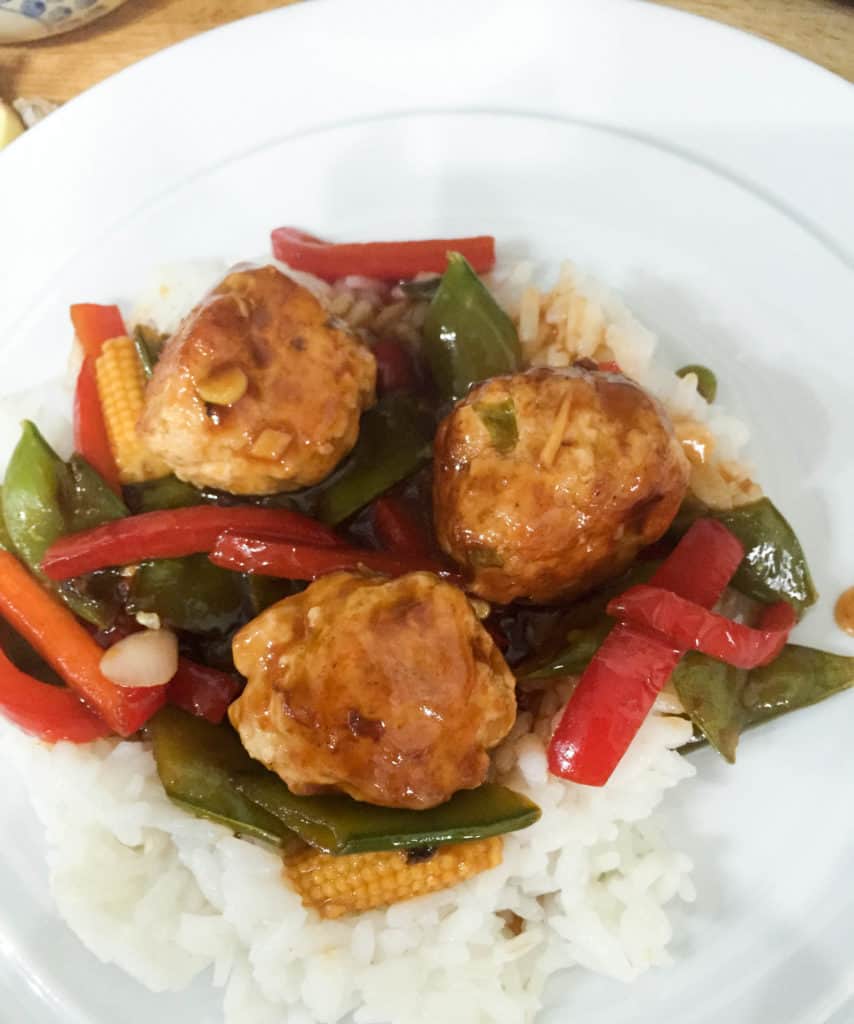 Get more 5:2 Diet Recipes from the Pinterest Board 5:2 Fasting Diet recipes from me at Farmersgirl Kitchen, Lavender and Lovage , London Unattached and Freycob Good Food Made Easy with more that we have pinned. Read more about the science behind 5:2 intermittent fasting at The 5:2 Fast Diet
We loved these Low Calorie Sweet and Sour Meatballs, what's our favourite low calorie recipe?