Sweet and Sour Turkey Meatballs are packed with flavour and come in at under 300 calories. including a portion of quinoa. These tasty meatballs in a sweet and sour sauce are economical to make and popular with all the family.
I may have overindulged a little when on holiday. So it's back to counting calories and cutting out cakes from my diet.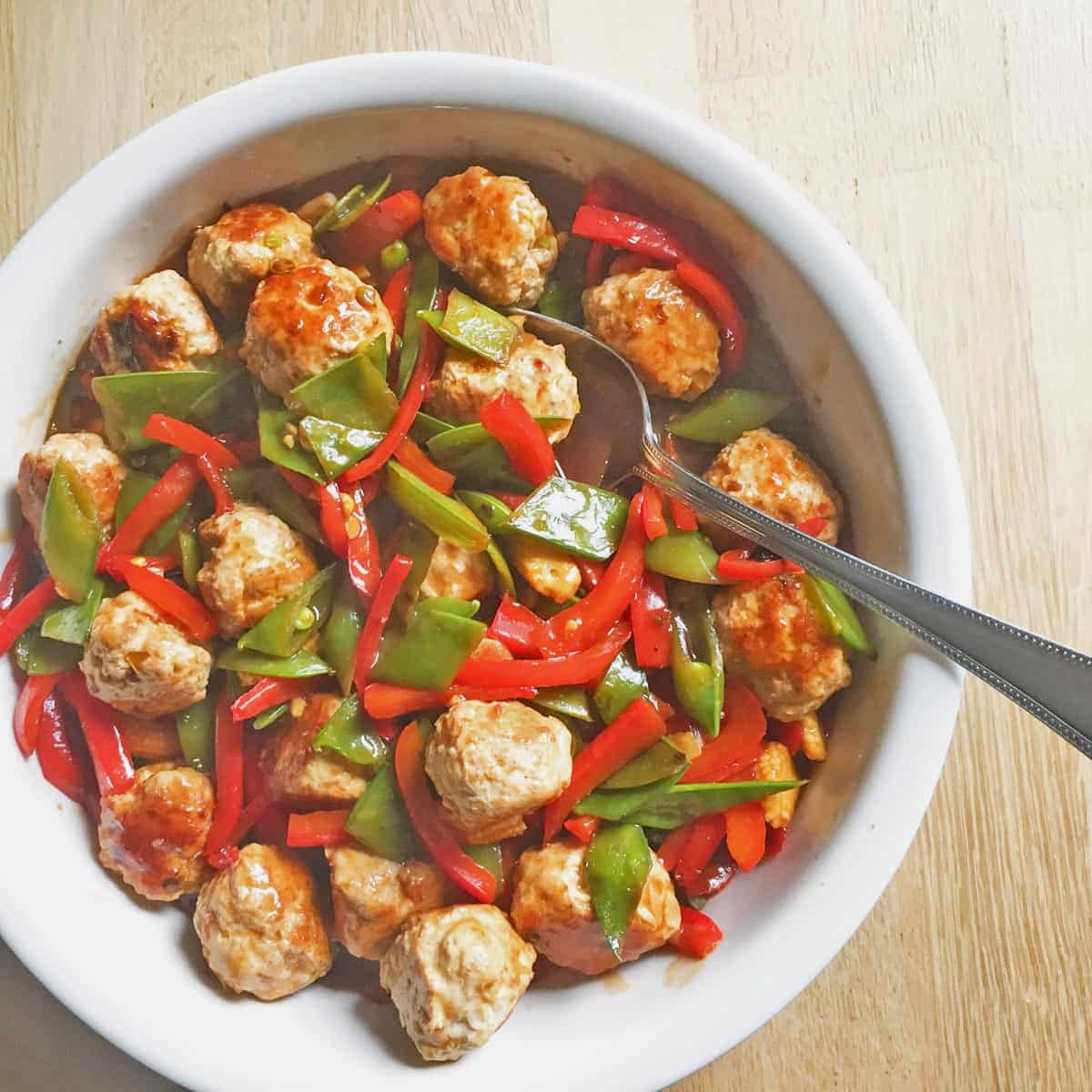 However, that doesn't have to mean dull and boring food, I'm on a mission to make some of my favourite dishes lower in calories. You can read about my holiday indulgences in French Cheese Cake in the Charente-Maritime It must have been the French cheese that piled on the pounds…it couldn't possibly have been the wine and delicious Pineau de Charentes… everyone knows that wine has no calories when you are holiday…don't they?

THE 5:2 FASTING DIET
I've been managing my weight with the 5:2 Fasting Diet for about 18 months now. it's pretty simple to follow and ideal if you have a hectic schedule and your life doesn't allow you to follow a routine.
I simply have two days in every week when I eat 500 kcal. Men are allowed 600 kcal. On the other five days of the week, I eat normally.
That doesn't mean eating everything under the sun and expecting to lose or maintain weight, but you can eat sensibly and enjoy some higher calorie foods on your non-fasting days.

How to Make Sweet and Sour Turkey Meatballs

Making the meatballs is simple and adding flavours to the meatball mixture really helps to lift the turkey mince which can be a bit bland without a little help.
Use lots of vegetables to help add flavour too. Vegetables are also generally lower in calories than meat or carbs and they help to fill you up.
Low Calorie and Low Cost
Sweet and Sour Turkey Meatballs are low calorie, and they are also a low-cost meal.
I calculated these prices from a leading supermarket but you could probably get the cost down even further by buying at a market or a discount supermarket (prices calculated August 2016).
Turkey Breast Mince £3.00 per 500g
Red pepper 50p
Baby corn and mangetout £1.60
Spring onions 12p
Ginger 5p
Oyster sauce 60p
Rice wine vinegar 50p
Chutney, ketchup and marmalade 20p
Garlic 3p
Oil and spices 10p
Total: £6.70
4 portions at £1.67 per portion or 6 portions £1.12 per portion
(with quinoa £1.58 per portion) Quinoa – 60g – 47p

More Low Calorie Recipes from Farmersgirl Kitchen 
Get more 5:2 Diet Recipes from the Pinterest Board 5:2 Fasting Diet recipes from me at Farmersgirl Kitchen, Lavender and Lovage , London Unattached and Freycob Good Food Made Easy with more that we have pinned.
Read more about the science behind 5:2 intermittent fasting at The 5:2 Fast Diet