Brilliant Blender Banana Bread is the ideal way to use those over ripe bananas in your fruit bowl. I've been making this recipe for Banana Bread for 10 years and it has never disappointed. I thought I'd see if I could make it even easier by making it in the Optimum Compact Nutri Force Extractor – High Performance 8 piece Personal Blender Set.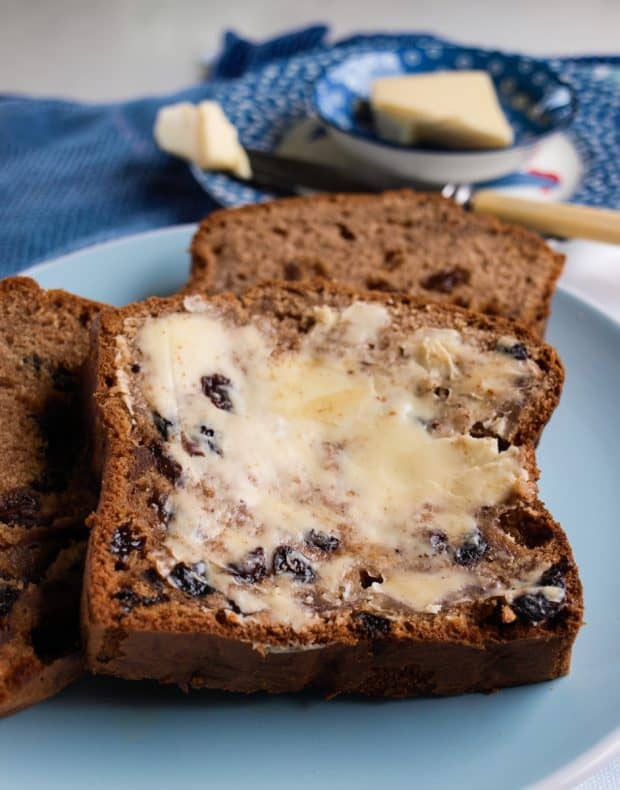 I'll tell you more about the Optimum Compact Nutri Force Extractor in a moment, but first, let's talk about Brilliant Blender Banana Bread!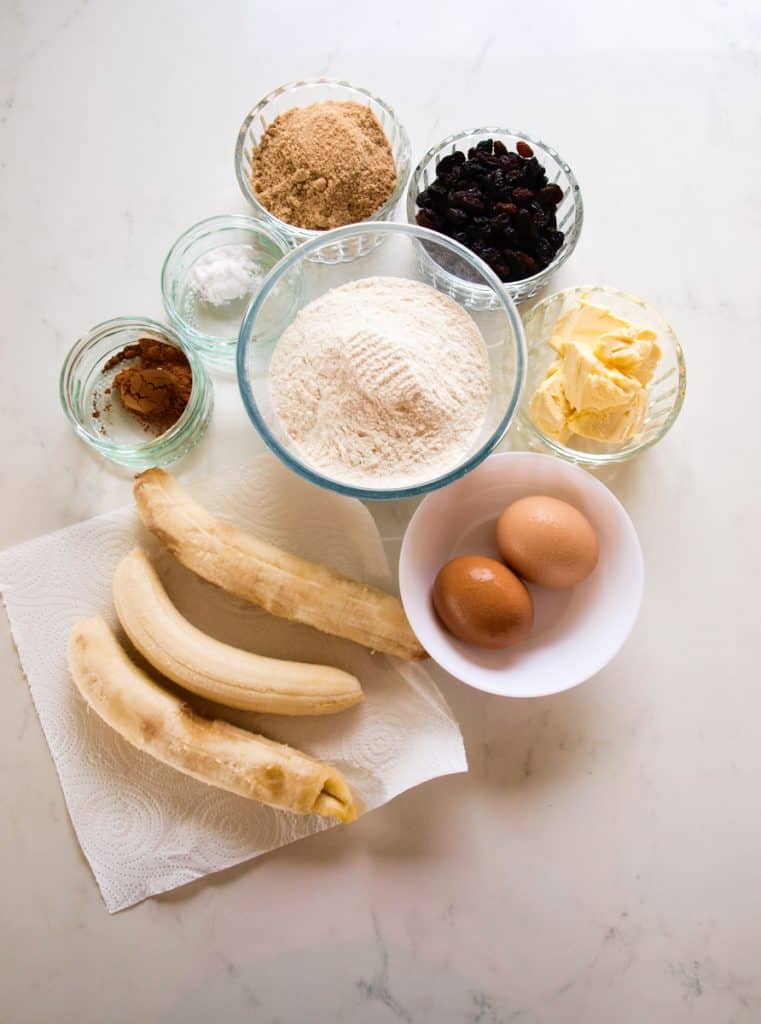 Here are the ingredients you are going to need to make the Brilliant Blender Banana Bread: Three very ripe bananas, two eggs, butter, raisins, sugar, bicarbonate of soda, cinnamon and self-raising flour. This is all you need, just pop them in the blender in the order I've outlined in the recipe, pour into your tin and bake and after 45 minutes you will have a loaf cake full of flavour, and very moreish. It will keep for several days wrapped in foil, if you don't eat it all first. Once its completely cold, you can slice it and open freeze the slices, then take one out whenever you fancy something sweet.
You can even warm a slice of Brilliant Blender Banana Bread in the microwave for 20 seconds and top with ice cream, sliced banana and toffee sauce for a fabulous dessert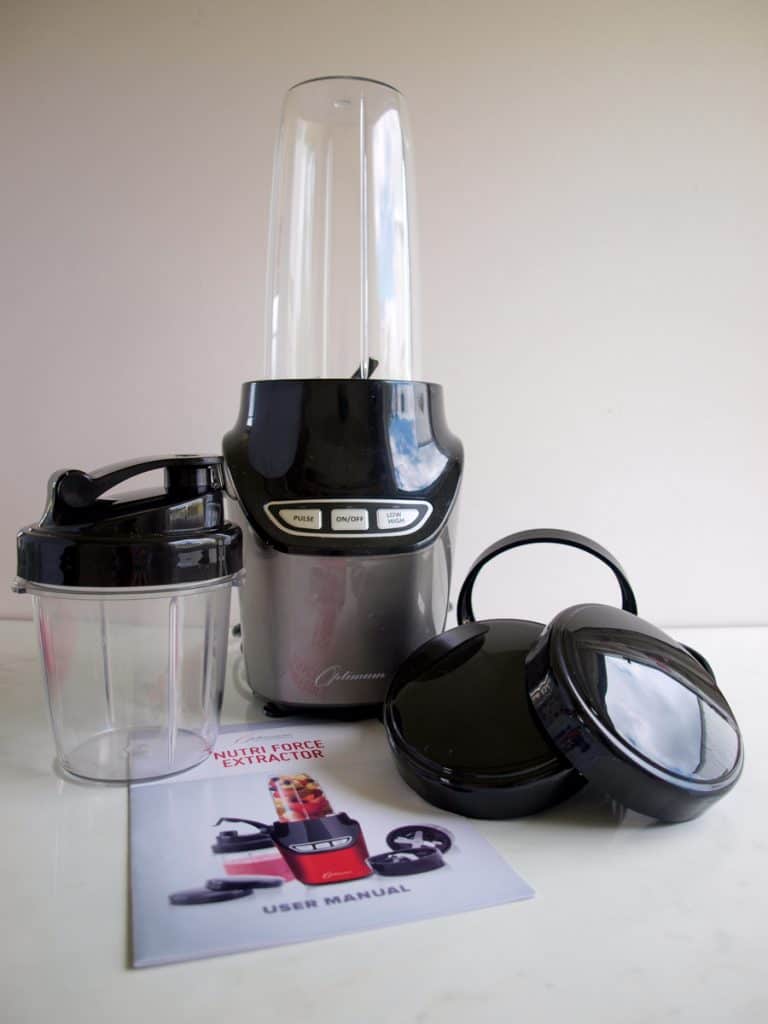 I'm really excited to tell you about the Optimum Compact Nutri Force Extractor. I have reviewed quite a few of the Optimum family of products you can catch up with my recipes and views on the G2.3 Platinum Induction Blender, the Optimum P200 Dehydrator, and the HealthyFry Airfryer. All of the Froothie Optimum products are really high-powered and turned out results that were better than I ever expected.
The Optimum Compact Nutri Force Extractor looks very much like other personal blenders but with 1000w of power at your fingertips you can whizz up your breakfast smoothie in 50 seconds. Not only that, the Optimum Compact Nutri Force Extractor comes with both a 1 litre and a 450 ml cup. There are two stay fresh travel lids, a flip-top lid and a removable cup handle too, perfect for smoothies on the go.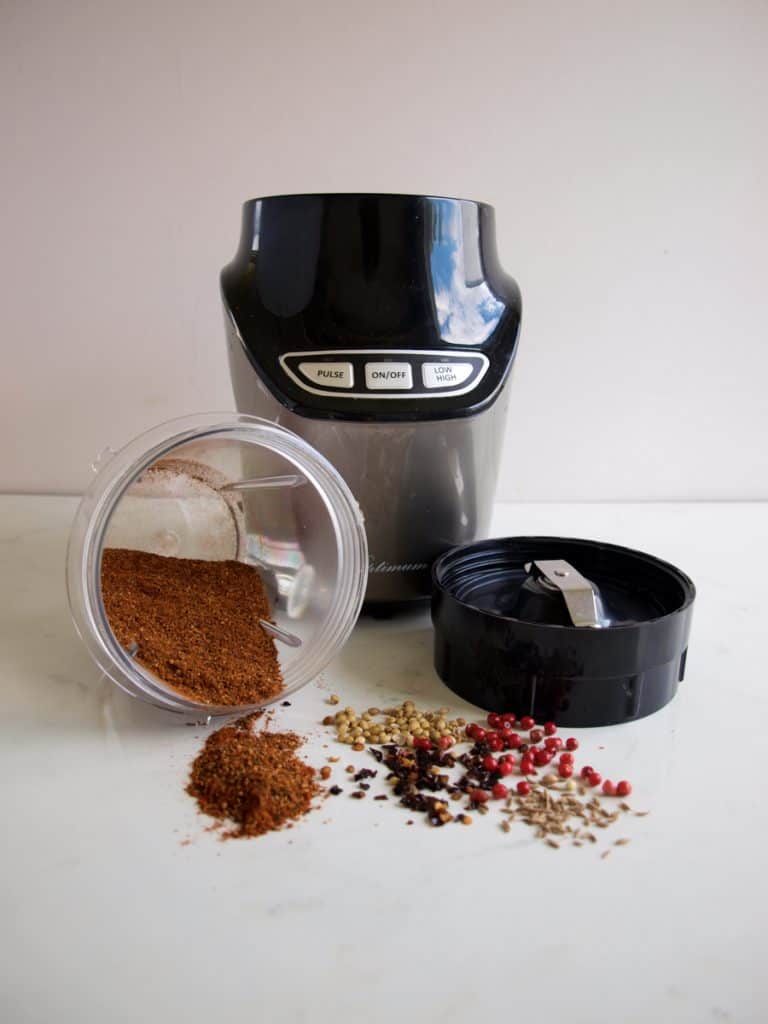 The Optimum Nutri Force Extractor comes with two blades, the extractor blade and the grinder blade. I was hugely impressed by the grinding blade, you can grind coffee beans, spices, beans and rice, it's so quick and easy. You can instantly make your own spice mixes, so much better made fresh.
Here's a full list of the functions of the Optimum Compact Nutri Force Extractor:
Fruit smoothies The Optimum is designed to make the best fruit smoothies in both domestic and commercial environments, crushing ice and fruits in seconds.
Green smoothies Kale, lettuce, celery, spinach, mints, cucumber, bananas or carrots, the Optimum will make sure your green smoothie is smooth and not fibrous.
Grinding nuts and grains The Optimum's 6-blade assembly allows it to easily grind whole grains, beans and rice, and knead bread dough for the oven.
Crushes ice The commercial-grade 3 horse-power motor allows the Optimum to crush large quantities of ice in seconds, perfect for smoothies, slushies and ice cream.
Nut butters Chocolate hazelnut, peanut butter, almond butter… you name it! The Optimum will make the most delicious preservative-free nut butters, using only one ingredient.
Nut milks Mix the nuts with some water, blend, filter and serve for a natural dairy-free bowl of milk and cereal.
Ice cream from frozen fruits The Optimum turns your favorite fruits into a fat-free, preservative-free, beautiful guilt-free bowl of ice cream.
Spreads and dips Whether you prefer a silky smooth hummus dip or a chunky tomato salsa, the Optimum is here to help, offering you a range of dips and spreads to choose from.
Fresh fruit juices The Optimum is able to easily blend whole fruits and vegetables, unpeeled and uncut, creating a healthy juice full of fibre. Best of all… nothing is wasted, so cleaning is quick and easy.
Cocktails Cocktails can be prepared shaken, stirred or blended with ice for a frozen treat in seconds.
I'm fortunate to have quite a lot of space in my kitchen but if you are short of space, this is the blender for you, it's neat and tidy and already has become my first choice for speedy blending. The video below shows you exactly how the Optimum Compact Nutri Force Extractor works and how versatile it is.
THE OPTIMUM NUTRI FORCE EXTRACTOR INCLUDES:
1L Tritan BPA-free cup
450ml Tritan BPA-free cup
Extractor blade
Grinder blade
Stay-fresh travel lids x 2
Flip-top lid
User manual
30 Day Money Back Guarantee – Includes Return Postage!

Access to expert support team

Comprehensive warranty
The Optimum Nutri Force Extractor RRP is £179 but at the time of publication is available to purchase for £99, a saving of £80.
I can offer you FREE DELIVERY simply buy via my affiliate link (I receive a small amount of commission if you do this, which helps to support Farmersgirl Kitchen) and add 3116 FREE AMBASSADOR DELIVERY in the comments box.
How to make Brilliant Blender Banana Bread in the Optimum Nutri Force Extractor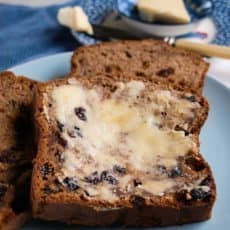 Brilliant Blender Banana Bread
Sure to be a crowd-pleaser, this Banana Bread is made in a blender, so quick and easy. It's a great addition to the tea table or for snacks and lunch boxes.
Print
Pin
Rate
Ingredients
110

g

/ 4oz softened butter

110

g

/ 4 oz soft brown sugar

2

medium eggs

3

very ripe bananas

225

g

/8 oz self-raising flour

1/2

tsp

bicarbonate of soda

1

tsp

cinnamon

140

g

/5 oz raisins
Instructions
Pre-heat the oven to 180 C/ 350 F

Line a 900 g / 2 lb loaf tin with baking parchment or use a ready made loaf tin liner.

Place the softened butter and sugar in the blender with two of the bananas.

Blend on low for 30 - 40 seconds until thoroughly mixed.

Add the eggs, half the flour, the bicarbonate of soda and the cinnamon.

Blend on low for 20 seconds until mixed, open the blender and push down the mixture, then add the remaining flour.and blend for a further 10-20 seconds.

Open the blender, push down the mixture and add the raisins and the other banana, lightly mashed with a fork, stir them in with a spatula - DO NOT BLEND!

Pour the mixture into the prepared tin.

Bake for 45 minutes or until a skewer inserted into the loaf comes out clean.

Leave to cool completely and serve sliced as it is or with butter
Notes
To make without a blender, mash the bananas, mix together the butter and sugar add eggs and bananas, then the flour and bicarbonate of soda, mix until all combined. Add the raisins and spoon into the tin. If you don't like raisins you could add nuts or seeds. You can also leave all of these out of the loaf and it will still be delicious.
Nutrition
Calories:
288
kcal
|
Carbohydrates:
46
g
|
Protein:
4
g
|
Fat:
10
g
|
Saturated Fat:
6
g
|
Cholesterol:
56
mg
|
Sodium:
158
mg
|
Potassium:
276
mg
|
Fiber:
2
g
|
Sugar:
15
g
|
Vitamin A:
345
IU
|
Vitamin C:
3.8
mg
|
Calcium:
19
mg
|
Iron:
0.8
mg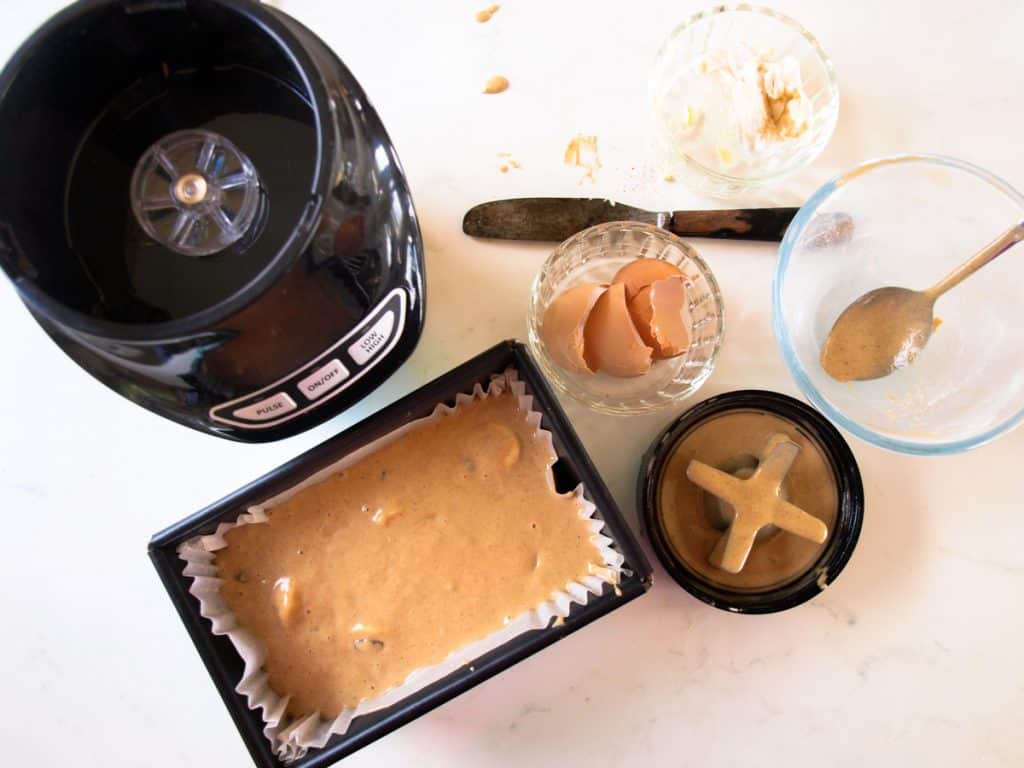 It was so simple to make this Brilliant Blender Banana Bread, once you have all your ingredients gathered together, you just pop them in the 1 L cup and off you go! Although the blade looks messy you will see that the base unit didn't get any mixture on it, that's because you are taking the sealed unit away from the electrics before opening.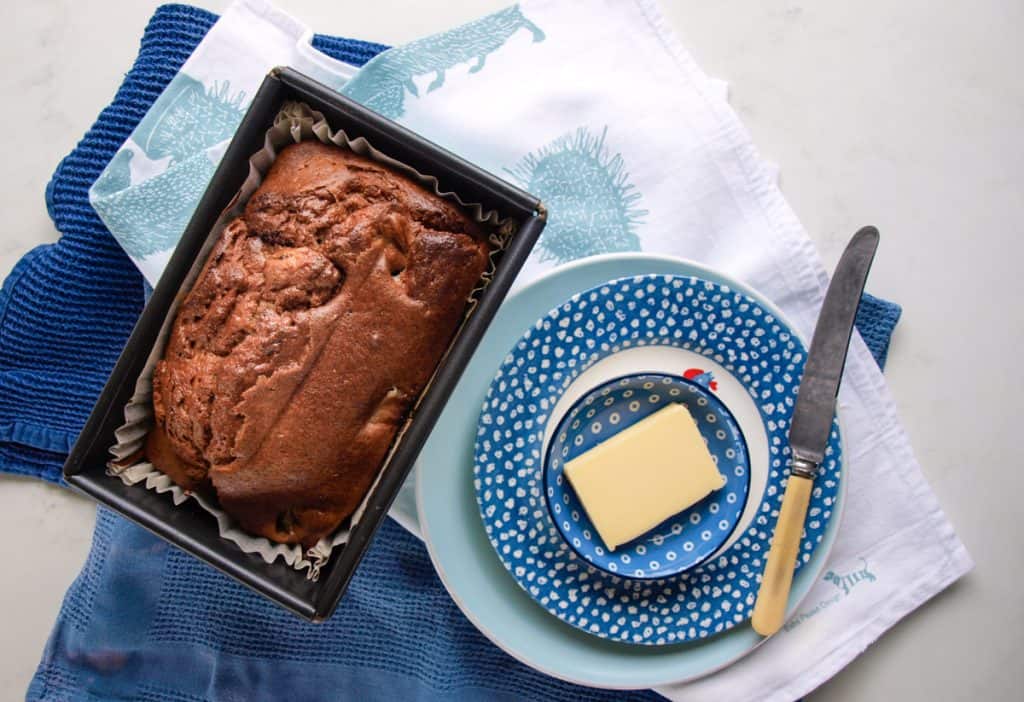 As you can see, the loaf rose perfectly and took on a beautiful golden brown colour, it really was super simple. If you are new to baking then this recipe is a place to start.
Disclosure: Froothie UK sent me the Optimum Compact Nutri Force Personal High Performance 8 Piece Blender Set to use and review at home. I have not been paid for this post and was not required to give the blender a positive write up. All opinions are my own. Affiliate links included in this post.
Here are more reviews of the Optimum Nutri Force Personal Blender with more recipe ideas:
Tropical Cauliflower Smoothie – Sneaky Veg
Beetroot Leaf Green Smoothie – Tin & Thyme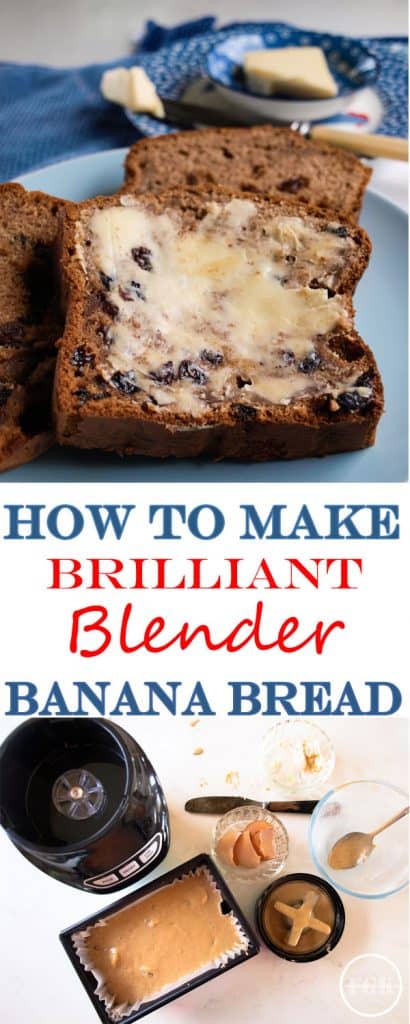 PIN FOR LATER
What's your favourite blender recipe?