Fig and Lime Jam recipe is easy to make and works brilliantly as a sweet jam on your breakfast toast and. in my opinion, it's even better with cheese and cold meats. I'm always sad when summer is over, but I do love the seasonal fruits that are in abundance in the autumn. They don't last long so preserving them is a great way to enjoy them for longer.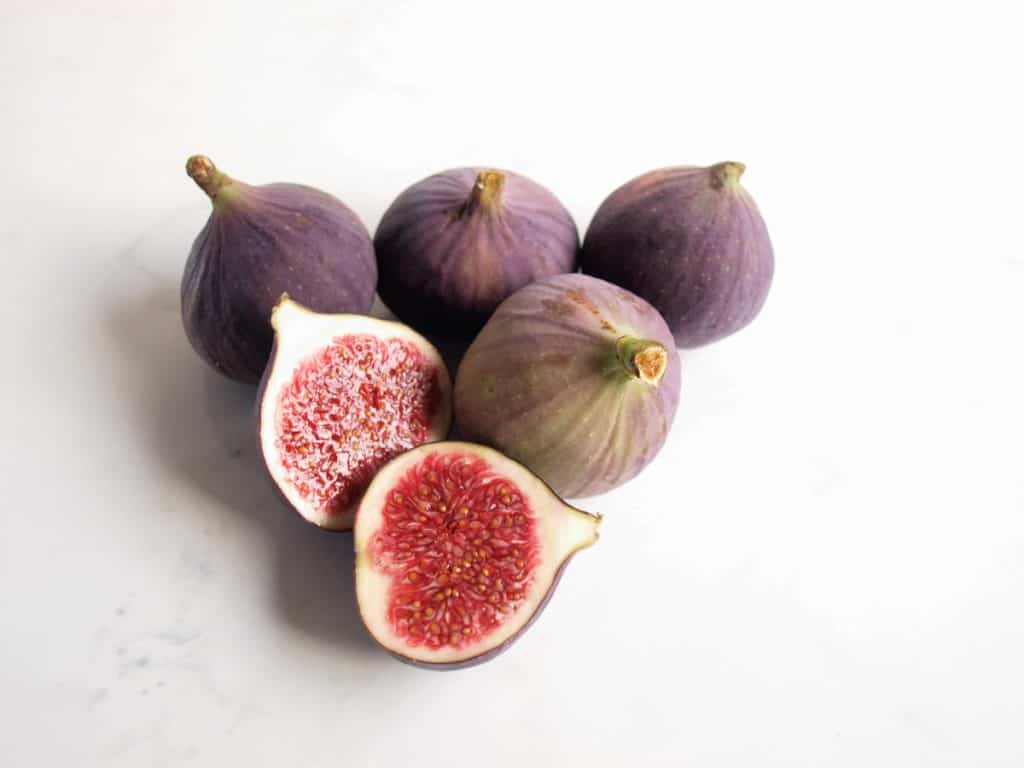 When I was a child the only figs we tasted were dried figs or the fig paste in fig roll biscuits (cookies), fresh figs just didn't feature! One of the nice things about fresh figs is that they do still have a season. Although you can get figs out of season, they are expensive and not as fragrant and sweet, so the best way to enjoy them is to preserve them in a glorious jam.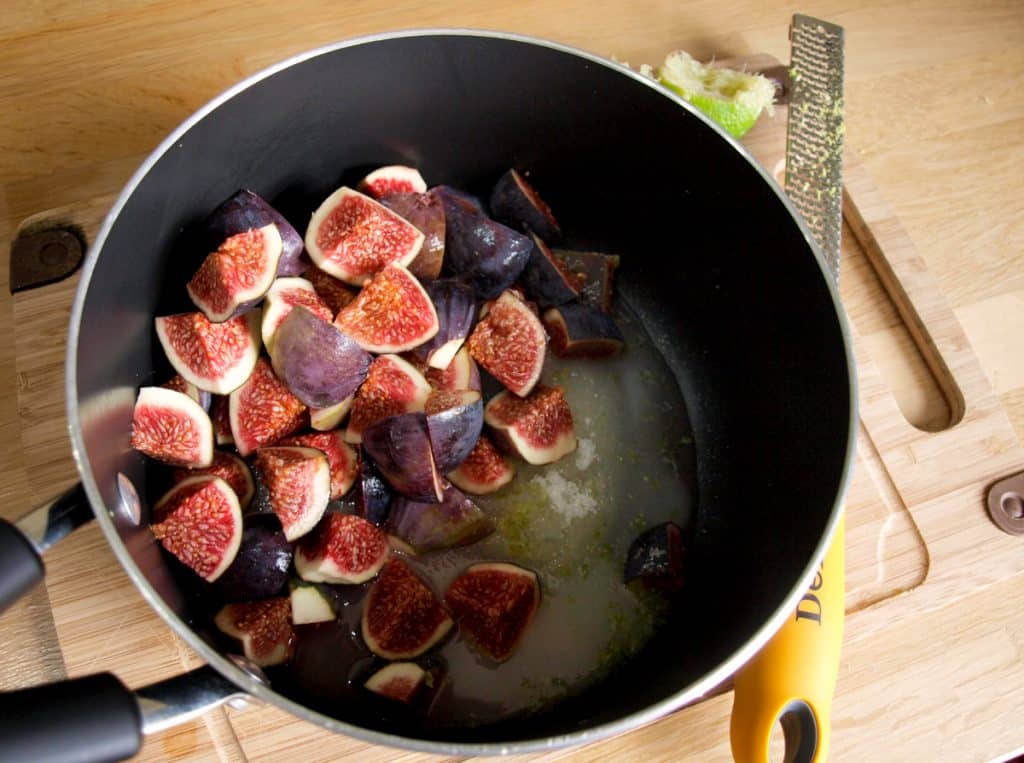 This recipe couldn't be simpler, you simply add all the ingredients to a pan and heat gently until the sugar has dissolved.
Next you need to bring the jam to a rolling boil, watch the video to see what a rolling boil should look like. This jam doesn't take long to reach setting point, so test after about 5 minutes.
Take the pan off the heat and put a spoonful onto a saucer that you have chilled in the fridge. Set the saucer aside for a few minutes, then push your finger across the jam, if it is set then it will wrinkle. See the video clip above to see what I mean.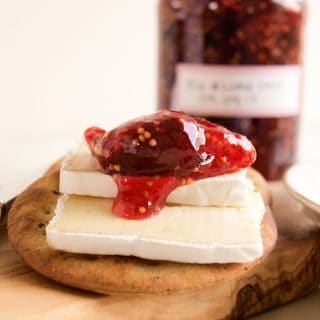 Fig and Lime Jam
An easy recipe for a sweet jam with a little tang of lime. Ideal on your breakfast toast and with cheeses and cold cuts.
Ingredients
8

chopped figs

Equal weight granulated sugar to figs

Juice of two limes

Grated zest of half a lime

3

tbsp

water.
Instructions
Weigh the figs

Weigh out the same amount of sugar

Put all the ingredients into a pan and heat gently until the sugar has dissolved

Bring to a rolling boil

Boil until you reach setting point about 5-10 minutes.

Test by putting a teaspoonful onto a cold saucer, place it in the fridge, leave for 5 minutes and then push with your finger, if the jam wrinkles it's ready. If not then put it back on the heat for 5 minutes then test again.
Don't Miss My Latest Recipes
CLICK TO SUBSCRIBE NOW to join my newsletter list & receive a FREE 'How To Adapt Recipes For Your Slow Cooker' printable!

PIN FOR LATER
The Fig and Lime Jam Story
There's a bit of a story behind this recipe. I had been hoarding the very last of last year's Fig and Lime Jam and as I finished the last jar, I posted the picture of the cracker topped with brie and Fig and Lime Jam on Instagram and on my Facebook page. It proved popular and I really intended to make more of the jam this weekend, however, I couldn't find any figs! They were there in the stores last week, but I'm not sure if everyone had the same idea and bought them all, or if I was just unlucky. Fortunately, I had a picture from my phone of last year's Fig and Lime Jam and the cracker picture, but as soon as I get some figs I'll add some new pictures.


Here are some alternative ideas for cooking with seasonal figs from top UK bloggers:
Gingered Figs – Farmersgirl Kitchen
Fig, Apple and Cardamom Tarte Tatin – Fuss Free Flavours
Honey Baked Figs with Orange – Farmersgirl Kitchen
Roast Duck with Fig, Port and Star Anise – Foodie Quine
Quick and Easy Fig, Honey and Almond Tart – Farmersgirl Kitchen
Plum and Fig Cheesecake – Lovely Appetite
Fig and Labneh Tartines with Maple and Cardamom – Food to Glow