Mary's Tea Time Cake is one of those recipes that you want to make again and again. There is no denying that Mary Berry knows her stuff when it comes to baking.
This simple recipe creates a tea time cake that is packed full of fruit and is absolutely delicious with a cup of tea.

I came across the recipe for the cake in a magazine and cut it out to put in my recipe folder. I've been collecting recipes since I was in my early teens.
Before Pinterest came along, you either wrote them out or cut them out. I have many recipes that I cut out and never made, but some, like this one, has been well used.
What is a Tea Loaf?
Tea Bread or Tea Loaf is a traditional British cake. Dried fruit is soaked in tea, preferably overnight, and then mixed with flour, sugar, spices and an egg. The loaf is then baked slowly and left to cool in the tin before cutting into slices.
Different regions and countries have their own speciality tea breads. In Wales, it is Bara Brith, in England, Tea Bread is most associated with Yorkshire where it is served with Wensleydale cheese. In Ireland, the fruited tea bread is known as Barm Brack.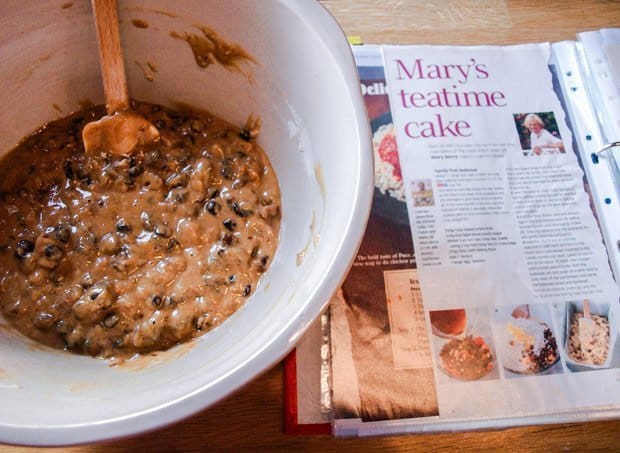 Mary's Tea Time Cake Q & A
What dried fruit do I use?
You can buy ready mixed packets of dried fruit or you can make up the quantity using any combination of raisins, sultanas, currants, dried cranberries or dried cherries. You can use larger dried fruits like apricots, prunes and dried apples, just cut them up first.
What kind of tea do I use?
Mary suggests Earl Grey Tea which has a distinctive, slightly floral taste. I usually use black tea, an ordinary tea bag works just fine. Sometimes I use chai tea, the spices work really well in a cake. Why not try your own favourite tea?
How long does the fruit have to soak in the tea?
Soak the fruit in the tea overnight. The fruit will soak up all the tea and plump up beautifully. If I forget to soak the fruit overnight and want to make this tea time cake, then two hours is the minimum soaking time.
Do I need any special equipment?
You will need a 900-gram loaf tin, a grater for the lemon zest, a bowl, and a spoon. That's it, no need for electric mixers or fancy gadgets. In fact, if I don't have a lemon, I just leave that out. It does add extra flavour but it's not absolutely essential.
Why do I need to leave the cake in the tin for 10 minutes to cool?
Cooling the cake in the tin helps to keep the moisture in the cake. It will also help you remove the cake from the tin, although I always line my tin with a baking parchment liner, so it always comes out clean.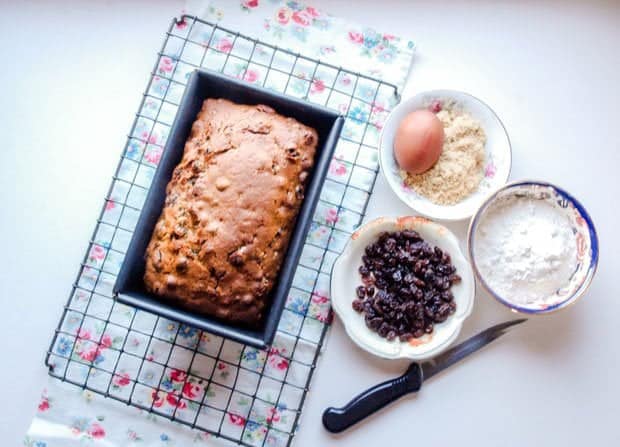 I've made this so many times and it always turns out perfectly. I wanted to share it with you because even if you have never baked before, you can make this cake, it is perfect for beginners
More Tea Time Cakes from Farmersgirl Kitchen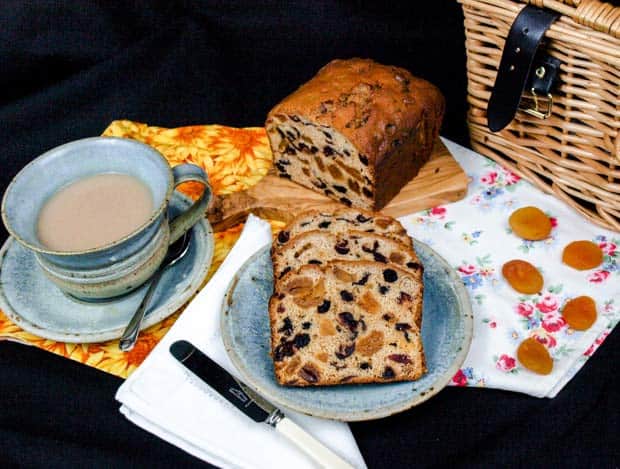 Apricot Tea Bread is one of my all-time cake tin favourites. It's really simple to make you just need to plan ahead to soak the dried fruit in advance.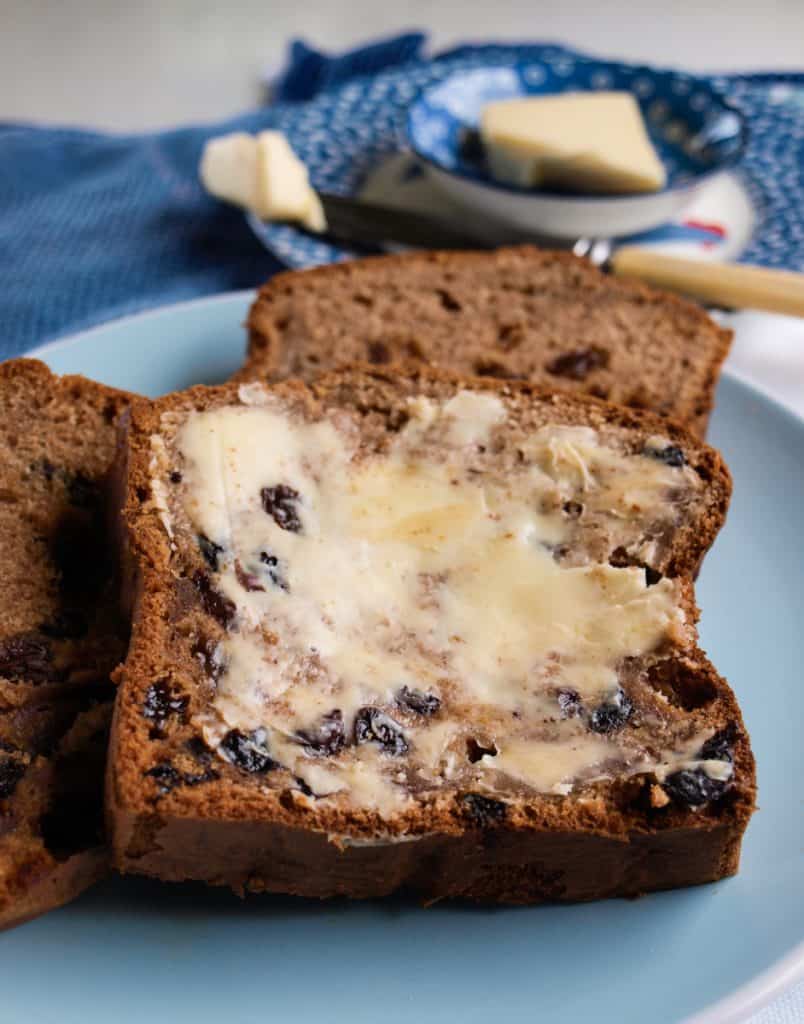 Brilliant Blender Banana Bread is the ideal way to use those overripe bananas in your fruit bowl. I've been making this recipe for Banana Bread for 10 years and it has never disappointed.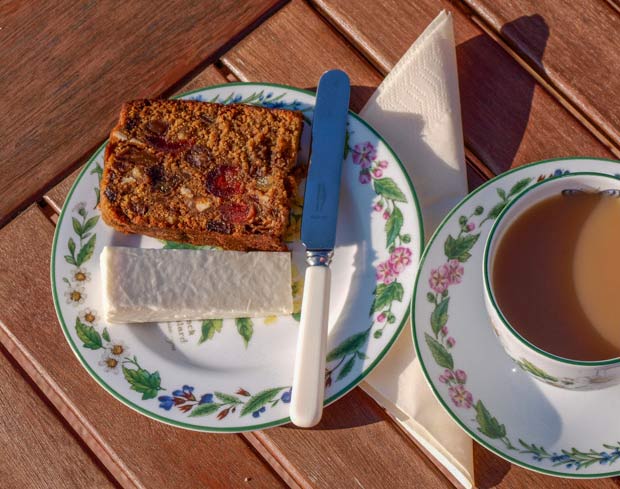 Yorkshire Barm Brack is a rich and delicious fruit cake This recipe also includes a little Scotch whisky which makes it even more special.
More Tea Time Cakes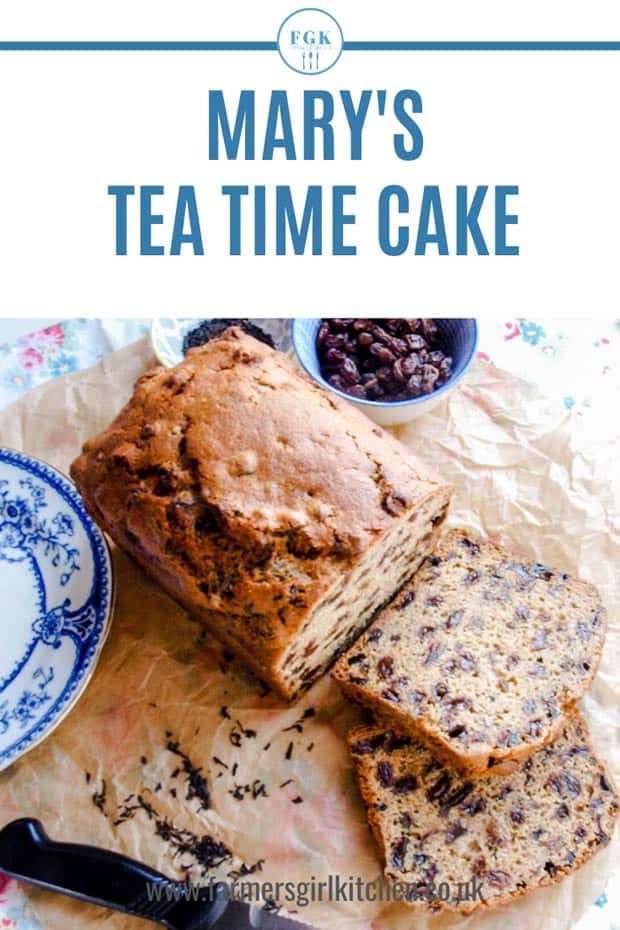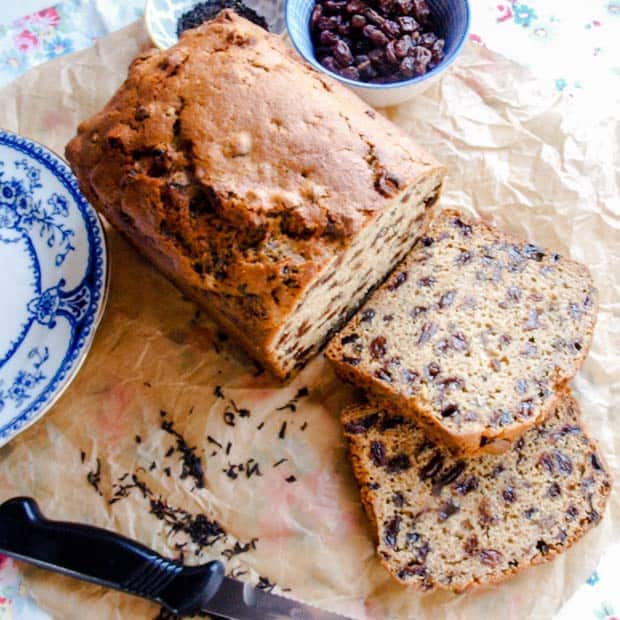 Mary's Tea Time Cake
An everyday cake, simple to make. Full of tea-soaked fruit, it slices beautifully and keeps well in an airtight tin or wrapped in foil.
Ingredients
350

g

mix dried fruit

225

g

soft light brown sugar

300

ml

hot tea

made with two tea bags.

275

g

self-raising flour

zest of a lemon

1

large egg

beaten
Instructions
Put the dried fruit and sugar in a bowl and pour over the hot tea.

Leave to soak overnight, or if you are in a hurry for two hours.

Heat the oven to 150C/130C fan/gas 2

Line a 900g/2lb loaf tin with baking parchment or use a loaf tin liner

Add the flour, lemon zest and beaten egg and stir with a spoon till mixed through.

Bake for 11/4 to 11/2 hrs or until it is well risen, firm to the touch and a skewer inserted in the centre comes out clean.

Leave to cool in the tin for 10 minutes then turn out onto a wire rack to cool.

Peel of the baking paper or liner and serve sliced with or without butter
Notes
By Mary Berry
Adapted from BBC Good Food Magazine
Don't Miss My Latest Recipes
CLICK TO SUBSCRIBE NOW to join my newsletter list & receive a FREE 'How To Adapt Recipes For Your Slow Cooker' printable!
Share by Email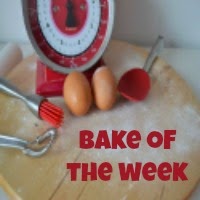 I'm linking up Mary's Tea Time Cake to Bake of the Week at Casa Costello