Pear Upside Down Cake is the most delicious gingerbread cake made with fresh pears on the base.
The gingerbread is sticky but not too sweet and the soft caramelised pears melt in your mouth.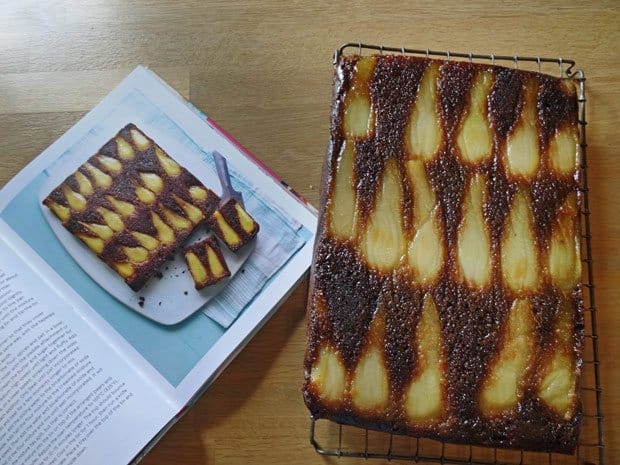 I was so thrilled with how similar my cake was to the one on the picture in Life is Sweet by the Hummingbird Bakery.
Life is Sweet is the fourth book by Tarek Malouf, founder of The Hummingbird Bakery. The Hummingbird Bakery was instrumental in popularising the sort of high-quality bakes, loved by Americans.
Introduced first to London through the bakeries and then to the rest of the UK, through the books.
I already have the Cake Days baking book from The Hummingbird Bakery, but I think that Life is Sweet is even better. Let me tell you a little about it.

Review of Life is Sweet
The Chapters
Cakes, simple and more complex includes Gooey Butter Cake, 7Up Pound Cake, Molasses Pecan Crumb Cake, Chocolate Bundt Cake, Tunnel of Fudge Cake and Upside Down Pear Cake
Cupcakes both familiar and unusual including Banana Foster Cupcakes, Tomato Soup Cupcakes, Toasted Marshmallow Cupcakes, Honey Cornbread Cupcakes and Mint Julep Cupcakes.
Layer Cakes includes an indulgent Peanut Butter and Jelly Cake, Gingerbread Icebox Cake, Alabama Little Layer Cake, Red Velvet Crepe Cake and Appalachian Stack Cake.
Pies is full of very American Pies including, Lemon Chiffon Pie, Deep-fried Apple Pies, Blueberry Cream Cheese Pie, Vinegar Pie, and New Orleans Prune Pie.
Cookies and Candies provide bite-sized treats such as Soft Molasses Cookies, Black Pepper Cookies (on my list), Vanilla filled Chocolate Cookies, Lemon Drops, Turtle Cookies and Creamy Pecan Pralines.
Traybakes are one of my favourite bakes, how about Coconut Dream Bars, Red Velvet Brownies, Blackberry Limeade Bars, and Texas Tassie Bars.
Pancakes are so easy to make and these lovely flavours are very tempting Black Bottom Pancakes, Pumpkin Pancakes, Cinnamon Pancake Cake and Sally Lunn French Toast.
Top your pies and pancakes with some lovely Ice Cream, Grasshopper Ice Cream, Earl Grey Tea and Chocolate Ice Cream, Fresh Peach Ice Cream and Lemon Custard Ice Cream.
Puddings to delight your sweet tooth include Praline Bread Pudding with Pecan Caramel Sauce, Brownie Pudding and White Chocolate Bread Pudding.
The final chapter features Bread and Savouries, Skillet Cornbread, Crawfish Pie, Cinnamon Raisin Swirl Loaf and Graham Crackers.
The book finishes up with some Baking Essentials about Ingredients, Equipment, Methods and Techniques.
Who is it for?
Pretty much anyone who likes baking and is looking for some different ideas to try.
It's not aimed at beginner bakers, but follow the instructions and there is no reason why a novice could not achieve good results.
Pros
A wide range of different bakes, each on a little out of the ordinary. Good photographs that let you see what you are aiming for.

Cons
I can't really think of any cons with this book, it is full of such good things.
The Verdict
I really was beginning to think I had enough baking books, that they were just full of the same sort of recipes.
Life is Sweet has some exciting bakes in it. Recipes that I feel inspired to bake.
Buy Life is Sweet and you won't be disappointed.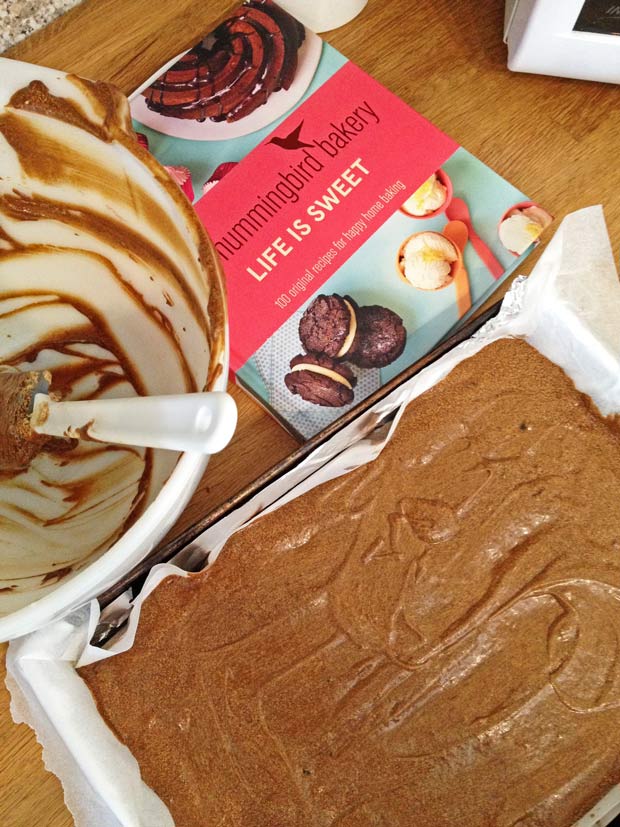 Pear Upside Down Cake
I decided to make the Pear Upside Down Cake. The cake is a soft gingerbread with works so well with the caramelised pears. Serve as a tea time cake or a dessert.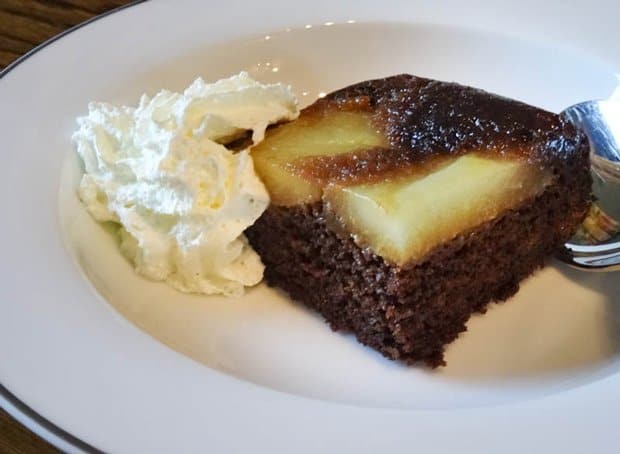 The resulting cake is rich and treacly but not too dense, the pears add a lovely texture to the cake and are not too sweet.
Pear Upside Down Cake is a really delightful bake that works out exactly as it is portrayed in the book.
Serve warm with whipped cream for dessert or eat cold with tea or coffee, either way, you won't be disappointed.
The Hummingbird Bakery – Life is Sweet
100 original recipes for happy home baking
Published by 4th Estate, Harper Collins
RRP £20
More Cakes with Fruit from Farmersgirl Kitchen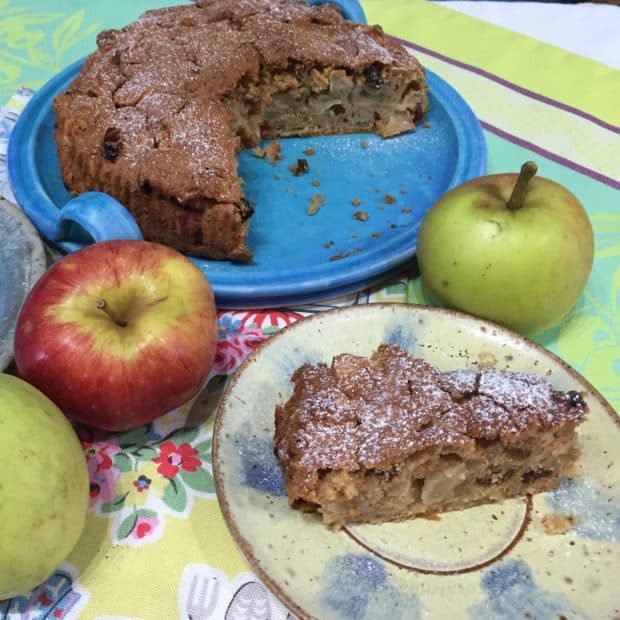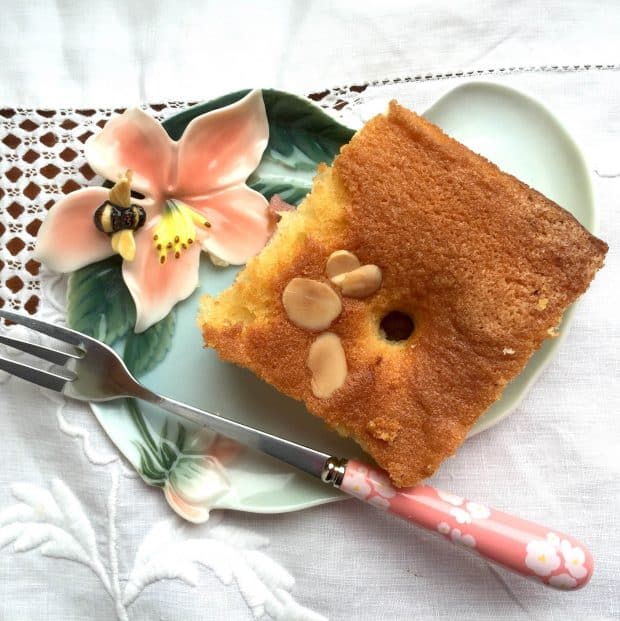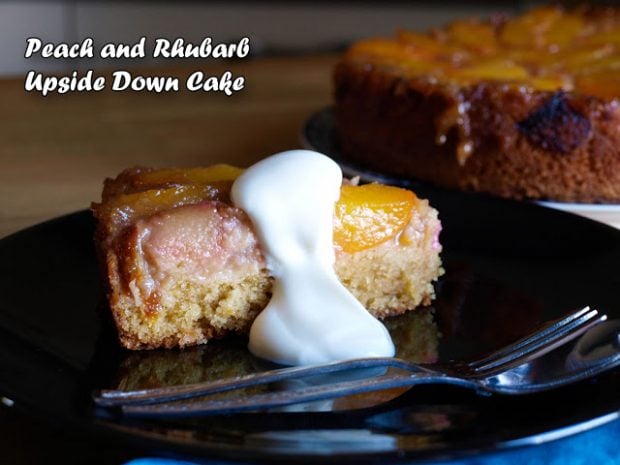 Peach and Rhubarb Upside Down Cake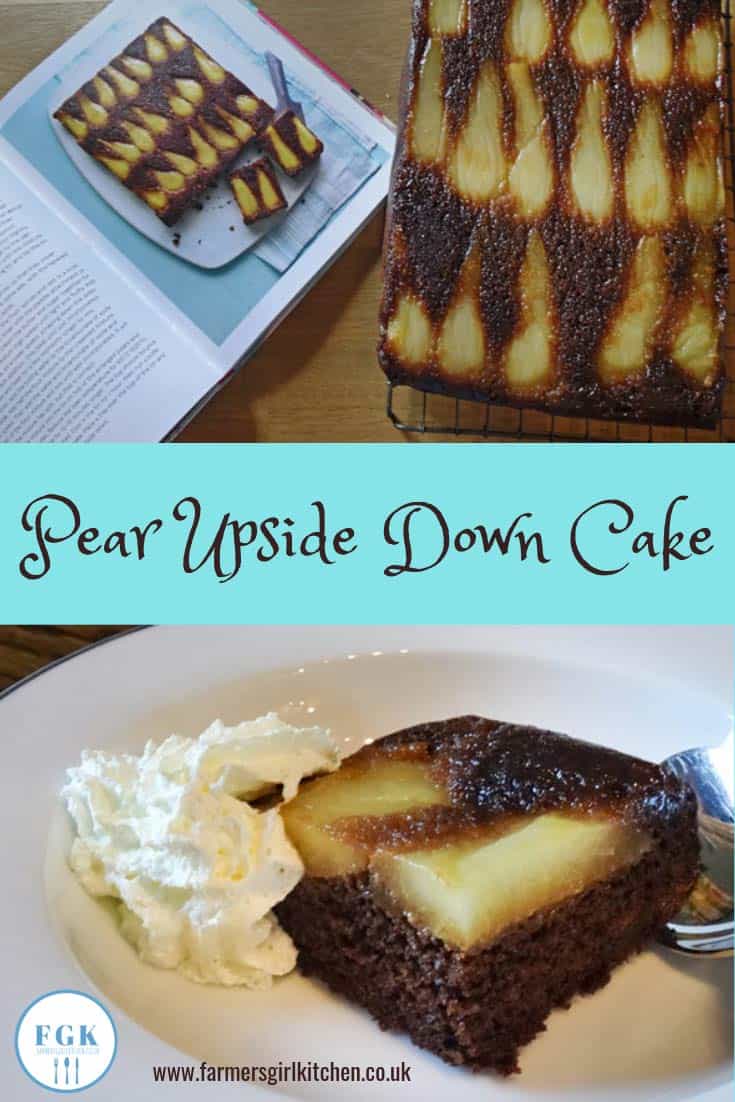 Let's get social
Stay in touch with everything that's going on at Farmersgirl Kitchen.
Facebook Pinterest Instagram Twitter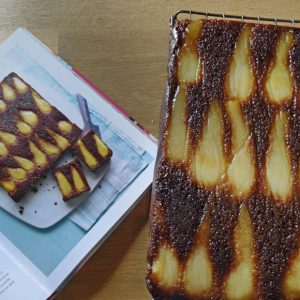 Upside Down Pear Cake
Pear Upside Down Cake combines sweet and sticky gingerbread with fresh juicy pears in a pretty and oh so tasty cake or dessert
Ingredients
For the caramelised pears
6

large

ripe pears

peeled, cored ad quartered lengthways

3

tbsp

fresh lemon juice

40

g

unsalted butter

80

g

caster sugar

130

ml

Kentucky bourbon or whisky
For Cake
195

g

plain flour

1 1/2

tbsp

ground ginger

1 1/2

tsp

ground cinnamon

1/2

tsp

ground cloves

1/2

tsp

grated nutmeg

1/2

tsp

salt

160

g

unsalted butter

75

g

dark muscovado sugar

4

large

eggs

170

g

pure cane molasses

such as Meridian

3

tbsp

boiling water

1/2

tsp

bicarbonate of soda
Instructions
Preheat the oven to 175C (350C), Gas mark 4. Line the tin with non-stick baking parchment.
To make the caramelised pears, mix the pears with the lemon juice.  In a large frying pan, melt the butter and sprinkle with half the caster sugar. Put the pear quarters into the pan.  Cook for about 5 minutes until brown on one side.  Turn and cook for a further 5 minutes until the other side is brown.  With a slotted spoon, carefully remove the pear quarters and set aside to cool slightly.
Add the bourbon and the rest of the caster sugar to the pan and cook and stir frequently for about 5 minutes until the mixture becomes syrupy.  Pour this syrup into the baking tin and tip the tin to spread evenly over the bottom of the tin.

Start to arrange the pears from one corner so that they cover the bottom of the tin and are facing the same direction. Set aside.
To make the cake, sift together the flour, spices and salt in a bowl.
Using a freestanding electric mixer with paddle attachment or hand-held electric whisk, cream the butter and sugar together for around 5 minutes on a medium-high speed until light and fluffy.  Add the eggs one at a time on a lower speed, scraping down the sides of the bowl after each addition.  Only beat until just Incorporated.  Add the molasses and beat for a few moments longer to mix.

In a small bowl, add the boiling water to the bicarbonate of soda and set aside.  Add half the flour mixture to the creamed mixture on low speed.  then add the water and bicarbonate of soda and the rest of the flour mixture and mix until well Incorporated  It will look like the mixture has split, but that i correct.

Scrape the mixture into the tin on top of the arranged pears and bake for 25 minutes.  Reduce the oven temperature to 165C (325F) Gas mark 3 and bake for 10-15 minutes longer.  The top should bounce bake when lightly touched.  Cool in the tin for 1 hour, then run a knife around the edges of the cake. Place a tray over the top of the tin and carefully(but quickly) turn upside down.
Notes
Makes one 23 x 32 cm (9 x 13 in) cake, to slice as desired.
Nutrition
Calories:
233
kcal
Carbohydrates:
32
g
Protein:
2
g
Fat:
9
g
Saturated Fat:
5
g
Cholesterol:
58
mg
Sodium:
110
mg
Potassium:
243
mg
Fiber:
2
g
Sugar:
20
g
Vitamin A:
320
IU
Vitamin C:
3.9
mg
Calcium:
39
mg
Iron:
1.3
mg
Don't Miss My Latest Recipes
CLICK TO SUBSCRIBE NOW to join my newsletter list & receive a FREE 'How To Adapt Recipes For Your Slow Cooker' printable!
Share by Email