Plum and Almond Traybake Cake has a soft almond sponge base, studded with juicy plum halves and sprinkled with flaked almonds. It's a quick and easy bake that combines so many delicious flavours.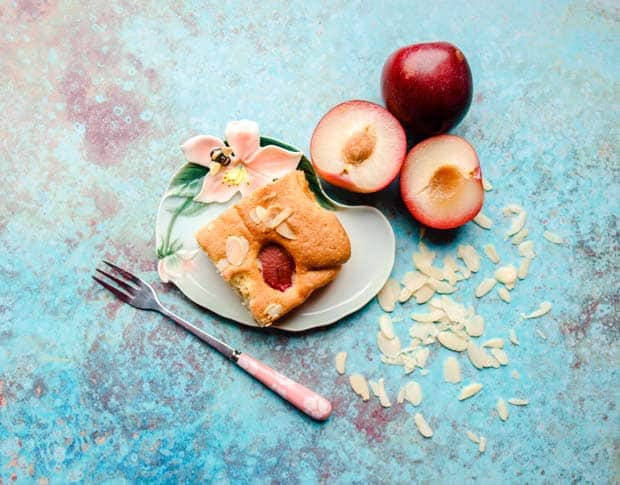 All the plums
Plum and Almond Traybake Cake was the result of me buying too many plums. I get a little over-excited by all the seasonal autumn fruits like plums, pears, and figs, that appear in the shops at this time of year and buy more than I can eat.
Some years when there is an exceptional plum harvest, I also get gifts of buckets of plums from friends with plum trees. Of course, I make plum jam but I also like to make desserts. This time I thought I try the classic combination of plums and almonds.
Plum and Almond Traybake Cake is such a simple one-bowl recipe, and because it's baked in a shallow tin it's ready in just 30 minutes.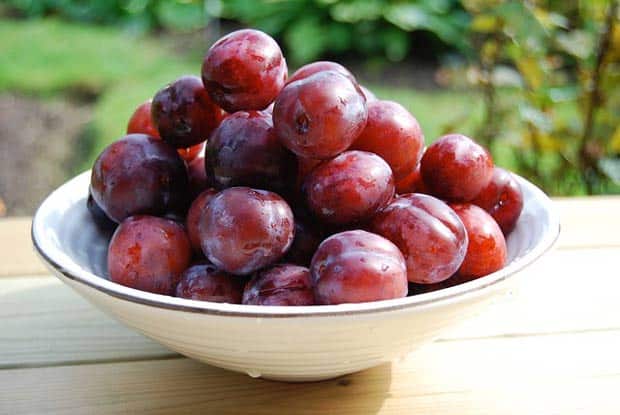 What are plums?
Plums are part of a group of stone fruits that includes greengages, mirabelles, damsons, and cherry plums.
What kind of plums should I use for Plum and Almond Traybake Cake?
Use dessert plums for this recipe. The plums you buy in markets and supermarkets are usually dessert plums. They may simply be labelled as British Plums or Yellow Plums or you may get a variety such as Victoria.
Use plums which are still a little bit firm but not rock hard and unripe. A very ripe plum will totally disintegrate in the cake and a really unripe plum will remain hard and sour.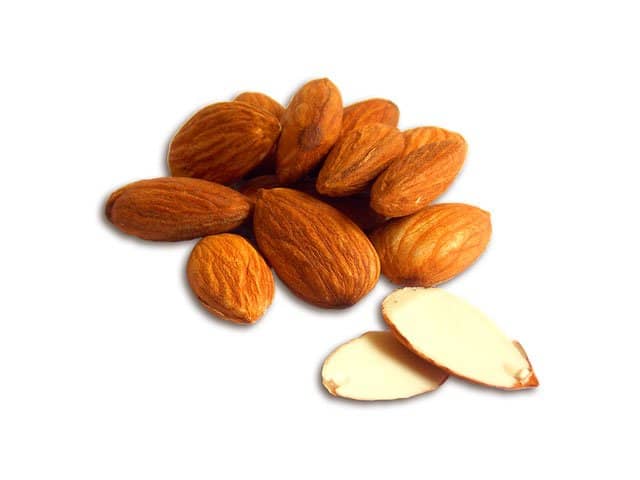 What are Almonds?
The almond is not a true nut, it is really a seed found inside a hard shell. For this recipe, you need ground almonds (almond meal), almond extract, and flaked almonds to decorate the top of the cake.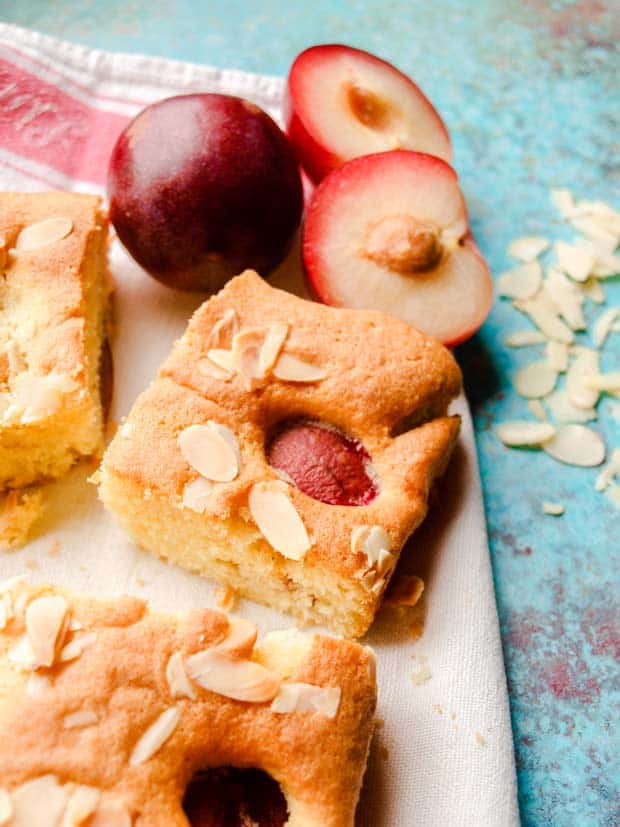 Can you freeze Plum & Almond Traybake Cake?
Yes, you can freeze this cake. Cut it into squares and freeze it in a container for up to 6 months. Defrost slowly on a wire grid covered with a tea towel or kitchen paper.
How to make Plum & Almond Traybake Cake
This is a one-bowl cake mix which makes it really easy. The only things that don't go straight in the bowl are the plums and flaked almonds.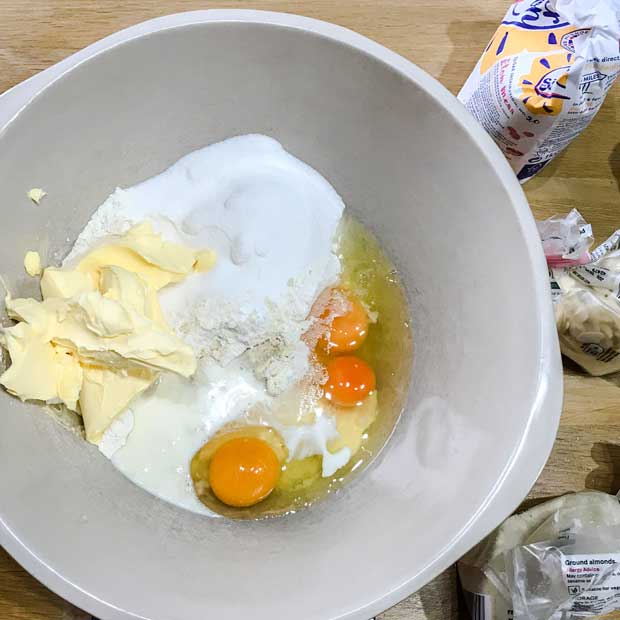 Put the almond cake ingredients into a large bowl
Self-Raising Flour
Baking Powder
Butter (or baking spread)
Eggs
Milk
Sugar
Ground Almonds
Almond Extract
Beat all these ingredients together with an electric mixer until the mixture is light and fluffy.
How do I make plain (all-purpose) flour into self-raising flour?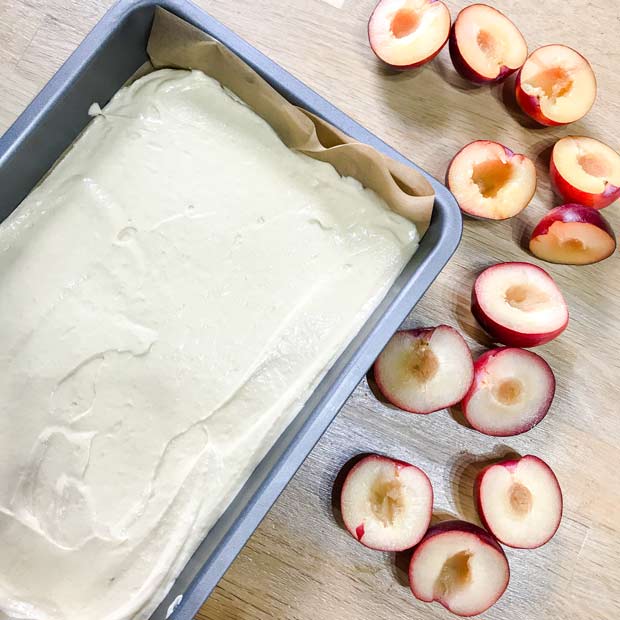 Assemble the cake
Line a traybake baking pan with baking parchment.
Put the almond cake mixture into a traybake baking pan.
Halve the plums and remove the stones.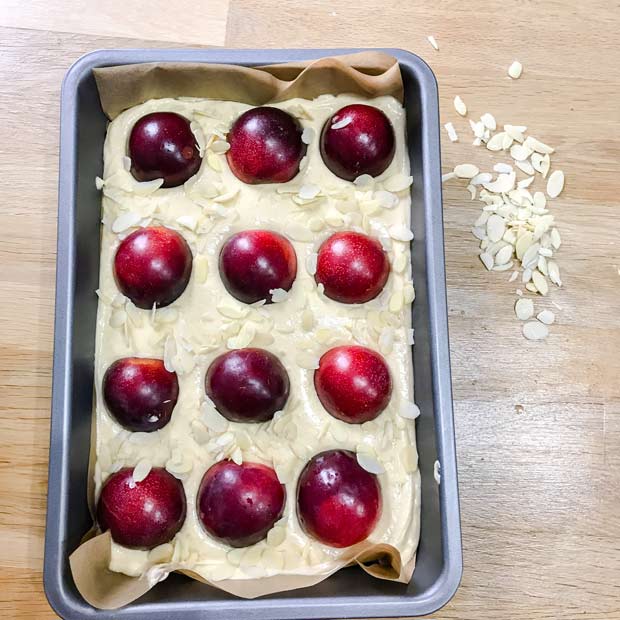 Add the plums and flaked almonds
Lay out the plums evenlyacross the traybake. The plums I have are quite large, if you have smaller plums you can place them four across. Sprinkle over the flaked almonds.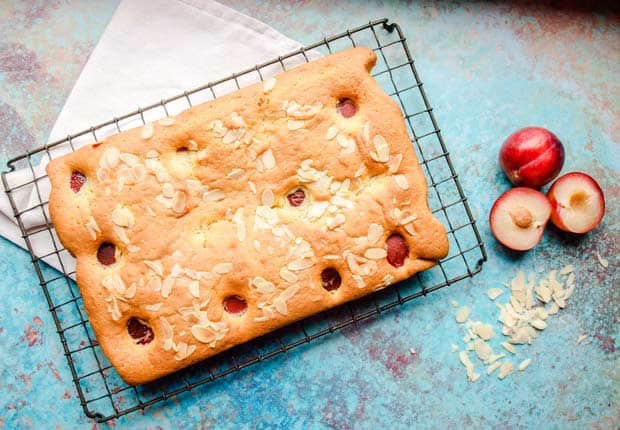 Bake!
Bake at 170C for 30 minutes.
Remove from the oven and leave in the tin for 10 minutes.
Carefully remove the cake from the tin and place on a wire rack to cool.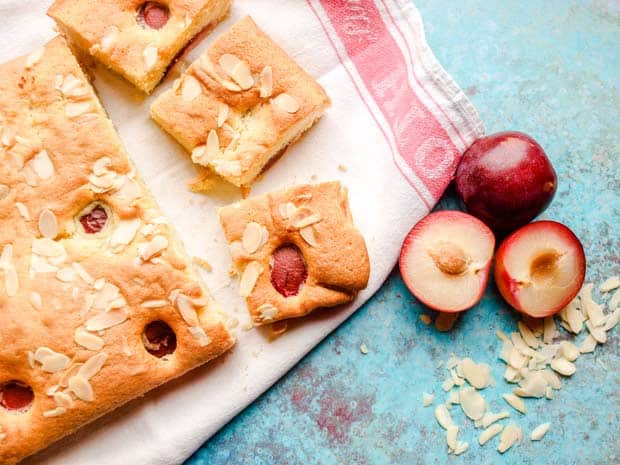 How to serve Plum and Almond Traybake Cake
Serve it warm as a dessert with cream, ice cream or custard. Or let it cool completely and serve up a square with a cup of tea or coffee.
It's great for using up excess fruit, but it's such a tasty bake that it's well worth buying plums just to make this easy traybake cake.
More Plum Recipes from Farmersgirl Kitchen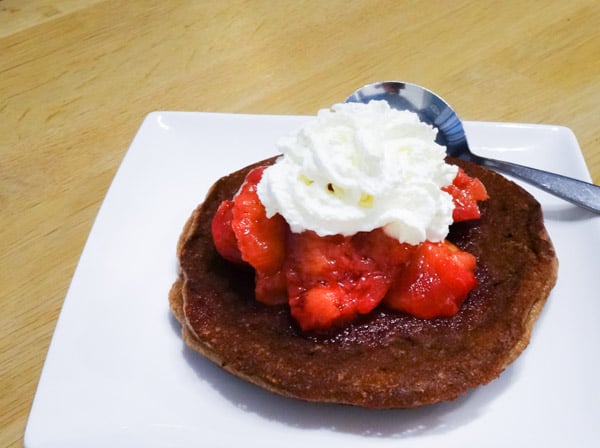 Cinnamon Spice Pancakes with Cinnamon Spice Plums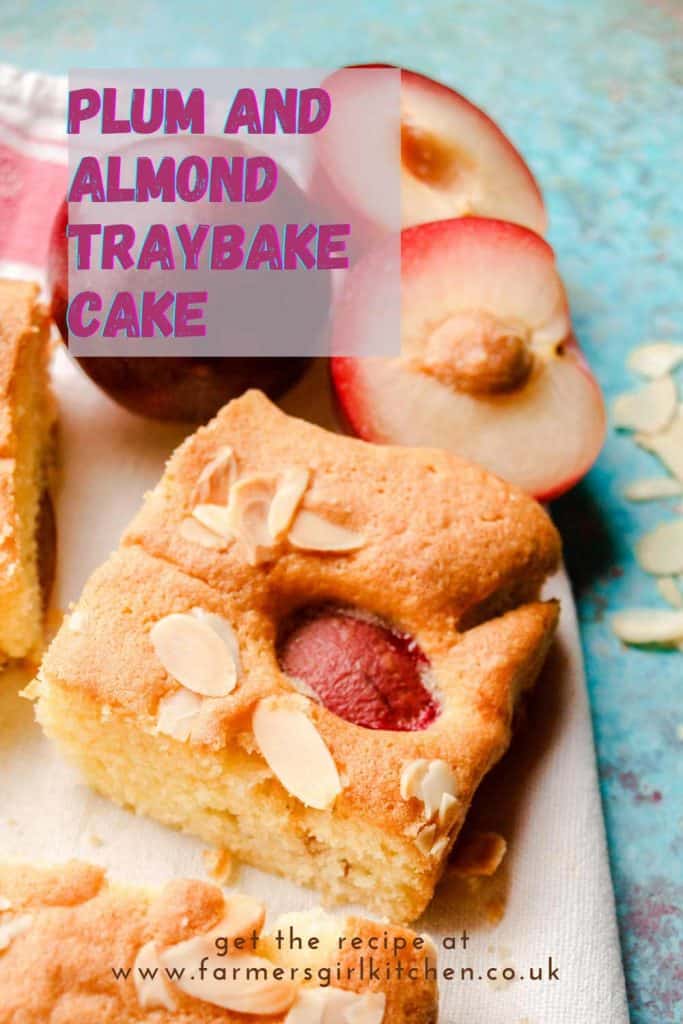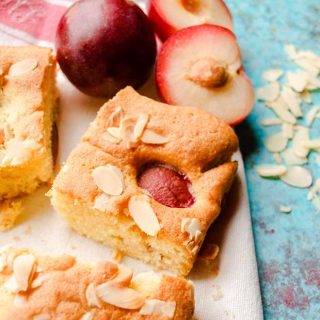 Plum and Almond Traybake Cake
A perfectly simple almond sponge cake dimpled with juicy ripe plums, sprinkled with flaked almonds and baked to perfection, the perfect way to use up an excess of plums.
Equipment
12 x 9 in (30 x 22.5 cm) baking tin

weighing scales

Measuring spoons

Large bowl

electric mixer or whisk

Cooling rack
Ingredients
6

large

plums

175

g

soft butter or baking spread

200

g

self-raising flour

1 1/2

tsp

baking powder

25

g

ground almonds

175

g

caster sugar

1

tsp

almond extract

3

eggs

3

tbsp

milk

15

g

flaked almonds
Instructions
Heat the oven to 170C

Line a with baking parchment.

Halve the plums and remove the stones.

Place all the ingredients, except the plums and flaked almonds, in a large bowl.

Mix with an electric mixer for 2-3 minutes until well blended.

Put the mixture into the lined tin and spread evenly.

Place the plums cut side down across the mixture .

Sprinkle over the flaked almonds

Bake for about 30 minutes until the top is golden brown and the sponge springs back when pressed.

Leave to cool in the tin, then remove to a cooling tray.
Notes
You can serve this cake warm as a dessert with cream or ice cream. It is also very good served as a cake with tea or coffee.
Nutrition
Calories:
275
kcal
Carbohydrates:
32
g
Protein:
5
g
Fat:
15
g
Saturated Fat:
8
g
Cholesterol:
73
mg
Sodium:
20
mg
Potassium:
164
mg
Fiber:
1
g
Sugar:
18
g
Vitamin A:
544
IU
Vitamin C:
3
mg
Calcium:
53
mg
Iron:
1
mg
Don't Miss My Latest Recipes
CLICK TO SUBSCRIBE NOW to join my newsletter list & receive a FREE 'How To Adapt Recipes For Your Slow Cooker' printable!
Share by Email