Plum Jam always reminds me of my maternal grandmother, my gran was a great jam maker, every year she made raspberry, strawberry, and blackcurrant. However, it is my Gran's Plum Jam I remember best of all. because she cooked the plums with the stones in and you had to pick them out and put them on the side of your plate when you spread the jam on your bread and butter!
You'll be pleased to know that I took the stones out of my jam as I would hate someone to crunch down on one and break their teeth – eek! This recipe for Easy Plum Jam is really very simple and as plums are high in pectin, you will have no difficulty getting it to set. I'm sure you'll agree it's such a pretty colour.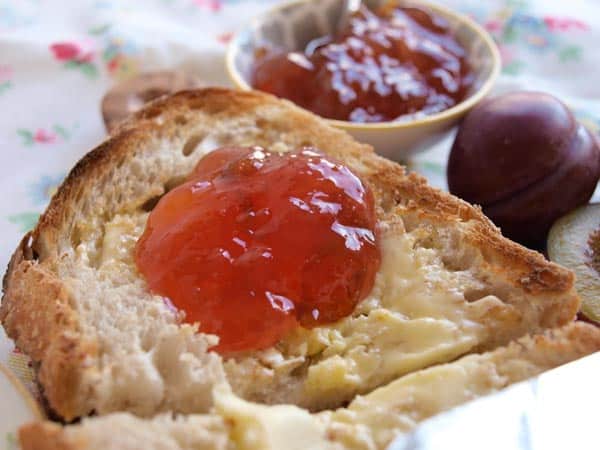 Plum Jam Recipe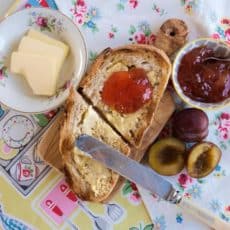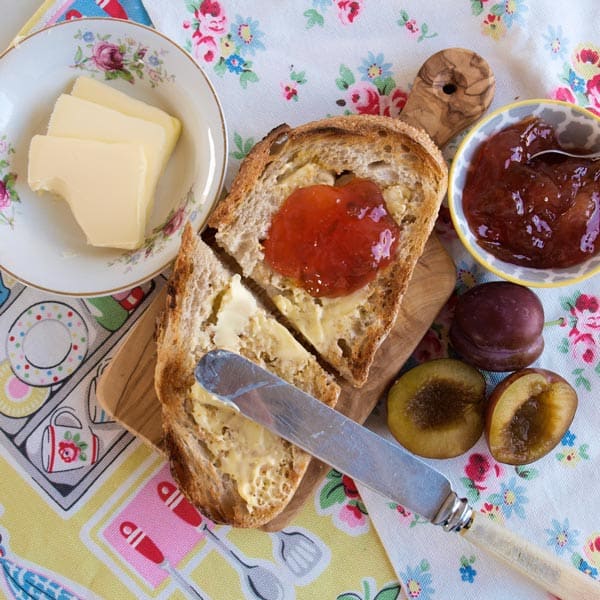 How to make Easy Plum Jam
A recipe for a simple jam using dessert plums, ideal to spread on bread and butter, scones or Scotch pancakes.
Print
Pin
Rate
Ingredients
900

g

2lb dessert plums (weight without stones)

4

tbsp

water

900

g

2lb sugar

2

tbsp

lemon juice

1

knob

butter

approx 1 tsp
Instructions
Halve the fruit and remove the stones.

Wash your jars and place in a low oven (see notes).

Put into a large pan with the water and cook gently until the plums are soft but not disintegrated.

Add the sugar and lemon juice and stir until the sugar has dissolved.

Bring to the boil and boil rapidly, remove from the heat after after 5 minutes and test for set (see notes).

When setting point has been reached, skim off the most of the froth (scum) into a bowl (you can still eat this, it's not dirty just frothy) then add the knob of butter which will disperse the remaining scum.

Let it cook for about 15 minutes so the fruit settles and doesn't sink to the bottom of the jars.

Ladle into sterilised jars and leave to cool before sealing.
Notes
To Sterilise jars: thoroughly wash the jars, rinse in cold water, then turn upside down on a baking tray. Place in the oven and turn the heat on very low leave for about 15 minutes, remove just before filling. To Test for Set: After about 5 mins, spoon a little jam onto a cold saucer. Place it back in the fridge for 2 minutes then push the jam with your fingertip. If it wrinkles, the jam is ready. If not, cook for a few mins more and test again, with another cold saucer. If you have a sugar thermometer, it will read 105C when ready.
How to make Easy Plum Jam
Only plums, sugar, water and lemon juice are needed to make this simple and delicious jam. Halve the plums and remove the stones, put them into a large pan, I use the base of my pressure cooker.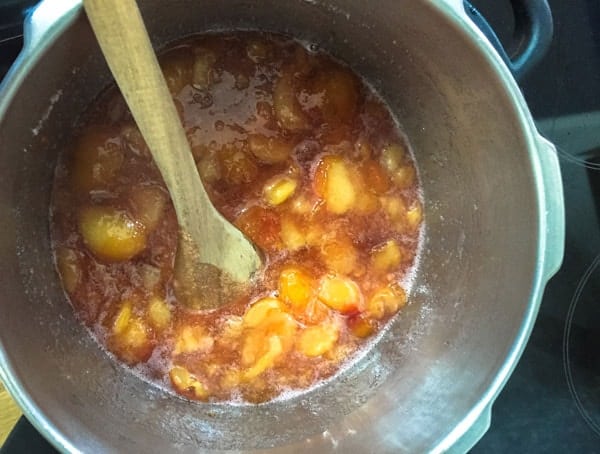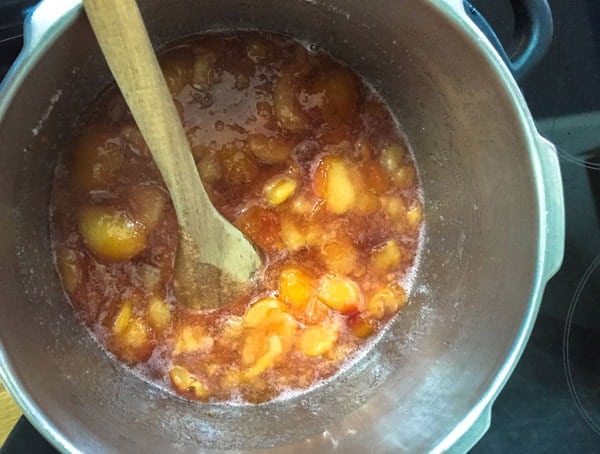 The plums will soften quite quickly in the water and lemon juice then you can add the sugar, be sure that the sugar is fully dissolved before bringing to the boil. For more information and video clip of what a rolling boil looks like and how to tell if your jam is set using the wrinkle test, check out my Fig & Lime Jam recipe.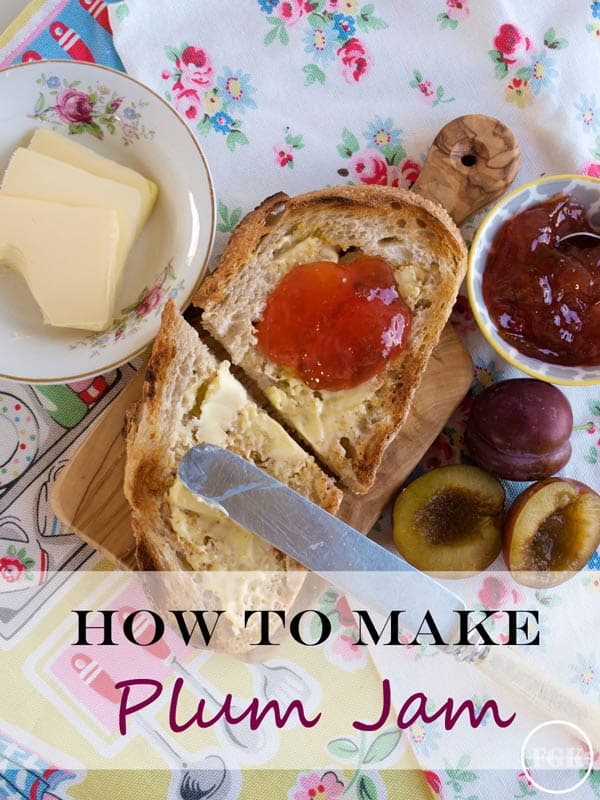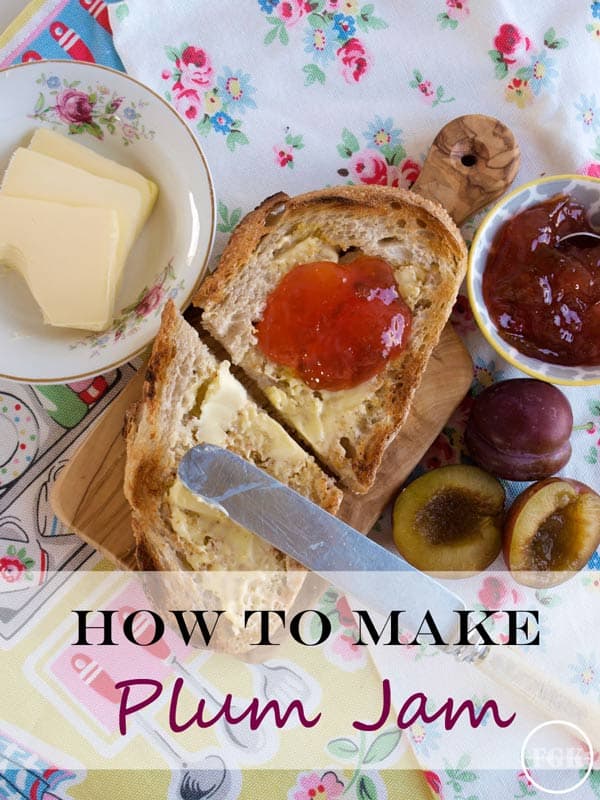 I always think there is something rather magical about the way fruit and sugar transform into jam and, what a glorious colour this Plum Jam turned out to be. The colour may vary depending on the type of plums that you use, but somehow it always looks like glowing jewels, or am I being fanciful?
Here are more recipes using plums from top UK bloggers:
Plum and Almond Traybake – Farmersgirl Kitchen
Easy Roasted Plums with Star Anise – Supper in the Suburbs
Cinnamon Spice Pancakes with Cinnamon Poached Plums – Farmersgirl Kitchen
Plum Jelly – Kavey Eats
Duck and Plum Salad – Farmersgirl Kitchen
Mini Damson Madeira Loaves – Baking Queen 74
Plum Almond and Apple Tarte Tatin – Foodie Quine
Grilled Plums with Minted Couscous and Almonds – Thinly Spread
Plum and Almond Crumble Cake – Family, Friends, Food
Plum and Fig Cheesecake – Lovely Appetite
Hungarian Plum Cake – Elizabeth's Kitchen Diary
Glyn Purnell's Duck with Spiced Plum Jam – Gingey Bites
Apple Plum Galette – Little Sunny Kitchen
I'm adding this seasonal favourite to #CookBlogShare where you will find lots more delicious recipes