Rhubarb and Orange Fool is a sweet creamy dessert made with roasted rhubarb, whipped cream with a hint of orange zest. It's a super easy recipe and the perfect make-ahead dessert for summer entertaining.

Rhubarb and orange is a really nice combination of flavours. They are both fresh sharp flavours which pair well with the rich creamy sweetness of the Rhubarb and Orange Fool.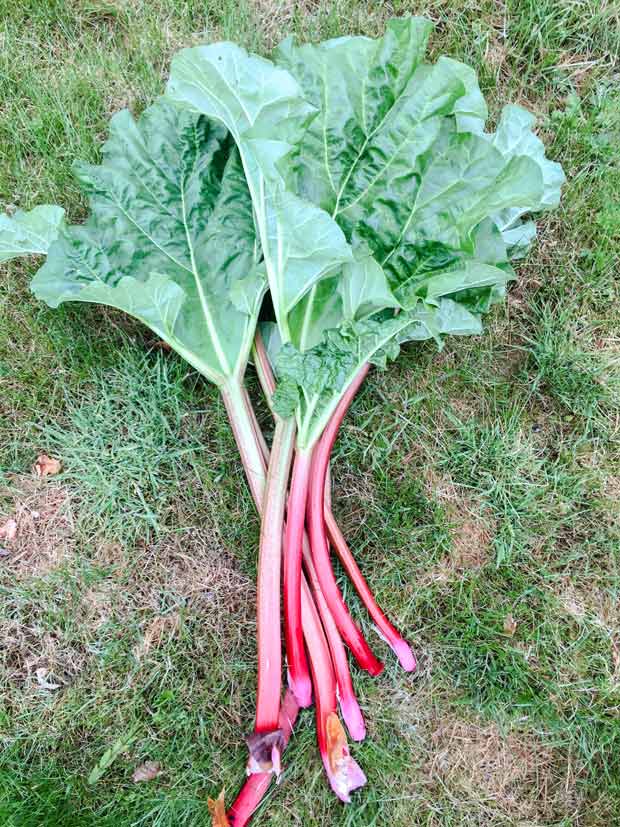 What is rhubarb?
Rhubarb is a hardy perennial plant and technically a vegetable. It has pink, red or pale green stems that are most often used in desserts like crumbles and pies.
Raw rhubarb has a tart flavour like a lemon. It is really too acidic to eat raw, however, combine rhubarb with sugar and it has a delicious tangy taste.
How do I grow rhubarb?
Rhubarb is grown from a crown. This is a thick rhizome which is planted just below the surface of the soil.
Rhubarb plants like lots of moisture and you need to mulch the plant to keep it from getting too dry.
When can I pick rhubarb?
The best rhubarb is available in Spring. The earliest rhubarb you can buy is forced, this means it has been grown in the dark Forced rhubarb has pale pink stems and is tender and sweet.
You can pick rhubarb all through the summer although the stems do become thicker and tougher as the summer goes on. Stop picking rhubarb in July and let the plant rest before it becomes dormant for the winter.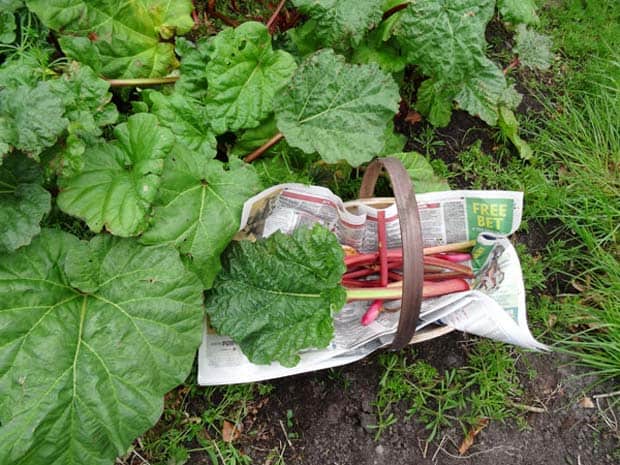 My garden rhubarb
I have several well-established crowns of rhubarb in my garden. I am lucky to well-established rhubarb crowns that have been growing in the garden for at least 50 years. And I'm always delighted when they pop up every year and provide me with lots of delicious rhubarb stalks. 
I recently planted a new crown of rhubarb called Brandy Carr Scarlet which I'll be able to sample this year.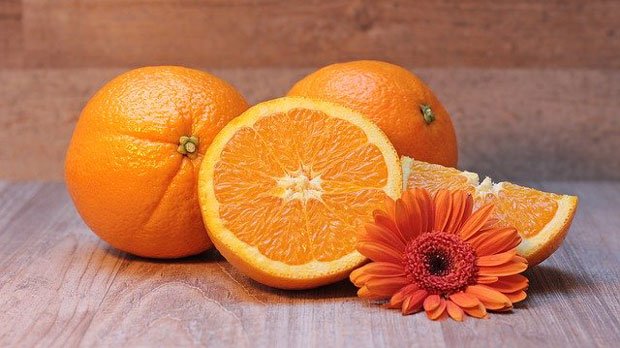 What kind of oranges should I use?
Use any oranges that you have. I would recommend you use organic oranges because the recipe includes the peel and organic oranges have no pesticides on their skins.
However, if you don't have organic oranges, wash the oranges well to remove any wax and possible residue of chemicals.

Why is this dessert called a Fool?
The term 'fool' is first recorded in the book The Compleat Cook published in 1658 where there is a recipe for Gooseberry Fool.
The most likely derivation of the name is from the French word 'fouler' which means to mash or to press. The fruit for a fool is pureed and this would originally have been achieved with a sieve.
Rhubarb Fool is one of the most popular cold desserts using rhubarb. Rhubarb and Orange Fool adds the extra zing of fresh orange and orange zest to this creamy dessert recipe.
Can I make the fool ahead of time?
Yes, put the fool into the serving dishes and refrigerate. You can keep it in the fridge for around 24 hours.
Bring the fool out of the fridge for an hour before serving to bring it back to room temperature and decorate with the orange zest before serving.

Can I freeze Rhubarb and Orange Fool?
Yes, you can. Place in the fridge for 2-3 hours to fully set, then freeze in a lidded container for up to 3 months. Defrost the fool in the fridge for 6 hours or overnight.

How to make Rhubarb and Orange Fool

Roast the Rhubarb
Cut the rhubarb into even-sized pieces and place in an ovenproof dish.
Add the orange juice and half the zest.
Roast the rhubarb for about 10 minutes until tender then leave to cool.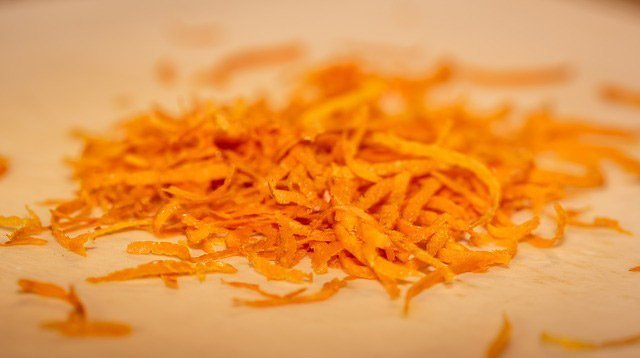 Make the Orange Zest garnish
Place the remaining strands of orange zest into a pan and cover with water.
Simmer the orange zest and water for about 5 minutes.
Add the sugar.
Simmer the orange and sugar gently until the liquid becomes syrupy.
Remove the orange zest and place on baking parchment to dry.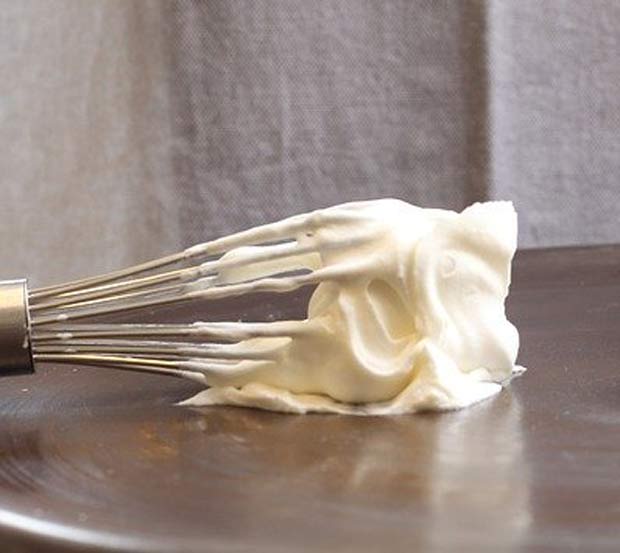 Whip the Cream
Whip the cream until it holds soft peaks. You can whip the cream by hand with a whisk or use an electric mixer.

Make the Rhubarb Puree
Use a jug blender or a stick blender to blend the rhubarb pieces with some of the orange juice liquid in the roasting dish.
If you don't have a blender you can push the softened rhubarb through a non-metallic sieve and then add a little of the orange liquid to the puree. 

Combine the rhubarb and cream
Gently fold the roasted rhubarb into the whipped cream with a whisk or metal spoon. Be gentle because otherwise the you will lose the air you have whipped into the cream.

Top Tip
If your fool is lacking a pink colour add a drop of red food colouring or half a teaspoon of beetroot powder. I use beetroot powder because not only does it provide natural colouring but also has no taste of beetroot!

Serving Suggestion
Serve the Rhubarb and Orange fool in individual glass bowls or glasses Decorate the tops of the desserts with the sugared strips of orange zest.
More Rhubarb Recipes from Farmersgirl Kitchen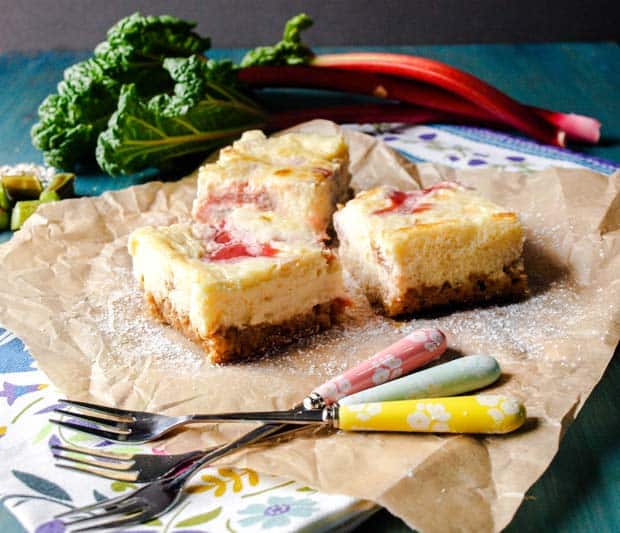 Rhubarb Cheesecake Bars are a delicious combination of flavours and textures. Top the oaty base with a rich, smooth baked cheesecake layered with pieces of tart, roasted rhubarb. Add more pureed rhubarb to make the pretty swirls on the top. Rhubarb Cheesecake Bars are absolutely delicus.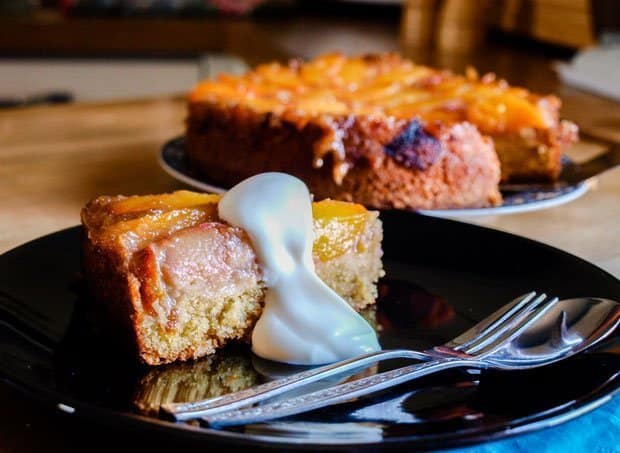 Peach and Rhubarb Upside Down Cake is really moist and the perfect 'pudding cake'. Serve warm or cold as a dessert with cream, yoghurt, custard or ice-cream. It is also just as nice as a slice of cake with a cup of tea or coffee.

Rhubarb and Ginger Trifles is a rhubarb recipe you can make with only two stalks of rhubarb. And it's easy to create a delicious creamy dessert that will feed four people.
More Rhubarb Recipes

Stay in touch with everything that's going on at Farmersgirl Kitchen.

Rhubarb and Orange Fool
A perfect balance of sweet and sour in this fruity, creamy dessert.
Ingredients
450

grams

rhubarb

1

orange

zest and juice

100

grams

caster sugar

300

millilitres

double cream

1

drop of red food colouring paste

optional
Instructions
Heat the oven to 160C

Wash the rhubarb and cut into even sized pieces and place in a single layer in a non metal ovenproof dish, add the orange juice and half the zest..

Roast the rhubarb in the oven for about 10 minutes, until a knife slips easily into a piece of rhubarb, but before the rhubarb starts to disintegrate. Leave to cool.

Place the remaining strands of orange zest in a small pan and just cover with water. Simmer for about 5 minutes, then add a tbsp of sugar and continue to simmer until the liquid becomes syrupy. Remove the sugared orange zest and place on baking parchment to dry.

Whip the cream until it holds soft peaks.

Once cold, you can either blend the rhubarb and juice until smooth or push through a non-metallic sieve.

Fold the rhubarb mixture into the cream, cutting through gently with a metal spoon, add the colouring if using*.

Serve chilled in individual glass bowls decorated with the sugared strips of zest.
Notes
If you have very red or pink rhubarb you may not need to colour it, however, it can go a sludgy green when cooked and looks nicer if it is a little pink.
A good alternative to food colouring is beetroot powder and approximately 1/2 tsp of beetroot powder will add a nice pink colour to the fool without affecting the flavour. 
Servings depend on size of portion, this recipe will serve six if served in mini ramekins and four if served in sundae glasses.
Nutrition
Calories:
394
kcal
Carbohydrates:
36
g
Protein:
2
g
Fat:
28
g
Saturated Fat:
17
g
Cholesterol:
102
mg
Sodium:
33
mg
Potassium:
439
mg
Fiber:
2
g
Sugar:
29
g
Vitamin A:
1290
IU
Vitamin C:
26.9
mg
Calcium:
159
mg
Iron:
0.3
mg
Don't Miss My Latest Recipes
CLICK TO SUBSCRIBE NOW to join my newsletter list & receive a FREE 'How To Adapt Recipes For Your Slow Cooker' printable!
Share by Email