These Rhubarb and Ginger Trifles are a rhubarb recipe you can make with only two stalks of rhubarb and you can create a delicious creamy dessert that will feed four people.
What is rhubarb?
Rhubarb is a hardy perennial plant with pink, red or pale green stems that are most often used in desserts like crumbles and pies.
It has a tart flavour and is too sharp to eat raw, but combined with sugar and other ingredients it has a delicious tangy taste.
How do you grow rhubarb?
Rhubarb is grown from a crown. This is a thick rhizome that is planted just below the surface of the soil.
Rhubarb plants like lots of moisture and you need to mulch the plant to keep it from getting too dry.
When is rhubarb in season?
The best rhubarb is available in Spring. The earliest rhubarb you can buy is forced, this means it has been grown in the dark
Forced rhubarb has pale pink stems and is tender and sweet.
How to make Rhubarb and Ginger Trifles
This really is a very simple recipe that can be made even easier if you use ready-made cake and custard (pudding). Then the only thing you need to do is roast the rhubarb and assemble.
Roast the Rhubarb
Wash the rhubarb and cut it into 3 cm lengths. All the rhubarb pieces should be about the same size because they will then cook evenly.
Lay the pieces of rhubarb in a single layer in an ovenproof dish and sprinkle with sugar and roast for about 15 minutes until the rhubarb is tender. Leave to cool.
The Cake
I usually have a pack of trifle sponges or some sponge fingers in my pantry, they are ideal to pair with fruit because a trifle will stretch the most meagre of ingredients into a feast.
If you don't have trifle sponges, then use Madeira cake or make a simple victoria sponge cake. Another alternative would be to use gingerbread which will enhance the ginger flavour even further.
Cut or break up the cake into small pieces and put them in the base of four glasses or small dishes.  Pour on a little sherry, Madeira or orange juice to moisten the cake. 
What is Custard?
Custard is a very British dessert, sometimes called Creme Anglaise. It is made with milk or cream, sugar a little flour and egg yolks. This recipe from Charlotte's Lively Kitchen for Homemade Custard would be perfect.
In the UK we also have an egg-free version made with 'custard powder' which is basically coloured cornflour that you mix with sugar and milk to make a sweet sauce.
In addition, there are many really excellent chilled custards available from UK supermarkets, choose the best one you can afford. In the US you can use ready-made vanilla pudding as a substitute.
Custard is usually served warm as an accompaniment to warm desserts. However, in this case the custard is cooled before being added to the trifle.
Build the Trifle
Divide the roasted rhubarb between the glasses placing it on top of the cake pieces.
Top the rhubarb with spoonfuls of the cold custard.
Whip the cream until it reaches soft peaks, then pile on to of the custard.
Chill until ready to serve, then decorate with toasted flaked almonds.
More Rhubarb Dessert Recipes from Farmersgirl Kitchen
Classic Rhubarb Crumble is a favourite dessert and I can't believe I haven't shared it with you before now. Rhubarb Crumble is always the first recipe I make with the rhubarb from my garden, it's so easy to make and a real crowd-pleaser.
This Easy Rhubarb Tart recipe creates a really delicious dessert from simple ingredients. Make your own melt in the mouth shortcrust pastry or use ready-made all-butter pastry for an even quicker fix.  Fill the tart with a simple mixture of rhubarb, sugar, and cornflour and pop it in the oven.  
Check out this round-up of 30 Delicious Rhubarb Dessert Recipes for even more inspiration 
More Trifle Recipes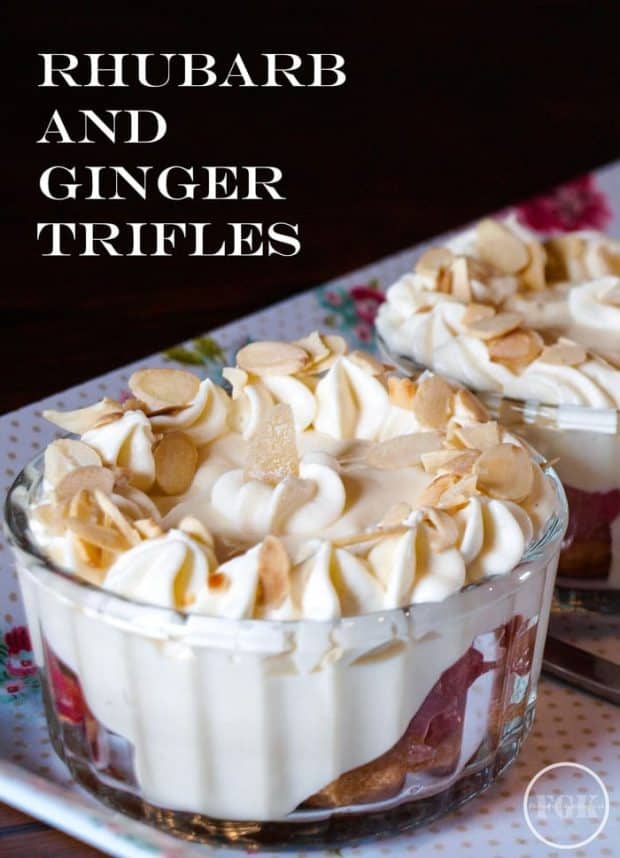 PIN FOR LATER
Let's get social!
Stay in touch with everything that's going on at Farmersgirl Kitchen.