Roast Pumpkin Seeds are a tasty and healthy snack that you can easily make at home with the seeds from your Halloween pumpkin. I've always wanted to try roasting pumpkin seeds, but somehow I've never quite got round to it. If you have been thinking about it but didn't know how to start then follow these easy steps.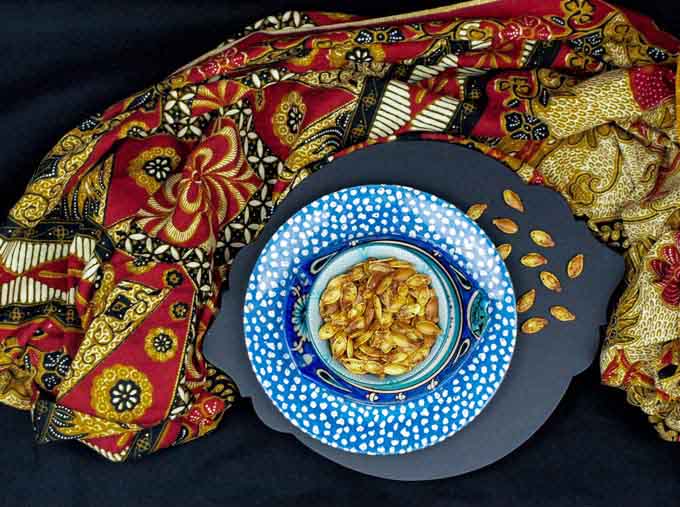 Are Roast Pumpkin Seeds good for you?
Roast Pumpkin seeds make a great snack. And they also contain omega 3, omega 6, fatty acids, antioxidants and fibre and they are said to help reduce cholesterol, always a bonus!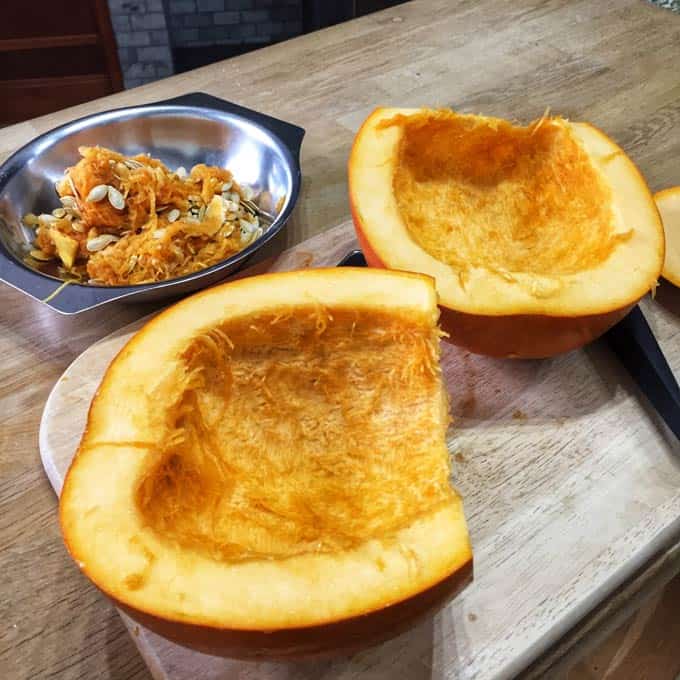 Remove the seeds from your pumpkin
Scoop the seeds from your pumpkin. If you plan to roast the pumpkin cut it in half. But if you plan to make a lantern you can scoop the seeds from a hole in the top.
Separate the seeds from the strings. I find the easiest way to do this is to put the strings and seeds in a bowl of cold water. The seeds float to the top and you can scoop them off with a slotted spoon.
You may need to dig about in the stringy pulp to get all the seeds out but it doesn't take long.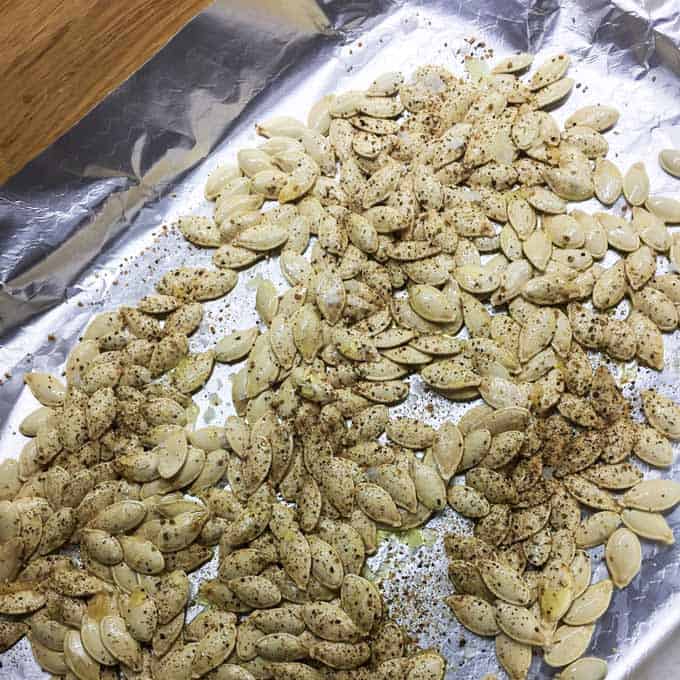 Prepare to roast
Line a baking sheet with aluminium foil put the seeds onto the tray, add olive oil and a seasoning of your choice and mix together then spread out evenly and place in the oven.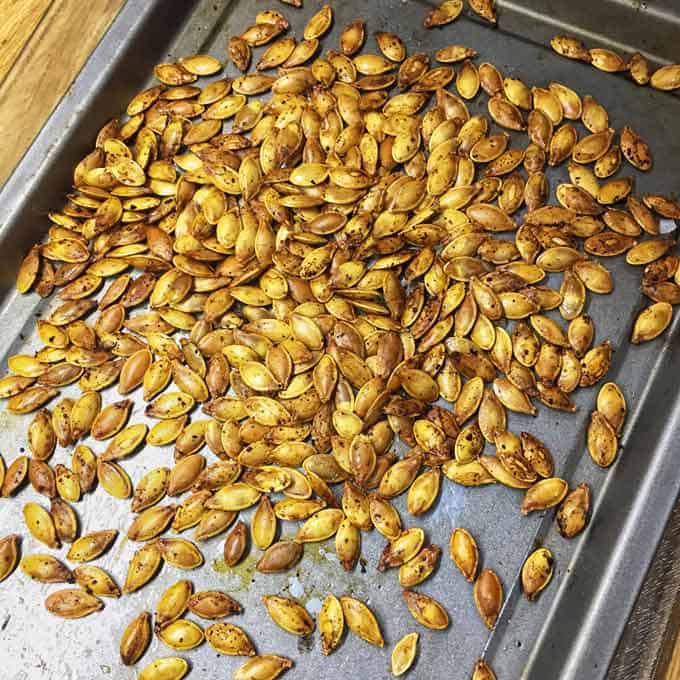 Turn the Roast Pumpkin Seeds
Watch the pumpkin seeds carefully as they can easily burn. Turn with a spatula to make sure they are evenly roasted, then once they are golden brown, leave to cool, then serve.
More Pumpkin Recipes from Farmersgirl Kitchen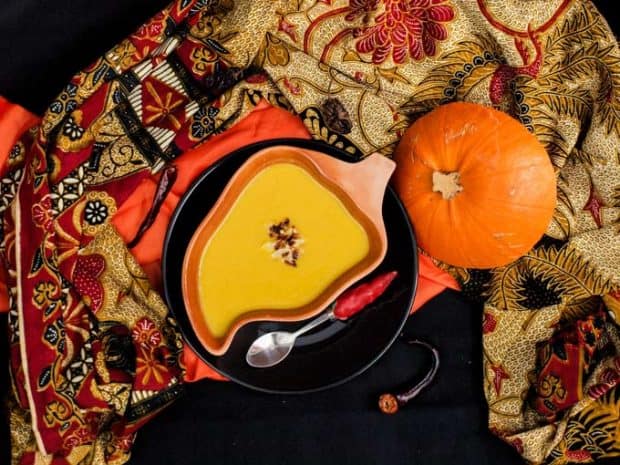 Spicy Roast Pumpkin and Coconut Soup is made with sweet roast pumpkin, warming chilli and creamy coconut milk all blended to a rich smooth vegan and dairy-free soup and sprinkled with chilli flakes and coconut.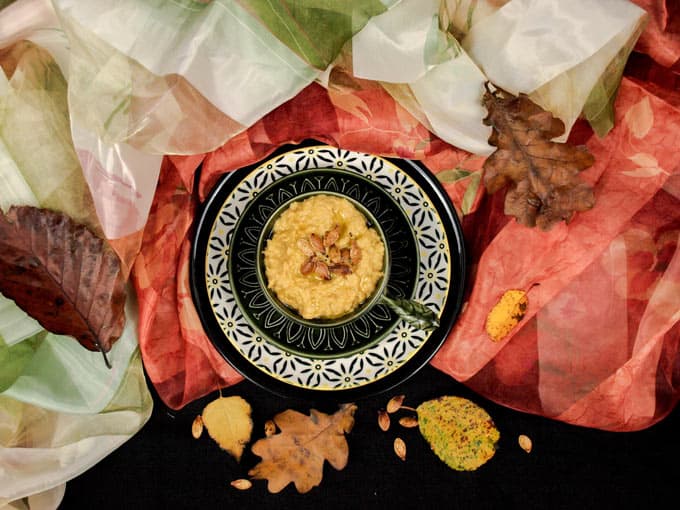 Roast Pumpkin Hummus combines sweet roasted pumpkin with chickpeas and tahini to make a delicious dip or spread. It is ideal for parties or family snacks served with pitta bread or carrot sticks.
More Snacks and Light Bites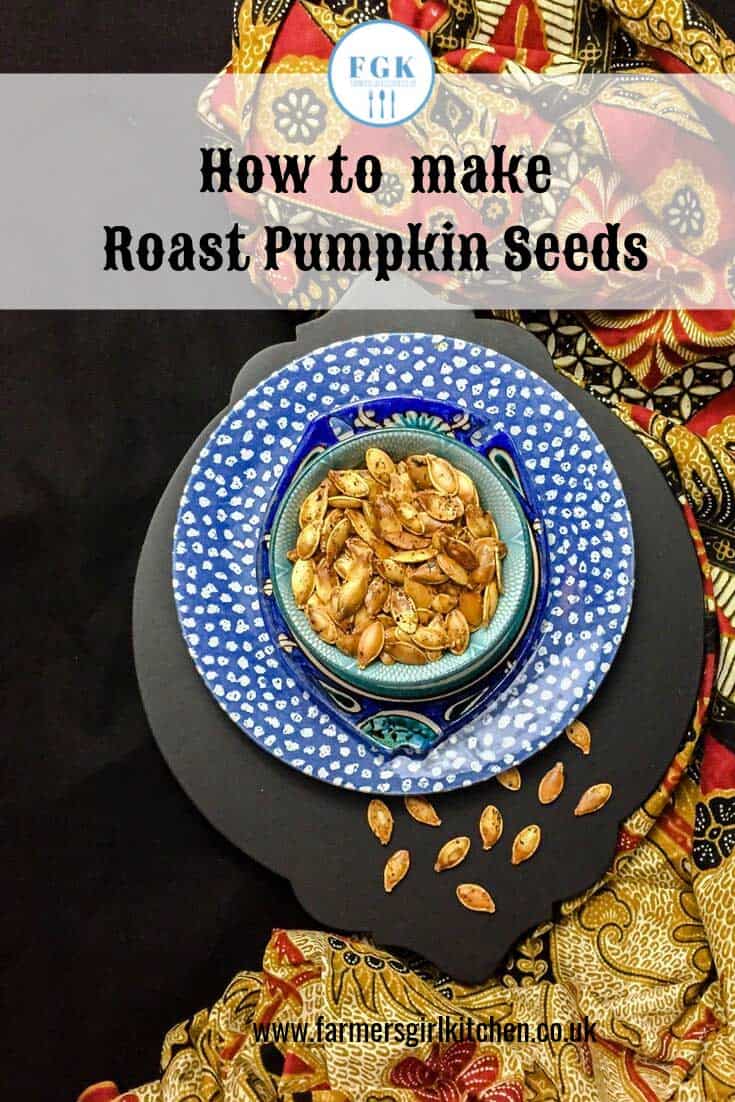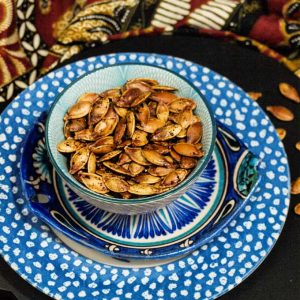 Roast Pumpkin Seeds
How to make Roast Pumpkin Seeds using the seeds from your Halloween Pumpkin!
Ingredients
100

grams

raw pumpkin seeds

1

tbsp

olive oil

1/2

tsp

sea salt

1/4

tsp

ground black pepper
Instructions
Pre heat the oven to 160C

Remove the pumpkin seeds from the pulp (strings)

Place the seeds on a foil-lined baking sheet, add the olive oil, salt and pepper and mix thoroughly.

Roast in the oven for 10 minutes, then check them and move around with a spatula to make sure they brown evenly. Return to oven for another 5-10 minutes.

Check the pumpkin seeds and once golden brown, remove from the oven and leave to cool, then serve.
Notes
Try different flavourings like lemon pepper, chilli, paprika, lemon zest or even honey. Try your favourite flavours.
Don't Miss My Latest Recipes
CLICK TO SUBSCRIBE NOW to join my newsletter list & receive a FREE 'How To Adapt Recipes For Your Slow Cooker' printable!
Share by Email