Easy Scottish Red Lentil Soup is hearty and warming soup. I've taken this traditional Scottish soup recipe and made it even easier to make. There are only five ingredients and one of them is water!
It's the soup I make several times every month throughout the year because it's so simple and just so good to eat.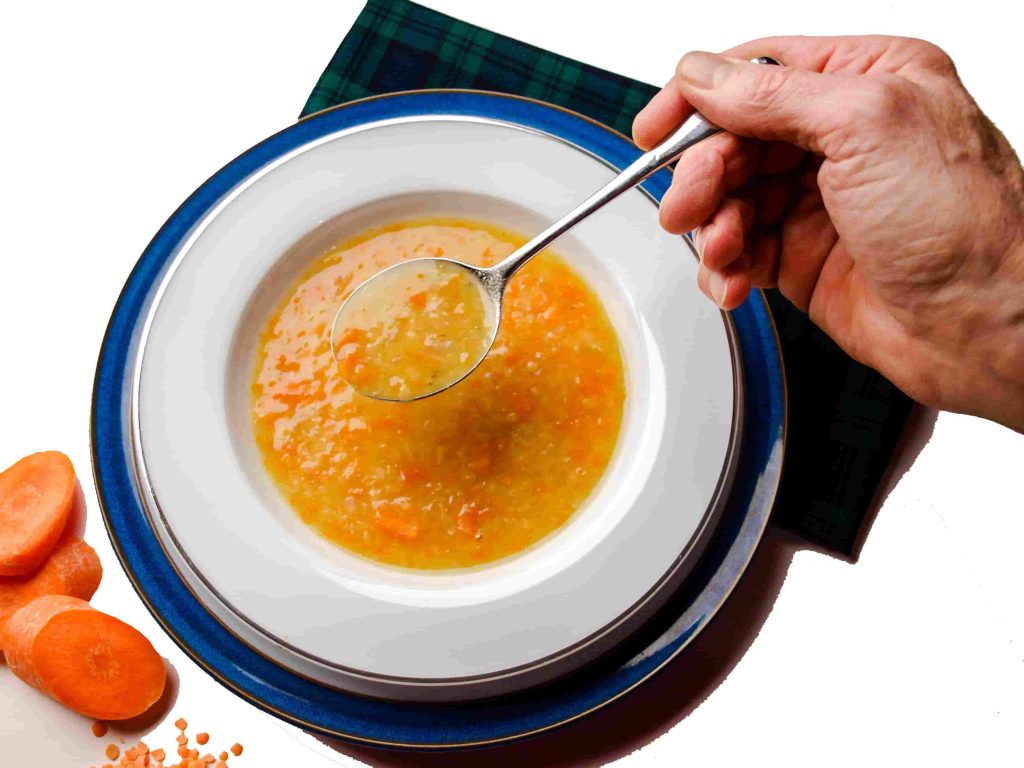 Traditional Scottish Red Lentil Soup with Ham Stock
Traditional Scottish Red Lentil Soup is made using ham stock which is made from a smoked ham hough (hock). While this makes an outstandingly delicious soup, it does take time. My Easy Scottish Red Lentil Soup is much quicker to make and can also be vegetarian.
How to make Traditional Ham Stock
Soak the ham hough overnight in cold water. In the morning discard the water, then bring the hough to a boil in more water. Once it has boiled for 5 minutes discard that water too.
Finally, cover the ham hough with more water and add a chopped carrot, a bay leaf, a teaspoon of peppercorns and an onion studded with a few cloves.
Bring the stock to the boil and cook for 2 – 3 hours or 1-1 1/2 hours in the pressure cooker. Then strain the stock and start to make the soup.

Easy Scottish Red Lentil Soup
I have made Lentil Soup the traditional way, many times. It's really delicious, you strip the meat from the ham hough and add it to the finished soup making it extra special.

However, for everyday soup making I use the easy method using stock cubes and taking advantage of modern kitchen equipment.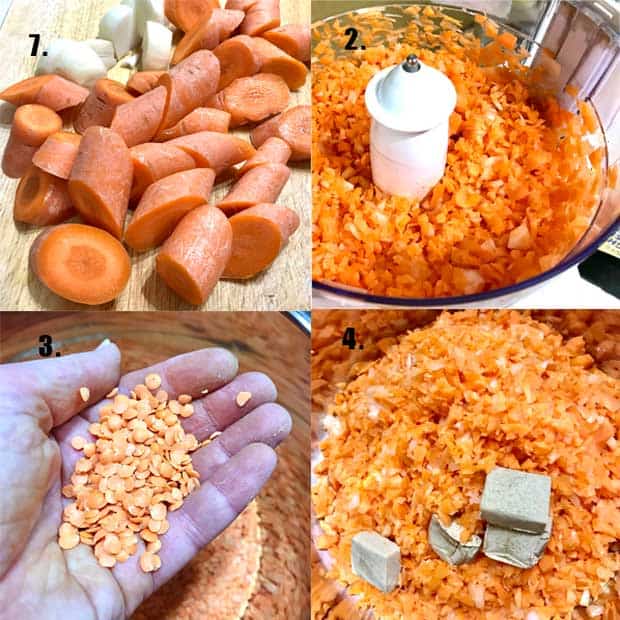 Preparing the soup ingredients
Roughly chop the onion and carrots ready for the food processor
Chop in the food processor until you have small pieces
Add the red lentils to the pan
Add the chopped vegetables, stock cubes, and water.
How do I make the soup without a food processor?
Finely chop the onion and grate the carrots. That's how my Mum and Gran made their soup before we had food processors. It's a little bit more work but there's no need to miss out if you don't have a food processor.
Make Lentil Soup on the Hob, Pressure Cooker or Instant Pot
I bought my first pressure cooker when I was 19 and now have an Instant Pot which is simply an electric pressure cooker.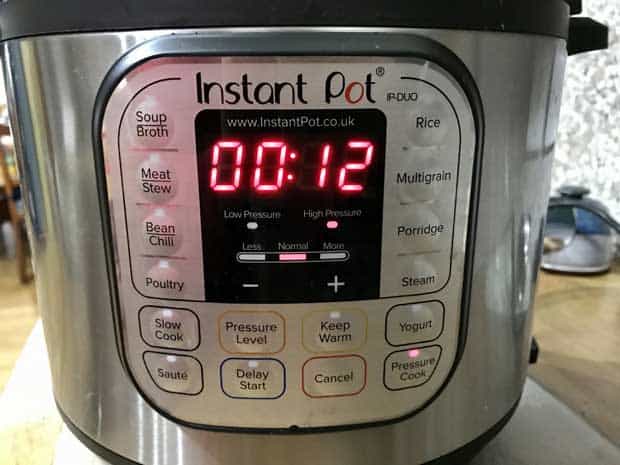 To make on the Hob
Bring the soup ingredients to the boil, then simmer for about 30 minutes until the carrots are cooked and the lentils have dissolved to create a thick soup.
To make in a Pressure Cooker
Put on the lid then bring up to pressure and set a timer to cook for 12 minutes, remove from the heat and release the pressure.
To make in the Instant Pot
Put on the lid. Press Pressure Cook and medium pressure and set for 12 minutes. Once the cooking is finished, leave the Instant Pot for at least 10 minutes before releasing the pressure.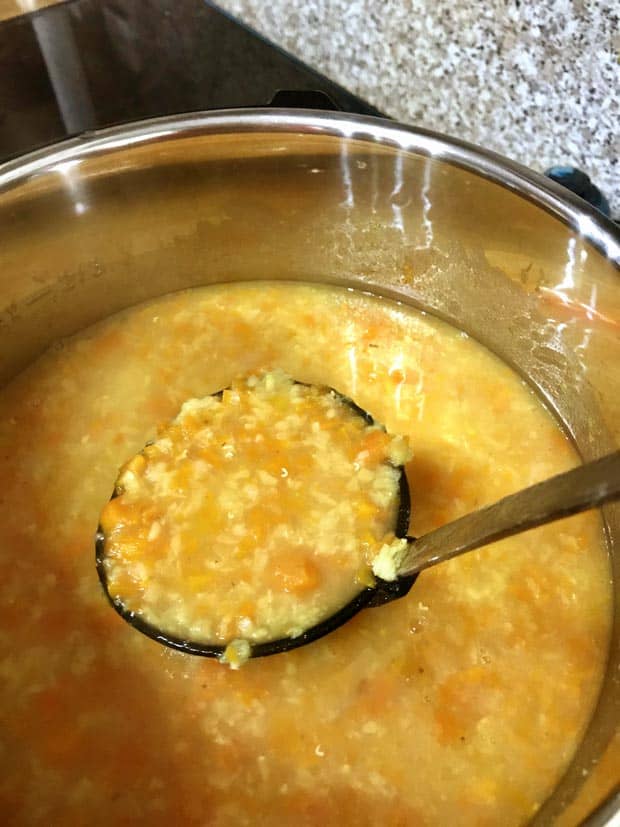 Make Vegetarian Scottish Red Lentil Soup
Although ham stock is traditional you can also make Scottish Red Lentil Soup with vegetable stock cubes. This makes it suitable for vegetarians.
Healthy and Low Calorie
Lentils are full of fibre and combined with carrots and onions, this soup is a great way to fill up. It is also remarkably low in fat and calories as a generous bowl is around 200 kcal.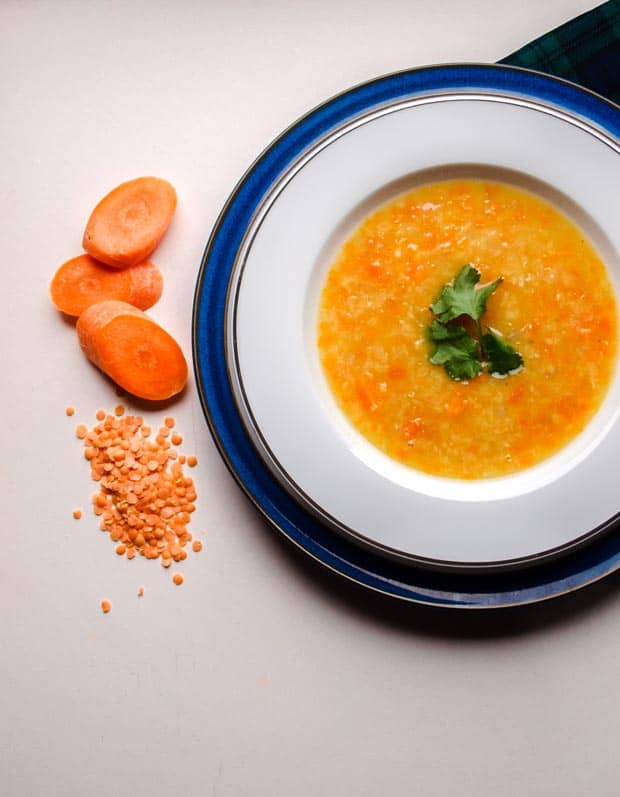 Make it your own
This easy recipe is my family recipe for Scottish Red Lentil Soup. However, there are many variations, for example, my maternal grandmother added grated turnip (swede) to her lentil soup. I have also seen recipes with cubes of potato and larger pieces of carrot.
I would recommend you make the soup following the recipe at least once before you start to add your own favourite ingredients. Please bear in mind I can only vouch for the recipe as written.
More Scottish Soup Recipes from Farmersgirl Kitchen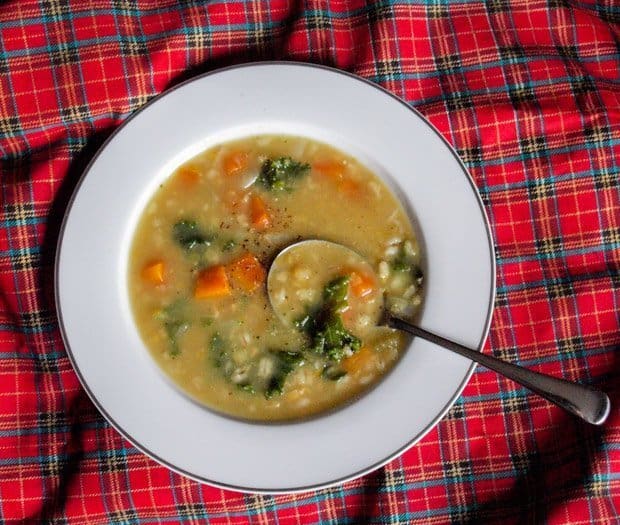 How to make Scotch Broth like a Scot is my simple recipe for a classic Scottish soup. This version is made with vegetable stock and is suitable for vegetarians.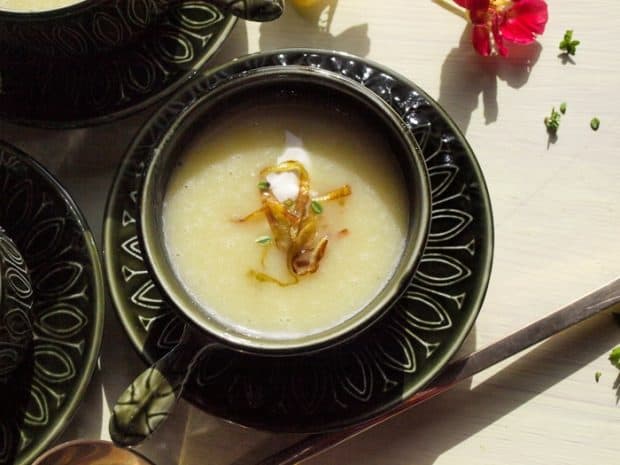 Leek and Potato Soup is one of my favourite winter soups. It's one of three Scottish staple soups alongside Lentil Soup and Scotch Broth that appeared on every table when I was a child.

Cullen Skink is a traditional Scottish soup made with smoked fish, potatoes, and onions. It's the perfect soup to serve as a hearty family meal with homemade soda bread and equally at home at an elegant dinner party.
More Lentil Soup Recipes
Lamb Vegetable and Lentil Soup with Cabbage – Fab Food 4 All
Spiced Lentil, Carrot, and Roasted Tomato Soup – Tin & Thyme
Chicken, Peanut and Lentil Soup – Feast Glorious Feast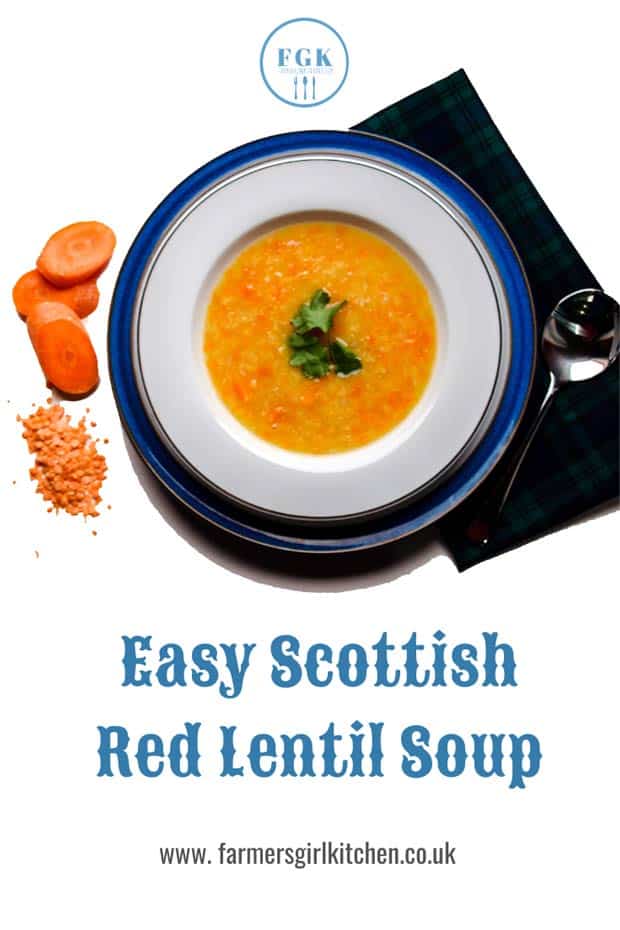 For US measures, please click on the Metric/US Customary Measures in the Recipe Card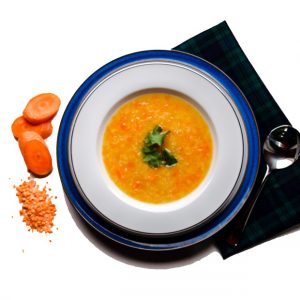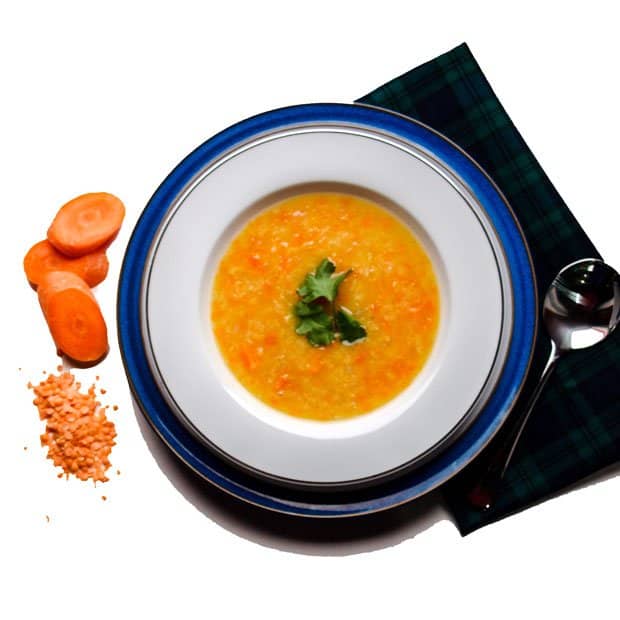 Easy Scottish Red Lentil Soup
An easy recipe for a classic comforting soup of red lentils, carrots, and onions.
Equipment
large pot or pressure cooker

Food processor or grater

Sharp knife

chopping board
Ingredients
4

stock cubes

ham or vegetable

3

litres

water

600

grams

carrots

1

large

onion

250

grams

red lentils
Instructions
Peel the onion and wash the carrots removing the top.

Roughly chop the carrots and onion. Place In a food processor and chop until fine.

If you don't have a food processor then Finely chop the onion and grate the carrots.

Put the vegetables, water, stock cubes and lentils into a large pan.

Bring to a boil then turn down the heat and simmer on the hob for 30 minutes until the lentils have softened and merged into the soup with the carrot and onion.
In a Pressure Cooker/Instant Pot
Bring to pressure and cook on medium pressure for 12 minutes.
Notes
Make it Vegetarian: use vegetable stock cubes
Nutrition
Calories:
203
kcal
Carbohydrates:
37
g
Protein:
12
g
Fat:
1
g
Saturated Fat:
1
g
Cholesterol:
1
mg
Sodium:
713
mg
Potassium:
765
mg
Fiber:
16
g
Sugar:
7
g
Vitamin A:
16722
IU
Vitamin C:
10
mg
Calcium:
62
mg
Iron:
4
mg
Don't Miss My Latest Recipes
CLICK TO SUBSCRIBE NOW to join my newsletter list & receive a FREE 'How To Adapt Recipes For Your Slow Cooker' printable!
Share by Email