How to make Scotch Broth like a Scot. There are as many variations of Scotch Broth as there are cooks in Scotland and this is my vegetarian recipe.
Growing up in Scotland in the 1960s and early 70s, there were two types of soup served at every Scottish table: Scottish Red Lentil Soup and Scotch Broth, both are hearty, filling and inexpensive ways to feed your family.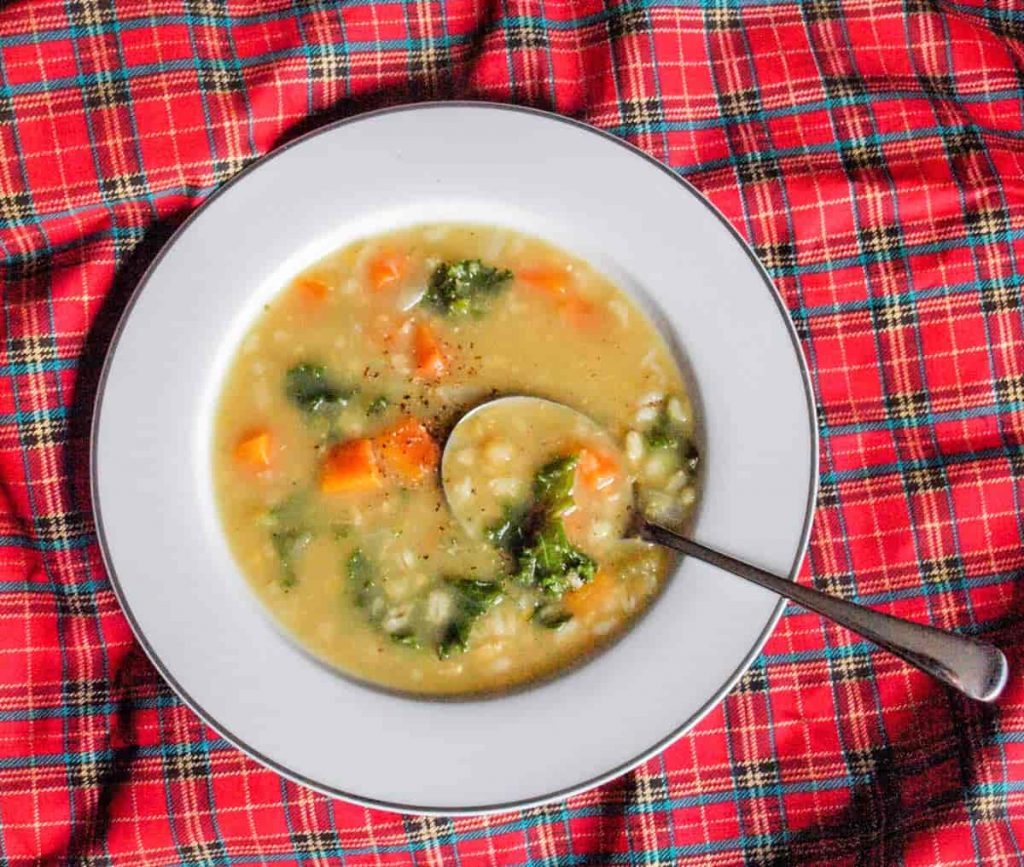 How this Scot makes Scotch Broth
Traditionally, Scotch Broth is made with neck of mutton. The meat would be cooked with the vegetables, barley, and dried peas. The mutton would then be removed and served with potatoes after the broth was eaten.
However, if the soup is to be eaten as a meal, the mutton can be taken off the bone and added back into the soup.

A vegetarian version
Although I have made the traditional version, my usual recipe is a vegetarian Scotch Broth using vegetable stock cubes.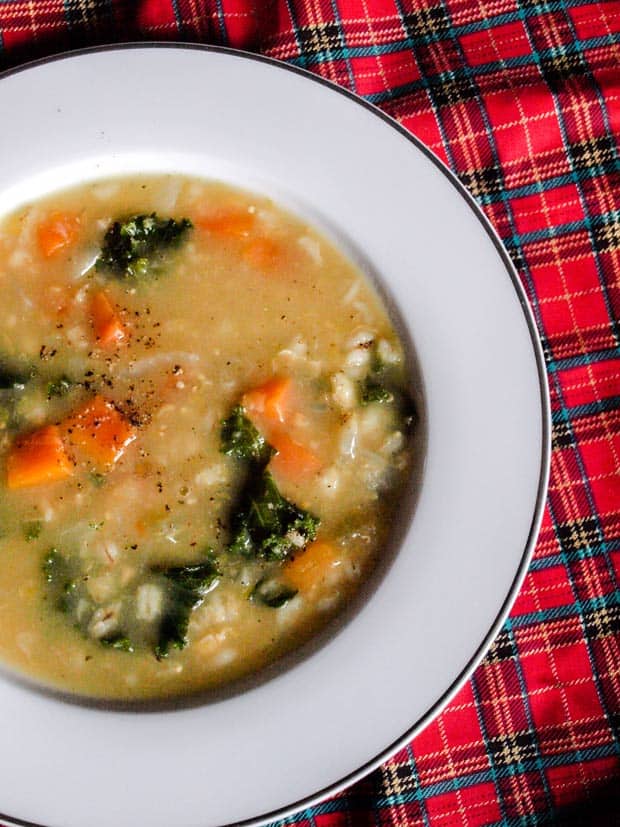 I generally make this soup without a recipe, throwing in whatever vegetables are in my fridge.
However today I thought I would take more care, note the quantities and share with you how this Scots woman makes Scotch Broth.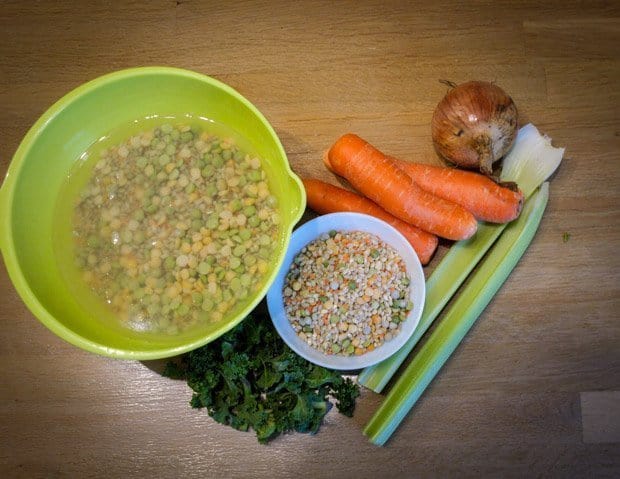 What are the ingredients for Scotch Broth?
Broth Mix
The main ingredient in Scotch Broth is the Scotch Broth mix. You can buy broth mix f in most supermarkets in the UK. The pack I used contained 55% Pearly Barley, 18% Yellow Split peas, 9% Green Split Peas, 9% Blue Peas and 9% Red Split Lentils. Blue peas are the same peas used for Green Split peas, but whole and with the skin left on.
I would recommend soaking the broth mix overnight in lots of cold water although, if you forget, you can boil them in some water for 20 minutes then leave to soak for two hours before starting your soup.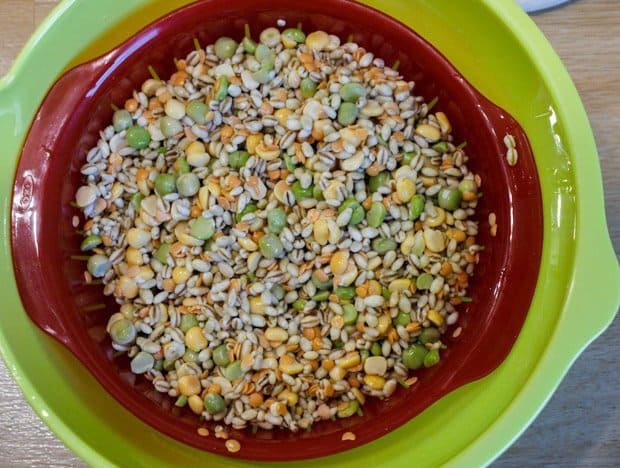 Onion, carrots, and celery
A large onion is essential, as are the carrots, celery is always fabulous in soup but if you don't have any then you can still make Scotch Broth without it. I'm not a purist, the recipe I'm giving is the one I usually make. If you like you can add other root vegetables if you wish, turnip, swede, parsnip will all work well.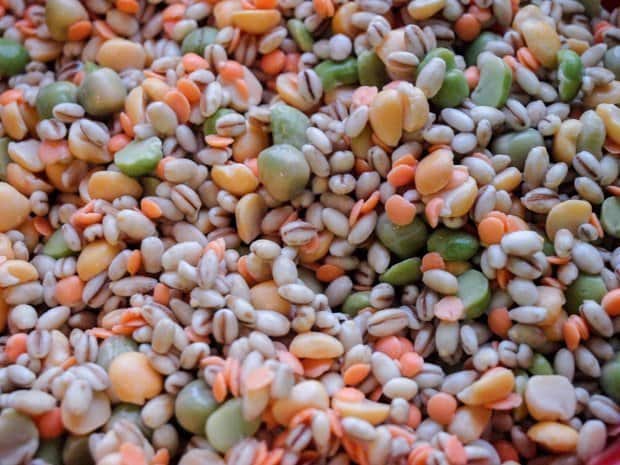 Kale
Kale is a very traditional ingredient for Scotch Broth and should be added at the end of cooking so it retains its bright green colour and all the nutrients. If you don't have any kale, then spinach or parsley will add that lift of colour and provide a fresh taste. You can serve the soup without the green vegetables but they do add to the flavour.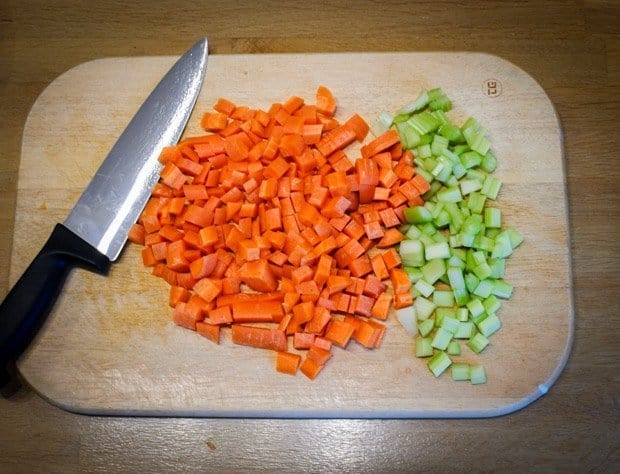 Carrots
Carrots are a key ingredient in Scotch Broth. They add a sweetness and provide the bulk of the vegetable taste to the soup. You don't need to peel carrots for soup, just wash them and top and tail, then quarter the carrots lengthways and dice.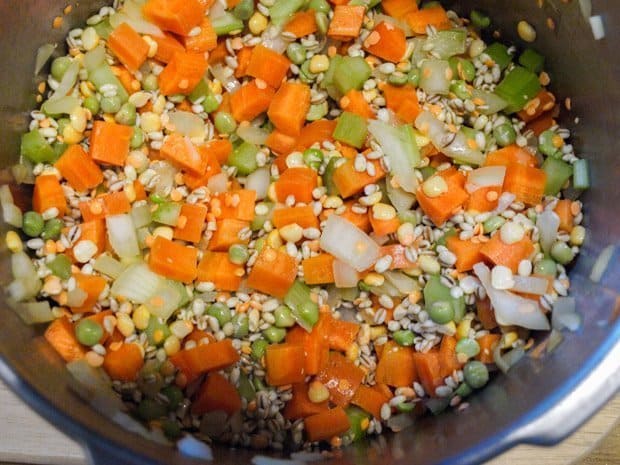 How much broth will the recipe make?
As you can see I make a LOT of soup. My pot of soup will serve 8-10 hearty portions. I make it in my pressure cooker but if you don't have a pressure cooker then you can make it in a large soup or stock pan, If you want to make a smaller quantity you can half the ingredients and use a smaller pan.
How thick is the Scotch Broth?
This recipe makes quite a thick broth. I like my soup quite thick so that 'your spoon can stand up in it', as my Dad would say. It is simple to vary the thickness of your broth by adjusting the quantity of broth mix or by using more or less stock.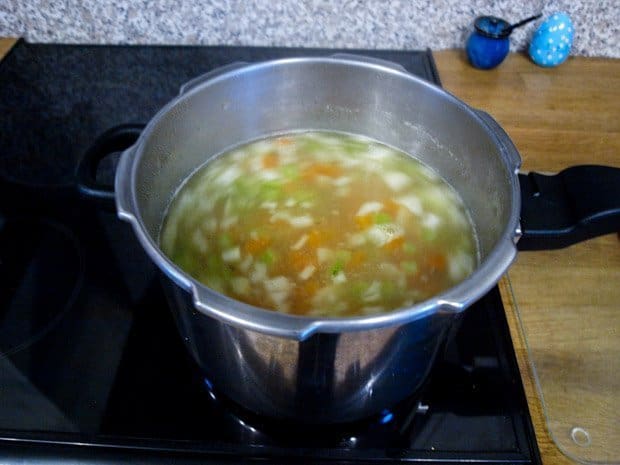 Vegetable or Meat Stock?
This s a vegetarian recipe for Scotch Broth. I'm not a vegetarian, but I hope you will try the recipe with vegetable stock, as I believe that is all that is needed. Please do make the recipe your own and if you prefer a meat stock then either lamb or beef would work well.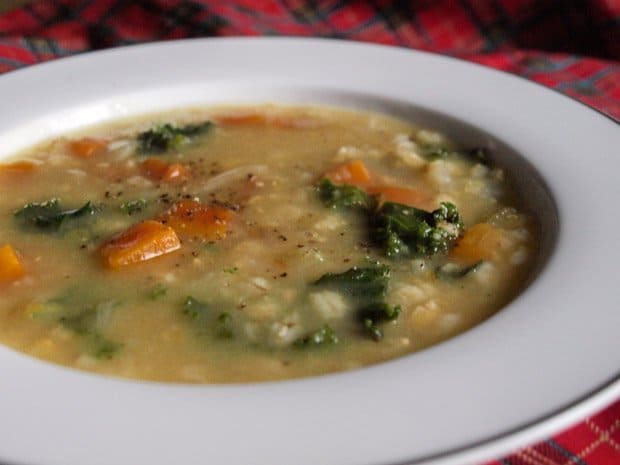 Can you freeze Scotch Broth?
Yes, you can freeze this soup. I think it is worth making a large quantity, as you can keep some in the fridge or freeze it for another day. Let the soup cool then ladle it into freezer-proof boxes, label it and it will keep in perfect condition for up to 6 months.
As Scotch Broth is quite thick and dense, it is best to defrost it slowly overnight to retain the texture. You can defrost it in a microwave but it will still take a bit of time to fully thaw. Heat thoroughly before serving.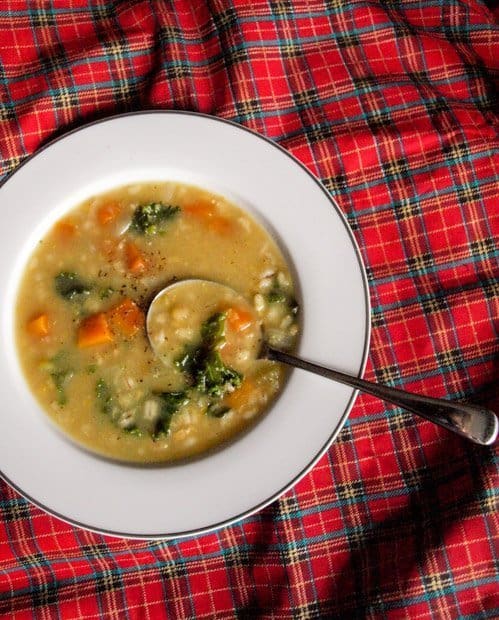 Here are some more delicious soup recipes from my farmhouse kitchen: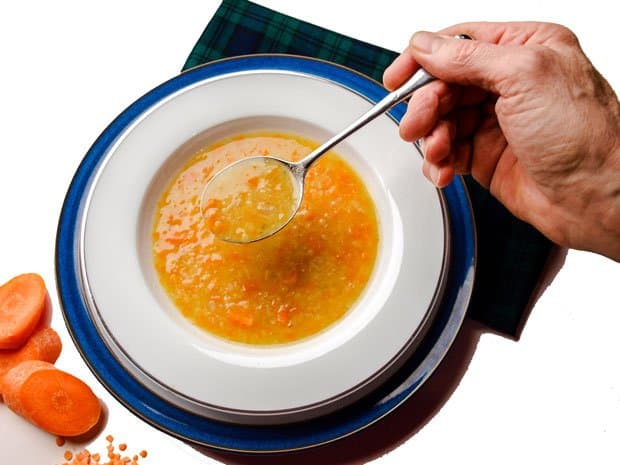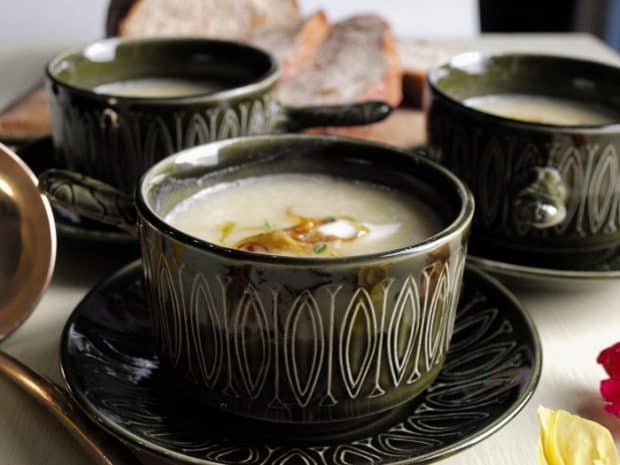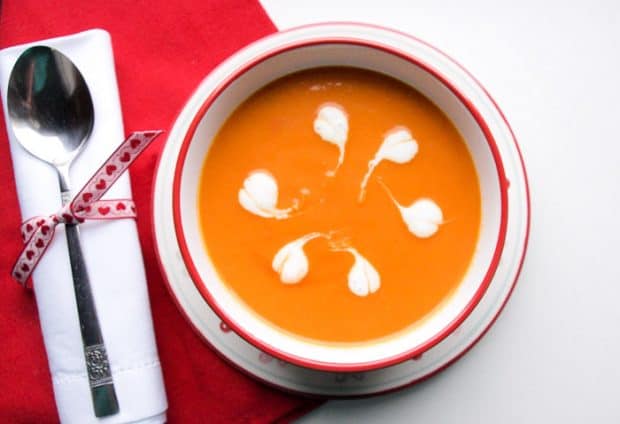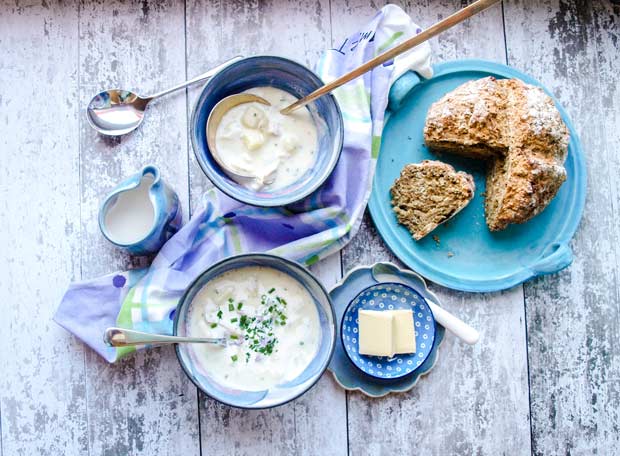 Cullen Skink is a traditional Scottish soup made with smoked fish, potatoes, and onions. It's the perfect soup to serve as a hearty family meal with homemade soda bread and equally at home at an elegant dinner party.
More Soup Recipes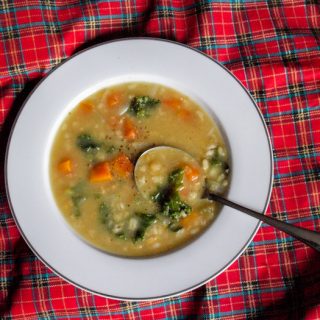 How to make Scotch Broth like a Scot
A traditional Scottish soup made with vegetables and grains. It's thick, filling and delicious.
Ingredients
200

g

broth mix

soaked overnight in plenty of cold water

500

g

carrots

diced

1

large

onion

roughly chopped

2

sticks

celery

diced

1

tbsp

oil

2.5

litres

vegetable stock

200

g

chopped kale

salt and freshly ground black pepper
Instructions
Heat the oil in a large pan or pressure cooker.

Add the onions and saute on a medium heat for 2-3 minutes

Add the celery and carrots and saute them with the onion for a further 3-4 minutes.

Add the broth mix and stock, season with salt and freshly ground pepper.

If using a pressure cooker, cook on low pressure for 25 minutes.

If cooking without pressure, simmer gently for approximately 40 minutes or until the grains and pulses are soft.

Add the kale and leave to cook in the residual heat of the soup for at least 10 minutes before serving.

Check seasoning and adjust as required.
Notes
Serve with wholemeal bread, bannocks or oatcakes.
If you don't have any kale, you can add other green leaves or chopped parsley. The soup can also be served without greenery. Any root vegetables can be added to this soup and any type of stock can be used.
Nutrition
Calories:
148
kcal
Carbohydrates:
25
g
Protein:
8
g
Fat:
2
g
Saturated Fat:
1
g
Sodium:
66
mg
Potassium:
621
mg
Fiber:
9
g
Sugar:
6
g
Vitamin A:
13021
IU
Vitamin C:
36
mg
Calcium:
80
mg
Iron:
2
mg
Don't Miss My Latest Recipes
CLICK TO SUBSCRIBE NOW to join my newsletter list & receive a FREE 'How To Adapt Recipes For Your Slow Cooker' printable!