Cranberry Orange Jam is a lovely fresh flavourful preserve. It's easy to make with fresh or frozen cranberries and makes an ideal gift.
There's something rather special about making jam with sharply flavoured fruits. The combination of the tart cranberries with zesty orange cuts through the sweetness of the sugar in the jam and makes for a really special preserve. It is also very pretty.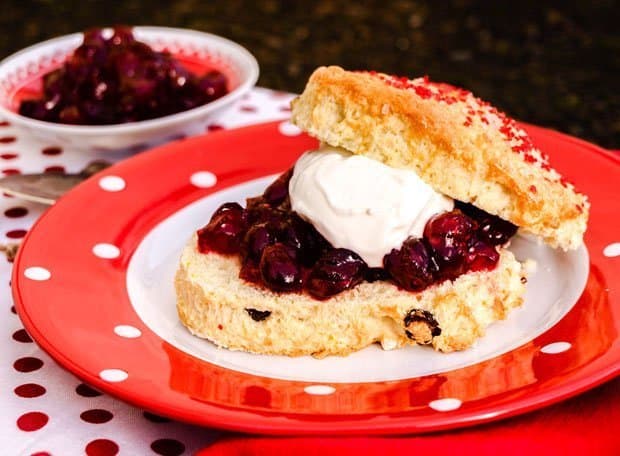 What are Cranberries?
Cranberries are ruby red oval fruits that grow on low vines or shrubs. The raw fruit is very sharp and is not usually eaten in its raw state. They grow in low lying peat bogs and most are imported to the UK from the USA.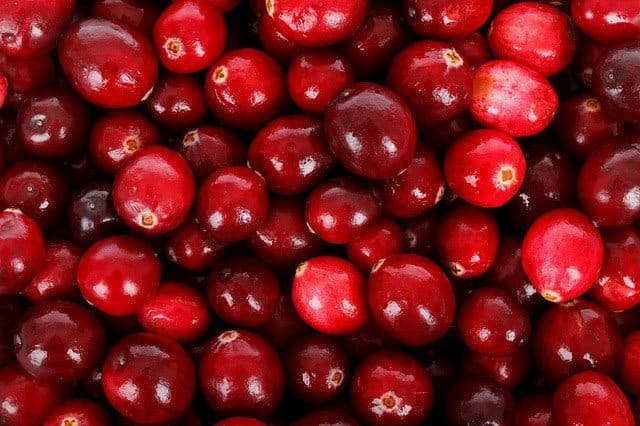 Where can I buy cranberries?
You can buy fresh cranberries in markets and supermarkets from mid-November to the end of December. Frozen cranberries are usually available all year round.
Dried cranberries are readily available beside the raisins and other dried fruits and are delicious to include in your baking.
How to make Cranberry Orange Jam
Sterilise your jam jars
I sterilise my jam jars and metal lids by thoroughly washing and rinsing them. I then put them, still wet, upside down onto a baking tray and place it in the oven at 150C just before I start to make the jam.
The water creates steam which helps to sterilise the jars. I take them out of the oven and fill them with the hot jam, then put on the lids. There are other methods but this is how I sterilise my jars.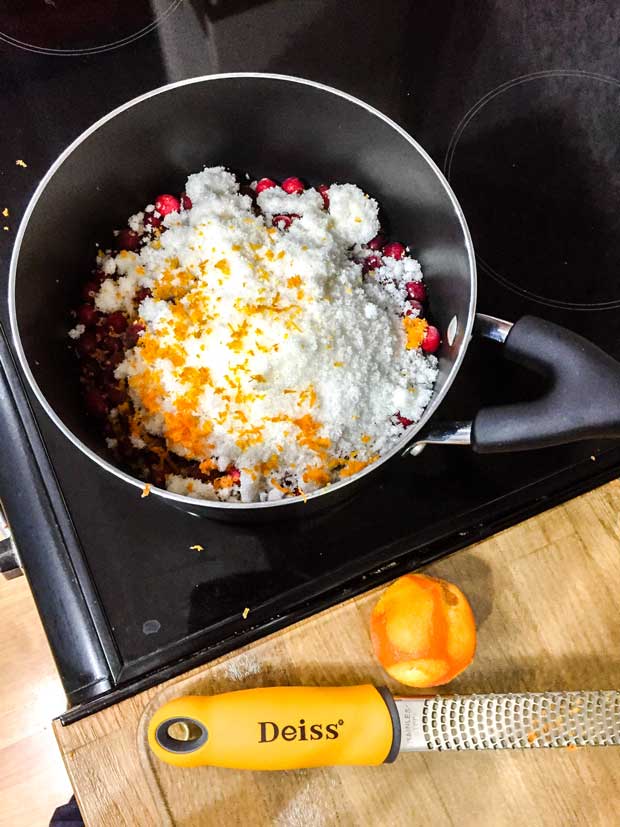 Place the fresh or frozen cranberries in a pan with the orange juice, zest and sugar, and heat slowly until the sugar has dissolved.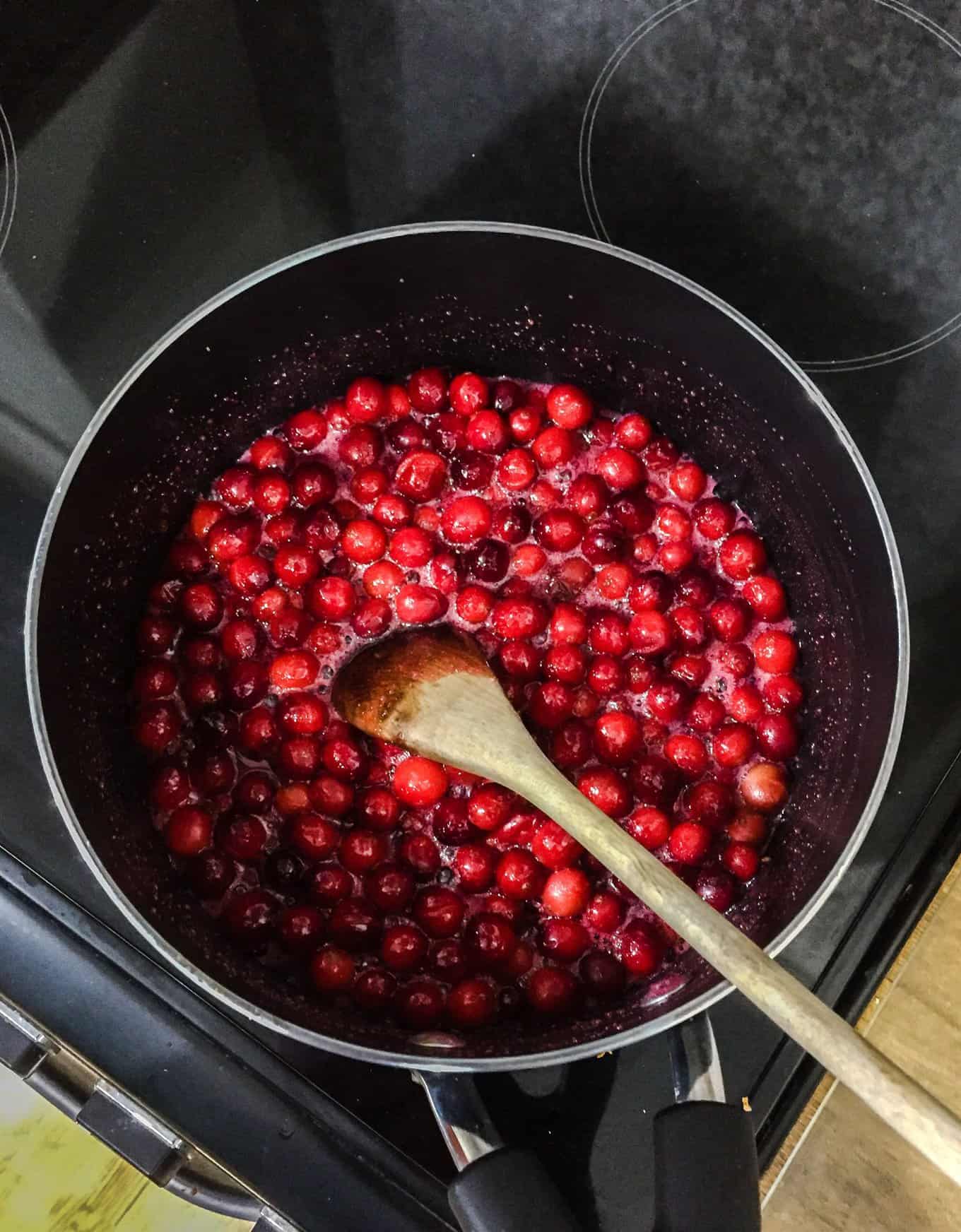 Once the sugar is dissolved and the berries start to pop, bring to a rolling boil for 8 minutes.
This is a little video I made of a rolling boil when I was making Fig and Lime Jam. This is what your jam should look like when boiling.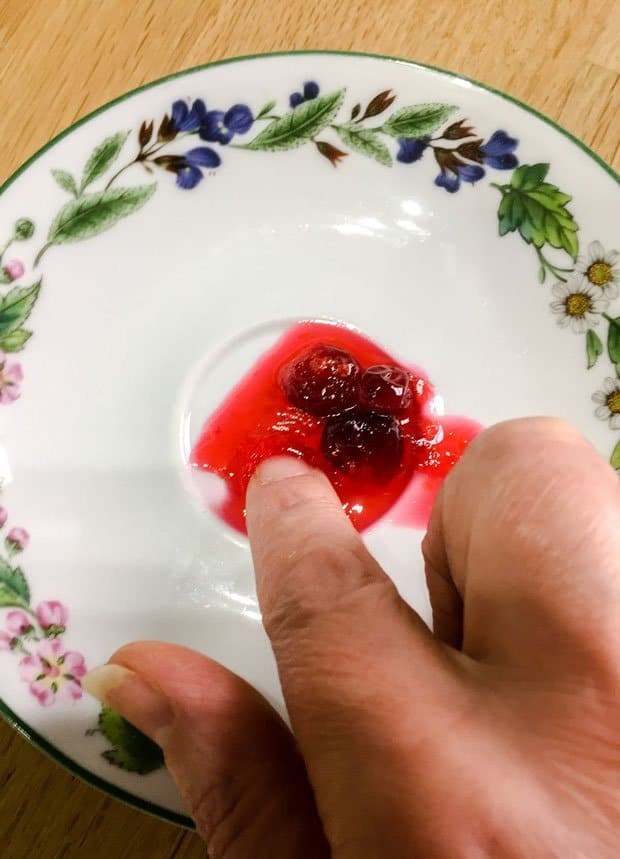 The Wrinkle Test – how to test if your jam will set
After 8 minutes of boiling, test the Cranberry Orange Jam to see if it is ready to set. (firm up) once cooled. There are many different ways to test for setting point. You can use a jam thermometer, you can use the 'flake' test, but I have always used the wrinkle test.
You need to place some saucers in the fridge before you start making the jam. Then once you have boiled your jam for 15 minutes, take the pan off the heat and put a teaspoon of the jam onto one of the cold saucers.
Place the saucer in the fridge and leave for 5 minutes. Then remove the saucer and push your finger across the jam. If it wrinkles, you can skim off the froth and pot up your jam.
My jam didn't wrinkle what should I do?
If you haven't got a wrinkle, put the pan back on the heat and boil for another five minutes, then test for set on another cold saucer.
Find more information on How to make Jam in this helpful article from the Guardian newspaper.
Can I double the quantities and make more jam?
You can double the quantities of ingredients to make more jam. You will also need to increase the rolling boil time. Please be aware that this recipe has been tested for the amounts stated on the recipe card and I cannot guarantee the results for a larger batch.
More Jam Recipes from Farmersgirl Kitchen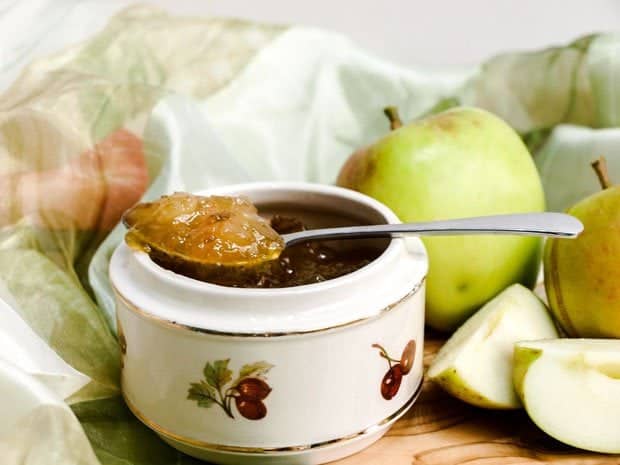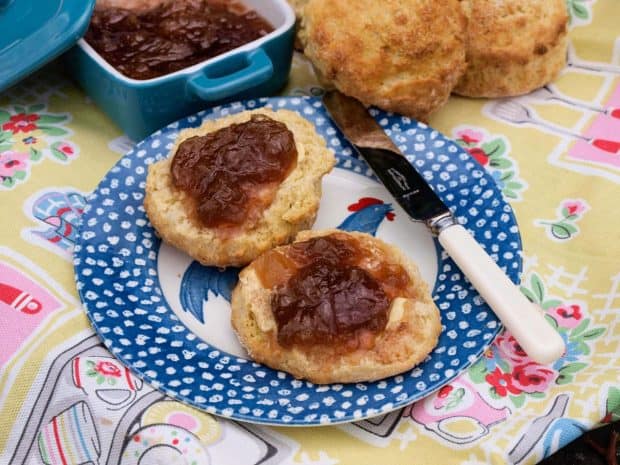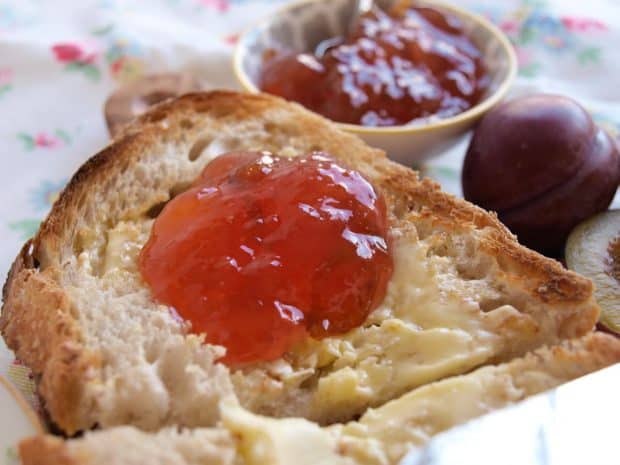 More Cranberry Recipes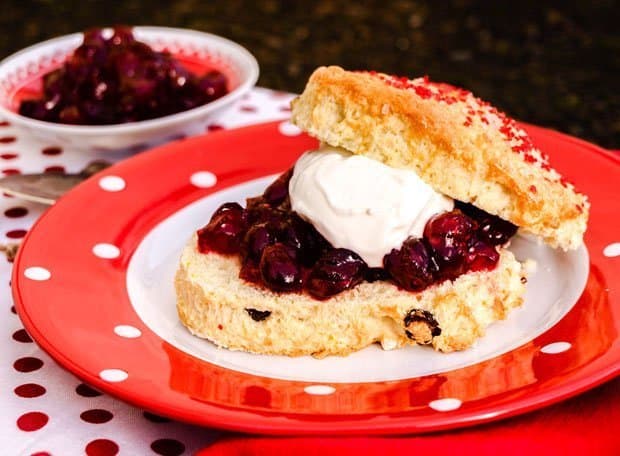 Valentine Cranberry Orange Scones are perfect with Cranberry Orange Jam. I cut these scones in heart shapes, for Valentines but you can serve them as standard round sones at other times of the year.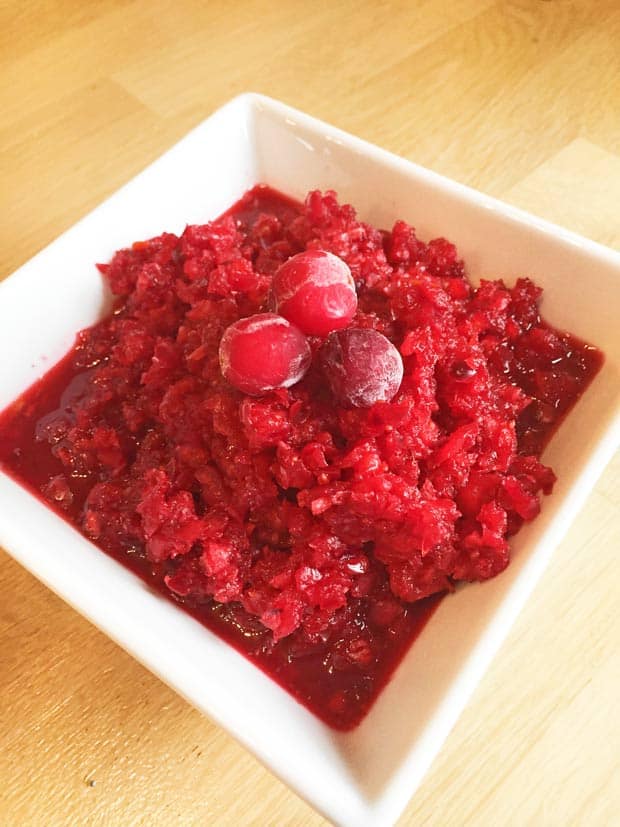 Quick and Easy Cranberry Sauce is a fresh sauce recipe to serve with your Thanksgiving or Christmas Turkey.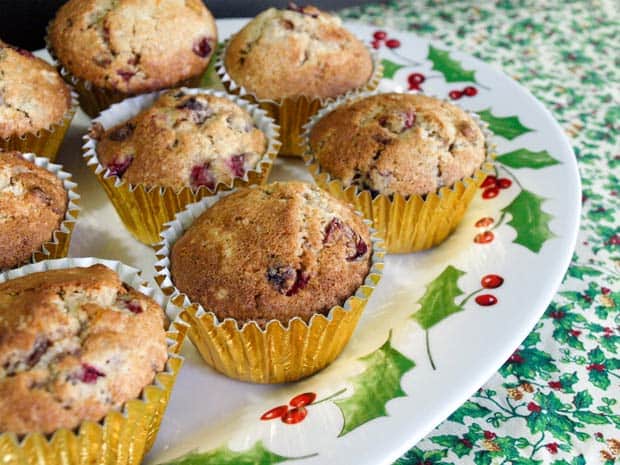 Chocolate and Cranberry Muffins are made with fresh cranberries with chunks of delicious chocolate through the muffins too.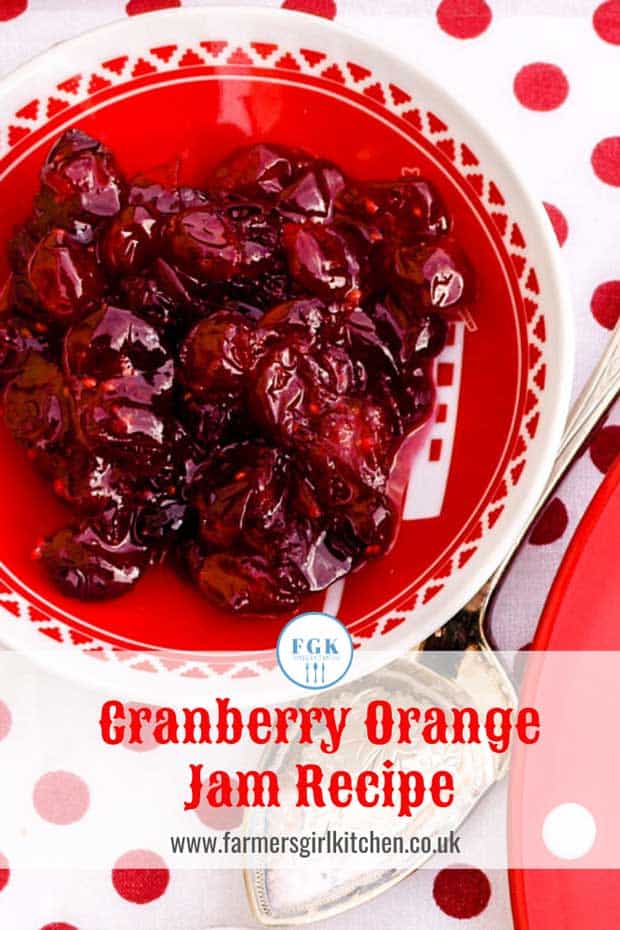 PIN FOR LATER
Are we connected?
Stay in touch with everything that's going on at Farmersgirl Kitchen.
Facebook Pinterest Instagram Twitter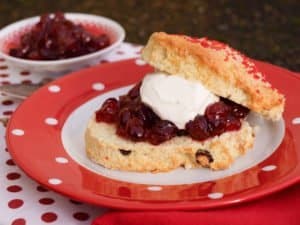 Cranberry Orange Jam
Cranberry Orange Jam is a lovely fresh flavourful preserve that you can make with fresh or frozen cranberries.
Ingredients
300

g

fresh or frozen cranberries

300

g

granulated sugar

1

small orange, grated zest

1

small orange, juice
Instructions
Put a saucer into the fridge to test for set later.

Thoroughly wash a large jam jar and place in the oven on an oven tray, set the oven to 100C.

Put all the ingredients in a medium sized pan.

Heat gently until the sugar has all dissolved.

Bring to the boil and keep at a rolling boil for 8 minutes with granulated sugar.

4 minutes with jam sugar


Take off the heat and place a teaspoonful of the jam onto the cold saucer, put it back in the fridge for 5 minutes, then push the jam with your finger. If it wrinkles the jam is ready. If not put the jam back on the heat and boil for another 2-3 minutes before testing again.

Ladle into the jar and leave to cool for 10 minutes before putting on the lid.

Leave the jam to cool completely before use.
Notes
If you would like to use the jam more quickly, spoon some onto a plate and it will cool more quickly.
I like some texture in my jam, but if you would like the cranberries to break down more, then simmer them in the orange juice and zest for 10 minutes before adding the sugar, then follow the recipe as before. 
Nutrition
Calories:
657
kcal
Carbohydrates:
228
g
Protein:
4
g
Fat:
1
g
Sodium:
6
mg
Potassium:
936
mg
Fiber:
27
g
Sugar:
150
g
Vitamin A:
770
IU
Vitamin C:
179.3
mg
Calcium:
156
mg
Iron:
1.9
mg
Don't Miss My Latest Recipes
CLICK TO SUBSCRIBE NOW to join my newsletter list & receive a FREE 'How To Adapt Recipes For Your Slow Cooker' printable!
I'm adding this recipe to #CookBlogShare the recipe link up for food bloggers.