Mincemeat and Apple Crumble is a festive twist on the classic apple crumble dessert. Tangy slices of apple combine with rich mincemeat and a delicate crumble topping, it's perfect comfort food for the darkest days of winter.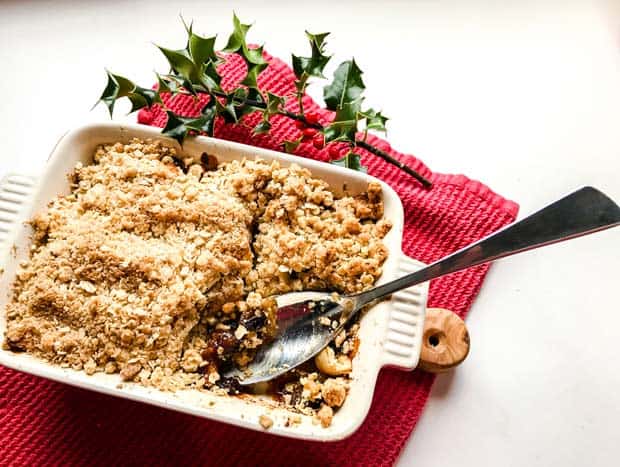 What is Mincemeat?
Mincemeat is a rich mixture of dried fruits, spices, apples, citrus zest and juice, alcohol and suet or butter.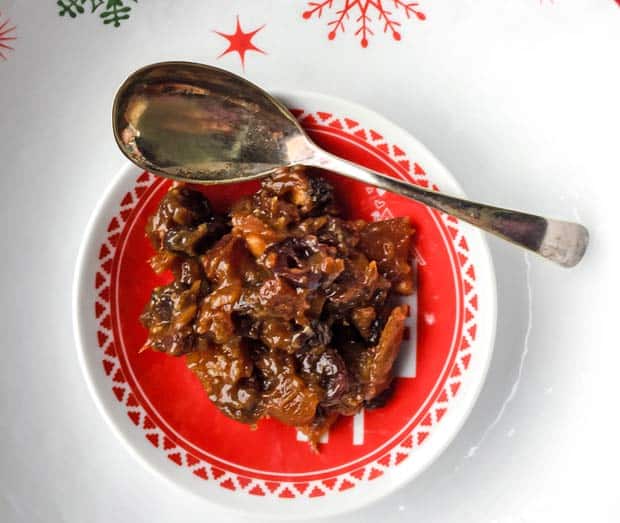 Is there meat in mincemeat? 
Originally, there was meat in mincemeat as well as the dried fruit and spices. This is how it got its name. The meat element was gradually replaced with beef suet.
I use vegetable suet but you can also use butter. This means the mincemeat is also suitable for vegetarians.
Can I make my own Mincemeat?
Yes, mincemeat is surprisingly easy to make at home. Try my recipes for Slow Cooker Mincemeat with Ginger, Dark Chocolate Mincemeat or last-minute Instant Chocolate Mincemeat.
Can I buy Mincemeat?
You can buy jars of mincemeat in groceries and supermarkets, in the UK. in other counties you may have to look in specialist shops or buy online.
Like most things, homemade is much nicer, but you can improve bought mincemeat by adding a tablespoon of brandy and a grated apple to the mixture before including in your recipe.
Can I use leftover mincemeat?
Apple and Mincemeat Crumble is the ideal way to use that last half jar of mincemeat that didn't quite make it into the mince pies. You can vary the proportions of apple to mincemeat to match the quantities you have left over.
Step by Step Mincemeat and Apple Crumble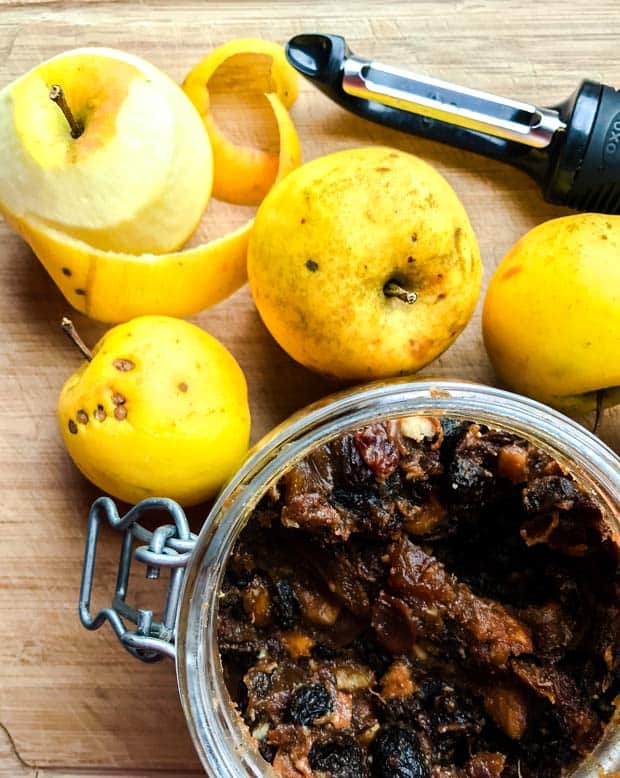 I used some apples from the tree in my garden for this crumble recipe. You can use either eating or sharper cooking apples or a mixture of both.
The mincemeat I used hs been in this jar in my fridge since last year and it's perfectly good to eat. If you don't have any spare jars of mincemeat, then buy a jar of mincemeat or make my Instant Chocolate Mincemeat. You can leave out the chocolate if you wish.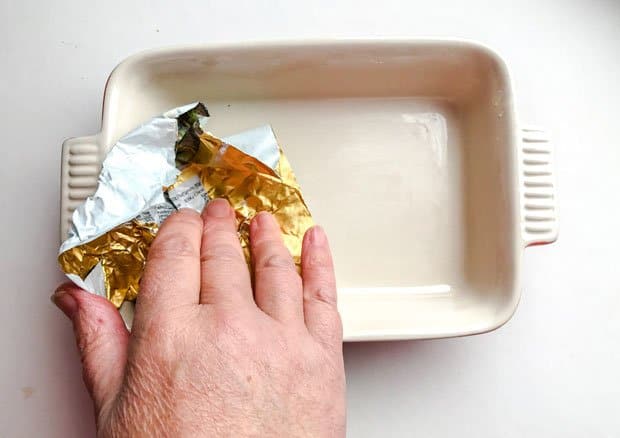 Butter the ovenproof dish, this will prevent the apple and mincemeat sticking to the dish and make serving and washing up much easier.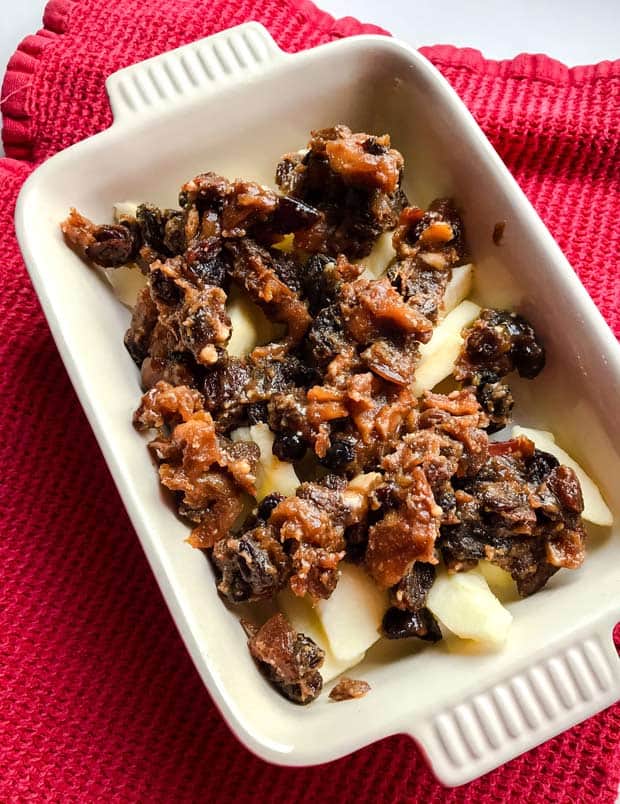 Peel, core, and slice the apples. Place half the apples in a layer in the base of the baking dish. Top with the mincemeat.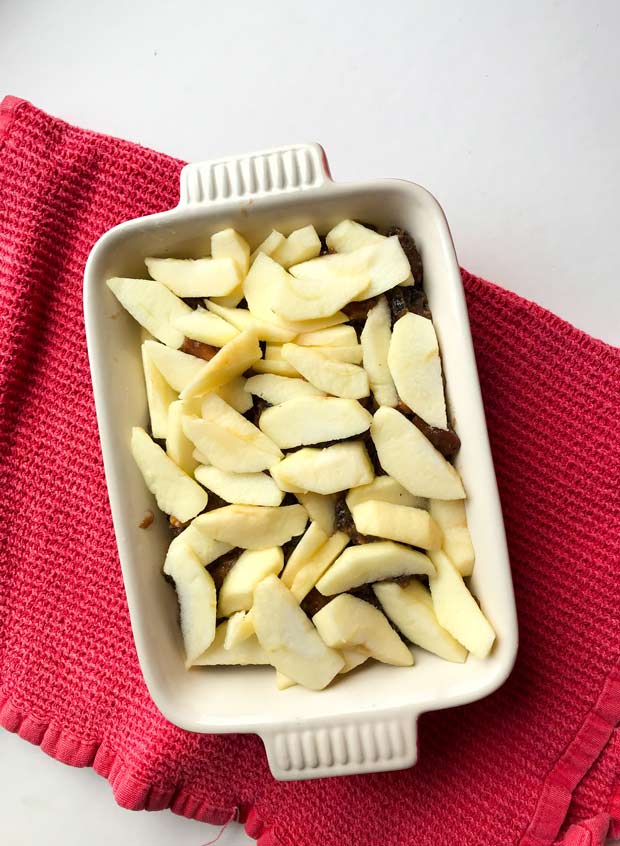 Add the remaining apple slices in a layer on top of the mincemeat.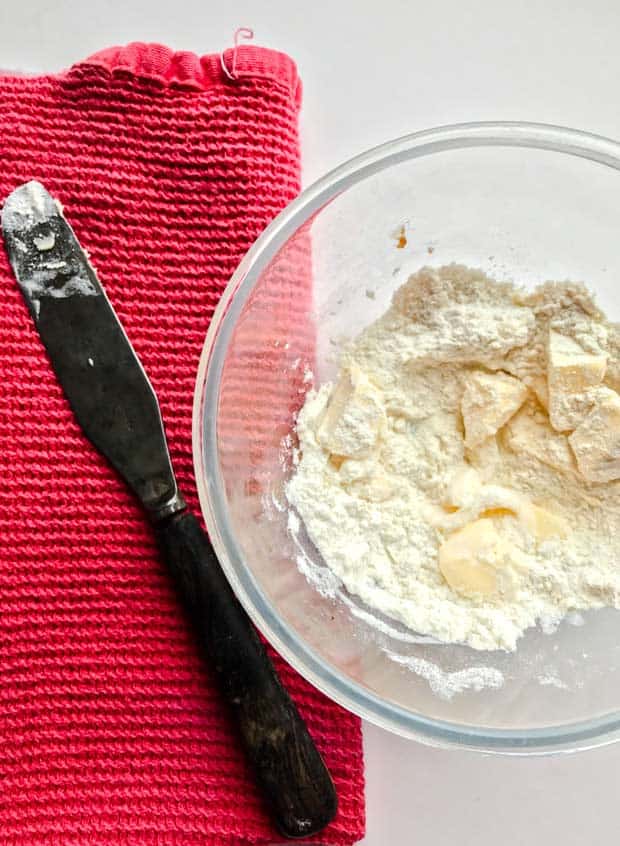 Make the crumble topping by rubbing the butter into the flour and adding the rolled oats and sugar.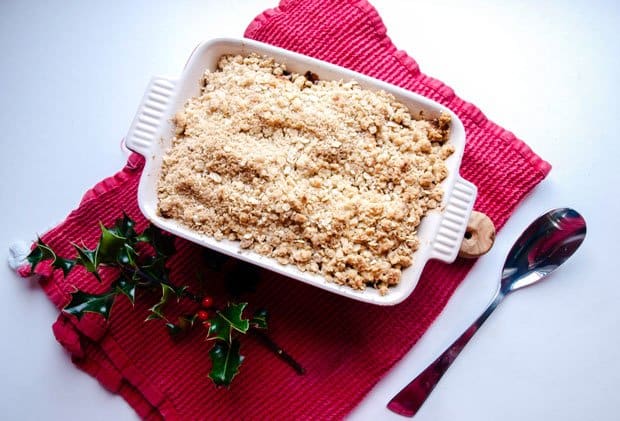 Cover the top of the apples and mincemeat with the crumble mixture before putting it in the oven to bake.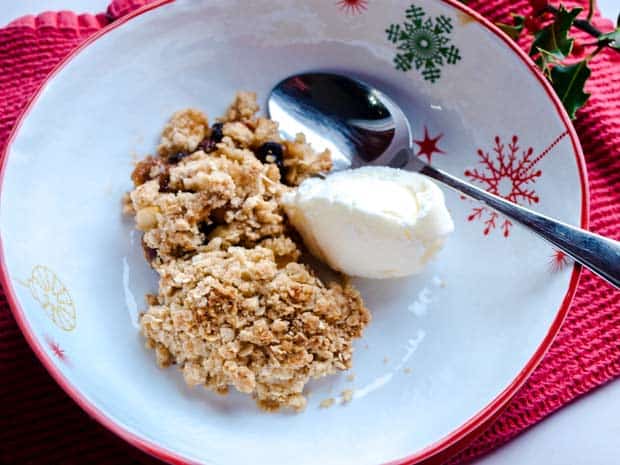 How do I serve Mincemeat and Apple Crumble?
Serve your Mincemeat and Apple Crumble with Easy Vanilla Custard Sauce, cream, yogurt or ice cream/  I love the contrast of hot dessert with cold ice cream, but you choose your own favourite way to serve hot desserts. 
More Mincemeat Recipes from Farmersgirl Kitchen

Easy Festive Mincemeat and Apple Muffins make a perfect festive breakfast treat or anytime snack.

Christmas Mini Mince Pies are small buttery pastry pies filled with a delicious mixture of dried fruit, and warming spices. They are bite-sized versions of the traditional British mince pies that are such a feature of Christmas holiday feasts.  

33 Recipes Using Mincemeat including cakes, bread, and desserts.
If you liked this recipe for Mincemeat and Apple Crumble, here are more Crumble Recipes
Pear Chocolate and Ginger Crumble – Fab Food 4 All
Toffee Apple Crumble – Something Sweet, Something Savoury
Peach and Ginger Crumble – Feast Glorious Feast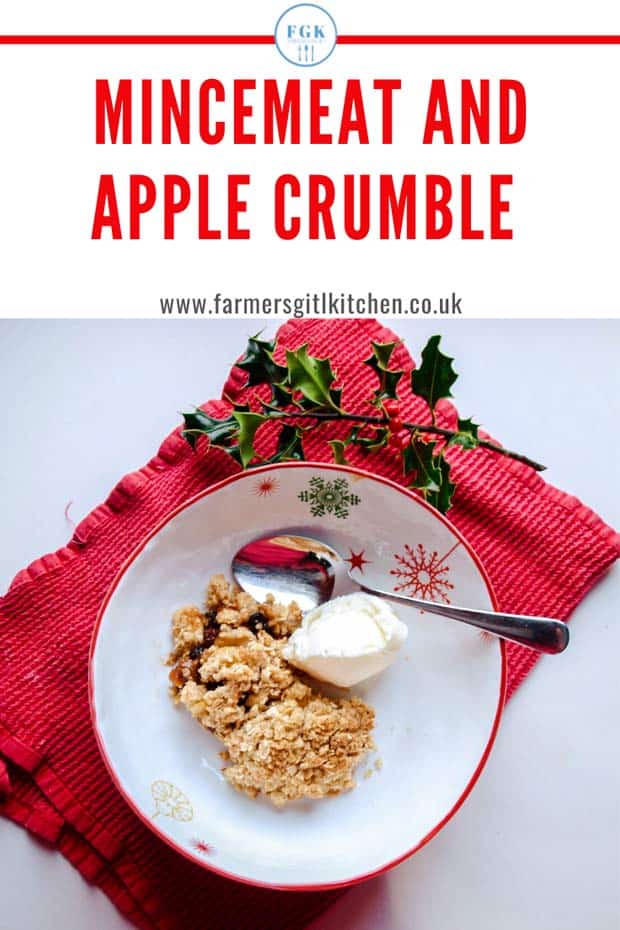 Are we connected?
Stay in touch with everything that's going on at Farmersgirl Kitchen.
Facebook Pinterest Instagram Twitter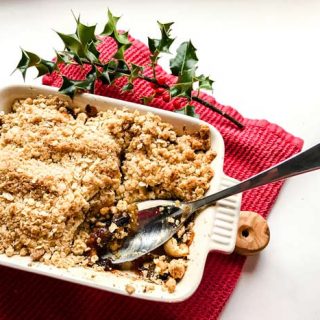 Mincemeat and Apple Crumble
A comforting seasonal crumble using fruity Christmas mincemeat.
Ingredients
160

grams

apples

160

grams

mincemeat

30

grams

plain flour

30

grams

butter

30

grams

rolled oats

25

grams

soft brown sugar
Instructions
To make the crumble
Put the flour in a bowl. Cut the butter into cubes and add to the flour.

Rub the butter through the flour until it looks like breadcrumbs.

Add the sugar and rolled oats to the flour and butter mixture and set aside.
For the filling
Butter an ovenproof dish

Peel core and slice the apples. Place half the apples in the base of the ovenproof dish. Top with the mincemeat, then cover with the remaining apples.

Spoon over the crumble mixture.

Bake for 45 minutes until the crumble is golden brown and the filling is bubbling.
Notes
Serve with cream, custard yogurt or ice cream.
Nutrition
Calories:
551
kcal
Carbohydrates:
105
g
Protein:
6
g
Fat:
13
g
Saturated Fat:
8
g
Cholesterol:
32
mg
Sodium:
556
mg
Potassium:
140
mg
Fiber:
6
g
Sugar:
75
g
Vitamin A:
418
IU
Vitamin C:
4
mg
Calcium:
8
mg
Iron:
1
mg
Don't Miss My Latest Recipes
CLICK TO SUBSCRIBE NOW to join my newsletter list & receive a FREE 'How To Adapt Recipes For Your Slow Cooker' printable!
Share by Email