Seafood Risotto is an ideal way to make a little seafood go a long way. It's the perfect larder recipe to use canned seafood and arborio rice and cook up a feast of flavour.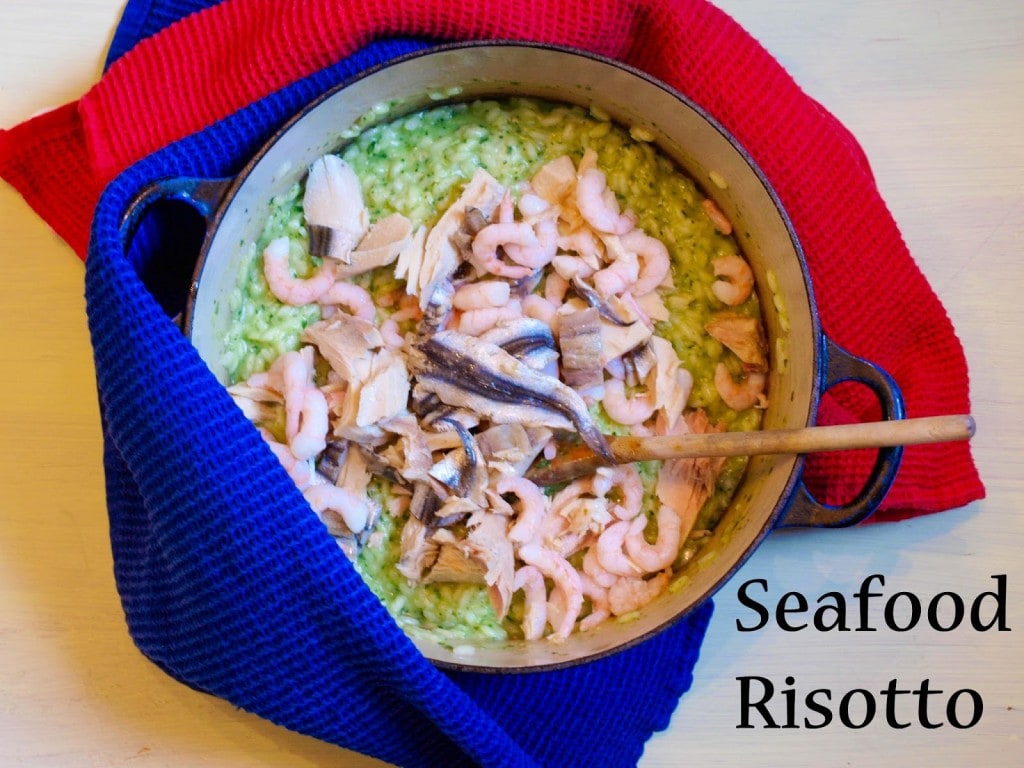 Why I love Italy
Italy is always my first choice of destination for a holiday. I first visited With my parents when I was 15 and fell in love with the climate, the markets, the architecture and the art. But above all it is the food of Italy which keeps me coming back.
Of course, for me, food is a really important part of my holiday and it's lovely to try to recreate dishes that you have tasted on holiday. Getting the right ingredients makes all the difference when making dishes from another country. I was delighted when UFUUD contacted me to try some products from their extensive selection.
UFUUD is the UK's place to buy Italian food online, it is synonymous with high quality and tradition. As the number one portal in the UK to purchase traditional products, they offer a wide array of exclusive goods that come from 60 local producers throughout 16 regions of Italy. Some of their most popular products include cold cuts, pasta, ready-made sauces, oil, rice, vinegar and sweets, to name a few. At UFUUD they have the passion to satisfy the tastes of everyone looking to savour the tastes that are the foundation of our country's gastronomy.

Here is what I ordered from UFUUD :

The website it easy to use and each product comes with detailed information about the product including the ingredients (where appropriate) conservation information and chef's advice. Search the site by FOOD, DRINK, ORGANIC OR PROMO.

The products in the photo collage above were used in the Seafood Risotto. The carnaroli is a lovely quality, creamy but it didn't disintegrate when cooked in the risotto. I loved the big soft chunks of long fin tuna, quite unlike those I usually buy in a tin, it was much more like real fish. The marinated anchovies were soft and delicious and not overly salty. The Romaniae Terrae Pecorino caused some comment from the family who asked why I had a 'roll' in the fridge! The cheese is semi-hard and has a good strong flavour. I found the wheat berries a bit of an annoyance as they are too hard to eat. I dare say they add flavour to the cheese. The other ingredient is my wild garlic pesto.
Seafood Risotto
Serves 4-6
1 tbsp olive oil from the Long Fin Tuna
1 onion, finely chopped
250g Carnaroli risotto rice
900ml fresh fish or vegetable stock, hot
4 tbsp wild garlic or other green pesto
180g Long Fin Tuna, drained
40g Marinated Anchovies
240g prawns
100g Romaniae Terrae Pecorino
Heat the oil in a large frying pan over a medium heat. Add the onion and cook, stirring, for 5 minutes.
Add the rice, stir for 1 minute, add a 50ml of stock and simmer until evaporated then add 400ml of the stock and simmer again, stirring occasionally, for about 8 minutes, until most of the stock has been absorbed.
Add the remaining stock and repeat, cooking for a further 10-12 minutes, until the rice is cooked but still has a slight bite to it.
Stir in the pesto and cook for 1 minute.
Remove from the heat, stir in 60g of Pecorino finely chopped or crumbled and season to taste.
Add the tuna, anchovies and prawns and gently stir into the risotto.
Serve with the remaining 40g of Pecorino in finely shaved slivers over the top.

Other dishes that I have made with the goodies from UFUUD are Taragna Polenta for my Mackerel with Madeirean Special Sauce.
More Risotto Recipes from Farmersgirl Kitchen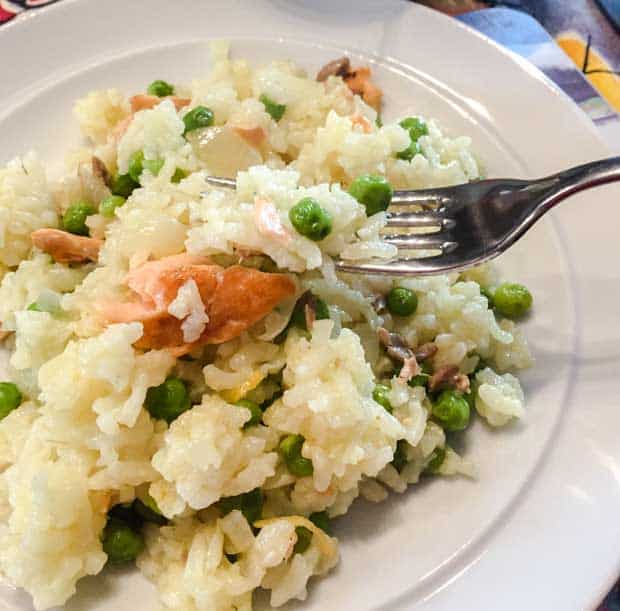 Easy Slow Cooker Risotto is a simple way to make a delicious creamy rice dish with simple ingredients. Serve it as it is with a salad or add whatever ingredients you have to hand, it's such a versatile recipe.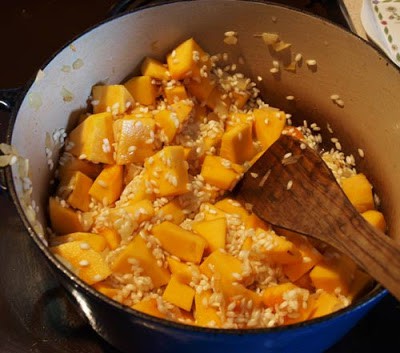 Baked Butternut Squash Risotto with Sage and Parmesan is an easy supper recipe that makes the best use of delicious butternut squash. It is baked in the oven for maximum convenience and the sweet squash blends beautifully with the sage and parmesan cheese.


I used a little of the left over chocolate pastry from the Double Chocolate Tartlets to make some mini tartlets and filled them with a mixture of cream cheese, double cream, some of the juice and chopped up cherries from the Sun-Cooked Morello Cherries and, of course, a cherry on top, absolutely gorgeous. The only thing about these cherries is they have the stones in, so you do have to be careful of your teeth!
The Cinnamon Chocolate Bar is rather gritty in texture, but has a really good chocolate flavour.

This little jar of Mostarda, Spicy Fig Mustard, undoubtedly stole the show. I just loved the contrast of the sweet, jammy fig chutney and the spicy mustard. At £9.00 it's expensive for 160g so definitely a special treat. It would be possible to buy substitute products at a much lower price, but it is precisely the quality of the products that UFUUD stock that makes them worth having. Not everything is expensive, many of the products such as the pastas and polenta are good value, as well as good quality. But there is no doubt that UFUUD provide an authentic deli experience and I certainly will be visiting again.