Scottish Smoked Salmon and Asparagus Tart is a delicious combination of smoked salmon, soured cream egg custard, and fresh asparagus spears. Perfect for outdoor summer entertaining serve with a simple salad.

It's an ideal recipe for summer lunches and picnics and would easily grace a summer buffet at a wedding or other occasion because it's fairly straightforward to make.

What is Smoked Salmon?
Smoked salmon can be hot smoked or cold smoked. In this recipe I use cold smoked salmon. The salmon is first brined and prepared with various herbs depending on the particular smokehouse. The fish is then slowly smoked in a specialist 'smoke box'. The smoke preserves the fish without cooking it.
Is Cold Smoked Salmon Raw?
Yes, it is raw but has been cured by the brine and preserved by the smoking process. You can eat raw smoked salmon but you can also add it to cooked dishes like this tart.

What is Asparagus?
Asparagus or A. officinalis is grown for its delicately-flavoured young shoots, or spears. It is a member of the lily family and has a very short season that starts at the end of April and runs until the middle of June. Serve the delicous young asparagus spears baked, griddled, roasted, steamed, boiled or blanched.

How to make Smoked Salmon & Asparagus Tart
Follow the step-by-step instructions to make this delicous savoury tart.

What ingredients do I need?
You will need:
Flour
Butter
Shortening (white vegetable fat)
Eggs
Smoked Salmon
Sour Cream
Asparagus
You can buy the uncooked pastry or even a ready-made pastry case if you are not confident about pastry making or simply don't have the time.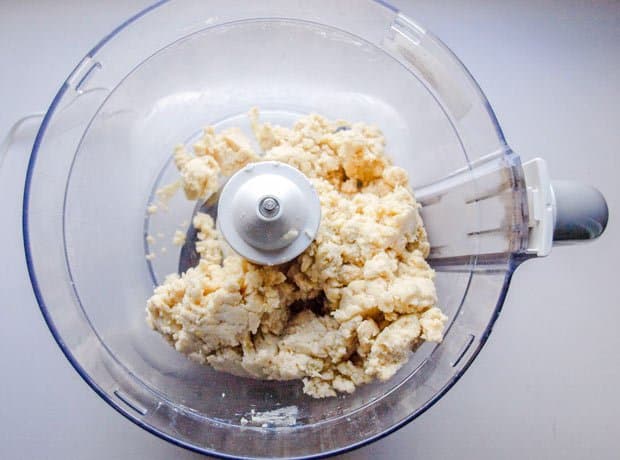 Make the pastry
Put all the dry ingredients, including the grated cheese, into a food processor and pulse until the mixture resembles breadcrumbs.
Add the egg and the water and pulse until the mixture starts to come together, add a little more water if it is too dry.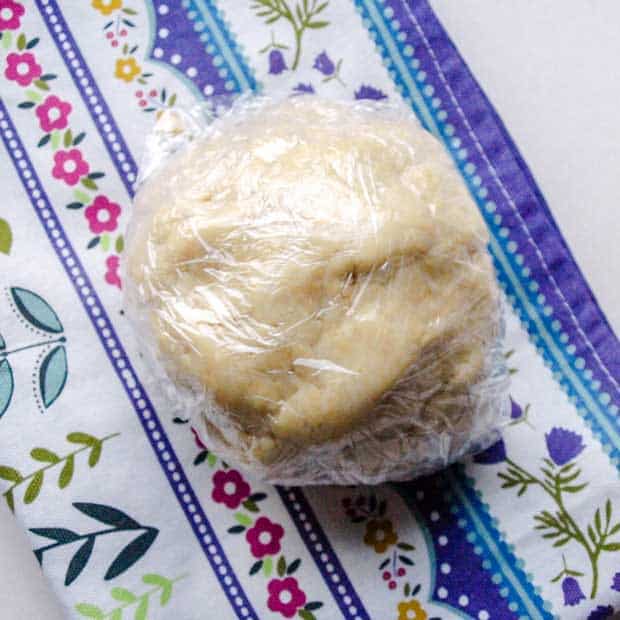 Chill the pastry dough
Press the mixture into a ball and wrap in plastic wrap. Chill in the fridge for 20 minutes minimum.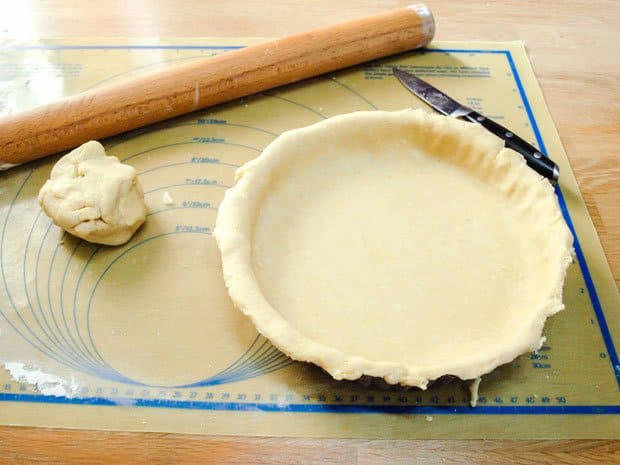 Line the Tart Tin
Roll out the pastry thinly in a circle and line the tart tin. Trim the pastry around the edge of the tin but leave enough to allow for a little shrinkage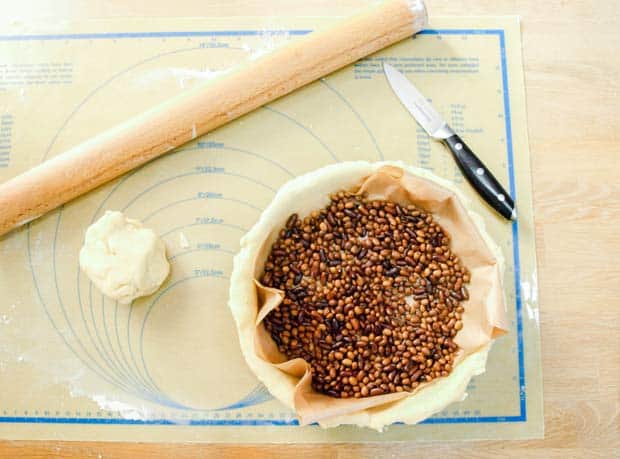 Blind Bake the pastry case
Place a piece of baking parchment onto the pastry and top with baking beans or dried peas, beans or rice.
Bake blind for 15-20 minutes, then remove the paper and beans and bake for another 5 minutes.
Remove from the oven and leave to cool.
Why do I have to blind bake the pastry case?
Blind baking simply means baking the pastry shell before filling it. If you put a wet filling into an unbaked pastry case the base is unlikely to cook properly and you will get a 'soggy bottom' rather than a crisp bite of buttery crust.
I don't have my own video for this but here is a YouTube video from the Co-op which shows you how to line a tart tin and bake blind.

Fill the cooled pastry case
Use Scottish smoked salmon or another good quality smoked salmon. This gives the tart a delicious smoky, salty taste that makes it so moreish.

Add the Asparagus Spears
Asparagus spears are less expensive this year, supermarkets are stacking them high and selling them cheap, I just hope that doesn't mean the farmers are struggling to make their profit margins and also that it doesn't affect the quality.
These spears certainly are very fresh and the woody bottom of the stem broke off with a satisfactory snap!

Make the custard
Make the custard by whisking together the milk, eggs, a little soured cream. and seasoning. This delicious savoury custard brings together all the ingredients into a tasty Smoked Salmon and Asparagus Tart.

How do I serve Smoked Salmon & Asparagus Tart?
Serve the Smoked Salmon & Asparagus Tart warm with baked potatoes and vegetables or at room temperature with a delicious salad. This tart is great for picnics and outdoor eating too.
Salads to serve with Scottish Smoked Salmon & Asparagus Tart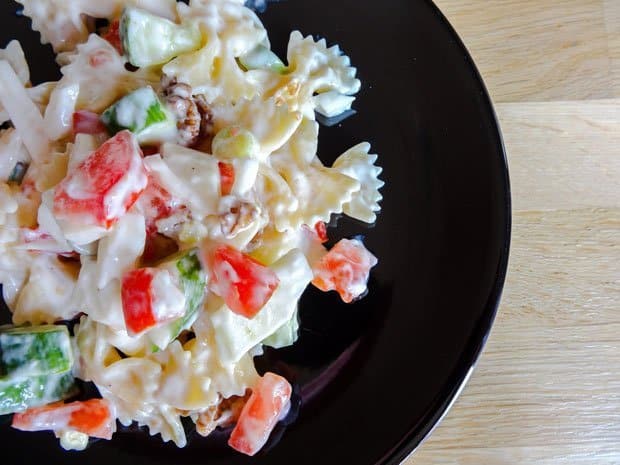 Chilli Fennel and Walnut Pasta Salad is a really tasty combination of soft pasta pieces and fresh vegetables.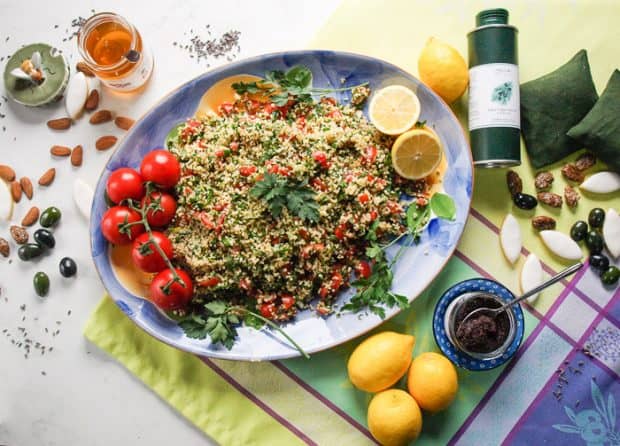 Lemon and Mint Tabbouleh Salad is a fresh and flavourful bulgur wheat salad with tomatoes, mint and parsley, tossed in a garlic and lemon dressing and drizzled with a mint flavoured extra virgin olive oil

Showcase ripe and delicious tomatoes in this simple Tomato Salad with Basil and Garlic.
More Quiche and Tarts from Farmersgirl Kitchen
Easy Tomato & Bacon Tart
Sweet tomatoes and salty smoked bacon in a creamy custard, baked in a crisp shortcrust pastry tart. Ideal for lunch or supper with salad.
Check out this recipe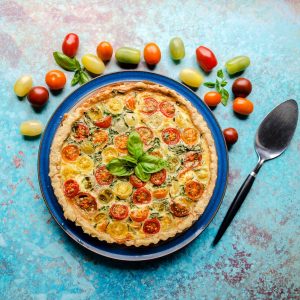 Leek & Cheese Tart Recipe
Melt in the mouth cheese pastry case filled with a creamy custard, gently sautéed leeks with delicious little chunks of cheese.
Check out this recipe

Cheese, Bacon & Turkey Quiche
The perfect way to use leftover turkey, cheese and cream to make a tasty tart.
Check out this recipe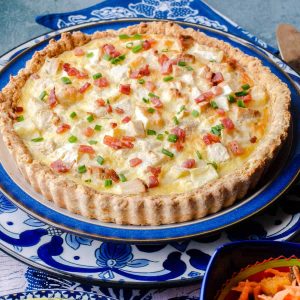 More savoury tarts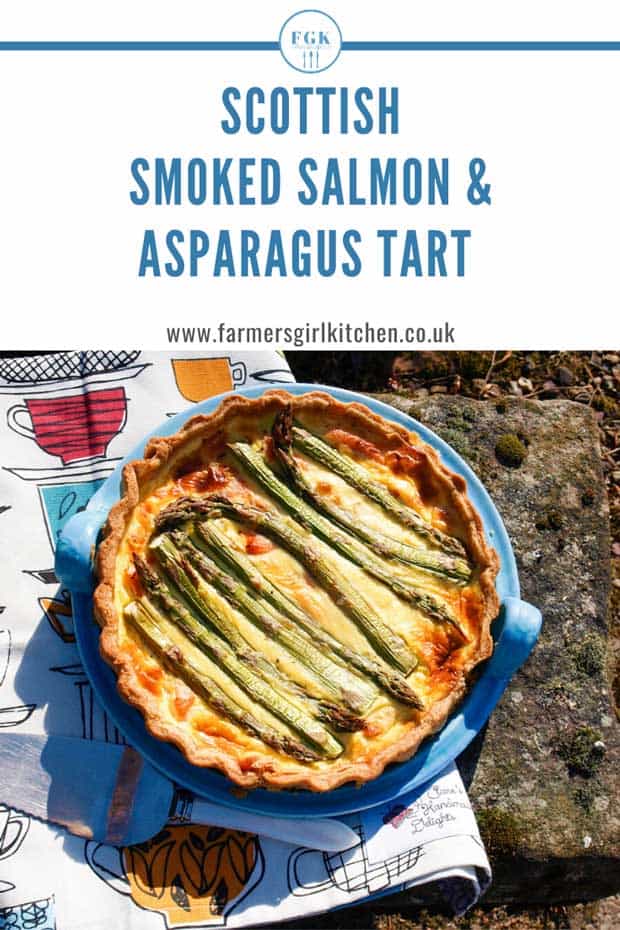 Smoked Salmon and Asparagus Tart
A crisp pastry shell filled with smoked salmon, a soured cream custard and fresh green asparagus, ideal for summer eating.
Ingredients
For the pastry case
225

g

plain

all purpose flour

110

g

butter

diced

40

g

lard or vegetable baking fat

diced

1/2

tsp

salt

1

whole egg

beaten
For the filling
200

g

Scottish smoked salmon

250

g

asparagus

1

whole egg

2

egg yolks

200

ml

soured cream

50

ml

milk

ground black pepper
Instructions
To make the pastry
Sift the flour into a bowl

Rub the fats into the flour with your fingertips until they resemble breadcrumbs, or whizz it up in your food processor.

Add the salt and the beaten egg and mix to a dough, adding a little cold water if necessary. Try not to handle the dough too much as this makes it tough.

Wrap the pastry in clingfilm and refrigerate for 20-30 minutes.

Roll out on a lightly floured work surface and use to line a 28 cm/11 inch loose-bottomed flan tin.

Cover the pastry with greaseproof paper or foil and fill with baking beans or any raw dried beans.

Bake in a pre-heated oven at 180C/350F/gas mark 4 for 20 minutes.

Remove the beans and paper and return the pastry case to the oven for 5-10 minutes until lightly coloured.

Leave to cool .
For the Filling
Preheat the oven to 170 C/325 F/Gas mark 3

Lay the smoked salmon in the base of the pastry case.

Snap off the woody ends of the asparagus, simply bend the spear and it will snap off at the right place, lay the asparagus spears across the tart, alternating the direction of the heads.

Beat the whole egg and egg yolks and add the soured cream and milk and blend together, add a few grinds of black pepper, no salt is required as the smoked salmon is quite salty.

Place the flan tin onto a baking tray and gently pour the egg and cream mixture into the flan.

Bake for 30-40 minutes or until set.
Notes
Serve with salad or new potatoes and roasted cherry tomatoes.
Nutrition
Calories:
473
kcal
Carbohydrates:
32
g
Protein:
15
g
Fat:
32
g
Saturated Fat:
18
g
Cholesterol:
199
mg
Sodium:
689
mg
Potassium:
267
mg
Fiber:
2
g
Sugar:
2
g
Vitamin A:
1356
IU
Vitamin C:
3
mg
Calcium:
86
mg
Iron:
3
mg
Don't Miss My Latest Recipes
CLICK TO SUBSCRIBE NOW to join my newsletter list & receive a FREE 'How To Adapt Recipes For Your Slow Cooker' printable!
Share by Email
I'm linking this recipe to #CookBlogShare the link up for great blogger recipes, this week hosted at Gluten Free Alchemist.