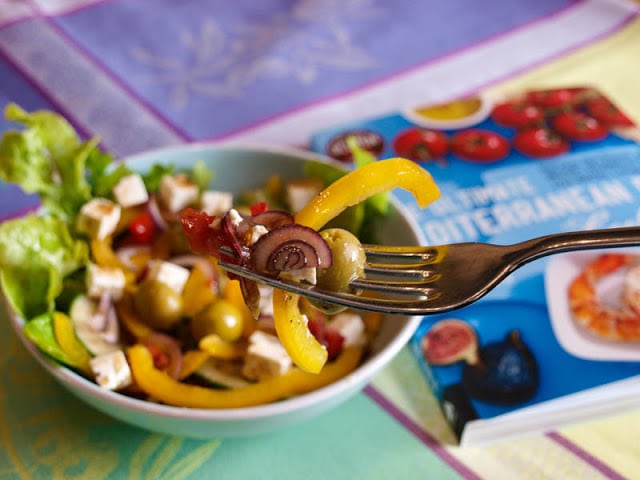 The Ultimate Mediterranean Diet Cookbook by Amy Riolo is not so much a diet cook book as a way of life, unleashing the power of one of the world's healthiest diets. It integrates the latest research and clinical findings with 100 delicious, authentic, easy recipes and Mediterranean lifestyle tips while dispelling any myths and misinformation. Gluten free variations of recipes are also included.
About the Author
AMY RIOLO is an award-winning author, chef, television personality, cuisine and culture expertand educator. She is a Culinary Advisor for The Mediterranean Food Alliance and her work hasappeared in numerous print media including USA Today, Cooking Light, The Washington Post, TheWall Street Journal and CNN.com. Amy's most recent book, The Mediterranean DiabetesCookbook, won the 2011 Nautilus Book Award. She also won the World Gourmand Award for
"Best Arab Cuisine Book" in the United States for her book Nile Style: Egyptian Cuisine and Culture(Hippocrene Books). She is also the author of a noted culinary/cultural blog amyriolo.blogspot.com

The Review
Introduction and Welcome to the Mediterranean Diet
As I said this isn't just a recipe book, Amy Riolo gives a comprehensive introduction to the principles of the Mediterranean diet. with the science behind the diet and how the lifestyle is as important as the actual food. Using the Mediterranean Pyramid as a guide, Amy gets to the core of the Mediterranean lifestyle, and explains what is eaten, when to eat it, and why. Each recipe in The Ultimate Mediterranean Diet Cookbook contains a cultural tip from the Mediterranean region.
Fun historical facts, legend, and lore, as well as nutritional information accompany each recipe.
Each recipe chapter begins with a useful introductory essay on the appropriate foodstuffs. Here are a few of my favourite recipes by chapter:
Plant Based Foods – the foundation of the Mediterranean diet
Wholegrains: Gooey Mediterranean-Style Cornbread which contains sundried tomatoes and mozzarella; North African Spice-Dusted Sweet Potatoes; Libyan Lamb Couscous and Turkish Eggplant and Herbed Rice Pilaf.
Fruits: Apricot and Orange Blossom Pudding with Pistachios; Roasted Plums with Basil-Yogurt Cream.
Vegetables: Quick Italian Pickles; Provencal Bistro Carrot Salad; Lebanese Fattoush
Legumes and Nuts: Herb Infused Falafel Pomegranate, Roasted Red Pepper, and Walnut Dip and Moroccan Harira Soup
Olive Oil: Kale and Almond Pesto Sauce, Olive Oil cured Eggplant; Provencal Herb Tapenade and Sweet Olive Oil, Cherry and Almond Cake
Fish and Seafood – the bounty of the Mediterranean sea
Sicilian Swordfish Bundles; Citrus Marinated Salmon with Fennel Cream and Sizzling Rosemary Shrimp over Polenta.
Dairy and Poultry – Farm fresh flavors
Dairy: Herb Marinated Mozzarella, Cypriot Greengrocer's Salad with Feta (see recipe below);
Poultry: Chicken Skillet-Style Shwarma with Tahini Sauce; Jerusalem-Style Chicken with Rice, Golden Raisins, and Pine Nuts.
Meat and Sweets – Mediterranean Indulgences
Southern Italian Goat and Herb Stew; Herb Roasted Leg of Lamb and Corsican-Style, Almond-Stuffed Figs in Chocolate Sauce, Sweet Carrot and Cardamom Torte.
Mediterranean Cooking Basics covers everything you need to know about how to choose and cook the staples of the Mediterranean diet such as beans, polenta and stock.
The Mediterranean Pantry is an alphabetical list of ingredients used in the book with information about what it is, where it comes from and how it is used in cooking.
Who is it for? This is an ideal book for anyone who wants to eat a healthy diet and is looking for information and recipes to help them achieve and sustain a healthful way of life. It's also for anyone who loves good food, never mind whether it's healthy, as there are lots of really mouthwatering recipes.
Pros
Lots of good healthy recipes, plenty for vegetarians and vegans too. I loved the comprehensive introductory chapter information and the Mediterranean Traditions with each recipe.
Cons
The only thing I would say is that the book doesn't stay open very well, so you need a book stand or have to bend back the spine, which would break it (I simply can't bear to do that!).
The Verdict
This would be a useful book to have in your collection if you would like to understand more about eating well. The recipes are easily achievable, although I have to say that they are more attractive to eat in the summer when we have a chance of at least some more Mediterranean weather, than in the cold days of winter when comfort food is more attractive.


The Recipe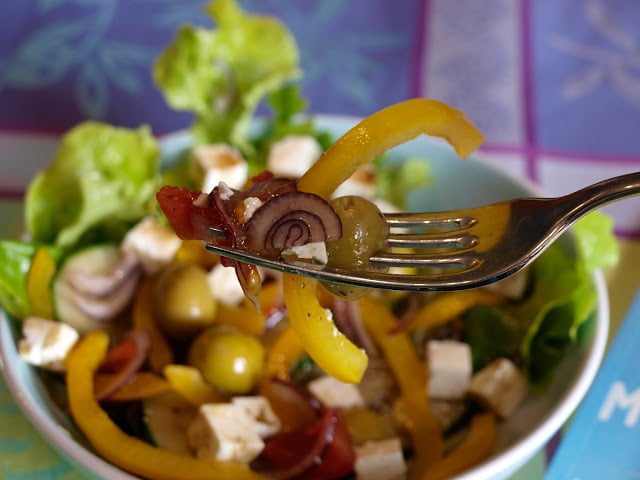 CYPRIOT GREENGROCER'S SALAD WITH FETA /CHORIATIKI SALATA
serves 6
1 head Romaine lettuce, washed, dried and cut into bite-sized pieces
2 ripe tomatoes, diced
1 baby (Persian) cucumber, or 1/3 English cucumber, slice thinly on the diagonal
1/4 lb (115g) feta, cubed or crumbled
1/4 cup Greek Olives, pitted
1 yellow onion, sliced into rings
1 small green bell pepper, cut into rings
3 tablespoons (45ml) red wine vinegar or lemon juice
unrefined sea salt or salt, to taste
freshly ground black pepper
1/2 cup (120ml) extra-virgin olive oil (preferably unfiltered)
Place the lettuce in a large salad bowl. add the tomatoes and cucumber, and toss to combine.
Scatter the feta, olives, onion and pepper over the top in an attractive pattern. Pour wine vinegar or lemon juice into a small bowl. Add a pinch of salt and pepper, and slowly pour in the olive oil while whisking vigorously. Once the dressing is emulsified, pour it over the salad and serve immediately.
The Ultimate Mediterranean Diet Cookbook
by Amy Riolo
Published by Fair Winds Press
RRP £14.99 Paperback
I have one copy of The Ultimate Mediterranean Diet Cookbook to GIVEAWAY – CLOSED