Spinach and Cheese Souffle with Barber's 1833 Vintage Reserve Cheddar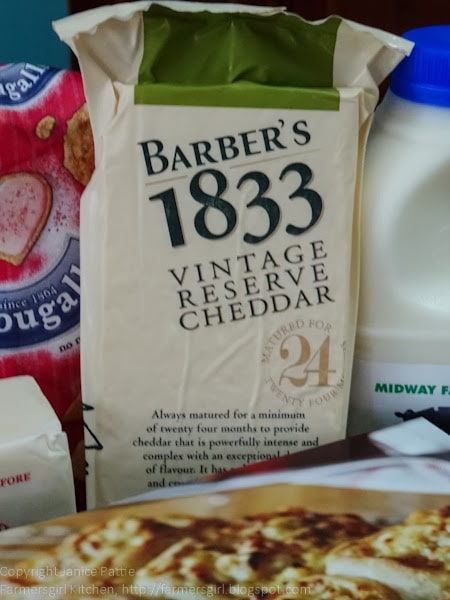 Barber's 1833 Vintage Reserve Cheddar
The lovely people at Barber's 1833 Vintage Reserve Cheddar invited me to join them at the BBC Good Food Show before Christmas. Unfortunately, I was unable to attend, but instead they sent me some Barber's 1833 Vintage Reserve Cheddar and the ingredients to make a Spinach and Cheese Souffle.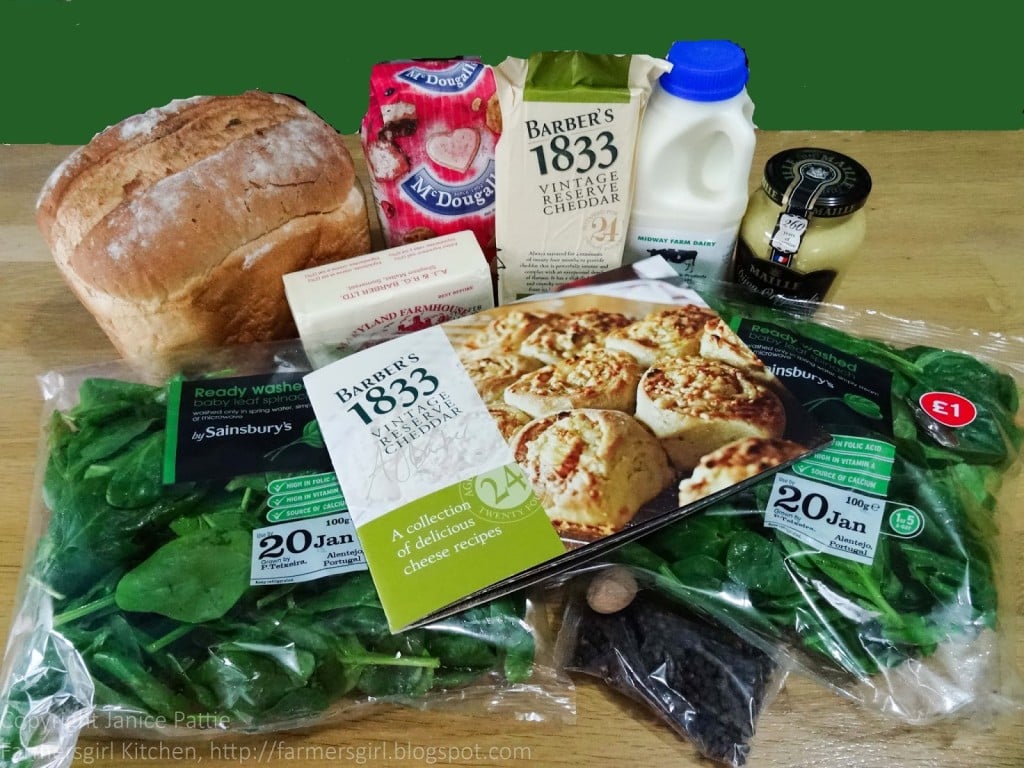 Ingredients for Spinach and Cheese Souffle
First I'd like to say a little about the Barber's Vintage Reserve Cheddar: this is one of the best cheddar cheeses that I have ever tasted. It had a little calcification (the crunchy bits you get in mature cheddars) but not too much, but the flavour of the cheddar was rich and tangy with an aftertaste that just makes you want to eat more! Beautiful stuff!
The Barber family have been farming and making cheese at Maryland
Farm in Ditcheat, Somerset since 1833. In the early days, milk from the
farm was sold locally and the cheese made was used to feed the family
and farm workers. As time went on, the milk needed to make cheese
increased and soon the family were buying milk from neighbouring farms
as well.
Today the Barber farms comprise 2500 acres of prime Somerset dairy
land and are home to some 2,000 dairy cows. They continue to use
traditional 'cheddaring' techniques combined with a unique collection of
traditional starter cultures for which they are sole guardians, to create
a truly typical West Country Farmhouse cheddar.
The Spinach and Cheese Souffle was the ideal vehicle for this strong cheddar, only 100g is used but the souffle still tasted strongly of tangy cheddar. I also used some in a cheese sauce for cauliflower cheese and, again, a little went a long way. I can highly recommend this cheese and will be looking out for it again.
Spinach and Cheese Soufflé
Serves 6-8 depending on the size of the ramekins
Ingredients
200g/7oz bag washed and ready to eat spinach
40g plain flour
300ml/half a pint milk
25g/1oz white breadcrumbs
100g/3 and a half oz Barbers 1833 Vintage Reserve Cheddar, finely grated
1tsp Dijon mustard
Freshly grated nutmeg, salt and freshly ground black pepper
4 eggs separated
Method
1. Heat the oven to 200C/Gas 6. Pierce the bag of spinach in several places and microwave on full power for 1 1/2 – 2 minutes until wilted. Leave until cook enough to handle then squeeze out as much liquid as possible. Chop roughly.
2. Melt the butter in a pan and stir in the flour. Cook stirring for 2 minutes. Gradually whisk in the milk until smooth then cook gently, stirring for 5 minutes. Transfer to a large bowl and set aside to cool slightly.
3. Brush 6-8 ramekins or small ovenproof dishes with melted butter and coat with breadcrumbs.
4. Stir most of the cheese and the mustard into the sauce and season with nutmeg, salt and pepper. Gradually stir in the egg yolks, then add the spinach.
5. In a large bowl, whisk the egg whites until forming soft peaks. Take care not to allow them to become dry. Spoon two tablespoons of egg white into the cheese mixture to slacken the mixture then fold in the rest of the egg white with a metal spoon.
6. Place the ramekins in a roasting tin and pour in boiling water to come half way up the sides of the dishes. Bake for 10-12 minutes until well risen and golden brown, but still with a little bit of a wobble!
Serve immediately with green salad.
I made some small changes to the recipe, I baked mine in a single dish as I've put my ramekins into storage due to the work which is about to start on my kitchen. The recipe also stated that you only use 2 tbsp of the egg white, I'm not sure if this is an error in the booklet, but I used all the egg whites and the souffle seemed the correct texture to me. I can't see 2 tbsp raising this amount of bechamel sauce.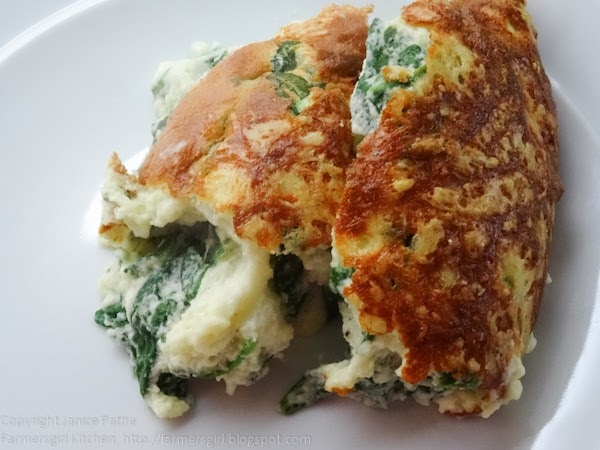 Spinach and Cheese Souffle
The Souffle was light and fluffy, with the fresh sharp taste of the spinach contrasting nicely with the richness of the cheese and eggs. A lovely dish, I do love a souffle, but not how much washing up it creates!