Scottish Shortbread Biscuits are a classic biscuit or cookie.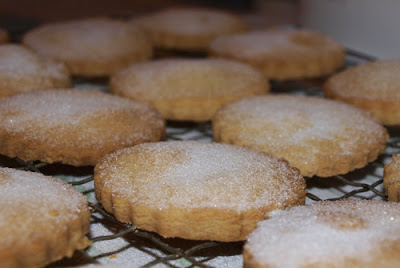 I also made some Shortbread Biscuits. My mum makes these every Christmas, she used to make up a box full for my Grandpa who really loved them. I usually make them too as they are easy to make and melt in your mouth.
Here is the recipe I use, you must use butter it's what makes the shortbread so delicious.
Recipe for Scottish Shortbread Biscuits (Cookies)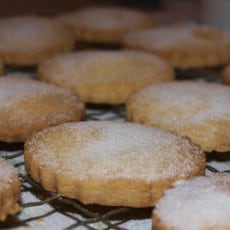 Ingredients
300

g

plain flour

100

g

caster sugar

200

g

butter

caster sugar

for dredging
Instructions
Sift the flour into a bowl and add the sugar. Work in the butter with your fingertips - keep it in one piece and gradually work in the dry ingredients. Knead well.

Pat down on a work surface and use a rolling pin to roll the dough to about 1/2 cm (1/8 in) and cut out with a cookie cutter. You will probably have to keep pushing the dough back together again as it is very crumbly.

Slide the cut biscuits off the work surface with a knife and onto a baking sheet.

Bake in the oven at 170C (325F) Mark 3 for about 8 minutes until firm and pale golden brown.

Lift onto a cooling tray with a spatula and dredge with caster (superfine) sugar.