The Woolton Pizza Pie Recipe is my update on one of the most famous wartime rationing recipes, Woolton Pie. This tasty and nutritious vegetable pie was created by Francis Ladry, Chef at the Savoy Hotel in London. It is named after Lord Woolton, who helped to make the recipe popular when he became Minister of Food in 1940.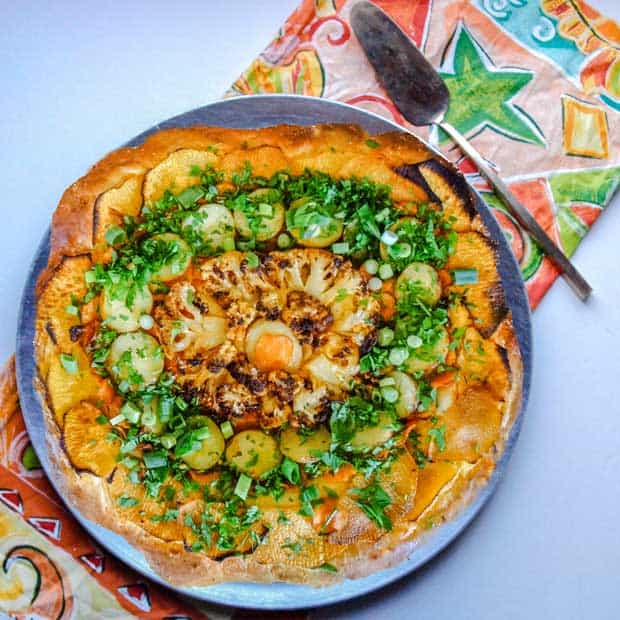 Advertisement: Paid post commissioned by the Potato Council. For more information please see my PRIVACY POLICY
Celebrate VE Day with a Woolton Pizza Pie
I created this recipe to celebrate the 70th anniversary of the end of the Second World War in Europe (VE Day – 8 May 1945).
Potato Pete
Potato Pete is a fun character created by the Ministry of Agriculture & Food. He was created to inspire people to eat more potatoes and maintain their health during the Second World War.


Potato Pete is being brought back to life through wartime recipes that have been given a modern makeover. Though times have changed, potatoes remain a British favourite and are still helping the country enjoy a healthy, balanced diet.

Dig for Victory
During WW2 families were encouraged to make use of their gardens or allotments to grow vegetables through the 'Dig for Victory' campaign. At its peak, there were 1.4 million allotments in Britain. There has been a revival in interest in growing your own food and allotments are very popular.
Kate Cox of the Potato Council says, "Potatoes were a staple ingredient in Britain during the war and a key component of the 'Dig for Victory' campaign, so it seemed only fitting to celebrate VE Day by revamping wartime recipes that are still just as tasty and nutritious today!"


Healthy Wartime Diet
Dietitians argue that wartime diets were amongst the healthiest the British population has ever eaten, which in turn led to improvements in the nation's health.
Sian Porter, dietitian says, "Food during the Second World War was all about sustainability, minimising waste and nutrition. Today we are seeing a renewed interest in where our food comes from, how it is grown, avoiding waste as well as maximising nutrition. Ingredients such as potatoes were relevant then and are relevant now."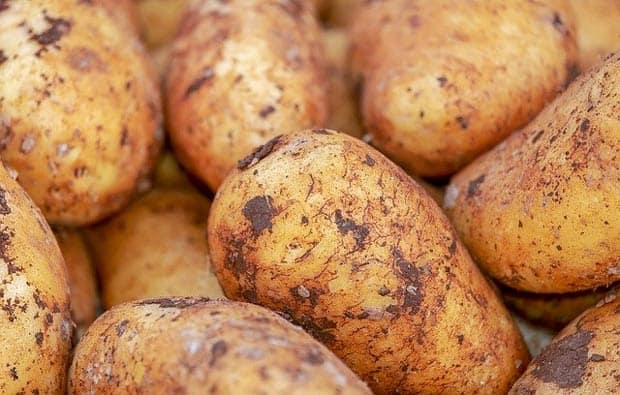 Potatoes are a Superfood
Potatoes are the original superfood. Research* shows children get more Vitamin C, B1, B6, Folate, Iron, Magnesium and Potassium from potatoes than from the 5 superfoods; beetroot, bananas, nuts, broccoli, and avocado combined.

Average intakes of potassium, iodine, folate and vitamin B6 are more than 10% higher in adults who regularly consume more potatoes rather than alternative carbohydrates such as pasta or rice. The average intakes of potassium, folate, vitamin A and vitamin B6 are also more than 6% higher in children who consume potatoes regularly.
How to make Woolton Pizza Pie
The Woolton Pizza Pie uses mashed potatoes to create a soft and tender pizza dough. The mashed potato also reduces the quantity of flour. Find all quantities and full instructions in the recipe card at the bottom on this page.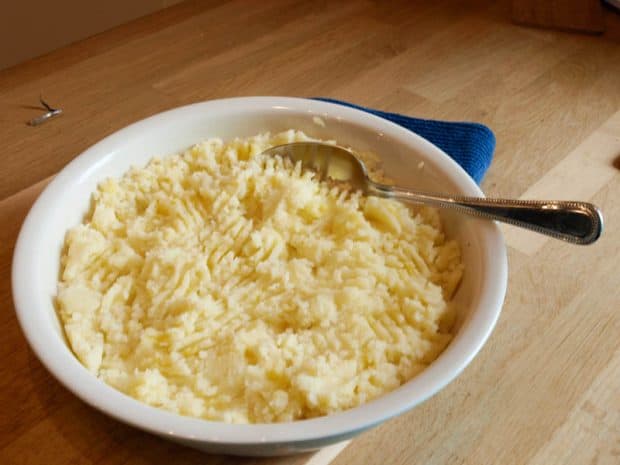 Make the mashed potato
Use leftover mashed potatoes for the pizza base or peel, boil until tender, and mash then leave until cool.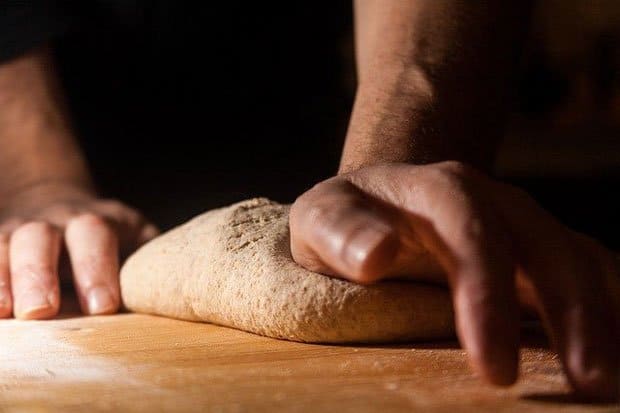 Make the pizza dough
Put the flour, yeast salt and sugar into a bowl, add the mashed potato and the rest of the base ingredients. Mix together and knead for 5 -10 minutes. Put into an oiled bowl, cover and leave to prove until doubled in size.
Note
Different potatoes have different water content so your dough may be slightly wetter or dryer. Use more or less flour until you have the correct consistency.
Pizza dough with no yeast
If you don't have yeast or don't want to wait for the dough to rise, use a scone dough base like this Scone Dough Pizza from Nicola at Something Sweet, Something Savoury.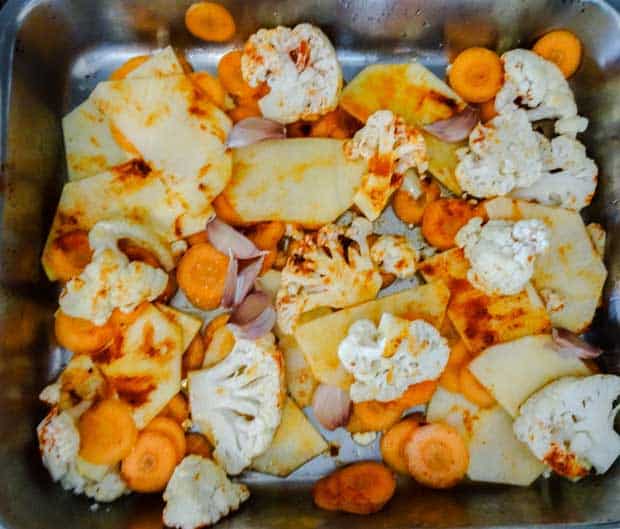 Roast the Vegetables
Thinly slice the carrots, and swede and place in a roasting tin with oil, smoked paprika, and garlic. Roast for 10 minutes, then add sliced cauliflower florets and roast another 5 minutes.
Par-boil the new potatoes and leave to cool, then slice.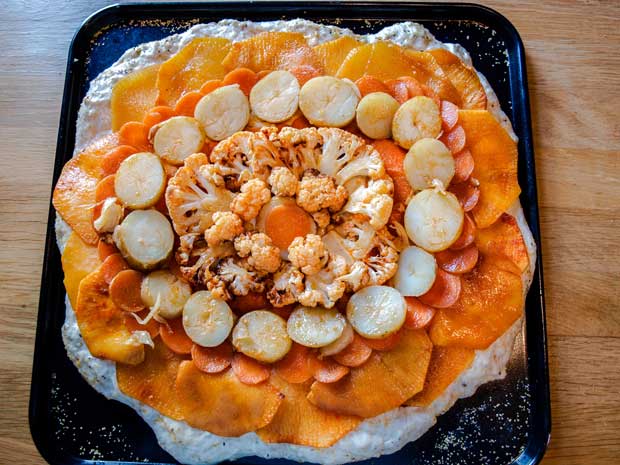 Arrange the vegetable pizza topping
Press the dough into a round onto the baking tray, let it rise for a further 30 minutes. Then arrange the vegetables on the potato bread dough.
Big Pizza!
This is a big pizza so make sure you use a baking tray that is at least 32 cm square (12 inches).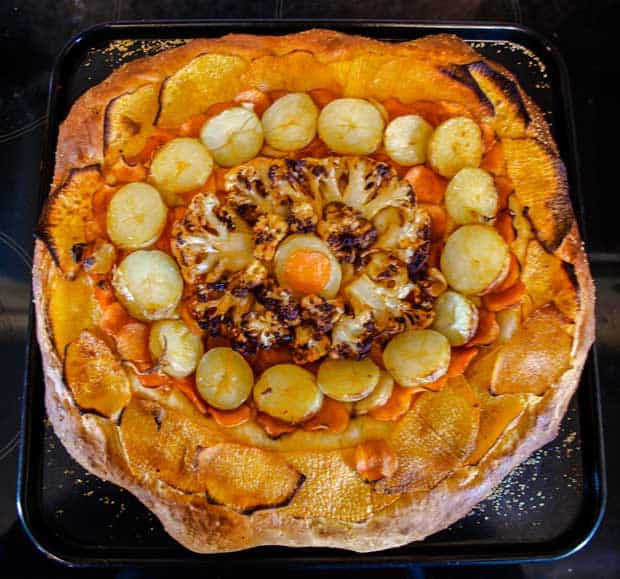 Bake the Woolton Pizza Pie
The Woolton Pizza Pie tastes amazing, even better than I expected. The potato bread dough is really light and fluffy and, because the vegetables are roasted with smoked paprika, they are delicious.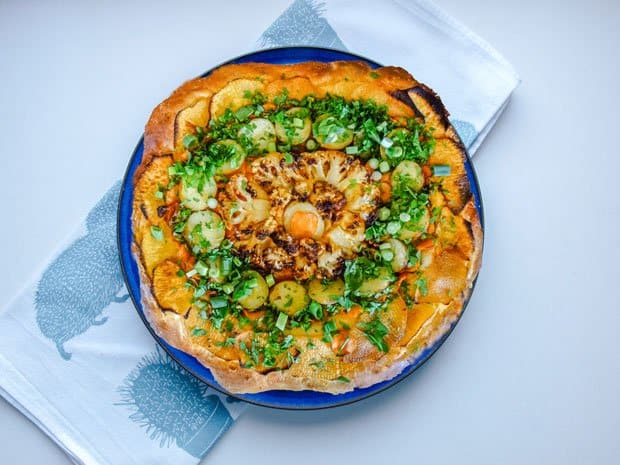 Add fresh herbs
Add some fresh chopped parsley and spring onions before serving to lift the flavours. The Woolton Pizza Pie is ideal to fill up your hungry family it is also inexpensive to make.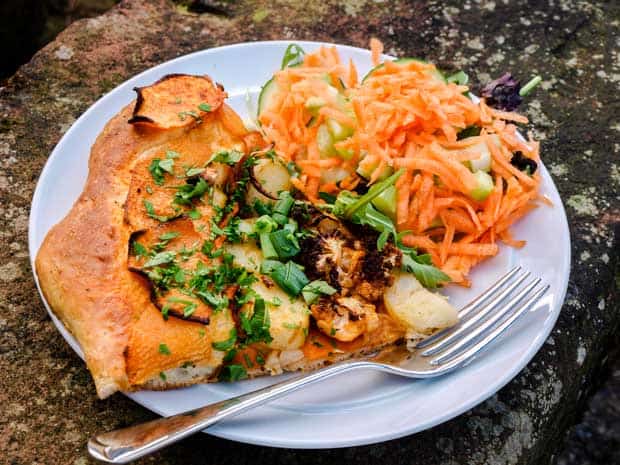 Serving Suggestion
Serve warm with a salad of leaves, cucumber. celery and grated carrot. The pizza is also very good cold.
Recipes from Love Potatoes
Visit Love Potatoes for more potato recipes. The recipe collection includes more retro recipes with a modern twist.

Some of my wartime cookery books and leaflets
More Frugal Recipes from Farmersgirl Kitchen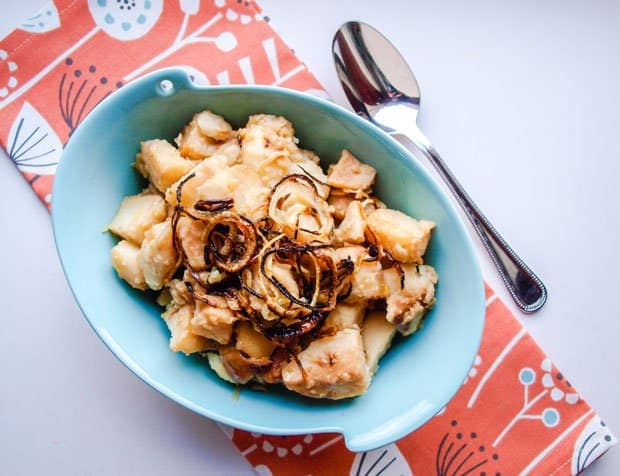 Slow Cooker Scottish Stovies is a comforting plate of slowly cooked potato seasoned with beef and onions. Stovies or 'Stoved Potatoes' is a classic dish that makes simple ingredients taste incredibly good.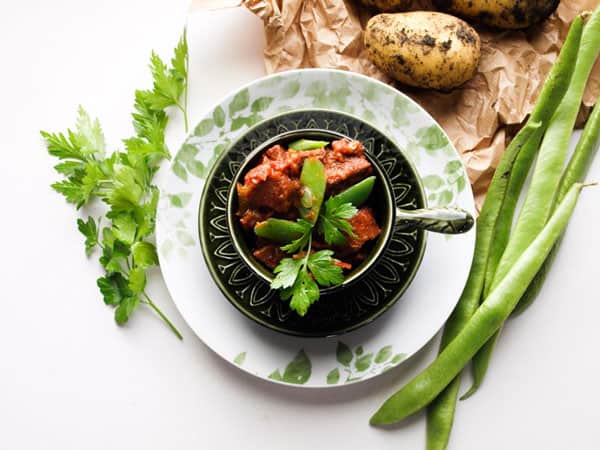 This Slow Cooker Chorizo, Potato and Runner Bean One Pot dinner is perfect for making an inexpensive, tasty and filling meal using a garden glut of potatoes and runner beans from the garden or allotment.

Have you ever tried hummus on a pizza? I can really recommend this Courgette and Hummus Pizza, it makes a delicious alternative to a tomato-based sauce and the courgettes (zucchini) add moisture and a crispy texture if you cut them really thin.
More Wartime recipes
Ration Book Savoury Suppers – Lavender & Lovage
Potato Vareniki (dumplings) – Chez Maximka
Egg & Sausage Pie – Farmersgirl Kitchen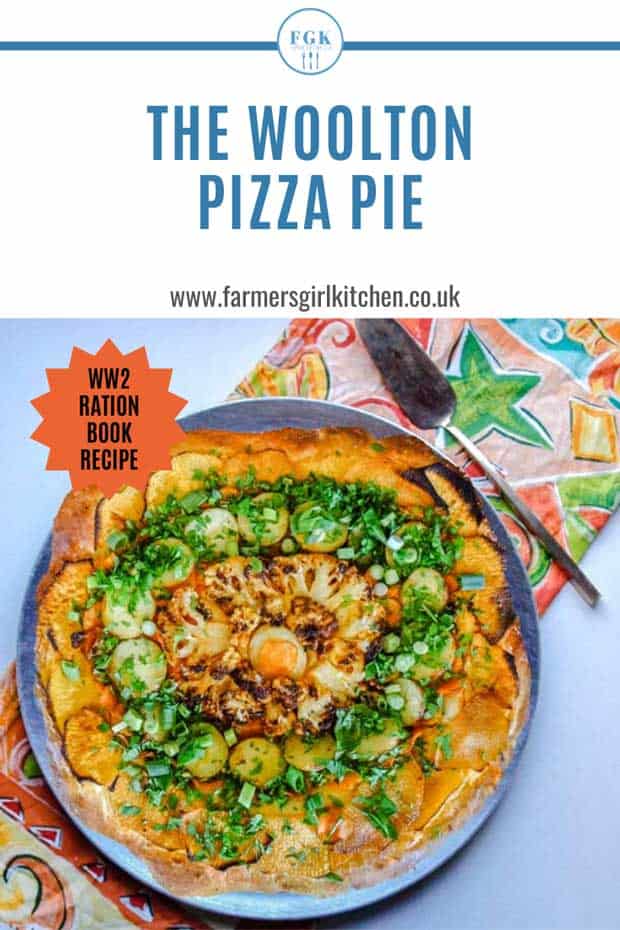 PIN FOR LATER
Let's get social!
Stay in touch with everything that's going on at Farmersgirl Kitchen.
Facebook Pinterest Instagram Twitter

Just for a fun, here is how our family celebrated the 50th Anniversary of VE Day in 1995, with a Scottish Butcher Mince Beef Pie and hand-decorated napkins.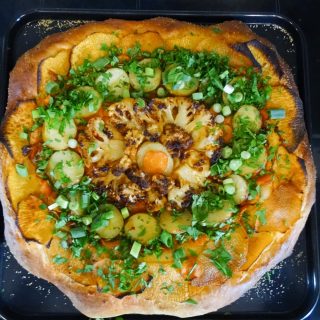 Woolton Pizza Pie
A tasty and nutritious vegetable pizza with a potato bread base topped with a variety of vegetables.  
Ingredients
For the base
1

tbsp

olive oil

2

tbsp

milk

60

ml

water

115

g

mashed Maris Piper potatoes

2

tbsp

butter

1

tbsp

sugar

1/2

tsp

freshly ground black pepper

1

tsp

salt

270

g

strong white flour

2

tsp

fast action yeast
For the topping
6

new Charlotte potatoes

1/2

a small turnip

(swede)

2

carrots

1/2

medium

cauliflower

5

cloves

of garlic

skins on

2

tbsp

olive oil

1

tsp

sweet smoked paprika

pimenton

2

tbsp

finely chopped spring onions

50

g

finely chopped parsley
Instructions
Put the flour in a large bowl and add the sugar, salt and the yeast, keeping the the salt and yeast away from each other.

Add the olive oil, butter, milk and potatoes and mix.

Add the water a little at a time until you have a smooth, soft dough.

Tip the dough onto an oiled surface and knead for 5-10 minutes until smooth. Leave to rise until doubled in size.

When the dough is rising, prepare the vegetables.

Heat the oven to 180C

Parboil the potatoes until tender but not fully cooked, leave to cool.

Slice the swede and carrots very thinly, I used a mandoline

Slice the cauliflower florets slightly more thickly or they will disintegrate

Place the swede, carrots, and cloves of garlic in roasting tin with the oil and sprinkle with the paprika, mix together so the oil and paprika cover the vegetables.

Roast for 10 minutes until the vegetables start to soften, then add the cauliflower, mix it in with the oil and other vegetables and roast for another 5 minutes.

Remove and leave to cool.
To assemble
The dough is quite soft, so using oiled hands, press it into a circle on your baking tray. Cover with cling film and leave to rise again for 30 minutes.

Squeeze the softened garlic from the roasted garlic cloves and spread over the dough.

Place the swede around the edge, overlapping the slices Place the carrots in circles from the inner edge of the swede to the centre of the pizza Slice the potatoes and make a circle as shown above Fill the centre with the roasted cauliflower florets, adding a single carrot slice in the centre if liked.

Bake at 200C for 20-30 minutes until the base is golden brown if the vegetables start to brown to quickly, cover with a piece of foil. Serve hot from the oven sprinkled with parsley and spring onions.
Notes
Serve warm with a salad of leaves, cucumber. celery and grated carrot. Woolton Pizza is also very good cold.
Substitutions:
Use any vegetables you have to hand to add to the potatoes on this pizza. 
If you don't have yeast or don't want to bake with yeast, Make a scone pizza dough using self-raising flour and baking powder.
Nutrition
Calories:
393
kcal
Carbohydrates:
63
g
Protein:
10
g
Fat:
12
g
Saturated Fat:
4
g
Cholesterol:
11
mg
Sodium:
471
mg
Potassium:
858
mg
Fiber:
7
g
Sugar:
6
g
Vitamin A:
4401
IU
Vitamin C:
62
mg
Calcium:
74
mg
Iron:
4
mg
Don't Miss My Latest Recipes
CLICK TO SUBSCRIBE NOW to join my newsletter list & receive a FREE 'How To Adapt Recipes For Your Slow Cooker' printable!
Share by Email
I'm adding this recipe to #CookBlogShare the link up for great recipes from food blogs.

* SACN identified 14 micronutrients where there is evidence of low intakes and/or low nutritional status in the UK population (SACN 2008). Potatoes contribute 10% or more of intakes of many of these micronutrients in the UK, namely vitamin B6 (19%), potassium (18%), vitamin C (15%), thiamine (13%), folate (12%) and magnesium (10%) (Henderson et al. 2002). Source: 2010 British Nutrition Foundation Nutrition Bulletin, 35, pg 326