Runner Bean Chutney with Tomato & Chilli is a sweet and chunky relish with a mild spicy heat. It's a delicious way to spice up your meals as well as the ideal recipe for a glut of seasonal fruit and vegetables.

Runner Bean Chutney
I love chutney and relish but this is my first time making runner bean chutney. While I do like the traditional mustard-based runner bean chutney, I wanted to make a chutney that tastes fresh and bright as well as slightly spicy. I also like to combine ingredients that are in the season at the same time as runner beans, like tomatoes, apples, and chillis.

What are Runner Beans?
Runner beans are a green podded vegetable with pink or purple seeds inside the pod. Did you know that they are native to South America? Fortunately, they are easy to grow and thrive in gardens in the UK. The pods are coarser than the fine French Beans and are best eaten as a vegetable when young.
Runner Beans are sometimes known as string beans because of the tough string that runs along the edge of the pod. It is now possible to find varieties that are stringless which saves the job of removing the strings.
Runner Bean Chutney with Tomatoes & Chilli is a great way to use slightly older runner beans at the end of the season.

What kind of tomatoes should I use for Runner Bean Chutney?
I use a can of peeled chopped plum tomatoes to make the chutney. However, if you have a glut of fresh tomatoes, then you can skin them, chop and add them to the chutney. One of the things I like about canned tomatoes is the colour which is often stronger than that from fresh tomatoes.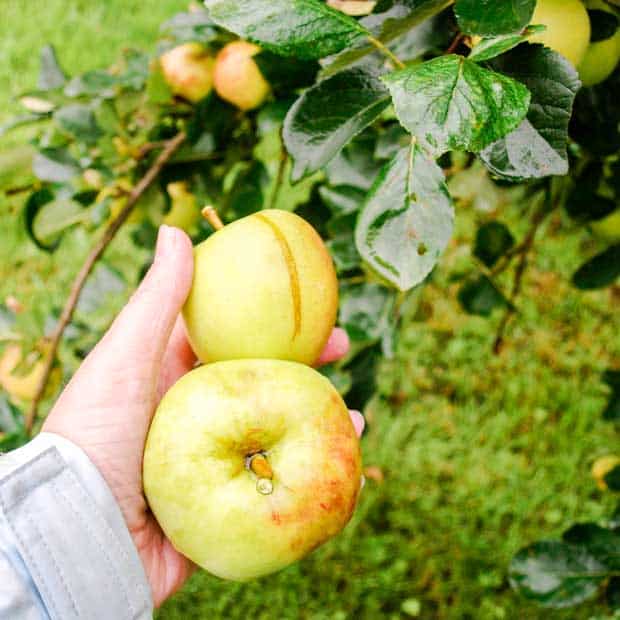 What kind of apples should I use?
I use apples from my apple tree because I usually have a good crop. You can use any kind of apple but for best results use either cooking apples or sharp flavoured eating apples for this runner bean chtuney recipe.

What kind of chillies should I use in the Runner Bean Chutney?
I use chilli flakes or chilli paste for convenience. If you want to use fresh chillies, then prepare them by removing the seeds and white ribs and finely chop them.
I don't like my chutney spicy, can I leave out the chillies?
Yes, you can make the chutney as mild or as hot as you like by adjusting the amount of chilli you include in the recipe. It is still delicious with no chilli in it at all.
What kind of vinegar should I use?
I use white malt vinegar which is a basic white vinegar suitable for preserving. You can use white wine vinegar it will work just as well but is more expensive.
Avoid non-brewed condiment often sold as white vinegar, as this is not true vinegar and will affect the quality of your chutney.

What is fish sauce, and do I have to add it to the Runner Bean Chutney?
Fish sauce (Nam Pla) is a cooking ingredient made from salted and fermented fish. It adds a rich, savoury, and umami flavour when added to recipes. Vegetarian alternatives to fish sauce are available.
It is optional in the chutney but definitely adds a certain something to the finished relish. Don't be put off by the smell of the fish sauce, there is no fishy taste when you include it in this recipe.

How many jars does this recipe make?
The recipe will make approximately 4 standard (378 ml) jars of chutney. It is not possible to be 100% accurate because you may reduce your chutney slightly more or less than I did.
How soon can I eat the Runner Bean Chutney?
It is best to keep chutney for 6-8 weeks before eating. The flavours will mature and the vinegar will mellow. You can eat it before 6 weeks but it is definitely better if you keep it.
How long can I keep the Runner Bean Chutney with Tomatoes & Chilli?
Runner Bean Chutney will keep in a sterilised sealed jar for about 12 months. Once the jar is opened, please store in the fridge and use it within a month.

How should I serve Runner Bean Chutney with Tomato & Chilli?
It is very much a matter of personal taste and you can serve this chutney as you would any other chutney. Here are some suggestions:
Warm or cold cooked ham
Cold cooked chicken
Mild Cheeses such as Brie and Camembert
Beef and Veggie Burgers
Curry
Pies & Sausage Rolls
Add to soups and stews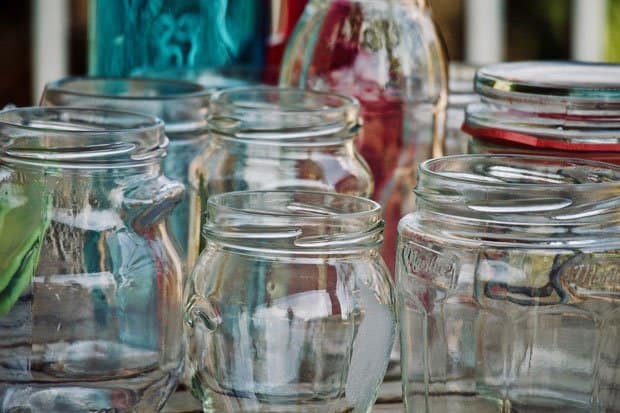 How do I sterilise my jars?
I sterilise my jam jars and metal lids by thoroughly washing and rinsing them. I then put them, still wet, upside down onto a baking tray and place it in the oven at 150C just before I start to make chutney or relish.
The water creates steam which helps to sterilise the jars. I take them out of the oven and fill them with the hot jam, then put on the lids. There are other methods but this is how I sterilise my jars.

How to make Runner Bean Chutney with Tomato & Chilli
Follow the simple step-by-step instructions to make this delicous chutney.
Prepare the Runner Beans
Remove the stalk and any strings from the runner beans. I use this nifty little bean splitter but you can strip them off by hand or with a knife.

Chop the runner beans
Use a sharp knife to chop the runner beans into small pieces.

Cook the Runner Beans
Put the chopped runner beans in a pan with cold water and salt
Bring to a boil and cook for 10 minutes until tender.
Drain the runner beans and set aside.

Add fruit and vegetables to the pan
Peel, core and chop the apples.
Peel and chop the onions.
Core and chop the red pepper.
Add all the fruit and vegetables and return the runner beans to the pan.
Add the vinegar and simmer until everything is soft.

Add tomatoes
Add the canned tomatoes and chili paste to the fruit and vegetable mixture.

Add sugar
Add the sugar, salt and fish sauce, if using.

Simmer the chutney
Simmer the chutney, stirring frequently until it is thick.

Pot up into jars
Ladle the chutney into warm sterilised jars. I use a jam funnel but you can also use a jug to help to get the Runner Bean Chutney into the jars. Seal immediately with lids. Store in a cool place.
More Chutney & Relish Recipes from Farmersgirl Kitchen
More Chutney Recipes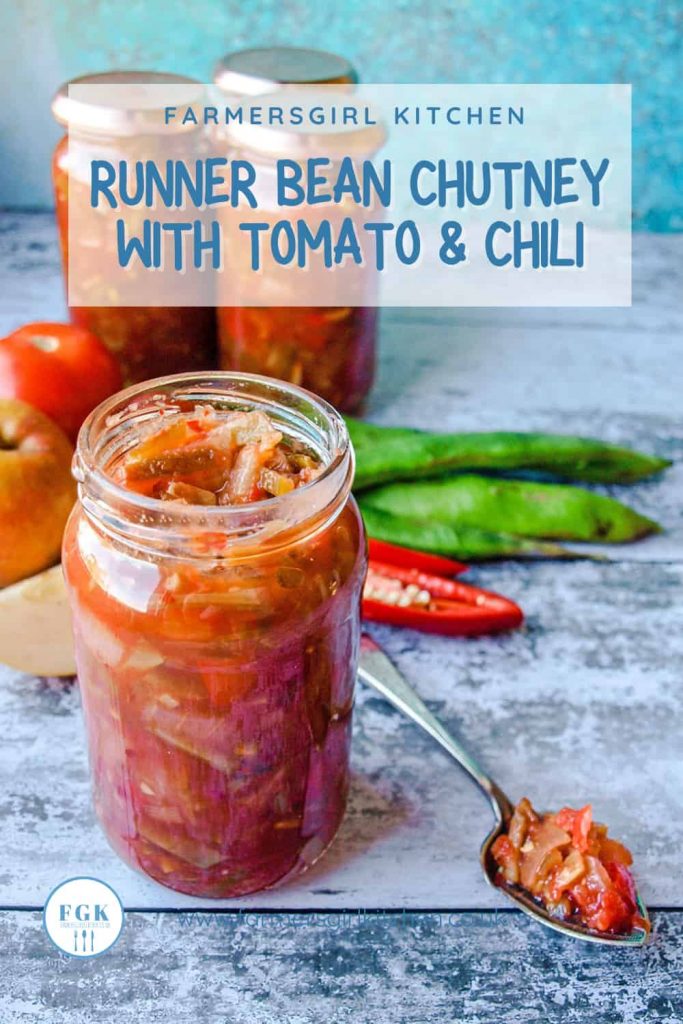 I'm adding this post to Cook Blog Share, the link up for great recipes this week hosted by Casa Costello.