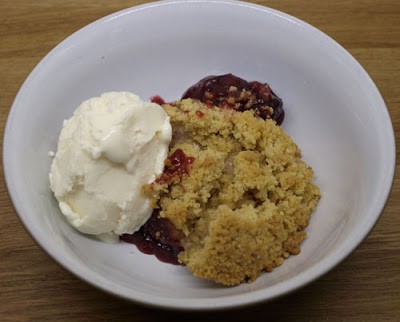 Now when the lovely people at Total Greek Yogurt sent me a huge consignment of lovely creamy yogurt, I was a bit alarmed that I might not get through it all before the sell by date. It doesn't expire until early December, but there is a LOT!
So I thought I would see if I could make it last longer by creating a frozen yogurt. My research on the internet led me to this simple recipe:
Vanilla Frozen Yogurt Recipe
First of all it is important to use good quality whole-milk yogurt. I believe it is also very good without the vanilla flavouring, but I haven't tried it yet.
3 cups (720g) strained yogurt (see below) or Greek-style yogurt
3/4 cup (150g) sugar
1 teaspoon vanilla extract (optional)
Mix togther the yogurt, sugar and vanilla (if using). Stir until the sugar is completely dissolved. Refrigerate for 1 hour.
Freeze in your ice cream maker according to the manufacturer's instructions.
Making strained yogurt: To make 1 cup (240g) of strained yogurt, line a mesh striner with a few layers of cheese cloth. Then scrape 17 ounces or 2 cups (480g) of plain whole-milk yougrt into the cheesecloth. Gather the neds an dfold them over the yogurt, then refrigerate for at least 6 hours. So, for the above recipe start with and strain 6 cups of yogurt.
Now just in case you get the impression that I am always cooking everything from scratch, let me just tell you that the lovely cherry & plum crumble I served with the Frozen Yogurt came straight from Marks & Spencer lol!