Wild Garlic, Ham and Pea Chowder is a chunky soup using potatoes, peas, ham, and wild garlic leaves. The soup has a mild garlic flavour and is creamy and totally delicious.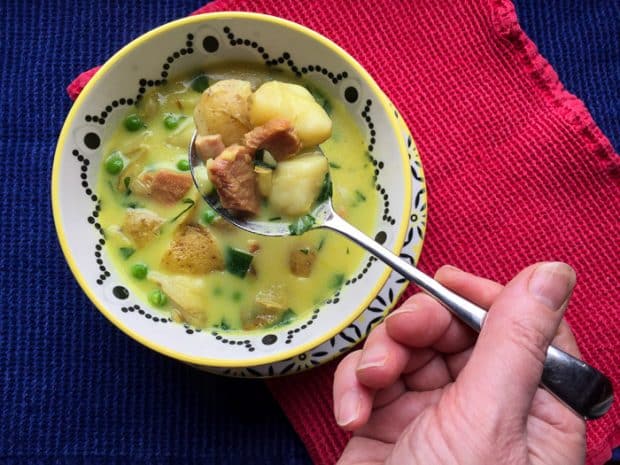 Why make Wild Garlic, Ham and Pea Chowder?
Wild Garlic, Ham and Pea Chowder is the result of my annual spring obsession with foraging for wild garlic in the woods close to where I live.
Free food is hard to resist and Wild Garlic is such a versatile herb and it complements so many different recipes.  The mild garlic flavour is absorbed into the potatoes and complements the salty, smoky pieces of ham.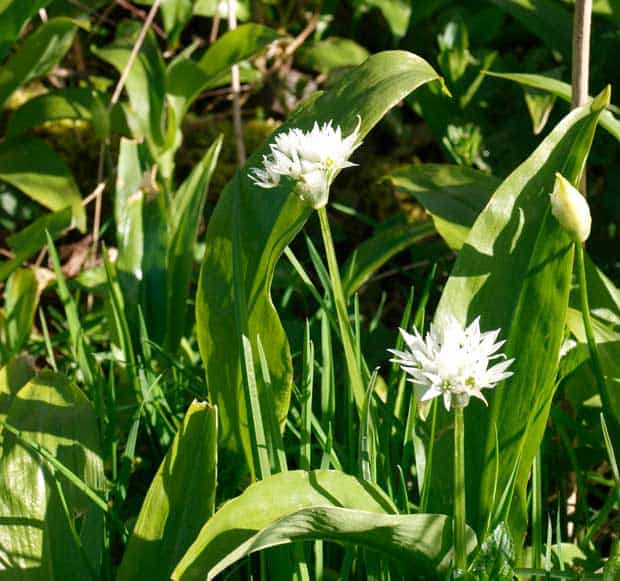 What is Wild Garlic?
Wild Garlic is also known as Ransoms and is a leafy plant that appears in spring.   You can eat the young leaves and the flowers which both have a pungent smell of garlic but are mild in flavour. 
What is Chowder?
Chowder is a rich creamy soup usually made with fish and seafood, and often including potatoes. Chowder is always full of chunky ingredients and often almost as thick as a stew.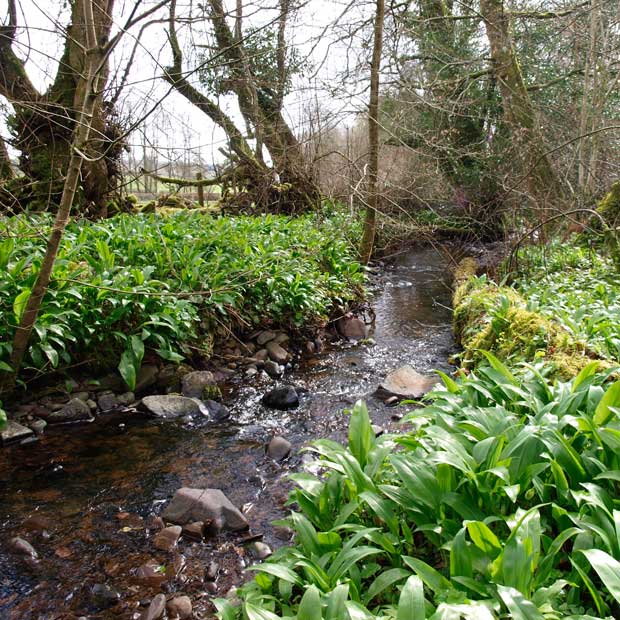 Where does Wild Garlic Grow?
It grows on the woodland floor often close to water. Always pick wild garlic far from the roadside and traffic pollution. Get more information about foraging for wild garlic on the Countryfile website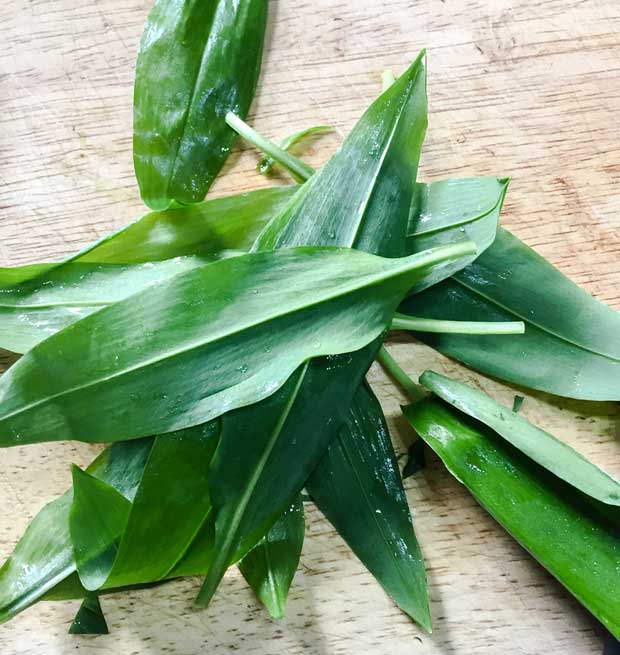 How do I prepare Wild Garlic?
Wash the Wild Garlic carefully then you can use it just as you would other herbs. Or store it wrapped in damp kitchen paper and a plastic bag in the salad drawer of the fridge. It will keep for 2 or 3 days stored like this without any ill effect.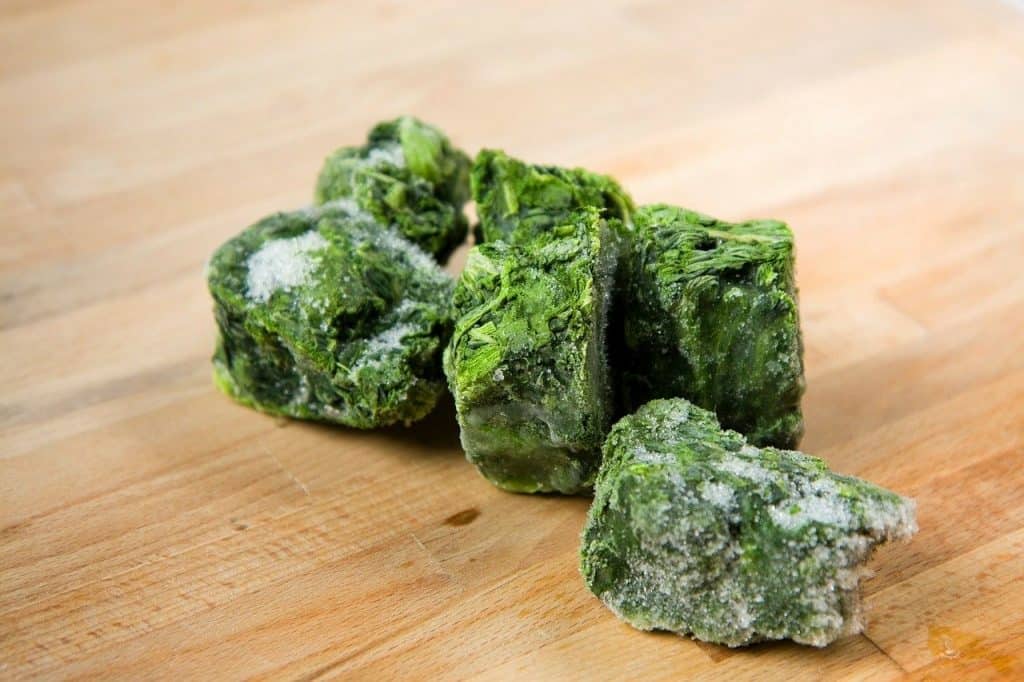 Can I freeze Wild Garlic?
You can chop it finely and put in ice cube trays then cover with olive oil. Drop these cubes into soups and stews to add a little wild garlic flavour.
You can also make it into Wild Garlic Blender Pesto or Wild Garlic Hummus and both of those freeze well.

I can't find Wild Garlic, can I still make the Chowder?
If you can't find any Wild Garlic you can still make this delicious soup. Ad a large crushed clove of garlic with the onion and replace the sliced wild garlic leaves with sliced spinach leaves.
Can I make a Vegetarian Wild Garlic Chowder?
Yes, just leave out the ham and use vegetable stock instead of ham stock.
More Wild Garlic Recipes from Farmersgirl Kitchen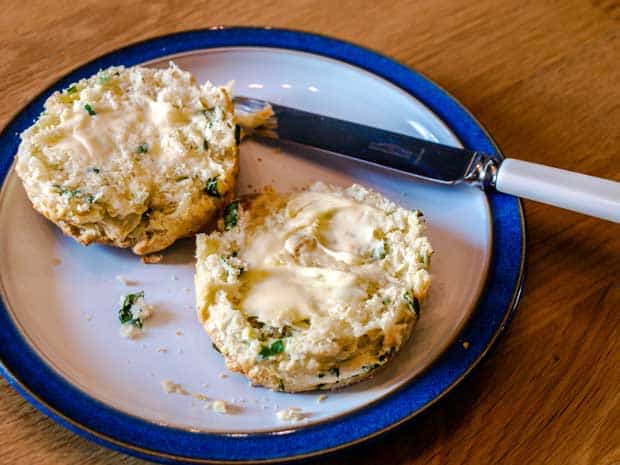 Cheese and Wild Garlic Scones are full of flavour and perfect to serve with soup as an alternative to bread. Or simply butter and enjoy with a cup of tea. 

Wild Garlic Blender Pesto is a quick and easy sauce to make with seasonal Wild Garlic. It is ideal to serve with pasta, rice or grilled meats.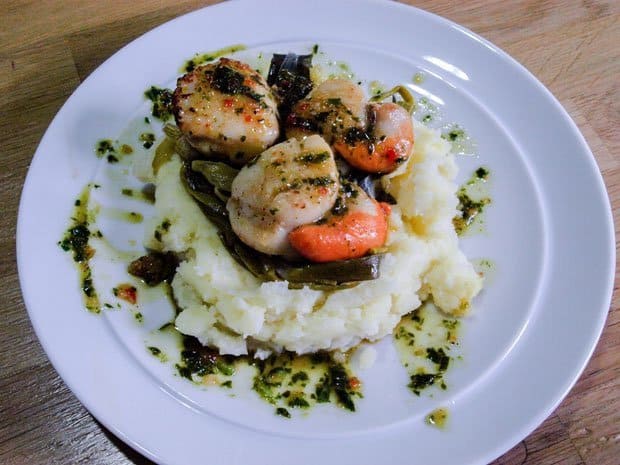 Seared Scallops with Leek Tagliatelle and Chilli Jam brings together sweet plump scallops, soft buttery leeks strips, and the piquant heat of chilli jam.
More Chowder Recipes
Skinny Haddock, Bacon and Mushroom Chowder – Fab Food 4 All
Vegan Corn Chowder – Veggie Desserts
Gluten Free Roasted Cauliflower and Vegetable Chowder – Family, Friends, Food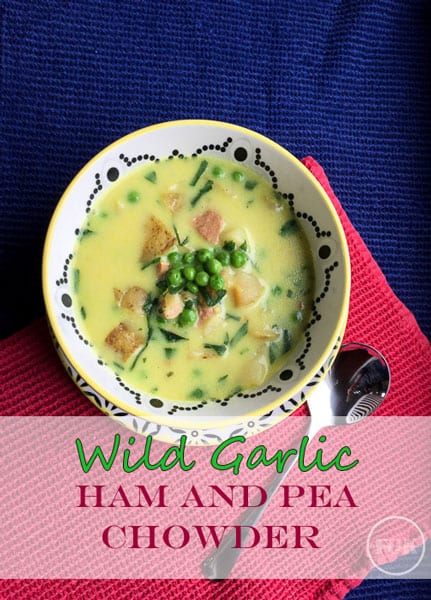 Stay in touch with everything that's going on at Farmersgirl Kitchen.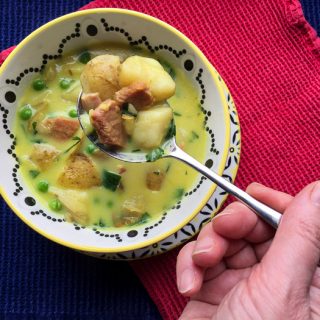 Wild Garlic, Ham and Pea Chowder
An easy to make warm and comforting soup, simply made with potatoes, ham, peas and wild garlic leaves.
Ingredients
1

tbsp

olive oil

40

grams

butter

1

large

onion

750

grams

baby new potatoes

125

grams

thickly cut cooked ham

1 1/2

litres

ham stock

100

grams

frozen peas

1

tsp

cornflour

1/2

tsp

turmeric

750

ml

semi-skilled milk

salt and freshly ground pepper to taste

35

grams

wild garlic leaves
Instructions
Heat the oil and butter in a large pan

Chop the onion and add to the pan, cook gently until it starts to become transparent.

Quarter the new potatoes and add them to the pan.

Add the hot stock, finely dice the sliced ham and slice the wild garlic into fine ribbons, then add both to the stock.

Cook for 15-20 minutes until the potatoes are tender.

Mix the cornflour and turmeric with a little of the cold milk and add to the stock, stirring. Add the rest of the milk and the frozen peas and simmer for a further 3-4 minutes.
Notes
If you can't find wild garlic, substitute 1 large crushed clove of garlic, added with the chopped onion and 35 grams of finely sliced spinach when you would have added the wild garlic leaves. 
Turmeric is used to add a golden colour to the soup, there is no discernable taste.  It is not essential to the recipe,
For special occasions add some cream to the soup. 
You can make this soup vegetarian, simply leave out the ham and use vegetable stock. 
Nutrition
Calories:
307
kcal
Carbohydrates:
34
g
Protein:
12
g
Fat:
14
g
Saturated Fat:
7
g
Cholesterol:
37
mg
Sodium:
365
mg
Potassium:
849
mg
Fiber:
4
g
Sugar:
10
g
Vitamin A:
519
IU
Vitamin C:
34
mg
Calcium:
178
mg
Iron:
2
mg
Don't Miss My Latest Recipes
CLICK TO SUBSCRIBE NOW to join my newsletter list & receive a FREE 'How To Adapt Recipes For Your Slow Cooker' printable!
Share by Email